5 Books Making News This Week: Essays, Economics, and Eco-Fantasy
Durga Chew-Bose, Amy Goldstein, Lidia Yuknavitch, and More
The Los Angeles Times Festival of Books gathers dozens of writers, poets, artists, filmmakers and musicians, including Margaret Atwood (previewing The Handmaid's Tale, which launches April 26), mystery author Michael Connelly, creator of LAPD Detective "Harry" Bosch, talking about the Amazon series based on the books; actor Bryan Cranston talking up his new memoir, plus the book section's critics-at-large Rigoberto Gonzalez (talking with Innovator's Award winner Rueben Martinez), Marlon James, Laila Lalami, Viet Thanh Nguyen, and Susan Straight. Los Angeles Times book awards go to Nathan Hill's The Nix (first book), Volker Ullrich's Hitler: Ascent, 1889-1939 (biography), Wesley Lowery's They Can't Kill Us (autobiography), Svetlana Alexievich's Second Hand Time: The Last of the Soviets (current interest), Adam Haslett's Imagine Me Gone (fiction), and Rosmarie Waldrop's Gap Gardening, among others. "As time goes on, life looms larger because the outside is so hard to control," Tom McGuane, honored for lifetime achievement, tells David L. Ulin about the inward shift of his work in the late 1970s. "The personal becomes an area, maybe the only area, in which you can do something that will change your world."
Mathias Enard, Dorthe Nors, Amos Oz, and Samanta Schweblin make the Man Booker International shortlist. The Best Translated Book Award shortlist includes Ananda Devi's Eve Out of Her Ruins, Antonio di Benedetto's Zama, Marie NDiaye's Ladivine in fiction, and, in poetry, Szilárd Borbél's Berlin-Hamlet and Yideum Kim's Cheer Up, Femme Fatale. Plus a Grace Paley revival, investigative reporter Amy Goldstein looks at the closing of the GM plant in Paul Ryan's hometown, Lidia Yuknavitch reimagines Joan of Arc as "Joan of Dirt" in 2049, essayist Durga Chew-Bose draws comparisons to Zora Neale Hurston, and a first collection from Nigerian-born Minnesota-based author Lesley Nneka Arimah is filled with award-nominated stories.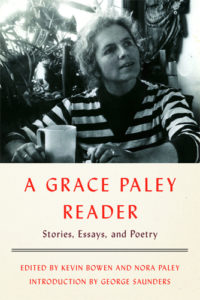 Grace Paley, A Grace Paley Reader: Stories, Essays, and Poetry
A collection of stories, essays, and poetry spanning Paley's career, edited by her daughter Nora Paley and the painter/poet Kevin Bowen, reminds critics of her inimitable voice.
George Saunders (The New Yorker) kicks off the Grace Paley revival, calling her "one of the great writers of voice of the last century," and "a thrilling postmodernist."   
Josephine Livingstone (The New Republic) writes of the Grace Paley Reader, "There are many fictions of motherhood, and many leftist essays about socialism and the need to end war. There are also many women who deserve to be reclaimed from the obscurity in which so many great American post-war writers languish. There are many generous writers, and many who cared more for living and writing and their families than they cared for fame. But of all these Grace Paley is one of the very best, which A Grace Paley Reader knows."
Paul Wilner (The Millions) notes, "There is much talk these days of 'Resistance Literature'—a way of hearkening back to the protest prose of the past in response to the current serio-comic catastrophe. Unfortunately, much of it is cant—Facebook posts disguised as literary rebellion, angry outbursts where cool, committed heads are needed. But Paley was the real deal."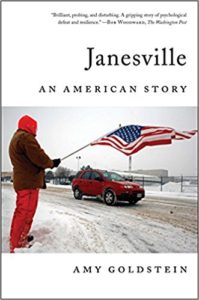 Amy Goldstein, Janesville
A Pulitzer Prize winning Washington Post reporter follows the trail of change in House Speaker Paul Ryan's hometown, after the GM factory closed in 2008. Reporting on Vice President Pence's recent visit for The Atlantic Goldstein writes, "At the end of his remarks at Blain's Farm and Fleet, Pence borrowed his boss's line. 'And with your help and with God's help,' the vice president said, 'I promise you, Wisconsin, I promise you, Janesville, we're going to make America great again.'
The reality is that, for nearly a decade, people in Janesville have been trying, with intelligence and determination, to make their lives and their economy great again. They are trying still."
"While it highlights many moments of resilience and acts of compassion," notes Jim Higgins (Milwaukee Journal-Sentinel), Janesville "also has a tragic feel. It depicts the noble striving of men and women against overpowering forces—in this case, economic ones."
"Janesville joins a growing family of books about the evisceration of the working class in the United States," writes Jennifer Senior (New York Times). "What sets it apart is the sophistication of its storytelling and analysis. The characters are especially memorable. This may be the first time since I began this job that I've wanted to send notes of admiration to three people in a work of nonfiction."
Arlie Hochschild (Washington Post) concludes, "Goldstein gives the reader a gripping account of the GM layoff, the real loss it caused and the victims' heroic resilience in adapting to that loss. By the end of this moving book, I wanted her to write a sequel on what might have been done to prevent the damage in the first place. For it turns out that while we're often primed to take management's word for what a company needs to do, this is a question well worth asking."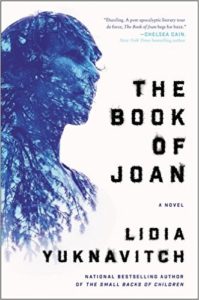 Lidia Yuknavitch, The Book of Joan
"I know it's a weird book," Yuknavitch tells Bustle's E. Ce Miller of her third novel. Miller counters with "breathtaking, embattled, and consuming. Startling and badass. Subversive. Eviscerating. Terrifying and hopeful."
"As the novel opens," writes Amy Wang (The Oregonian), "an artist named Christine marks her 49th birthday knowing each orbiting human is allotted only 50 years. She decides to foment resistance through her art and the story that's sustained her: the legend of Joan of Arc, recast as an eco-guerrilla who so alarmed Earth's leaders that they burned her at the stake. Then Christine is told, 'Your dead icon? She's alive.'"
Anne Jamison (Los Angeles Review of Books) writes:
Lidia Yuknavitch mines literary and political history for impressive, timely heroines based on the iconic Joan of Arc and her contemporary Christine de Pizan, the only chronicler to write during Joan's lifetime. Yuknavitch grafts these findings onto layers of material drawn equally from contemporary critical theory, our dire political and ecological realities, and an array of speculative fiction ranging from Shakespeare's The Tempest to Philip K. Dick's Do Androids Dream of Electric Sheep? In the convoluted folds and counterfolds of her narrative, Yuknavitch binds these various strains together with the fates of an Earth that has not quite survived eco-catastrophe and a parasitic sky realm, CIEL, ruled over by Jean de Men, a sadistic and egotistical television-billionaire-become-dictator: "His is a journey from opportunistic showman, to worshipped celebrity, to billionaire, to fascistic power monger," a rise made possible by the "acquiescence" of the powerful and wealthy.
Imagine the horror.
"One of the pleasures of The Book of Joan is its take-no-prisoners disregard for genre boundaries," writes Carmen Maria Machado (NPR). "Its searing fusion of literary fiction and reimagined history and science-fiction thriller and eco-fantasy make it a kind of sister text to Jeff VanderMeer's ineffable Southern Reach trilogy. Yuknavitch is a bold and ecstatic writer, wallowing in sex and filth and decay and violence and nature and love with equal relish. Fans of her previous novel, The Small Backs of Children, will recognize these themes and their treatment."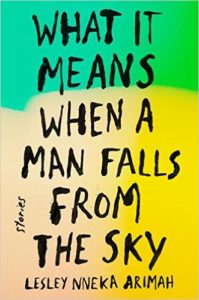 Lesley Nneka Arimah, What it Means When a Man Falls from the Sky
Nigerian-born Arimah, who lives in Minneapois, has been drawing attention. One of he stories in her first collection won the 2015 African Commonwealth Prize, another was a finalist for a National Magazine Award after publication in The New Yorker, and the title story was a finalist for the 2016 Caine Prize.
"Arimah sets her fiction in Nigeria (where she spent part of her childhood) and in the U.S. (one of the many places in the world where she has lived)—in the present and in the imagined future," writes Amy Weiss Meyer (The Atlantic). "In 'What Is A Volcano?,' she evokes a mythic domain of feuding gods. She delivers affecting accounts of parent-child struggles, and sketches surrealist scenarios in which dolls come to life and the dead haunt the living. An undertow of grief pulls hard on all of the book's tales, most of which feature characters who are in some way bereft—usually missing one parent. The family members who stick around are quite often cruel to one another. At the very least, they are afraid to show anything like kindness. Heartbreak and vulnerability are the common threads."
Liz Von Klemperer (The Rumpus) notes, "Arimah's characters muscle their way through girlhood. They rise to the top of the playground food chain and punch a classmate in the face. They reject a marriage proposal from a seemingly perfect man who offers financial security. They imbue a baby doll made of human hair with life despite their mother's advice."
Tayla Burney (Washington Post) concludes:
This is a slim, rare volume that left me compelled to press it into the hands of friends, saying, "You must read this." But resist the urge to make your way through its pages at a rapid clip. Each story here benefits from reflection before you tackle the next.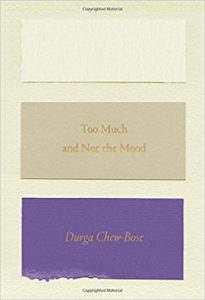 Durga Chew-Bose, Too Much and Not the Mood
Chew-Bose's new collection sets off a critical conversation about the art of the essay.
Kate Bolick  (New York Times Book Review) situates Chew-Bose:
Among Chew-Bose's central concerns are family, friendship, self and identity. Born in Montreal to parents of Indian heritage, she grew up "brown in mostly white circles," in a suburban home where Edward Said's Orientalism was often left lying about. "First-generation kids, I've always thought, are the personification of déjà vu," she writes, and this experience shapes her writerly persona—a discerning outsider suffused with the nostalgia of being one step removed from an irretrievable past.
Emily LaBarge (Los Angeles Review of Books) celebrates Chew Bose's essaying:
Chew-Bose's collection bristles with slow and tender inquisitiveness, carefully wrought anecdotes and character studies, devotion to detail, and nuanced structure in which form engages with content. Narrative, extended visual description, idiosyncratic critical and cultural analysis burn slowly and gather heat, suffuse and flicker with internal reflection and insight—often with an emphasis on the marginal and the tangential, the interior: that which is not seen; that which we call attention to and reshape, re-present in language, in essaying.
Ismail Muhammad (Slate) compares her to Zora Neale Hurston:
Like Hurston, Chew-Bose's prose is itinerant, restless, completely uninterested in settling into anything resembling argument. Instead, it proceeds via associative logic, making an art out of diversion and tangent and inviting us to wander as she observes and questions. Her writing wants to retrain our attention on the various textures and pleasures that comprise lived experience.
---