5 Books Making News This Week: Disappearances and Disasters
Lindsay Hunter, Deborah E. Kennedy, Henry Fountain, and More
Winners of this year's American Book Awards include Yaa Gyasi's Homecoming, Bernice L. McFadden's The Book of Harlan, Flores A. Forbes' Invisible Men: A Contemporary Slave Narrative in the Era of Mass Incarceration, and Solmaz Sharif's Look. Annie Proulx's Barkskins, Shawn Vestal's Daredevils, and Timothy Egan's The Immortal Irishman are among the finalists for the Washington State Book Awards. Egan and Sharif also are finalists for this year's PEN Center USA Awards, along with Lydia Millet's Sweet Lamb Of Heaven, Bonnie Nadzam's Lions, and Lily Hoang's A Bestiary, among others.
Lindsay Hunter sends a lonely man on a road trip in search of his addicted son, Deborah E.  Kennedy's first novel draws comparisons to Winesburg, Ohio, Jill Bialosky's new memoir elicits a rave tweet from Joyce Carol Oates, New York Times science writer Henry Fountain revisits the Alaskan earthquake that registered 9.2 on the Richter scale—the most powerful earthquake to ever hit North America—and Ann Hood writes of discovering The Bell Jar, Dr. Zhivago, Marjorie Morningstar, and other literary milestones.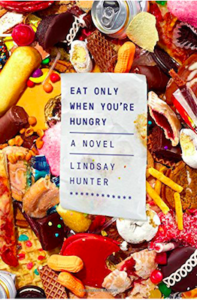 Lindsay Hunter, Eat Only When You're Hungry
"I saw him perfectly, I saw his loneliness and I saw his feeling of being trapped in his body," Hunter tells the Los Angeles Times's Michael Schaub, describing how her main character inspired her latest novel. "He's got these layers of being trapped. He's trapped inside his mind. He's trapped inside his body. He's trapped inside his chair. He's trapped inside his home. And it's not necessarily that he wants to escape. I could see that so clearly, and I wanted to just see what would happen with him. And I wanted a little, tiny, tiny bit of grace. I wanted the book to have some sort of tiny little bit of hope for him, even if that meant him being at peace with just one little thing."
Vincent Scarpa (Los Angeles Review of Books) calls the novel Hunter's "first masterpiece; a novel of staggering vision and tremendous heart." He adds, "On full display here are Hunter's nonpareil technique, her skillful excavation of her characters' interior landscapes—a digging done both ruthlessly and yet with abundant mercy—and her inspired inventiveness at the level of language."
Miles Klee (Vulture) recommends the novel for summer reading; it's "the odyssey of Greg, an overweight, middle-aged dad who's searching the seediest corners of Florida for his missing addict son, Greg Junior. The journey will test his already fractured self-image, resurrect a legacy of familial failure, and dissolve the accepted distinction between shooting up and eating oneself to death. Save this one for your big road trip."
"Hunter is addressing the complexity of love, particularly the love between a damaged parent and a damaged child," notes David L. Ulin (4Columns). "Indeed, Eat Only When You're Hungry portrays parenthood as a kind of circular dance, in which there is never any resolution, and more often than not, what lingers is less reconciliation than regret."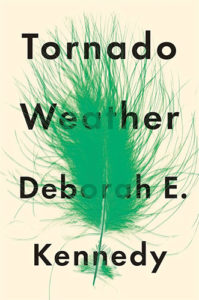 Deborah E.  Kennedy, Tornado Weather
This first novel by a recent Iowa Writers Workshop graduate revolves around the disappearance of a five-year-old and the hidden tragedies within a small-town Midwestern community.
PW calls Tornado Weather "heartbreaking": "Though this story is hung on a child gone missing and a tornado on the horizon, the focus is the flawed folks who people it. The author is a fine mimic, inhabiting her characters in such a way that we know them from the inside out. The denouement, coming as it does from a surreal, bird's-eye view, is very strange indeed. Kennedy's superb chorus leaves an indelible impression."
Emily Fridlund (New York Times Book Review) compares Tornado Weather to Sherwood Anderson's Winesburg, Ohio. She also points out, "the book's real hardware might be described as its network of secrets and silences. What characters can't or won't say to each other allows Kennedy to demonstrate the power of knowledge along with its equally powerful counterforce, ignorance. Some of this is the stuff of small-town gossip, as when best friends fail to divulge what they know of the other's husband's infidelities. But Kennedy troubles these fissures in riskier and timelier ways. The forced intimacy of a town where 'everybody knows everybody,' or seems to, belies a fervently maintained system of bigotry and segregation."
Zach Van Epps (Vox) writes, "A beautiful portrait of flawed subjects trying to find meaning and fulfillment, Tornado Weather is the perfect book to take your mind off Missouri's own severe weather."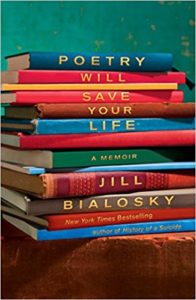 Jill Bialosky, Poetry Will Save Your Life
In her new memoir, Bialosky weaves together personal stories from all stages of her life with the poems that have inspired and comforted her.
Elizabeth Lund (Washington Post) loves the book:
Adults and mature teens will find much to love in this book, which demonstrates how poems can become an integral part of life. It also suggests, on every page, the wisdom and deep compassion that make Bialosky, a longtime editor at W.W. Norton, a tremendous asset both to readers and other writers.
Joyce Carol Oates tweets: "Highly recommend 'Poetry Will Save Your Life' by Jill Bialosky. Candid, touching memoir of growing up with poetry as spiritual solace."
Diana Whitney (San Francisco Chronicle) concludes, "Poetry Will Save Your Life wants the reader to believe in poetry as ardently as the author does. Occasionally, its tone verges on preachy, and the structure feels contrived. But Bialosky is at her best when writing about Plath—that 'heightened and intense awareness of the evolving self.' Plath's poems shed light on the miracle of new motherhood and distill meaning from the horror of her younger sister's suicide. 'Only the poets seem to provide insight into the mystery of this form of suffering,' Bialosky insists, and this statement, at least, rings true."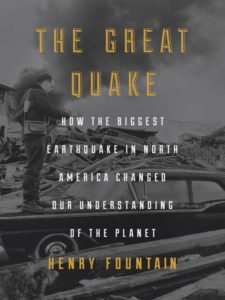 Henry Fountain, The Great Quake
Fountain, a New York Times science writer, tells the story of an Alaskan quake, registering 9.2 on the Richter scale—the most powerful  earthquake to ever hit North America. "It was originally thought to be about the same power as the San Francisco earthquake of 1906," he tells NPR's Dave Davies. "But in retrospect, or shortly thereafter, it was determined it was much, much more powerful. You know, a rough indication is how long the ground shakes for. And in the San Francisco earthquake, there was a foreshock at first that shook for about 20 seconds. And then the main shocks shook for something like 40 or 45 seconds. So that's about a minute. In Alaska, the ground shook for about 4.5 minutes, which is a really, really long time."
"In his entertaining and enlightening book," writes Mary Ellen Hannibal (San Francisco Chronicle), "Fountain tells the story of what is sometimes called 'Alaska's Good Friday Earthquake.' On March 27, 1964, a 9.2-magnitude quake shook the state to its core, both literally and metaphorically. Partly because of Alaska's sparse population, the overall death toll was only 131. It speaks to the power of the quake, however, that several of those who died were victims as far south as Oregon and California—one fatality due to gigantic waves in Bolinas Bay. The Alaska quake is impressive in and of itself. The way it deployed also shed new light on how we understand both earthquakes and the whole tectonic framework in which they occur."
Stephen Phillips (Los Angeles Times) writes, "The Great Quake is dedicated to the five terrifyingly convulsive minutes around dinnertime on March 27, 1964, when the forces of geological upheaval, normally beneath our threshold of perception, violently obtruded into human time, reconfiguring not only the landscape of south central Alaska but our understanding of earthquakes and the risk posed today by the Big One and Really Big One. Fountain isn't a showy writer, but there's a fever-dream quality to his account of those five minutes that 'made the earth ring like a bell' that captures the hallucinogenic oddness of a world off-kilter, out-of-joint, suddenly uncooperative. Combinations of words with no earthly business being together occur. '[H]ouses seemed to dance in place,' he writes. Elsewhere, 'Stairways wriggled and writhed.'"
Richard J. Murnane (Science) notes, "The book engagingly recounts life in the immediate aftermath of the earthquake . . . and explores the changes in the lives of individuals, villages, and cities touched by it. Chenega, for example, a tiny village located on the sound's Chenega Island, figures prominently in the narrative. It was completely destroyed by the quake, which also killed a third of the community; the villagers who survived fled and never returned."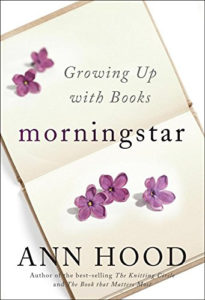 Ann Hood, Morningstar
Hood's new memoir tells of her life as a reader—discovering Dr. Zhivago, The Bell Jar, Erich Segal's Love Story, Marjorie Morningstar and more.
Steve Donoghue (Christian Science Monitor) writes:
Ann Hood's fast-paced, beguiling new book . . . takes her readers through the dips and swerves of her autobiography, told almost entirely from the books'-eye-view of the various libraries that accompanied her, shaped her beliefs, molded and reinforced her sense of self, and provided her with a constantly-shifting sounding-board. There are epiphanies and loves and marriages and heartaches in these quick chapters – each chapter more or less governed by one particular book—and all such moments are knitted together by an underlying theme of discovery.
"Morningstar examines [Hood's] coming of age as a writer through the lens of her reading," writes Betty J. Cotter (Providence Journal), "and the result is both eloquent and poignant." "Hood's predisposition to the literary life was not assured. Her parents were not readers, her school had only a few shelves of books in each classroom, and she was 10 before West Warwick got its own library. So she devoured magazines and newspapers and treasured the books that crossed her path."
Laurie Hertzel (Minneapolis Star-Tribune) concludes, "In these 10 appealing essays, Hood deftly recounts pivotal moments in her early life, recalling not just what happened, but how she felt and how wonderful it was that the right book seemed to appear at the right time. 'Once again,' she writes, 'my world had been cracked open by a book.'"
---