5 Books Making News This Week: Craft, Crime, and Trauma
John McPhee, Attica Locke, Elizabeth Rosner, and More
"He was always a visionary." That's poet Kevin Young on his friend since 1989, Colson Whitehead, who wins this year's Best of Brooklyn award, presented at the Brooklyn Book Festival mingle Saturday night. Young is accepting that night for Whitehead, who is ill, but recovers enough by Sunday afternoon to sit with fellow Pulitzer awardee, playwright Lynn Nottage, and Akashic Books publisher and BKBF founder Johnny Temple, talking about what Nottage calls "the new American narrative in the case of economic stagnation" and what Whitehead calls "the state of American possibility."
"After four books, writing novels obsesses me more than ever." That's Dana Spiotta, honored with the biannual $50K St. Francis College Literary Prize for midcareer writer, also presented Saturday night. Meanwhile, National Book Award longlists are announced in The New Yorker over the course of four days, ending on Friday with the fiction list (eight women, including Jennifer Egan, Min Jin Lee, and Jesmyn Ward, and two men—Elliott Ackerman and Daniel Alarcón). The complete list here. Paul Auster's 4.3.2.1, Emily Fridlund's History of Wolves, and George Saunders' Lincoln in the Bardo make this year's Man Booker shortlist 50 percent American. 
The Flannery O'Connor award for short fiction goes to Kirsten Lunstrum's What We Do with the Wreckage. Margaret Wilkerson Sexton's "luminous and remarkably assured" first novel makes the National Book Award longlist, John McPhee's latest elicits a fresh round of praise, a novel longlisted for the Booker in 2012 impresses American critics; novelist Elizabeth Rosner's memoir, inspired by her parents, both Holocaust survivors, may be "the book she was born to write," and Attica Locke's Bluebird, Bluebird is "no simple morality tale."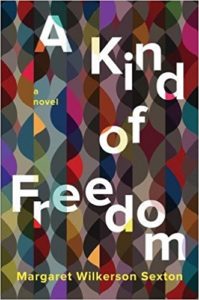 Margaret Wilkerson Sexton, A Kind of Freedom
This first novel by a New Orleans-born, Oakland-based author is on the longlist for the National Book Award. I called it a "powerful first novel, which traces the complex downward spiral of a black family over three generations" in my BBC Culture column. "The story had to be New Orleans," Sexton tells the San Jose Mercury News's Lou Fancher. "You won't find many other cities where black people were doing so well in the '30s and '40s. I wanted to show the decline in successful black America that was disproportional—to show that, in some ways, we're not doing better than in the '40s, even though Jim Crow has been abolished, and you'd assume there'd be marked progress. In some areas, we've regressed. The prison system is one, and it's maddening. The war on drugs, the criminalization of sickness, were my main areas of focus."
Jesse McCarthy (New York Times Book Review) finds A Kind of Freedom "luminous and remarkably assured first novel." She continues, "For a debut novelist to take up such charged material is daring; to succeed in lending free-standing life to her characters without yielding an inch to sentimentality—or its ugly twin, pathology—announces her as a writer of uncommon nerve and talent."
R.O. Kwon (San Francisco Chronicle) points out that Sexton "details some of the many ways racism adds to the difficulties faced by Evelyn and Renard, then their children, Jackie and Sybil, then Jackie's son, T.C., and then T.C.'s infant son, Malik. Most obviously pernicious are the Jim Crow laws dividing 1940s New Orleans, and though those laws are eventually abolished, the racial injustice, of course, persists. The white police officer who extorts money from Renard in 1944 is comparable to the white officers who, decades later, in 1986, brutalize a young black man on Jackie's street, to the police who stop T.C., then arrest him for marijuana possession in 2010—'right around election time,' his grandmother observes."
Rachel León (Chicago Review of Books) writes:
[W]hat is most remarkable about the tapestry of these stories is the way each person's section is written a little differently from the last, like varying fabrics. Evelyn's chapters and T.C.'s are written so distinctly that at times it feels like a completely different person wrote them. Wilkerson Sexton's ability to change the style of writing to fit the time period is one of the most impressive aspects of the novel. Equally notable is how vividly each character is portrayed. Not only do each of the characters feel relatable, but they're so fully realized that they stay with you long after finishing the story. That this multigenerational novel is a mere 228 pages and still manages to create such lifelike characters is an impressive feat.
"The author's deep knowledge of her city and unerring ear for dialogue help bring her unforgettable characters to life," concludes Kim Hubbard (People).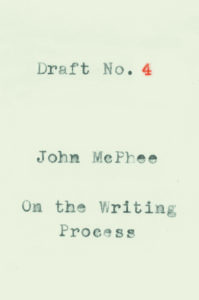 John McPhee, Draft No. 4
New Yorker writer McPhee draws from a decades-long career to offer gems of writing advice for the ages. His new book gives critics a chance to praise him yet again.
Malcolm Harris (The New Republic) is glowing:
Draft No. 4 contains a carefully balanced ratio of directly instructive writing advice, behind-the-scenes views on McPhee's greatest hits, and war stories from the golden age of post-WWII American magazine publishing. This is near the bullseye of what you'd hope for from an octogenarian doyen, and it's a pleasure to read. Any writer or editor could learn something from McPhee, as many famous and successful ones already have. In the essay "Frame of Reference," he advises against borrowing vividness from famous names: "If you say someone looks like Tom Cruise—and you let it go at that—you are asking Tom Cruise to do your writing for you." Any obscure reference tightens the writer's audience, almost always for the worse. Though McPhee does end the section with the story of an elegant exception, a fittingly exceptional line of writing gifted to a few readers who would receive it. "
The beauty of Draft No. 4 lies partly in our watching a master deconstruct the nearly invisible habits of his work," writes Joan Silverman (Portland Press Herald). "The result celebrates a life—probing, colorful, singular—devoted to writing."
Michael Dirda (Washington Post) concludes:
For over half a century, John McPhee—now 86—has been writing profiles of scientists, eccentrics and specialists of every stripe. All are exceptional at what they do. So, too, is their discerning chronicler: "Creativity lies in what you choose to write about, how you go about doing it, the arrangement through which you present things, the skill and the touch with which you describe people and succeed in developing them as characters, the rhythms of your prose, the integrity of the composition, the anatomy of the piece (does it get up and walk around on its own?), the extent to which you see and tell the story that exists in your material, and so forth. Creative nonfiction is not making something up but making the most of what you have."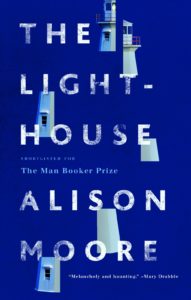 Alison Moore, The Lighthouse
The Lighthouse made the Man Booker longlist when published in the U.K. in 2012. With its publication in the U.S., it's a New York Times Book Review pick.
Susan Wyndham (New York Times Book Review) writes, "Moore's melancholy portrait of Futh has echoes of literature's many unloved and slightly ridiculous nobodies, from T. S. Eliot's Prufrock and the unhappy characters in the novels of Anita Brookner to those in the work of the contemporary writer M. J. Hyland. There is something of Leopold Bloom's odyssey in his solitary, ruminating walk, although his character and Moore's style are austere by comparison . . . Moore constructs a precise and perfectly paced psychological drama in which all our senses are on constant alert."
"No surprise that this quietly startling novel won column inches when it landed a spot on the Man Booker Prize longlist," writes Hepzibah Anderson (Daily Mail). "After all, it's a slender debut released by a tiny independent publisher. Don't mistake The Lighthouse for an underdog, though. For starters, it's far too assured."
Philip Womack (The Telegraph) writes,
Moore conveys the poignancy of small details: a hamper packed up slowly after a disastrous picnic, the sadness of a plate of cold meats for one, covered in cling film. She delineates perfectly the desperation of unhappy relationships, their mute hostilities and sudden flares. A lighthouse, flashing on and off, now alarming, now accepting. It is this accumulation of the quotidian, in prose as tight as Magnus Mills's, which lends Moore's book its standout nature, and brings the novel to its ambiguous, thrilling end.
"Complex and thrilling, this meditation on the past is a gripping story of betrayal and its lingering effects," concludes Kirkus's review.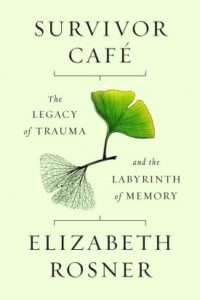 Elizabeth Rosner, Survivor Café
Novelist Rosner (Electric City) turns to memoir; Survivor Cafe draws upon her own experience as a child of parents who survived the Holocaust. "What the research is beginning to demonstrate is that people who have lived through trauma have been changed by it in a cellular way," she tells NPR's Kelly McEvers. "And in particular, the expression of their DNA has been modified, and that modification is starting to show up in subsequent generations. And the explanation among researchers is it has to be inherent. It's not something they learned by watching their parents or hearing traumatic stories from their parent. They were born with traumatic residue in their bodies."
"Survivor Café—which combines moving personal narrative with illuminating research into the impact of mass trauma on a personal and cultural scale—feels like the book Rosner was born to write," writes Gayle Brandeis (San Francisco Chronicle). "Each page is imbued with urgency, with sincerity, with heartache, with heart."
Carol Haggas (in a Booklist starred review) concludes:
Rosner demonstrates a rare blend of scholarly assessment and personal revelation, tempering her singular passion with an encompassing mercy. In this important and vital contribution to the conversation about legacy and responsibility, Rosner distills the magnitude of such burdens and defines the scope of memorialization with an elegance and eloquence that reverberates with both depth and nuance."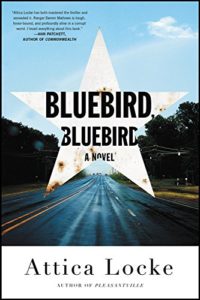 Attica Locke, Bluebird, Bluebird
Locke's latest crime novel begins with what she dubs a reversal of the traditional Southern fable—the discovery of black man's corpse in the bayou in a small Texas town, with a white woman's body discovered three days later. "I remember after Donald Trump was elected—and I think I've been very public about my feelings about his administration—I remember thinking my book changed overnight," she tells NPR's Rachel Martin. "I'd already written it, but I knew without me having changed a word, the effect of this book was really different, that it was suddenly entering into a different country in some ways. We walk side by side in America with our past. We walk with these ghosts and I think I tried to capture the ways in which present-day drama, racial drama, is so deeply infused by the past."
Jaundréa Clay (Houston Chronicle) notes, "Locke—daughter of former Houston mayoral candidate and lawyer Gene Locke and a writer and producer of the hit TV drama Empire—is no stranger to arresting plots and tangled twists. In her fourth novel, she again draws on her life growing up black in Texas and the imprints of those complicated yet binding memories that trace along U.S. 59 like veins. Locke stitches a tale of murder and bloodlust, forbidden love, family ties and a violent racial history that bleed into the narrative of East Texas like the mournful moan of a Lightnin' Hopkins song."
Oline H. Cogdill (Associated Press) writes, "Attica Locke's incisive look at racial issues reaches another milestone in the gripping Bluebird, Bluebird. Locke unflinchingly illustrates the intersection of race and justice as seen in an insular community in East Texas. The author packs the excellent novel with believable characters whose motives often are tied up in the complex morass of history and family."
James Endrst (USA Today) concludes, "Bluebird, Bluebird is no simple morality tale. Far from it. It rises above 'left and right' and 'black and white' and follows the threads that inevitably bind us together, even as we rip them apart."
---