5 Books Making News This Week: Brexit, Blacklists, and Biographies
Ali Smith, Glenn Frankel, Damion Searls, and More
Arlie Russell Hochschild's Strangers in Their Own Land, Nancy Isenberg's White Trash, Jane Mayer's Dark Money, Zachary Roth's The Great Suppression and Gary Younge's Another Day in the Death of America are named finalists for the J. Anthony Lukas Book Prize. Wayne Miller wins the $10,000 Rilke Prize for a mid-career poet. ("In his powerfully meditative book, Post-, Wayne Miller negotiates a contemporary world—post-911, post-financial-breakdown, post-post-modern—in terms both intimate and cultural, bereaved and entranced, clear-eyed and restless with all it will not, cannot, apprehend.") Scottish novelist Ali Smith's Autumn may usher in a new literary era, Bill Hayes writes a valentine to Oliver Sacks, New York City and live itself, Edmund Gordon writes the first biography of Angela Carter, "not only an important writer but one who led a deeply interesting life," Glenn Frankel's High Noon tracks the filming of Gary Cooper's classic against the Hollywood blacklist era and Damion Searles finds out more about Rorshach and the test he created than you can imagine.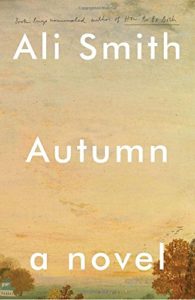 Ali Smith, Autumn
The Scottish novelist considers Autumn the first in a four-book series. It gathers enthusiastic response based on her prescience about Brexit and the possibility the book ushers in a new literary era.
"What kind of art will come out of this moment?"  asks Sophie Gilbert (The Atlantic). "If Ali Smith's Autumn is a harbinger of things to come, the work that emerges over the next decade will be extraordinarily rich. The novel, the first book in a quartet inspired by the seasons, considers post-Brexit Britain at the tail end of last summer, experienced through the perspective of a 32-year-old art history lecturer named Elisabeth. But its ambition and craft allude to—and cite—great works of literature, from  Brave New World to The Tempest. Through Smith's dazzling, whimsical feats of imagination, a news cycle described by Elisabeth as 'Thomas Hardy on speed' becomes the backdrop for a modernist interrogation of history."
Laura Miller (Slate) notes:
Autumn is the theme of this novel not only because Daniel is nearing the end of his life but because all the characters live in a world growing darker and colder, heading toward the winter of our present discontent. Donald Trump only gets mentioned once in the book (which was, after all, published before America's own catastrophe), but the gloomy post-Brexit mood that hangs over Smith's characters and their world is unmistakably relatable. Nasty spokesmen on the radio say, "Get over it. Grow up. Your time's over. Democracy. You lost." And Elisabeth thinks, "It is like democracy is a bottle someone can threaten to smash and do a bit of damage with. It has become a time of people saying stuff to each other and none of it actually ever becoming dialogue." That's one of the echoes in the novel of Charles Dickens' A Tale of Two Cities . . . "
Malcolm Forbes (Minneapolis Star-Tribune) concludes, "Autumn feels less like a standard novel and more like an intricate collage of ideas and impressions. Smith's most substantial components speak volumes with poetic intensity and lucidity about an enduring companionship, a fractured Great Britain, the tragedy of aging and the cyclical nature of time."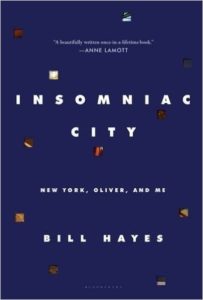 Bill Hayes, Insomniac City
In his memoir, Hayes celebrates his late partner Oliver Sacks and  "the evanescent, the eavesdropped, the unexpected" life in New York City.
Heller McAlpin (NPR) writes, "Even before cracking Bill Hayes' mixed-media memoir, you know it's going to be special: This is the man who enabled neurologist and writer Oliver Sacks to do what a lifetime of therapy hadn't—connect intimately and openly with another man, ending three and a half decades of celibacy. Sacks finally came out about his thwarted sexuality and joyful late awakening in his memoir, On the Move, which was published just a few months before his death from cancer in 2015. Insomniac City is Hayes' valentine to Sacks, New York City, and life itself."
Maria Popova (Brain Pickings) notes, "What emerges from this dual love letter is a lyrical reminder that happiness and heartache are inseparably entwined, and that without the tragic, the beautiful would be just a frayed strand of half-being."
Steve Silberman (San Francisco Chronicle) concludes, "Like Patti Smith's haunting M Train, Hayes' book weaves seemingly disparate threads of memory into a kind of sanctuary—a secret place where one can shake off the treasured relics of past lives and prepare to be reborn anew."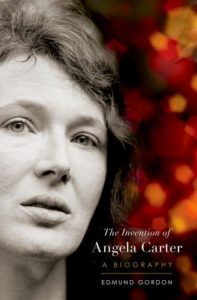 Edmund Gordon, The Invention of Angela Carter
The first biography of a writer ranked tenth on The Times of London's list of the 50 greatest writers since 1954 does her justice.
"Expansive and lavish, this outstanding biography does much to demythologize Carter, revealing her to be a singular writer of her time," notes a starred Kirkus review.
Philip Hensher (The Spectator) writes:
Angela Carter was a seminal, a watershed novelist: perhaps one of the last generation of novelists to change both the art she practiced and the world. Reading this splendid biography, it is hard to avoid the false conclusion that she always knew exactly what she was doing. Her life, in its swerves and unexpected corners, always turns out to be contributing to her work; how clever of her, one starts to think, to get a job on a local news-paper, to go to Japan, to have an array of dotty, oppressive or plain witchy aunts, mother and grandmother . . . Of course it was not like that. Carter's life seems rich and inevitable in the retelling because she made use of almost everything. There was not much that she wouldn't look at with interest.
Dwight Garner (New York Times) is also enthusiastic:
Edmund Gordon has written a terrific book—judicious, warm, confident and casually witty. The ratio of insight to literary-world gossip, of white swan to black swan, is as well calibrated as one of Sara Mearns's impossible balletic leaps.
Gordon has had the good fortune to seize upon, for his subject, not only an important writer but one who led a deeply interesting life. This bio unfolds a bit like one of the fairy tales Carter shook to release its meaning. The pages turn themselves.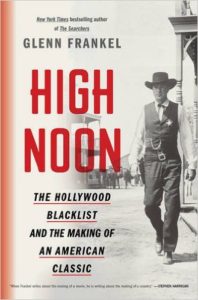 Glenn Frankel, High Noon
The Pulitzer Prize winning former Washington Post reporter takes on an iconic film made on a shoestring during a time of political turmoil that put Hollywood on the witness stand.
"In High Noon," writes Rebecca Prime (Los Angeles Times), "Frankel discusses the film's creation against the backdrop of the 'tectonic shifts in American politics and culture' that occurred during the Truman and Eisenhower administrations. In November 1946, Republicans won control of both houses of Congress for the first time in almost two decades and quickly set about dismantling Franklin D. Roosevelt's progressive coalition. Conservative opponents of the New Deal, working-class populists and self-styled Americanists convinced that 'outsiders' (read:  liberals, Jews and Communists) posed a threat to America's security and values now had a legislative voice. As Frankel puts it, '[t]he backlash now had official sanction from Washington.'"
John Anderson (Newsday) calls Frankel's book "an energetic, close-to-exhaustive study of Hollywood's post-WWII left and its persecution amid anti-Communist hysteria."
Chris Vognar (Dallas News) writes, "Using newly discovered records, [Frankel] tells the story through the prism of a beloved Hollywood movie. He spotlights the major players—Foreman, producer Stanley Kramer, star Gary Cooper and director Fred Zinnemann—and deftly loops them all into the bigger picture. He brings out the drama and the no-win situation of everyone who was called before HUAC: Throw your friends and colleagues under the bus by naming them as former or current communists or sympathizers, or watch your life and career go up in flames."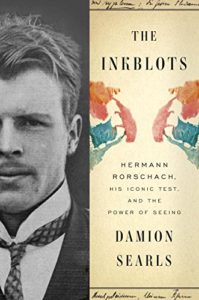 Damion Searls, The Inkblots: Hermann Rorschach, His Iconic Test, and the Power of Seeing
Swiss psychiatrist Hermann Rorschach invented a psychological test using ink blots that has been used for nearly a century. Searls traces the history of its use, and shows parallels between use of that test and modern art.
"Searls opens his new book with a man being administered the Rorschach test as part of a job application," writes Kate Tuttle (Boston Globe). "He aces the verbal tests, but when it comes to the Rorschach, his answers reveal troubling hints of violence—an assessment confirmed years later, despite his apparent normalcy in the other tests."
Merve Emre (The New Republic) adds context:
Just after April Fools' Day in 1922, Hermann Rorschach, a psychologist who used a collection of symmetrical inkblots to treat patients with manic depression and schizophrenia, died of appendicitis in Herisau, Switzerland, at the age of 37. Had he lived, he would have been 40 when his inkblots made landfall in the United States in 1925; 55 when they emerged as a helpful tool for profiling college applicants; 62 when the Pentagon used them to fashion a line of tropical shorts for World War II veterans; and 99 when Andy Warhol poured paint onto a canvas in 1984, folded it in half, and opened it to reveal his first inkblot-inspired painting. Rorschach would have been 121—unlikely, but not impossible—when Gnarls Barkley released his 2006 music video for "Crazy," which featured a series of liquefied inkblots that morphed into threatening or reassuring shapes, depending on one's perspective. And he most certainly would have been dead by 2016, when the film Arrival imagined a world in which aliens could communicate with humans by means of a visual language written in a mysterious, inky pattern.
"Something has kept the Rorschach in circulation," writes Casey Schwartz (New York); "there is an apparent force those ten images exert on those who look at them, both seductive and mysterious, perhaps even a little black magical. And with The Inkblots, the Rorschach, in all its ambiguity, finally has the richly complex life history it deserves.
---