5 Books Making News This Week: Antiheroines & Alternative La La Land
Jami Attenberg, Joan Didion, Hari Kunzru, and More
Rick Bass's For a Little While wins this year's $20,000 Story Prize. The Baileys Women's Prize for Fiction longlist includes Margaret Atwood's Hag-Seed, Mary Gaitskill's The Mare, Eimear McBride's The Lesser Bohemians, C.E. Morgan's The Sport of Kings, Annie Proulx's Barkskins and Madeleine Thien's Do Not Say We Have Nothing. Kay Redfield Jamison begins deep psychiatric understanding to her biography of bipolar poet Robert Lowell, Joan Didion's latest book was written in 1970, Hari Kunzru's White Tears provides the comeuppance missing in "La La Land," Rebecca Solnit's The Mother of All Questions offers hope in a bleak year, Jami Attenberg's All Grown Up is "of the zeitgeist."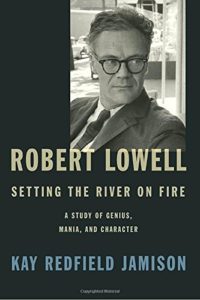 Kay Redfield Jamison, Robert Lowell: Setting the River on Fire
A psychiatrist who suffers from bipolar disorder writes a knowing biography of a manic-depressive poet whose life and work have fascinated generations. Critics go thumbs up.
Michael Dirda (Washington Post) is aglow:
Robert Lowell: Setting the River on Fire achieves a magnificence and intensity—dare one say a manic brilliance?—that sets it apart from more temperate and orderly biographies. Above all, the book demands that readers seriously engage with its arguments, while also prodding them to reexamine their own beliefs about art, madness and moral responsibility. Reading this analysis of "genius, mania, and character" is an exhilarating experience.
"Jamison has amassed a wealth of fascinating research about Lowell, which should serve scholars for years to come: his medical history, hospital reports, vivid interviews with many of his doctors and close friends, as well as letters and notes including the revealing notebook Lowell kept in 1973," writes Patricia Bosworth (New York Times Book Review). "But perhaps it is Jamison's personal take on mania that is finally most valuable. She knows the disease from bittersweet experience. She's been obsessed and absorbed by it, and knows the "precarious, deranging altitude to which mania ascends. . . . Mania can fire ambition, steel the nerve and give high wind to imagination." Or, as Lowell himself once put it, "Darkness honestly lived through is a place of wonder and life."
Craig Teicher (Los Angeles Times) notes, "Jamison is the first biographer who isn't afraid of Lowell; neither tarnishing his monumental reputation nor admitting that an identification with his insanity intimidates her. Perhaps the time that has passed since his death and the resurgence of his reputation accounts for the former; Jamison's own struggles with madness certainly account for the latter. While at times her identification with her subject—Lowell, it becomes clear, is a kind of hero to Jamison—clouds her critical vision, Jamison is the first biographer to succeed at humanizing this larger-than-life figure."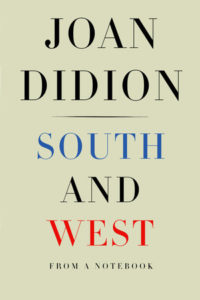 Joan Didion, South and West
Didion's latest book draws from two pieces she began in 1970 and never completed. Its publication now raises questions.
Michiko Kakutani (New York Times) writes:
As bookends to each other, the pieces in this book give us two Americas, two ways of looking at history: the South, deep in the grip of the past—a place where many people are invested in holding onto ancient prerogatives of race and class; and California, insistently focused on the future and the horizon—a place where the frontier ethos of shucking off roots is the one real tradition. It's 1970, when the nation is being rocked by seismic cultural and political shifts, and yet Didion has the strange intuition here that the South, not California, would exert a gravitational pull over the rest of the country.
The book, she concludes, is "weirdly prescient—pointing the way not only to where she would go as a writer but also a path the country would take in the years to come."
"South and West is a marvelous time capsule, and a reminder that sometimes even the great ones let themselves down," notes Christian Lorentzen (New York). "Didion wasn't one to make a show of failure in her prime, but five decades on South and West is an act of generosity."
"Didion is a visibly frail 82," writes Zan Romanoff (New York). "It does not seem unreasonable to imagine that when she approached the question of a next book, she was thinking in terms of legacy. Did she want to continue being Joan Didion the institution, a woman who had outlived her husband and her daughter and perhaps her literary prime? Or could she find a way back to the raw, searching voice that had captivated us in the first place?"
Michelle Dean (Los Angeles Times) writes:
The Didion style is there, in the close attention paid to the sound of the words—sound is always how Didion's created an atmosphere. But her hypnotist's tricks keep getting broken up by the necessarily partial, impressionistic progress of a book like this. No anecdote gets longer than a page or two, and none ties smoothly to the rest. South and West is a book for the completists and hardcore fans, in other words. Though it feels somehow impolite to mention this, because Didion, 82, is still with us, it is the sort of book that isn't typically published before the writer is dead.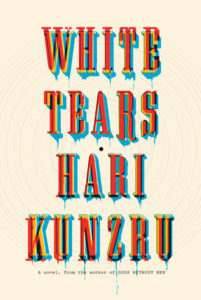 Hari Kunzru, White Tears
Two New York hipsters record a street musician and upload his music to the Internet, claiming it to be a long-lost recording by 1920s blues great. Trouble follows, in this new novel by one of Granta's Best of Young British novelists. PW gives White Tears a star: "In his most accessible book to date, Kunzru takes on the vinyl-digging gentrification culture with a historical conscience."
Claire Fallon (Huffington Post) compares White Tears to "La La Land":
For filmgoers who chafed at seeing a bland hipster tap his way into a white savior role for an African-American musical tradition, White Tears will hit bookstores bearing inside a remarkably similar setup―but also the comeuppance "La La Land" never gave to Sebastian. Where "La La Land" is a nostalgic musical romance, White Tears is a supernatural mystery, a horror story, and ultimately a tale of black Americans' historical exploitation by white profiteers.
"Kunzru's graceful writing is exquisitely attuned to his material," notes Katharine Weber (Washington Post). "Seth's integrity as a narrator is so convincing that at first the frequent jumps into an uncannily familiar past feel like a counterpoint melody that will resolve by the last page. But it's neither a clever Time and Again story of time travel nor a tricky Westworld sort of past-present parallel. White Tears is a profoundly darker and more complex story of a haunting that elucidates the iniquitous history of white appropriation of black culture. Is Seth transformed, or is Seth revealed? Who is the pursuer, and who is the pursued?"
Rebecca Solnit, The Mother of All Questions
Solnit, who won a National Magazine Award for three of her 2016 Harper's columns and invented the term "mansplaining," gathers a series of recent essays on the resurgence of feminism. As usual, she's timely.
Ellie Robins (Los Angeles Times) writes, "Her vision of progress holds that history is neither linear nor predictable; that trying matters and often yields results, even if they're not exactly the ones you wanted or expected; and, crucially, that as progressives face such uncertainty, they must celebrate their victories. This is an invaluable vision for activists wishing to avoid burnout in the current climate, and many have flocked to it: Solnit's manifesto Hope in the Dark sold out after the election. In its content, The Mother of All Questions reinforces Solnit's gift of hope; in the circumstances of its publication in this bleak year, it obliges readers to put it to use."
Nora Caplan-Bricker (Slate) concludes, "Solnit's voice shows us what it means to refuse to be drowned out, and how doing so creates the hope that you, along with many others, can change the world. 'A free person tells her own story,' Solnit writes. 'A valued person lives in a society in which her story has a place.'"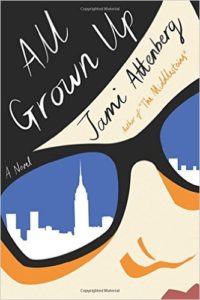 Jami Attenberg, All Grown Up
Attenberg's novel focuses on Andrea, a New Yorker nearing forty who has opted out of marriage, motherhood, art school in Chicago and a career as an artist.  All Grown Up captures the zeitgeist.
Annalisa Quinn (NPR) writes, "All Grown Up is a book so of the zeitgeist that if you took it onto the G train it would just dissolve and merge with the air. In the past few years, it has become one of the voices I encounter most, a voice that seems to demand that I identify with it. Live life unapologetically! the voice cries. Indulge yourself but judge others relentlessly! the voice cries. Throw off the accoutrements of conventional domestic life while still reinforcing the systems that underlie it! the voice cries."
"All Grown Up is a novel about seeking, but not about seeking completion in coupledom—and that makes it unconventional, even revolutionary," writes Adam Kirsch (The Tablet). "'A funny thing happens when you tell a man that you don't want to get married: They don't believe you,' Andrea muses. 'They think you're lying to yourself or you're lying to them or you're trying to trick them in some way and you end up being made to feel worse just for telling the truth.'" What she is after is something larger and therefore harder to grasp: a sense of identity, a purpose."
At one point, notes Helen Schulman (New York Times Book Review), "Andrea is challenged in a crucial way to be compassionate to someone who has always been compassionate to her, and it is a challenge she seemingly . . . can't meet. It's intriguingly provocative on Attenberg's part to make a protagonist this insensitive and, dare I say it, immature. But for all her foibles and missteps, the grown-up Andrea is primarily sympathetic: funny, honest about her warts-and-all character, dry, all too human, often kind (her treatment of her sister-in-law notwithstanding) and stuck in a place that is far better than the one she came from."
---