5 Books Making News This Week: Activists, American History, and Airbnb
Rosalind Rosenberg, John B. Boles, Daniel Kehlmann, and More
The season of summer writers' conferences begins. Forty selected writers gather at Lit Camp on Mayacamas Ranch at the northern tip of the Napa Valley (wine country) for inspiration and nitty gritty from Pulitzer Prize winner Paul Harding (Tinkers), authors Elizabeth McKenzie, Joshua Mohr, Daniel Torday, Lee Daniel Kravetz, and founder Janis Cooke Newman, plus Phil Klay, winner of the National Book Award and the National Book Critics Circle's John Leonard award for his first book, Redeployment. In his master class, Klay walks the emerging writers through the multiple revisions of the opening lines in his story "Bodies," baring the process by which he moves from first draft ("Flaccid, repetitive; a simple straightforward story told as a true story," he says), through the draft "getting worse before it gets better" through "reading aloud," to the final story, in which he puts the reader in the crosshairs. "You can't talk about war without telling those anecdotes that make you squirm," he says. "The grotesqueness is no longer the point, but in service of something." And so the published draft begins: "For a long time I was angry. I didn't want to talk about Iraq."
Jhumpa Lahiri wins the PEN/Malamud Award for Excellence in the Short Story for stories that "appear effortlessly elegant, the narrative arcs so quietly drawn that you slip into a dream without noticing the outside world falling away," notes selection committee member Dolen Perkins-Valdez. "And then you pause . . .  grasping Lahiri's deep introspection, her meticulous attention to every word, sentence, paragraph, and carefully realized insight. Lahiri's range and depth in the short story genre is astonishing and complete." Champagne and a pig are the rewards for the winner of this year's Wodehouse Prize—Helen Fielding for Bridget Jones' Baby.
Rachel Syme tweets her praise of Amelia Gray's novelist revival of Isadora Duncan, an exploration of boredom provokes humor, a brief novel by a German-language literary superstar Daniel Kehlmann sets the creepy bar high, critic Jonathan Yardley comes out of retirement to review John B. Boles's Thomas Jefferson biography, and in case you missed it, Barnard historian Rosalind Rosenberg gives us a life of civil rights firebrand Pauli Murray, who coined the term Jane Crow and privately struggled with gender identity.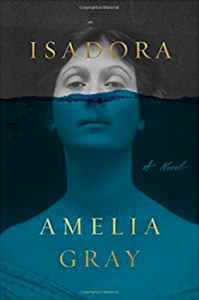 Amelia Gray, Isadora
Los Angeles-based Gray brings back dance pioneer and cultural leader Isadora Duncan with eerie energy and grace.
Ellie Robins (Los Angeles Times) kicks off her review with admiration:
Isadora begins with an ending—these true drowning deaths [of Isadora and her two children]—and plays out as a moment of poise, the feeling of being tipped forward on your toes for almost 400 pages as Isadora teeters on the brink of her sanity and the world teeters on the brink of World War 1. In both the world at large and the world of Isadora Duncan, this was a tense, dense, fertile period, humming with notions about strength, the female body, sovereignty, genius, power, invention and belief. This is a novel about all these things, and also a great novel of character: the story of a real woman's real grief and survival.
Rachel Syme agrees in three tweets:
@rachsyme: i don't really know how to talk about @grayamelia's isadora without sputtering over my words, but i'll say this: it's great
@rachsyme: even if historical fiction isn't a genre you normally go in for (not that there isn't brilliant hist. fic. out there), this is something new
@rachsyme: it's historical fiction written by an absurdist, about a woman who was beautifully absurd
it moves like the dancing . . .
And at The Millions: "A dancer who mixed the classical, sacred, and sensual, Duncan is the perfect subject matter for Gray; if a writer can expertly resurrect the Theseus myth at a small-town fair, then she can do justice to a life as inspiring—and tragic—as Duncan's."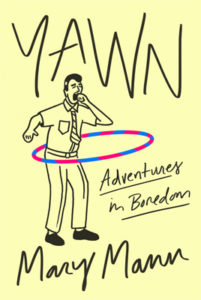 Mary Mann, Yawn: Adventures in Boredom
An exploration of . . . yawn . . . boredom provokes humor. Check out the photograph in this Atlantic Q and A in which Mann tells Julie Beck, "At one point during the election campaign, I was getting all these Google alerts of different times that Donald Trump had said things were boring . . . They include: other people's campaign events, his own emails, The Amazing Race, the NFL, Samuel L. Jackson, Jeb Bush, a whole bunch of different Fox employees. It's a downer but also funny. You gotta laugh, right?"
"The first couple chapters of Yawn provoked a sense of futility and restlessness in me," writes Megan Volpert (ArtsATL), "but I pressed on anyway and eventually found the totality of the book rewarding in a way that is hard to describe . . . "
Genevieve Valentine (NPR) concludes:
Yawn is deeply interested in connecting the history, psychology, and cultural narratives around boredom; if the authorial presence gets a little draining, well, maybe that's part of the point.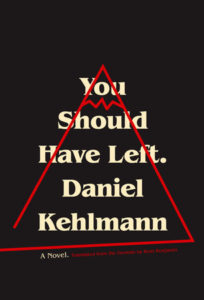 Daniel Kehlmann, You Should Have Left, tr. Ross Benjamin
In 2014 Jonathan Franzen, who tapped him as a collaborator on The Kraus Project, called Kehlmann "the go-to guy in Central Europe for engagement with the weirdness of the postmodern world we inhabit."
In his latest novel, a scriptwriter, his wife and daughter are perched in a mountaintop getaway rented from Airbnb when reality begins to crumble. How serious is he? "Again and again I meet German authors who are really funny people, but then I look in their books and there's none of that here, because they've been taught to hide it," Kehlmann, who is a fan of Wodehouse and The Simpsons, tells The Guardian's Philip Oltermann. He blames Goethe.
"Kehlmann unfolds his story in effectively creepy fashion, the narrator's world increasingly out of synch, the abyss so temptingly near," notes M.A. Orthofer (The Complete Review).
"The screenplay writer finds—a terrible realization for any writer—that: 'Words. They don't capture how it really is.' Both the reality he is confronted with, especially regarding his wife (though his diminishing professional prospects don't help either), and the increasing unreality of the house make for a world in which he has lost his holds."
Christine Smallwood (Harpers) concludes:
In his first novel, Measuring the World, Alexander von Humboldt offers a surveyor's adage: "Whenever things were frightening, it was a good idea to measure them." The narrator of You Should Have Left takes this advice literally, by sketching a right triangle with a ruler. But no matter what he does, the angles add up to 172, and a rectangle fares no better. There's something wrong with the drawings. They make his eyes go fuzzy. By the end, he understands. He's gone over to another side, or inside; there are more dimensions there, it's hard to explain. Maybe it's all an elaborate metaphor for that most quotidian reality, a disintegrating marriage—the angles of one man's life collapsing as the house caves in.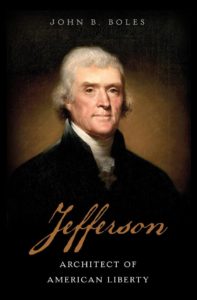 John B. Boles, Jefferson: Architect of American Liberty
Rice University professor new Boles's Jefferson biography distinguishes itself from the pack.
Publishers Weekly calls Jefferson "a gem of a biography," adding, "In a narrative as majestic as its subject, Boles . . . takes a fresh, nuanced look at one of the America's most enigmatic founding fathers. With scads of books already available about Jefferson, Boles's work distinguishes itself  . . . it's a 'full-scale' biography, covering all facets of Jefferson's life: politician, oenophile, father."
Kirkus calls it a "stately, knowledgeable study jostling for space among the groaning bookshelves devoted to the third president."
Jonathan Yardley (Washington Post) calls Jefferson "perhaps the finest one-volume biography of an American president." And a confession:
Boles . . . has spent many years studying Jefferson's native American South in all its mysteries, contradictions, follies and outrages, as well as its unique contributions to the national culture and literature. This biography is the culmination of a long, distinguished career. I admire it so passionately that, almost 2 1/2 years into a happy retirement, I had no choice except to violate my pledge never again to write another book review.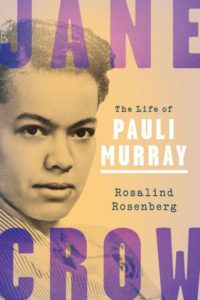 Rosalind Rosenberg, Jane Crow: The Life of Pauli Murray
Barnard historian Rosenberg brings us the first full biography of the woman whose resistance to segregation began in childhood and endured as a "single-minded intention of destroying Jim Crow," and whose autobiography minimized her lifelong struggle with gender identity.
"Historical figures aren't human flotsam, swirling into public awareness at random intervals," writes Kathryn Shulz (The New Yorker). "Instead, they are almost always borne back to us on the current of our own times. In Murray's case, it's not simply that her public struggles on behalf of women, minorities, and the working class suddenly seem more relevant than ever. It's that her private struggles—documented for the first time in all their fullness by Rosenberg—have recently become our public ones."
Karen Iris Tucker (Slate) points out one of Rosenberg's key additions to the Murray narrative:
. . . in sifting through the boxes of archival material, Rosenberg had uncovered an astonishingly complex individual who was as petrified of being found out for her nontraditional gender identity as she was outspoken about human rights.
Murray believed identity and sexual orientation were private matters, and she discussed them with only a few intimate friends. So while she was elated on the occasions she was taken for a man, she does not appear to have asked to be identified as such.
It is within this context that Jane Crow, in its sensitive and nuanced synthesis of Murray's private journal notes, determines she likely thought of herself as what we would now understand as transgender.
Kristin Iverson (Nylon) writes, "Murray's life story is remarkable no matter what, but as Rosenberg explores in this sensitive,  provocative new biography, it's all the more so because Murray, hailed as a feminist icon, actually did not identify with being a woman at all . . . "
---