5 Book Reviews You Need to Read This Week
"Her book has promised universal absolution and universal absolution it must deliver."

Our fivesome of fabulous reviews this week features Merve Emre on Minna Dubin's Mom Rage, Sven Birkerts on Karl Ove Knausgaard's The Wolves of Eternity, Andrew Martin on Nathan Hill's Wellness, Ron Charles on Daniel Mason's North Woods,  and Osita Nwanevu on Vincent Bevins' If We Burn.
Brought to you by Book Marks, Lit Hub's book review aggregator.
*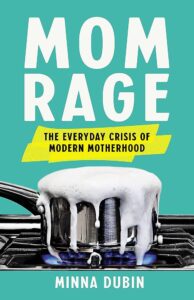 "Since around 2016, popular works of American feminist nonfiction have often fallen into two overlapping genres: books that reclaim women's anger for personal and political emancipation…and books that popularize Marxist feminist analyses of domestic and emotional work as forms of unwaged labor…The first half of Mom Rage squats at the intersection of these genres … Dubin's claims and prescriptions are, by now, staples of pop-feminist nonfiction. Such personal essays and polemics are built on the foundational arguments of an earlier generation of feminists—among them, Silvia Federici, Mariarosa Dalla Costa, and Selma James—who, in the nineteen-seventies, argued that capitalism's emphasis on waged work outside the home occluded the unwaged work of housewives and mothers. It is a measure of how influential such theorizing has become that this proposition, once radical, is almost received opinion among a new crop of cultural critics. But, by the same token, the newer books—call them 'feminish'—engage only sparingly with the original sources. Reading paraphrases of paraphrases of paraphrases, one starts to feel as if there is something a little hollow and shiftless about the ease with which phrases such as 'white supremacist, homophobic, classist, ableist, xenophobic, transphobic, misogynistic, capitalist patriarchy' are trotted out. We get the right words, strung together like marquee lights, but not the structural analysis that puts them in relation to one another …  No doubt the patriarchy and capitalism have power, but how precisely that power results in the rage of mothers toward their children, as opposed to their husbands or their bosses, remains unclear … The imprecision of Dubin's language strands her argument on unstable ground. Often, one wonders if what is truly at stake for her is not a dramatic political battle between the oppressors and the oppressed but a quieter struggle between personal freedom and unfreedom … In its purest and most personal moments, Dubin's rage seems like grief for the future, which is available to her children in a way it will never again be available to her … The book fails to universalize a particular predicament, and, in strenuously attempting to do so, turns into an exercise in ill-advised candor … It is wrenching to witness how much she needs others to affirm that both she and her son are good, instead of understanding how they can be good to, or good for, each other. And it is unsettling to realize that she is incapable of seeing him or herself clearly—that careless prose can narrow the terrain on which a person encounters others and interrogates her own desires. Dubin never relinquishes the language of morality. She cannot; her book has promised universal absolution and universal absolution it must deliver. 'You are a good mom,' she assures the reader in the book's last line. But to liberate parents from shame like this is every bit as moralizing an act as scolding them would be. Both acts situate the writer on a plane of judgment above the reader, reducing the reader to an extension of the writer's values. The question 'How can she be sure that I am a good mother?' can only be answered with another question: 'Does she care who I am?' The writer gets to play out a fantasy of the infinitely benevolent mother by casting the reader in the role of the child, desperate for forgiveness. Yet what the reader really seeks from the writer, and what the child seeks from his mother, is not a moral sentence. It is an ethical point of view—the attentiveness and the curiosity borne of the clear-eyed recognition of both self and others."
–Merve Emre on Minna Dubin's Mom Rage: The Everyday Crisis of Modern Motherhood (The New Yorker)
"It has never been the novelist's job to solve the world. As the late Milan Kundera put it: 'A novel does not assert anything; a novel searches and poses questions.' But in our manic and precarious times, fiction that conveys no sense of a world in upheaval can feel partial. There is so much pressing on all of us; so many things feel urgent again. WithThe Wolves of Eternity, the Norwegian distance runner Karl Ove Knausgaard brings us his second massive speculative novel in three years. Like its predecessor, The Morning Star (2020), the new novel comprises multiple narratives filtered through various characters. The two also share the conviction that we live in edge times and that the stakes for all of us are now very high … The task of any novel is to absorb its materials, to finish what it started. On the emotional level, Knausgaard mainly succeeds. After the publication of his six-volume series My Struggle, he was tagged by some as the avatar of the troubled white male ego, and the charge was not so easy to refute. But in this novel he makes a turn; he brings to life—even celebrates—the complex and ambivalent give-and-take between men, between women and between men and women. These relationships, full of misunderstandings, concessions and reconciliations, feel real, without agenda. On the intellectual level, however, the great tension of warring concepts is unresolved. That might be the point. Knausgaard has spackled his narrative with several of these obsessive reflections. I noted a strong kinship with Don DeLillo's Underworld, which likewise proceeds in sections, covering great spans of time, carries the weight of extended reflections and ends hovering on the brink of what feels like some spiritual revelation. There, too, are more questions than answers … The Wolves of Eternity, like some 19th-century Russian novel, wrestles with the great contraries: the materialist view and the religious, the world as cosmic accident versus embodiment of some radiant intention. Is this world shot through with meaning or not? Has there ever been a better time to ask?"
–Sven Birkerts on Karl Ove Knausgaard's The Wolves of Eternity (The New York Times Book Review)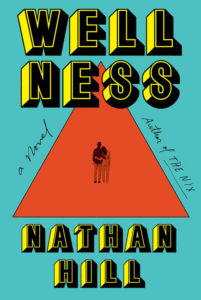 "Nathan Hill's novels are, among other things, feats of narrative architecture. 'My projects are vast creatures of shocking complexity,' a real-estate developer none-too-humbly notes early in Hill's new novel, Wellness— 'intricate, unruly, asynchronous, a little baroque.' Given the vastness of the 600-page book that follows, one can't help imagining the author is supplying a would-be ars poetica of his own … The ingredients are in place for a Franzen-esque exploration of The Way We Live Now, and, at least for a while, this is what the book delivers … It's a tall order to wrestle so much secondhand material into something emotionally resonant, and, intentionally or not, the same pop psychology Hill examines—with its tendency toward simple, all-encompassing solutions—pervades the novel's own logic. Franzen's moralism can be irritating, but at least his pervasive skepticism gives him a solid foundation from which to critique the culture he writes about … Hill is less interested in getting to the bottom of the modern predicament than he is in constructing an elaborate, back-story-laden plot machine that will, after hundreds of pages, solve all its characters' problems with a series of satisfying clicks … Hill intertwines past and present with militaristic precision, revealing the ways his characters' histories come to bear inexorably, unambiguously on their present lives … Hill…is so dogged about connecting narrative dots that he loses sight of the messiness of lived reality … Hill's storytelling abilities are impressive, if maddening, and underneath all the moving parts, his novels vividly capture lonely Midwestern childhoods and real yearning for connection and understanding … What's frustrating is that, characteristically, even this moment of artistic appreciation turns out to have an ulterior motive."
–Andrew Martin on Nathan Hill's Wellness (The New York Times Book Review)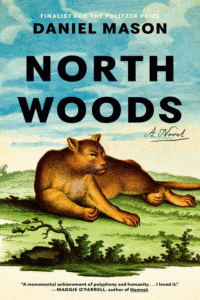 "By the time ghosts start gathering in Daniel Mason's North Woods, it's too late to flee. You're already rooted to this haunting, haunted novel about a homestead in western Massachusetts. Don't be afraid: Go in the house … The literary gods are inscrutable—the book club overlords even more so—but I'm praying you'll consider getting lost in North Woods this fall. Elegantly designed with photos and illustrations, this is a time-spanning, genre-blurring work of storytelling magic … to read North Woods is to suffer the sweet sorrow of falling in love with fresh residents only to see them swept away by the passing seasons. Persist. The silent spaces between these stories articulate what the residents can't. Their errant lives begin locking together in a winding chain of unlikely history. And when the moonlight strikes just right, you may even see some past homeowner flit across the corner of a page once again. But Mason isn't just passively watching the evolution of this site in the forest. Each chapter germinates its own form while sending out tendrils that entwine beneath the surface of the novel … The precision of Mason's perspective involves a kind of omniscience that feels equally microscopic and moral. In an intercalary chapter, he follows the circuitous path of an apple that lands in the corpse of a murdered man … As the chapters proceed, a story of sibling devotion slips into gothic trauma worthy of Flannery O'Connor. A series of letters from a landscape painter suggests forbidden love with such aching subtlety that it evokes Henry James. A breezy column from a true-crime magazine nails the periodical's tone. And a lobotomist's case notes remind us that Mason is a professor of psychiatry at Stanford University … Not that there is anything derivative about what the author does here, but as he floats through thrillers, a bit of comic noir, erotic paranormal fiction and other genres, it's hard to imagine there is anything he can't do."
–Ron Charles on Daniel Mason's North Woods (The Washington Post)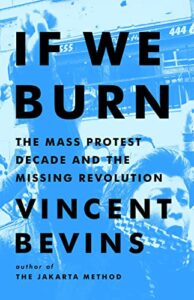 "The age of mass protest ushered in by the Arab Spring is hardly over, but that record of failures, setbacks, and cataclysms has been dispiriting even to many of the agitators and demonstrators who shaped the movements in question and whom Bevins has spent the last 10 years or so following and interviewing in search of answers. 'The point was not just to notice that the mass protest decade hasn't really worked out,' he muses toward the end of the book. 'The idea was to understand why.' Fortunately, he comes away from his globe-trotting search with critical lessons for activists both here and abroad. Setting the world afire, it turns out, is easier than one might expect. Tending to the flames is harder … The initial energies social media loosed in Tunisia, Egypt, and elsewhere were real and explosive—governments did shake, and regimes did fall. The question at the heart of the mass protest decade isn't why social media–driven uprisings failed to change conditions where they happened, but why the changes forced by those uprisings—even at their most potent and least ephemeral—were either limited in scope or reversed, remarkably often, by leaders worse than the ones activists did manage to topple … as reliably appalling as police crackdowns against mass demonstrations are, Bevins contends that their role in inspiring further action prevented the movements he surveyed from developing conceptual roots as deep as the problems they hoped to confront—outrage at the state's violence rarely yielded to coherent shared analyses of the social, economic, and political conditions upholding the state … The causas episode captures well what gradually emerges as Bevins's central theme. There is both power and peril in leaderless mass action. And the leaderlessness that spontaneous, social media–driven protest lends itself to was adopted as an outright virtue too readily in too many places … the institutions underpinning our politics and our economy have survived the decade mostly unchanged and unscathed; in general, we have about as many reasons to hit the streets now as we did 10 years ago. And when we do, we ought to take more than mere inspiration from movements abroad—it's their failures that we might learn the most from."
–Osita Nwanevu on Vincent Bevins' If We Burn: The Mass Protest Decade and the Missing Revolution (The New Republic)
---