5 Book Reviews You Need to Read This Week
Bono's Memories, Bob Dylan's Misogyny, Katherine Dunn's Vulgarities, and More

Our treasure chest of terrific reviews this week includes Colm Tóibín on Bono's Surrender, Lynn Steger Strong on Claire Keegan's Foster, Adrienne Raphel on Katherine Dunn's Toad, Jody Rosen on Bob Dylan's The Philosophy of Modern Song, Christian Lorentzen on Graham Macrae Burnet's Case Study.
Brought to you by Book Marks, Lit Hub's "Rotten Tomatoes for books."
*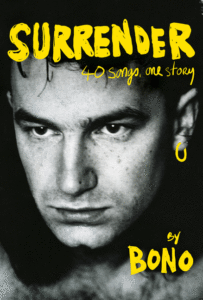 "The loss of his mother goes through Bono's book as an undercurrent … Surrender is, especially in the first half, introspective, raw, self-deprecating, oddly earnest, almost self-accusing. The scores Bono settles are against himself. Others he describes with affection and accuracy, without falling into saccharine tones … What is strange, and what makes much of this book so exciting and interesting, is that the sadness is overwhelmed by a desperate, frenzied desire to use life more richly since it has proved to be so fragile … Bono is careful not to try to explain the songs too easily or glibly. He leaves much to mystery and resorts often to self-doubt … Surrender is, in its own generous way, a book written by an Irishman to tell his mother how much he misses her, to tell his mates how much he rates them, and to let his wife and children know how much he loves them … Alison Stewart, whom Bono first met when he was sixteen, remains elusive in the book. It is clear that Bono is still trying to figure her out."
–Colm Tóibín on Bono's Surrender (The Irish Times)
"[A] writer of sparse, assured sentences that burrow into something ineffable about what it is to be alive and then hold it up with care for our examination and pleasure … It is even tighter—and better for that, I would argue—than the equally slim Small Things Like These … The structure of the story is crystalline, unfussed: We begin at the start of something; we move almost completely linearly through the present tense; we finish when what started on the first page comes to an end. There is a clear and jarring rupture in the second half…followed by a devastatingly earnest and heartbreaking denouement … This is not to say any of Foster is predictable—which in itself is remarkable … Foster is exactly as sad as you imagine it would be, but more stunningly alive than you have any right to expect. Its language settles in your belly and then your bones only seconds after it has passed your eyes … Fosteris a small story, but it is not minimalist … Keegan's world is lush and full, the details delicately made, ever more rewarding and engaging with every read … Keegan takes care to etch out for us this world's particularity, to let us see,feel and hear it, to enlist us in helping bring it to life. While the scale of her story is modest…the scope of what Keegan can hold inside of it…is as big, brash and ambitious as a story might be."
–Lynn Steger Strong on Claire Keegan's Foster (The Los Angeles Times)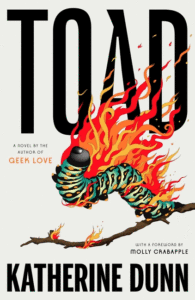 "If Geek Love is, as the French say, jolie laide (ugly-pretty), then Toad is just ugly. Yet that doesn't make it any less mesmerizing … When tragedy hits with a wallop at the end, you've been so mired in melancholy you almost don't realize how huge the punch is. Toad is sad, funny and, most of all, deeply, unapologetically, ordinary … Which is not to say that Toad is an ordinary book. It's as weird as anything you'd expect from a writer this good at describing animal functions. Fluids and fats and flesh smack throughout … Dunn never lets us get comfortable: Just when the lyrical sentences begin to soar, she yanks up the mellifluous prose and thuds down squat subject-verb-object clunkers … She lays on vulgarities thick as butter … Toad, with its single narrator speaking alone in her living room, lacks that kind of choral power. Yet Geek Love exists only because Dunn figured out how to feel through Toad. What Toad provides is a subtler embedding in an embodied life."
–Adrienne Raphel on Katherine Dunn's Toad (The New York Times Book Review)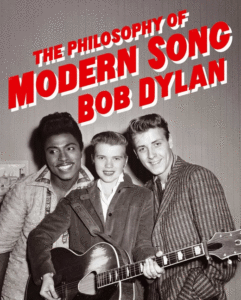 "The Philosophy of Modern Song is a mouthful, a phrase that puts on airs. It asserts that the book is an important work, a tome that merits a place on your loftiest library shelf, up in the thin air where you keep the leather-bound, gilt-edged stuff … But the title is also a wisecrack, too puffed up and self-important to be taken at face value … As a work of prose, The Philosophy of Modern Song is relentless. It rip-snorts along, charging from song to song, idea to idea. Dylan can write what journalists call a great lede: a first sentence that detonates like a hand grenade … What does all this add up to? Not quite a philosophy of modern song, or at least not a coherent one. But coherence isn't what you want from Bob Dylan … You have to plow through 46 chapters before encountering a song by a female artist … Yet women loom large in his consciousness and are omnipresent in his pages—appearing in such monstrous form, evoked in language so marinated in misogyny, that, reading The Philosophy of Modern Song, I began to feel like a therapist, sneaking glances at my watch while the crackpot on the couch blurts one creepy fantasy after another … It's a bummer, to put it mildly, to find a Nobel laureate…mixing metaphors and spouting nonsense like an elderly uncle who bulk-emails links to Fox News segments."
–Jody Rosen on Bob Dylan's The Philosophy of Modern Song (The Los Angeles Times)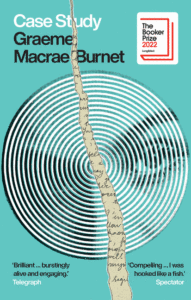 "The elegant nested structure is one of the novel's chief appeals. So is the contrast between Rebecca's narrative voice, characterized by what GMB calls 'a certain kooky élan,' and the cool tone of GMB's Life of Braithwaite. What emerges is a comedy of identities tried on and discarded. Given the number of suicides that mark the story, it's a comedy with dark underpinnings … Case Study has a lot in common with the novels of Vladimir Nabokov and Roberto Bolaño, in which invented characters pass through tumultuous episodes of literary history that never quite happened, though it seems as if they should have … Case Study is a diverting novel, overflowing with clever plays on and inversions of tropes of English intellectual and social life during the postwar decades.
As such, it is not exactly an excursion into undiscovered literary terrain. Reading Burnet's doubly mediated metafiction of North London neurotics and decadents, I often longed to turn back to the shelf for the real thing: fictions by Doris Lessing, Kingsley and Martin Amis, Muriel Spark, Jenny Diski, Julian Barnes, Alan Hollinghurst, Zadie Smith or Rachel Cusk; biographies of Plath and Hughes; films of kitchen-sink realism starring Bogarde and Laurence Harvey, with scripts by Harold Pinter; or even the documentaries of Adam Curtis, in which Laing often makes a cameo. It's a compliment to put Case Study in that company and no insult to say that Burnet must have done his homework to get there. I imagine he lives in a flat full of piles of yellowing copies of The Times Literary Supplement, every issue a catalog of obscurities from across time. Humble children from the provinces who want to reinvent themselves have to get the stuff of their daydreams from somewhere."
–Christian Lorentzen on Graham Macrae Burnet's Case Study (The New York Times Book Review)
---