5 Beach Reads for the Dog Days of August
Bethanne Patrick's Recommendations for the Last Month of Summer
Among the bookish, August has a poor reputation as a month, like December, with few strong releases. Listen, even publishers deserve a vacation. (One hopes their L.L. Bean boat-and-tote bags are stuffed with deserving manuscripts, though.)
But here at Beach Reads for Wherever You Are, August calls for celebration. It's the month when every read's a beach (or lake, or hammock, or porch) read, and this year there are plenty of worthy titles for your own tote bags. There are so many that I considered asking if I might choose ten books instead of five until I realized that's the sun exposure talking. Time to put on my columnist hat, cool off a bit, and tell you more about these five excellent novels.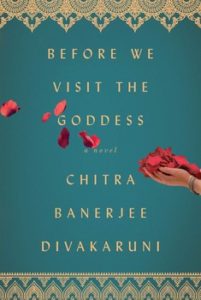 Before We Visit the Goddess by Chitra Banerjee Divakaruni
The author of The Mistress of Spices returns with a missed family connections that may (or may not) draw on her own history as a woman who left India for Houston, where she has now lived for decades. Sabitri has never met her American-born granddaughter Tara—but in order to connect with Tara, Sabitri must find a way around her own daughter Bela, who eloped to the United States as a young student and cut her Southeast Asian family ties. Divakaruni lets you inside the heads of these three strong, stubborn, smart women and shows that their connections are deeper than they want to admit.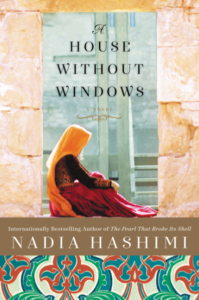 A House without Windows by Nadia Hashimi
Imagine Orange is the New Black crossed with A Thousand Splendid Suns and you'll have some idea of what Hashimi (The Pearl That Broke Its Shell) is up to in this story of an Afghan woman named Zeba and how she winds up in jail awaiting trial for the murder of her husband Kamal. While her American-educated son Yusuf struggles to set her free, Zeba discovers something new during incarceration: Female friendships. Her fellow prisoners are of different ages and social stations, but as they grapple with their new surroundings, the women bond and begin to understand that their gender, not their deeds, may be the measure of their situation.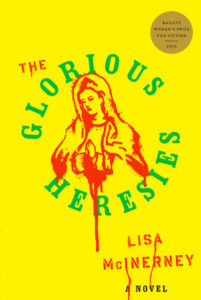 The Glorious Heresies by Lisa McInerney
You've read all the Irish novelists, O'Brien and Enright and Binchy—but you won't know the Ireland of this minute until you've been smashed into a hard wall by Lisa McInerney's high-speed prose and her real-life, effed-up characters. The Glorious Heresies has already won its homeland's Bailey's Prize, so you don't need me to tell you it's a fine, fine novel; perhaps, though, only I can tell you McInerney combines the fire of Edna O'Brien with the grit of Irvine Welsh with the sentences of Jonathan Coe, a veritable British Isles of fiction resting on her nib. Just don't expect shamrocks and mammies; this Ireland involves drugs, abuse, sex—and love. Lots of love.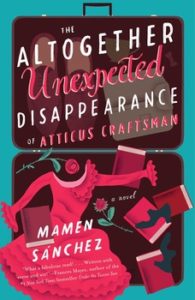 The Altogether Unexpected Disappearance of Atticus Craftsman by Mamen Sánchez (Lucy Greaves, trans.)
Resolved: We should all read more literature in translation. I've started my resolution with this fresh and funny female caper novel from Spanish author Mamen Sánchez. When very British Atticus Craftsman (he never travels without an electric kettle, a teacup, and his own supply of Earl Grey) disappears in Madrid, one Inspector Manchego learns that five feisty women who work at a literary magazine are likely involved. However, it's five against one, and the women aren't saying—much. Sánchez, an editor at Hola! Magazine, knows how to tell a story as well as how to make sure her characters have spark and depth—a real delight.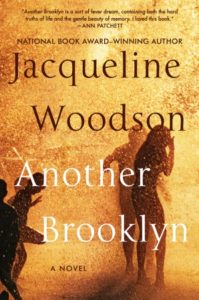 Another Brooklyn by Jacqueline Woodson
Woodson's first adult novel in 20 years is set in 1970s New York City, a difficult era that is just now getting some illumination (see Baz Luhrmann's upcoming TV series The Get-Down). Protagonist August runs into an old friend and flashes back to a time in her life when everything seemed possible even as the world started to make many things impossible. In that tiny space between, August and her "girls" shape their identities, trying to move forward even as their families, their boyfriends, and the prevailing culture hold them back. Even if the story had been told well before, Woodson's spare and masterful prose tells it again in a way you can't put down.
---
Watch: Jacqueline Woodson talks to Lit Hub at the National Book Awards on writing what matters instead of what sells.
---