5 Audiobooks to Catch Up on the 2021 Pulitzer Winners and Finalists
James Tate Hill Recommends Louise Erdrich, Marcia Chatelain, and More
A Pulitzer Prize all but guarantees a book a wider audience. Not so long ago it could also mean a new edition as an audiobook. A look at the winners and finalists of the 2021 Pulitzers, however, shows how thoroughly readers, publishers, and authors have embraced this alternate form of reading.
Judges award Pulitzers to five categories of books: Fiction, Poetry, Biography, General Nonfiction, and History. In addition to the five winners, this year's judges cite two finalists for each category. At the time the awards were announced, only three of these fifteen titles were not already available as audiobooks. Poetry winner Postcolonial Love Poem by Natalie Diaz (Graywolf Press) will be out in audio later in July, leaving Fiction finalist Telephone by Percival Everett (Graywolf Press), and Poetry finalist A Treatise of Stars by Mei-Mei Berssenbrugge (New Directions) as the only books without an audio edition.
This month I recommend five audiobooks of the 2021 Pulitzer winners and finalists, all of which were available on or around the release dates of their print counterparts.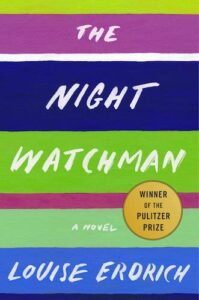 The Night Watchman by Louise Erdrich
Narrated by Louise Erdrich
Harper/HarperAudio
13 hours and 32 minutes
Winner of the 2021 Pulitzer for Fiction, Louise Erdrich's latest novel is set in 1953 North Dakota, where Thomas Wazhashk serves as the night watchman at the jewel bearing factory. A Chippewa Council member, he discovers a new bill making its way to the floor of the United States Congress intended to "emancipate" Indians from their land. The bill would emancipate them, Thomas comes to realize, from the treaties that his father and grandfather had signed and that "were promised to last forever."
If the Congressional bill provides The Night Watchman its steady undercurrent, Erdrich devotes most of the narrative to a wide cast of characters and their day-to-day ambitions. Besides Thomas, we spend the most time with his niece, Pixie Paranteau, the high school valedictorian who takes a train to Minneapolis early in the novel to find her missing sister.
Authors of fiction narrate their own audiobooks far less frequently than memoirists or nonfiction writers. Louise Erdrich might be the most natural author to narrate her own novels since Toni Morrison.
The Night Watchman
is the second to feature her as the audiobook's narrator after 2016's
LaRose
. Erdrich's trademark generosity to her characters is amplified in her smooth and tender voice.
The author's voice work, enthusiastic without overdoing it, also deserves praise. No doubt her sharp dialogue and vivid character descriptions come alive on the page, but her audiobook narration shades the corners of personalities with light yet lively inflections.
The Night Watchman's broad ambitions lie less with history than its deeply felt portrait of Turtle Mountain Reservation, to which the author has familial ties. The novel's point of view spans a white math teacher, Mormon missionaries, a ghost, and even a horse. But it's Pixie, who futilely insists that everyone call her Patrice, where the heart of the novel beats loudest.
After waking mere feet from a hibernating bear, Pixie "put her snowshoes back on and left quietly, walking at first, then loping lightly, knees high so her snowshoes would clear the snow all along the bottom of the ravine. The cold air flooding her throat was a source of power. Sleep was a fuel, too, making her springy and buoyant. She was so much stronger than she'd thought, and fearless."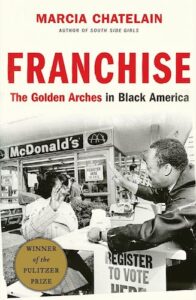 Franchise: The Golden Arches in Black America by Marcia Chatelain
Narrated by Machelle Williams
Liveright/HighBridge
10 hours and 37 minutes
"People of all ages and races enjoy fast food, but it does not mean the same thing to all people." For African Americans, explains Marcia Chatelain in Franchise, the 2021 Pulitzer Prize winner for History, the presence and consumption of fast food underscores the "Low ceiling hovering over their social and economic mobility."
Long before questions about healthy school lunches and food deserts, the fast food industry forged a complicated relationship with African Americans during the civil rights movement. It also changed the relationship between Blacks and capitalism, although as Chatelain points out, Blacks most susceptible to the extremes of capitalism and racism experienced few if any benefits.
Franchise presents a fascinating analysis of American history through a unique lens, but the style of a book like this leaves the audiobook narrator, Machelle Williams, little room for a memorable performance. Williams has fun with brief references to old advertisements, but her narration adheres most often to the book's scholarly tone. With some audiobooks, a clear narration is all that's required, and
Franchise
is one of these books.
In 1968, only one percent of private businesses were black-owned, and most catered largely to African Americans. Most of these were small, family-owned businesses with slim profit margins that brought few jobs to a given community. The sale of McDonald's franchises to Blacks helped to usher in a new era of Black capitalism, but the motives of white capitalism were hardly altruistic. 
Franchise is perhaps most revelatory in its exploration of the gray areas where capitalism becomes inextricably tied to progress. In the 70s and 80s, Madison Avenue had to reckon with the power of Black consumers. Fast food marketing played a role in the mainstream acceptance of the Martin Luther King, Jr. holiday, although this, too, is not a story of pure motivations. 
Complicated as well is the role Black-owned McDonald's restaurants play during civil unrest in cities like Ferguson, Missouri. "When McDonald's managers could be relied on more than school administrators or police officers," writes Chatelain, "then the lines between where leadership and power rested in the city could become so blurred that a fast food restaurant could begin to look like a solution instead of a symptom."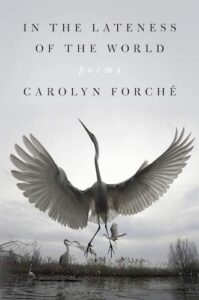 In the Lateness of the World: Poems by Carolyn Forché 
Narrated by Carolyn Forché
Penguin Press/Penguin Audio
1 hour and 26 minutes
When the 2021 Pulitzers were awarded, Carolyn Forché's In the Lateness of the World, a finalist, was the only book cited in the category of Poetry available as an audiobook. But the tide might be turning for the form that gave us some of the first talking books more than half a century ago. Anecdotally, far more poetry collections seem to be available as audiobooks than a decade ago. A beautiful collection read with warmth and gravity by the decorated poet,
In the Lateness of the World
puts forth a strong argument for making more poetry available to our ears.
Some of Forché's poems reckon with the line between beauty and loss. In "Report from an Island," about floating garbage in the Pacific Ocean, "the pellets are eggs to the seabirds, and the bags jellyfish to the turtle," all of it a "plastic island that must, from space, appear to be a palace."
With apologies to Forché and other poets, line breaks cannot be heard in the audiobook, which, as a listener, is probably for the best. An art form with such a rich oral tradition, poetry seems especially suited for the audiobook. In a 2010 Associated Press article by Hillel Italie, Pulitzer winner Robert Hass describes a "rich shared underground of poets of readings and lectures and CDs and tapes people send to each other." Some of the first commercially produced audiobooks were recordings of poets like Dylan Thomas, released on vinyl by Cadman Records.
"To be blunt," says a then-Vice President of HarperMedia in that same article, "[poetry] books just don't sell in audio."
Compared to most other genres, one could probably say the same about poetry in print, and given the relatively low cost to produce an audiobook of poetry, most of which have a run time of less than two hours, the financial risk seems minimal.
In "A Bridge," Forché creates a soundscape of imagery with "the wings of mute swans singing in flight," "sea against rocks in heave and salt," "as behind us the headland recedes." The pure pleasure of the poet's voice savoring such sounds makes each poem a song, inviting us to listen once more from the beginning. 
Minor Feelings: An Asian American Reckoning by Cathy Park Hong
Narrated by Cathy Park Hong
One World/Random House Audio
6 hours and 52 minutes
"I began this book as a dare to myself," writes Cathy Park Hong in the final essay of Minor Feelings, a finalist for the 2021 Pulitzer in General Nonfiction. "I still clung to a prejudice that writing about my racial identity was minor and non-urgent." By this point in her vital and timely book, we see the subtitle's reckoning is partially her own. The daughter of Korean immigrants and author of three acclaimed poetry collections, Hong skillfully and boldly traces the origins of a shame and confusion that have increased for many Asian Americans in recent years.
"Asians lack presence," Hong writes. "Asians take up apologetic space." But there is nothing apologetic about the author's audiobook narration. Hong navigates the text with emotional dexterity and an appealing conversational tone. Like many of the essays, her voice finds the rare nexus between righteous and subtle.
In "Stand-Up," Hong weaves the career trajectory of Richard Pryor with her own struggle to find a voice in her poetry. The search includes her own foray into stand-up comedy. Here, as in other essays, part of the pleasure and wisdom arrive from unexpected turns. If Pryor shows what is possible when we abandon imitation for honesty, his dissection of black and white stereotypes leaves Hong wondering how to react to material that doesn't account for people who look like her.
"Writing about race is a polemic in that we must confront the white capitalist infrastructure that has erased us," Hong writes, "but also a lyric in that our inner consciousness is knotted with contradictions." 
Indeed, Minor Feelings is both polemic and lyric, a straddling of categories underscored in the audiobook, equal parts moving and insightful. Fearless, contemplative, and funny, Hong's essays say what is rarely said about America's race problem, one far more complicated than Black and white.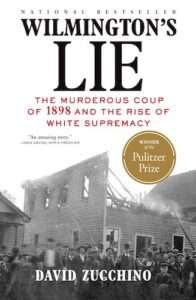 Wilmington's Lie: The Murderous Coup of 1898 and the Rise of White Supremacy by David Zucchino
Narrated by Victor Bevine
Atlantic Monthly Press/Recorded Books
11 hours and 26 minutes
Winner of the 2021 Pulitzer for General Nonfiction, Wilmington's Lie tells the harrowing, all-too-timely story of the last successful coup in American history. Previous winner of the 1989 Pulitzer for Feature Writing, David Zucchino blends historical research with a novelist's knack for storytelling, revealing how white supremacists in North Carolina's then-largest city overthrew the local government, murdering more than sixty Black men in a single night. 
In the decades after the Civil War, many Southern whites railed "against what they called 'negro rule,' though Black men held only a small fraction of elected and appointed positions in the city and the state." Eventually, Black men would feel empowered, these whites believed, to "seize white jobs, dominate the courts, and rape white women." Wilmington was especially ripe for this resentment, holding the highest proportion of Black residents of any large Southern city at the time.
Wilmington's Lie moves at a fast pace without sacrificing detail or historical context. Zucchino focuses on a select cast of key players, providing back stories of men like Abraham Galloway, a slave who became a state senator. During the Civil War, he served as a spy for the Union army, and later he would inspire Wilmington's Black men to demand the rights promised by emancipation. 
In audiobook narrator Victor Bevine, Wilmington's Lie could not have found a more nimble guide. Bevine has one of those voices so clear you quickly notice only the story behind it. At the same time, there's an urgency and polish that match well with the author's prose. One suspects he would be equally at home narrating mysteries or thrillers, perhaps because so many scenes in Wilmington's Lie capture the tension found in such novels.
But Zucchino's account offers far more than action. Delving into contemporary accounts of the coup in Southern newspapers, he shows the complicity of institutions like journalism. Sympathetic newspapers defended the events of 1898 as necessary and justified, comparing them favorably to the French Revolution. 
Perhaps the most startling and valuable contribution of Wilmington's Lie is the straight line its gripping epilogue draws between the 1898 coup and current events. After the coup, the number of registered Black voters in North Carolina shrank from 126,000 to 6,100 in 1902. Blacks would not vote in significant numbers in the state until the civil rights movement took hold six decades later. In 2012, after the election of a Republican governor, North Carolina's Republican-controlled legislature looked to the past for inspiration, beginning immediate work on laws to suppress the Black vote.
---