33 Essential Works of Fiction by Iranian Writers
Toward Writing and Publishing Beyond Stereotypes
To read the full list of 100 Essential Books by Iranian Writers, visit AAWW's The Margins.
Two impulses led me to compile this list: to resist the forces that stifle the publication and distribution of literature created by Iranians and keep it off the world stage, and to celebrate the books that have reached readers of English.
The idea for this list originally came about as I raised these questions to myself:
What is this literature? What is (and is not) written and published inside Iran against pervasive state and self-censorship, cleverly reframed and filtered through tropes that elude the bureaucratic minefield and censors of the Ministry of Culture and Islamic Guidance? How and what can we, outside of Iran, with limited access, know of its diversity and aesthetic innovations? How do we overcome the barriers to international exchange? Are curators of the US book market willing to find ways to bring the creativity of literature in Iran to readers in translation?
Outside of Iran, what has been projected onto us by biased and often commodified productions, presentations, and consumption of our stories, that we in turn internalize—a different kind of censorship and self-censorship—and keep perpetuating in our literature? Are Iranians outside of Iran writing works against stereotypes enforced by the market that are not getting published? Can we write and publish beyond these stereotypes? Does this literature tend to repeat narratives whose fulcrum is always the 1979 Iranian revolution and historical events surrounding it that defined and disrupted our 20th century? Is there value in that repetition—how World War II and Holocaust narratives are reinforced—or does it limit our imagination and output? Where is the fine balance between turning our historical realities into literature and escaping the manner in which that literature is cast?
This list resists the following circumstances—ones that literature written by Iranians inside and outside of Iran by authors of Iranian descent, in Persian, English or any other language Iranian diasporic authors write in, faces to be available in English: suppression by the Shah's regime before the 1979 Iranian revolution and the Islamic Republic after; the lack of Iranian government subsidies; the fact that Iran hasn't signed the 1886 Berne Copyright Convention that protects literary and artistic works by providing creators with the means to control how their works are used, by whom, and on what terms, and because there's no copyright treaty between Iran and the US, works by Iranian authors first published in Iran fall immediately into the public domain in the United States; sanctions that limit legal pathways for giving Iranian authors any compensation, or exporting any service to Iran, paid or not; the general limited interest in translated works as well as availability of translators; and productions that appropriate, commodify, frame and reframe, or sensationalize this literature, thereby raising Western readers that will only seek to understand the East through those lenses.
This list also celebrates that despite challenges—which only show just how much further we can go to champion this literature—the abundance of literature by writers of Iranian descent, both at home in Iran and abroad, available in English is astonishing. Waves of migration out of Iran since 1979 have effectively resulted in the formation of a new literature. Since this list is a tip of the iceberg of the growing body of works by this subset, it is fair to assume that there is a significant body of literature here to warrant a major category and literary tradition of its own that contributes to the canon of world literature, however that canon is defined, its native environment the world itself.
I embarked on this list with an assumption of scarcity. But during the research process, I discovered an embarrassment of riches, and came to realize that what has always made this literature seem peripheralized to me is not in the quality or quantity of available works, but in their positioning—as a literature of other. Iranians at home and abroad have tended to look to cultural institutions and discourses of the West for validation of their writings and identity. And the West has largely failed us while enjoying its self-made and -maintained privilege. But the West's marginalization comes with a gift: we must (re)center ourselves. I hope that this list helps to deliver us from our search for Western validation and urge us toward active self-regard, solidarity, and authority. Toward fiercely championing and lifting our own compatriots and work, on our own terms, to the world.
This list is by no means comprehensive. It includes books written inside and outside Iran by authors of Iranian descent, in Persian, English or any other language Iranian diasporic authors write in, and available in English. It omits theatrical, journalistic, sociological, and scholarly works. For the most part, these books have been published between 2000-2020. Many of the authors listed have written several books, but are listed by one title to allow this list to contain as many different writers as possible.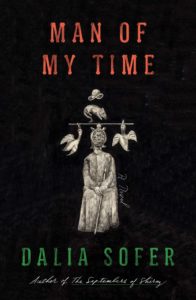 Dalia Sofer, Man of My Time
(Farrar, Straus and Giroux)
Set in Iran and New York City, Man of My Time tells the story of Hamid Mozaffarian, who after decades of ambivalent work as an interrogator with the Iranian regime, travels on a diplomatic mission to New York, where he encounters his estranged family and retrieves the ashes of his father, whose dying wish was to be buried in Iran. This is a novel not only about family and memory but about the interdependence of captor and captive, of citizen and country. Sofer is also the author of Septembers of Shiraz, which was made into a major motion picture.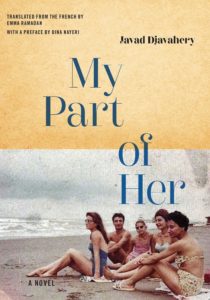 Javad Djavahery, tr. Emma Ramadan, My Part of Her
(Restless Books) 
In Djavahery's captivating English debut, a youthful betrayal during a summer on the Caspian sea has far-reaching consequences for a group of friends as their lives are irrevocably altered by the Revolution. Urgent and gorgeously written, My Part of Her captures the innocence of youth, and the capriciousness of fate as these friends find themselves on opposing sides of the seismic rifts of history.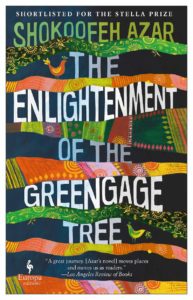 Shokoofeh Azar, tr. Anonymous, The Enlightenment of the Greengage Tree
(Europa Editions) 
This extraordinary novel is not about external alienation, but about internal exile. Written (and translated) beautifully, this is a story of a family destroyed by the revolution even if it insulates itself in a distant village. It is a story of modernity clashing with tradition, a juxtaposition that generates all manners of supernatural beings among the characters. The novel is full of ghosts. Ghosts of immediate family members, of ancestors, of shamans. The Enlightenment of the Greengage Tree was shortlisted for the 2020 International Booker Prize. As of the release of this list, it was longlisted for the 2020 National Book Award for Translated Literature.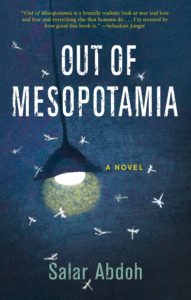 Salar Abdoh, Out of Mesopotamia
(Akashic Books) 
In this swift, hard-boiled novel…shadowy zealots exist everywhere, whether in conference rooms or interrogation rooms or—most often—in rooms that can serve as both." (New York Times Book Review). Abdoh is also the author of Tehran at Twilight, The Poet's Game, Opium, and editor of Tehran Noir, a selection of crime stories by more than 15 writers, and named a Notable Translation of 2014 by World Literature Today. He also co-wrote the play, Quotations from a Ruined City, with his older brother, Reza Abdoh, the world famous avant-garde theater director.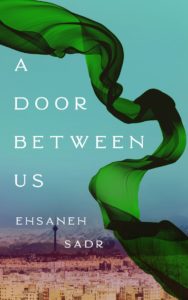 Ehsaneh Sadr, A Door Between Us
(Blackstone Publishing) 
A scholar and activist who has worked on campaigns ranging from Iran human rights to biking advocacy, Ehsaneh Sadr turned her fictional eye to the 2009 Iranian green movement in A Door Between Us. Having spent time between Iran and the United States, she tells the story of a young couple whose families fall on opposite sides of the political spectrum. The daughter of a Mormon American mother and a Muslim Iranian father, she considers many places home. 

Another work set around the 2009 green movement is the graphic work, Zahra's Paradise, by Amir and Khalil (First Second, 2011). A New York Times bestseller and a Publishers Weekly Best Comics title for 2011, Zahra's Paradise is the story of the search for Mehdi, a young protestor who has vanished into an extrajudicial twilight zone. What's keeping his memory from being obliterated is not the law. It is the grit and guts of his mother, who refuses to surrender her son to fate, and the tenacity of his brother, a blogger, who fuses tradition and technology to explore and explode the void in which Mehdi has vanished.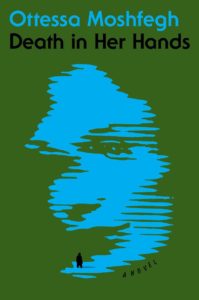 Ottessa Moshfegh, Death in Her Hands
(Penguin Press) 
While on her daily walk with her dog in secluded woods, a woman comes across a note, handwritten and carefully pinned to the ground by stones. "Her name was Magda. Nobody will ever know who killed her. It wasn't me. Here is her dead body." But there is no dead body. Death in Her Hands was named one of the Best Books of Summer 2020 by New York Magazine, Time Magazine, Town & Country, Marie Claire, Refinery 29, PopSugar, the Today Show. Moshfegh is also the author of My Year of Rest and Relaxation (a New York Times bestseller), Eileen (shortlisted for the National Book Critics Circle Award and the Man Booker Prize, and won the PEN/Hemingway Award for debut fiction), and the short story collection, Homesick for Another World.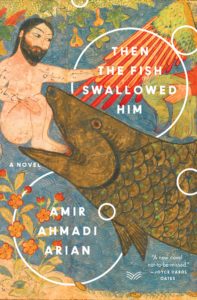 Amir Ahmadi Arian, Then the Fish Swallowed Him 
(HarperVia)
Then the Fish Swallowed Him is Amir Ahmadi Arian's first novel in English. He previously published as a journalist and writer in Iran. This novel dives deep into the life and unraveling of Yunus, a non-political Tehran bus driver who is unexpectedly arrested and imprisoned after the 2005 bus union strikes. Then the Fish Swallowed Him brings to life the metaphor of Jonas who was sent to the solitary into the belly of the whale as the result of a perceived mistake.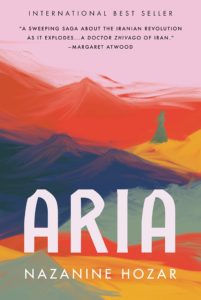 Nazanine Hozar, Aria
(Pantheon) 
This debut novel is set in restless 1950s Iran, a country rich in oil but deeply divided by class and religion, and its government under foreign sway. An illiterate army driver discovers a baby abandoned in an alley and menaced by ravenous dogs. He takes her home and names her Aria. As a student, Arie is caught up in popular uprisings against the Shah. The novel's heart-pounding, explosive finale sees Ayatollah Khomeini's brutal regime seize power as Aria falls in love and becomes a mother herself.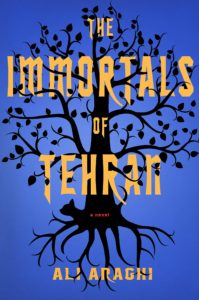 Ali Araghi, The Immortals of Tehran
(Melville House Publishing)
In his debut book in English, Ali Araghi tells a multi-generational story of a family under a centuries-old curse which builds up to a climax at the 1979 revolution. Exploring the brutality of history while conjuring the astonishment of magical realism, The Immortals of Tehran is a novel about the incantatory power of words and the revolutionary sparks of love, family, and poetry—set against the indifferent, relentless march of time. Araghi is also a translator whose project, Persian, Translated, is slated to be a database of Persian literature translated into English.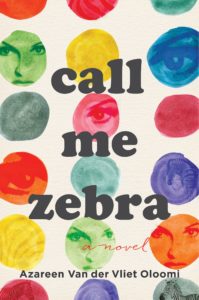 Azareen Van Den Oloomi, Call Me Zebra
(Mariner Books) 
Last in a line of anarchists, autodidacts, and atheists, Azareen Van Den Oloomi's protagonist, Zebra, traces back her family's migration pattern from Iran to the United States. On the way, the novel becomes a whirling reference library of books that made it all possible because "When war came, her family didn't fight; they took refuge in books." Call Me Zebra won the PEN/Faulkner award in 2019, along with a long list of other major prizes. Oloomi is also the founder of LITERATURES OF ANNIHILATION, EXILE AND RESISTANCE, a bi-annual symposia and lectures.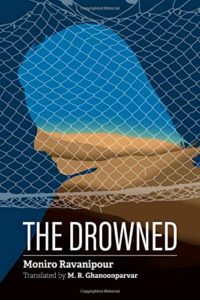 Moniro Ravanipour, tr. M. R. Ghanoonparvar, The Drowned
(Independently published) 
This first novel, Ahl-e Gharq, published a decade after the Islamic Revolution and a year after the devastating Iran-Iraq War ended, brought Ravanipour overnight recognition in Iran. In it, she draws from the rich culture of southwestern Iran, the region most affected by the war. Dr. Ganoonparvar has also translated Ravanipour's volume of short stories, Kanizu, and These Crazy Nights, a novel born of Ravanipour's experience of the Iran-Iraq war as a night nurse in a Tehran hospital. Ravanipour has independently published much of her original Persian work in the United States.
Ghanoonparvar is the translator of several other titles, including Horse's Head by Jaafar Modarres-Sadeghi, Red Olive by Nahid Yousefian, Tales of Sabalan by Mohammad Reza Bayrami, Patient Stone by Sadeq Chubak, Doran by Ruhangiz Sharifian, Book of Jinn by Hushang Golshiri, all published by Mazda Publishers, a US-based press dedicated to Iranian literature. 
Ghanoonparvar is also the author of Translating the Garden, in which he allows readers in on the process of translating Dialogue in the Garden from Persian into English. This short philosophical work uses a conversation between a writer and a painter to explore Persian perceptions of art, literature, nature, identity, and spirituality. Ghanoonparvar discusses the myriad decisions that a literary translator faces.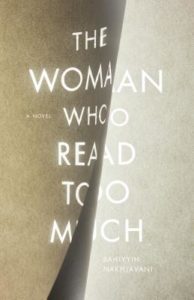 Bahiyyih Nakhjavani, The Woman Who Read Too Much
(Redwood Press; 1st Edition, 2016)

Set in the 19th century world of the Qajar monarchs, mayors, ministers, and mullahs, this book explores the dangerous and at the same time luminous legacy left by a remarkable person, the renowned poet, theologian, radical, and outcast, Tahereh Qurratu'l-Ayn, who was killed for rejecting the orthodoxy of her time. Nakhjavani offers a gripping tale that is at once a compelling history of a pioneering woman, a story of nineteenth century Iran told from the street level up, and a work that is universally relevant to our times. Nakhjavani grew up in Uganda, was educated in the United Kingdom and the United States, and now lives in France. She is also the author of The Saddlebag, US & Them, and Paper.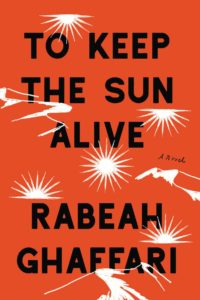 Rabeah Ghaffari, To Keep the Sun Alive
(Catapult) 
This debut novel is a family story set in the months around the 1979 Iranian revolution and the events outside the family orchard. Told through a host of unforgettable characters, ranging from servants and young children to intimate friends, To Keep the Sun Alive reveals the human lives that animate historical events. An official ABA Indie Next List selection, A Big Other Most Anticipated Small Press Book of the Year, and a The Millions Most Anticipated Book of the Year. Ghaffari is also a filmmaker.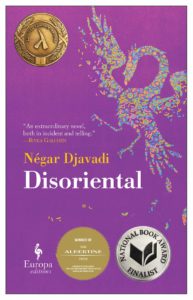 Négar Djavadi, tr. Tina Kover, Disoriental
(Europa Editions; Translation edition) 
A National Book Award Finalist and winner of the 2019 Albertine Prize and Lambda Literary Award, Disoriental is the story of Kimiâ Sadr who fled Iran at the age of ten with her mother and sisters to join her father in France. In the waiting room of a Parisian fertility clinic, generations of flamboyant Sadrs return to her, including her formidable great-grandfather with his harem of fifty-two wives, and her parents, stalwart opponents of each regime that befalls them. It is Kimiâ herself―punk-rock aficionado, storyteller extraordinaire, and above all a modern woman divided between family traditions and her own "disorientalization"―who forms the heart of this bestselling and beloved novel.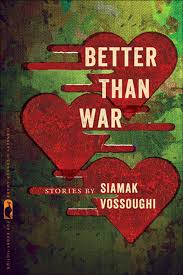 Siamak Vossoughi, Better than War: Stories
(University of Georgia Press) 
The stories in Better Than War encompass narratives from a diverse set of Iranian immigrants, many searching for a balance between memories of their homeland and their new American culture. The everyday life of each character subtly reflects viewpoints that are simultaneously Iranian and American, of all ages and circumstances. All Iranian immigrants, young or old, carry with them a vivid past in their present lives. Vossoughi's Better Than War is about growing up, coming of age, and raising children in America while still remembering the importance of retaining an Iranian identity.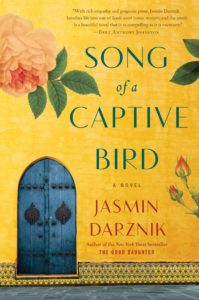 Jasmin Darznik, Song of a Captive Bird
(Ballantine Books) 
A Los Angeles Times Bestseller, this debut novel captures the tenacity, spirit, and conflicting desires of the trailblazing Iranian poet Forugh Farrokhzad who represents the birth of modern feminism in Iran—and who continues to inspire generations of women, poets, and artists around the world. The novel is inspired by Farrokhzad's poetry, letters, films, and interviews—and includes excerpts of Farrokhzad's original poems in translation. Darznik is also the author of the memoir, The Good Daughter: A Memoir of My Mother's Hidden Life,< and the upcoming historical novel set in the 1920's, The Bohemians <(2021).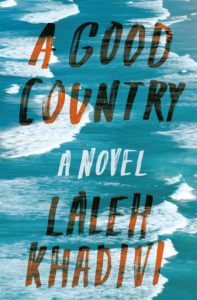 Laleh Khadivi, A Good Country
(Bloomsbury USA) 
This third book in Khadivi's Kurdish trilogy—following The Walking, and The Age of Orphans—tells the story of Rez, a Muslim-American teen who goes from stoner Laguna Beach highschool student to radicalized youth. Timely, nuanced, and emotionally forceful, A Good Country is a gorgeous meditation on modern life and of being caught among vastly different worlds. What we are left with at the dramatic end is not an assessment of good or evil, East versus West, but a lingering question that applies to all modern souls: Do we decide how to live, or is our life decided for us? Khadivi is also a documentary filmmaker.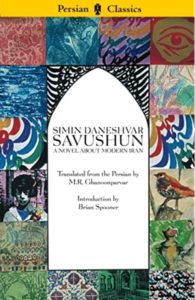 Simin Daneshvar, tr. M. R. Ghanoonparvar, Savushun: A Novel About Modern Iran

(Mage Publishers, third edition) 
Savushun was the first published novel by an Iranian woman, and one of the most widely read novels in Iran. Daneshvar was a novelist, translator, and academic educated in Iran, later studying creative writing with Wallace Stegner at Stanford University through a Fulbright scholarship. The 1966 novel begins on the eve of World War II, as two landholder brothers react in opposite ways to the British request for their grain harvests. We experience the power struggle through the eyes and ears of one of their wives, the protagonist Zari. One brother refuses to sell his grain out from under his people to feed a foreign army. The other seeks personal gain by accepting British policies and their determination to keep Iran's oil out of Hitler's control, as he tries to persuade his brother to sell. Zari believes she must be the family peacemaker. An earlier English translation of the book is available as A Persian Requiem, translated from the Persian by Roxane Zand, (George Braziller, 1992). Two collections of Daneshvar's short stories, Daneshvar's Playhouse (bilingual, tr. by Maryam Mafi), and Sutra and Other Stories (tr. by Hasan Javadi and Amin Neshati), are also available in English translation, both by Mage Publishers.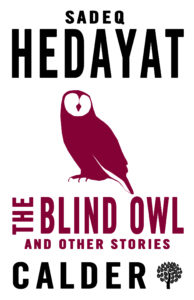 Sadegh Hedayat, tr. D.P. Costello and Deborah Miller Mostaghel, The Blind Owl and Other Stories
(Calder Publications)
Sadegh Hedayat was a foremost Iranian writer, translator and intellectual. This edition includes the original Costello translation of Hedayat's major work of literary modernism, (Buf-e Kur, 1937), The Blind Owl in English, (first published by John Calder in 1957), as well as a selection of short stories from Hedayat's other notable works, Three Drops of Blood, The Stray Dog, and Buried Alive, in Mostaghel's translation. Hedayat's translations into the Persian include the works of Chekhov, Kafka, Schnitzler, and Sartre. The Blind Owl is a fever dream of an unnamed pen case painter, the narrator, making confessions to the shadow on his wall that is in the shape of an owl. It was written during the oppressive years of Reza Shah's rule, and originally published in a limited edition in Bombay, during Hedayat's two-year-long stay there, stamped with "Not for sale or publication in Iran." It first appeared in Tehran in 1941 as a serial in the daily Iran after Reza Shah's abdication, to immediate acclaim. The Blind Owl has been translated into numerous languages, and adapted by several filmmakers. Other translations include: The Blind Owl, translated from the Persian by Iraj Bashiri (Bashiri Working Papers on Central Asia and Iran, Third edition 2013), accompanied by an introduction, analysis, bibliography, and notes on Hedayat's life; The Blind Owl, translated from the Persian by Naveed Noori (l'Aleph, 2011), a version authorized by the Sadegh Hedayat Foundation and the first translation into English based on the Bombay edition; and a reprint edition of D. P. Costello's The Blind Owl translation with an introduction by Porochista Khakpour (Grove Press, 2010). D. P. Costello was the first to translate the work into English.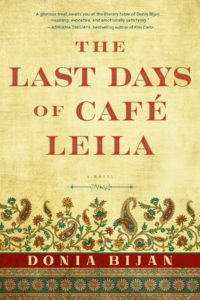 Donia Bijan, The Last Days of Cafe Leila
(Algonquin Books)
Inspired by her return to Tehran after decades of exile following the Islamic Revolution, acclaimed chef and memoirist, Donia Bijan, brings to life a powerful story of family and homecoming in her debut novel. Set against Iran's rich, tragic history, Bijan's novel puts a personal face to the country's politics, past and present. Bijan is also the author of Maman's Homesick Pie: A Persian Heart in an American Kitchen, her culinary memoir.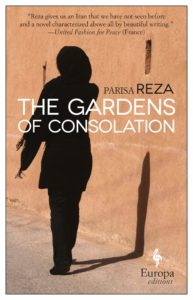 Parisa Reza, tr. Adriana Hunter, The Gardens of Consolation
(Europa Editions; Translation edition)
Parisa Reza's debut book, The Gardens of Consolation, tells the story of one family spanning from the 1920s through the Mossadegh era in the 1950s. "Winner of 2015's Prix Senghor for a debut novel by a Francophone writer, this compelling book raises important questions about indulgence, gender, community, and the impact of politics on everyday life" (Publisher's Weekly).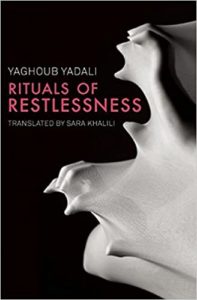 Yaghoub Yadali, tr. Sara Khalili, Rituals of Restlessness
(Phoneme Media) 
Engineer Kamran Khosravi wants to die in a car accident. Or he at least wants it to look that way. His professional life in the Iranian hinterlands is full of bureaucratic drudgery — protecting dams, for example, from looters. His wife Fariba can no longer stand it, and has left him to rejoin her family in Isfahan. She is anxious for him to choose a life with her, or to let her go and persist with things as they are. But Kamran's issues run deeper than anybody imagines. Rituals of Restlessness won the 2004 Golshiri Foundation Award for the best novel of the year and was named one of the ten best novels of the decade by the Press Critics Award in Iran.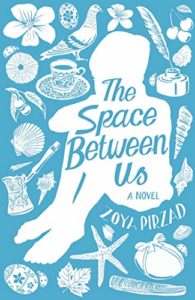 Zoya Pirzad, tr. Amy Motlagh, Space Between Us
(Oneworld) 
An Iranian-Armenian writer based in Armenia, Zoya Pirzad explores the liminal lines between Armenian Christian and Iranian Muslims in much of her work. In Space Between Us, she tells the story of an Armenian boy and a Muslim girl who become fast friends on the Iranian seaside. But when the Armenian boy grows up to have his own daughter, he finds himself conflicted when she wants to marry a Muslim man. Pirzad's Things We Left Unsaid (tr. by Franklin Lewis) digs into the psyche of women and the conflicting identities of their interior worlds.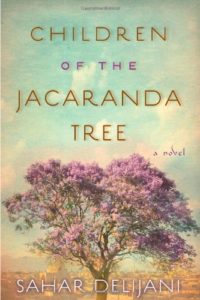 Sahar Delijani, Children of the Jacaranda Tree
(Atria) 
In her debut novel, Sahar Delijani builds a world around Iran's Evin prison. Through the stories of at least three different young characters, the reader experiences the effects that imprisonment and execution at the notorious prison have had on scores of Iranian families. Born in Iran, Delijani spent her adult years in California and now splits her time between Europe and the US. Children of the Jacaranda Tree has been translated 27 languages and published in more than 75 countries.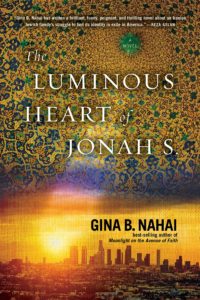 Gina B. Nahai, The Luminous Heart of Jonah S.
(Akashic Books) 
From Tehran to Los Angeles, The Luminous Heart of Jonah S. is a sweeping saga that tells the story of the Soleymans, an Iranian Jewish family tormented for decades by Raphael's Son, a crafty and unscrupulous financier who has futilely claimed to be an heir to the family's fortune. The Luminous Heart of Jonah S. examines the eternal bonds of family and community, and the lasting scars of exile. Nahai is the author of Cry of the Peacock, Caspian Rain, Moonlight on the Avenue of Faith, and Sunday's Silence.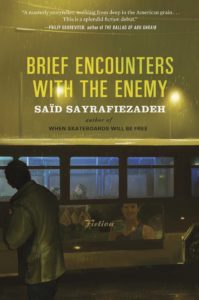 Saïd Sayrafiezadeh, Brief Encounters with the Enemy
(The Dial Press)
Born in Brooklyn, Sayrafiezadeh's Iranian father and Jewish American mother were determined the socialist revolution was inevitable, a political vision that shaped his childhood. After his memoir, When Skateboards Will Be Free, for which he won a Whiting Award, Sayrafiezadeh turns to fiction in Brief Encounters with the Enemy to illustrate the perverse distortion of war. He tells the story of eight men in anywhere America, perhaps in Walmart America, against the backdrop of war.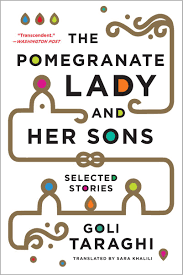 Goli Taraghi, tr. Sara Khalili, The Pomegranate Lady and Her Sons: Selected Stories
(W. W. Norton & Co.) 
Selected as a Best Book of 2013 by staff and critics at National Public Radio, these stories capture universal experiences of love, loss, alienation, and belonging—all with an irresistible sense of life's absurdities. Taraghi's other work translated into English are A Mansion in the Sky: And Other Short Stories (tr. by Farridoun Farrokh), Winter Sleep. A Novel (tr. by Francine T. Mahak).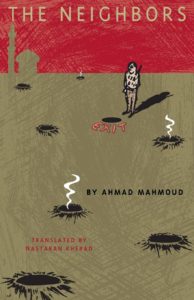 Ahmad Mahmoud, tr. Nastaran Kherad, The Neighbors

(University of Texas Press) 
The Neighbors is set against the backdrop of the oil nationalization crisis that gripped Iran in the early 1950s. Khaled, the young protagonist from a rundown neighborhood in Ahvaz becomes involved in the struggle to wrest Iran's oil industry from the British. He comes to realize that there is more to life than the drudgery and poverty his parents and neighbors have experienced. The Neighbors, published in 1974, cemented Mahmoud's reputation as a novelist and captured the ethos of a generation—the generation that laid the groundwork for those who continue to struggle for democracy in Iran today. This is the first book by Ahmad Mahmoud to appear in English translation.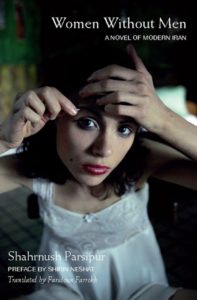 Shahrnush Parsipur, tr. Faridoun Farrokh, Women Without Men: A Novel of Modern Iran
(The Feminist Press at CUNY)
This modern literary masterpiece follows the interwoven destinies of five women—including a wealthy middle-aged housewife, a prostitute, and a schoolteacher—as they arrive by different paths to live together in an abundant garden on the outskirts of Tehran. This unforgettable novel depicts women escaping the narrow confines of family and society, and imagines their future living in a world without men. Parsiour is also the author of Touba and the Meaning of Night (tr. by Havva Houshmand and Kamran Talattof), and Kissing the Sword: A Prison Memoir (tr. by Sara Khalili).
Faridoun Farrokh is the translator of The Cannon by Gholam Hossein Sa'edi (Ibex Publishers, 2010). Considered the best of Gholam-Hossein Sa'edi's three novels, The Cannon has an unwavering focus on a single character, the itinerant, clever, and manipulative Mullah Mir Hashem. The novel gives a glimpse into the tensions and machinations of the Constitutional Revolution, where each party is attempting to outwit, out-maneuver and otherwise deceive the other. Farrokh and Khalili are translators of The Shipwrecked: Contemporary Stories by Women from Iran edited by Fereshteh Nouraie-Simone (The Feminist Press at CUNY, 2014).
The most recent work available in English from Parsipur is Blue Logos, translated from the Persian by M. R. Ghanoonparvar, is forthcoming (Mazda Publishers, 2020). In this magical tale, Parsipur engages the reader in Western and Eastern philosophy, art, literature, mythology, fairy tales, and music, from China and Mongolia to the Middle East, and from India to Europe and the New World. With her narrator, we travel throughout history, from the past to the present and future, and aided by her imagination, we go to the depth of the earth and soar the heavens and beyond. Parsipur's narrator is akin to Scheherazade of One Thousand and One Nights. Blue Logos is a tale of tales that is not merely intended to entertain, but also to entice.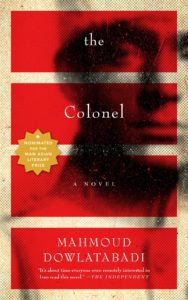 Mahmoud Dowlatabadi, tr. Tom Patterdale, The Colonel
(Melville House)
The Colonel won the 2013 Jan Michalski Prize, and was long-listed for the Man Asian Literary Prize. Dowlatabadi is one of the most important figures of contemporary Iranian letters, whose origins as a barber, actor, cobbler, bicycle repairman, and factory worker informs much of his work. The Colonel was written in the 1980's, and begins on a rainy night when two policemen summon the Colonel to collect the tortured body of his daughter. It is published abroad in English, but is not available in Iran, in Persian. Dowlatabadi's novel, Missing Soluch, was translated from the Persian by Kamran Rastegar (Melville House, 2007). And Dowlatabadi's Kelidar, a 10-volume, 3000-page saga about a Kurdish nomadic family, known for its detailed portrayal of political and social upheaval, appears in abridged German translation.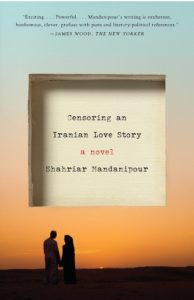 Shahriar Mandanipour, tr. Sara Khalili, Censoring an Iranian Love Story
(Vintage)

In a country where conducting a love affair is not a simple undertaking, then telling the story of that love may be even more difficult. Mandanipour evokes a pair of young lovers in Iran who find each other through coded messages and internet chat rooms; and triumphantly their story entwines with an account of their creator's struggle. Inventive, darkly comic and profoundly touching, Censoring an Iranian Love Story celebrates the unquenchable power of the written word. Mandanipour is also the author of Moon Brow (tr. by Sara Khalili).
Sara Khalili is the translator of several other titles (many listed here) including The Book of Fate by Parinoush Saniee, a bestselling novel in Iran, and a powerful story of friendship that spans five turbulent decades of Iranian history.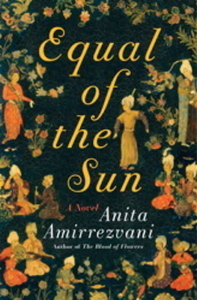 Anita Amirrezvani, Equal of the Sun
(Scribner; Reprint Edition, 2013)

Based loosely on the life of the 16th century Princess Pari Khan Khanoom, Equal of the Sun is a riveting story of political intrigue and a moving portrait of the unlikely bond between a princess and a eunuch. Persia in 1576 is a place of wealth and dazzling beauty. But when the Shah dies without having named an heir, the court is thrown into tumult and the locus of an incredible tapestry of secrets that explode in a power struggle of epic proportions. Legendary women like Anne Boleyn to Queen Elizabeth I to Mary, Queen of Scots who changed the course of history in the royal courts of 16th century England are celebrated in history books and novels, but few know of the powerful women in the Muslim world, who formed alliances, served as key advisers to rulers, lobbied for power on behalf of their sons, and ruled in their own right. Amirrezvani is also the author of The Blood of Flowers, the story of a young woman in 17th century Persia who becomes a carpet designer after her prospects for marriage diminish.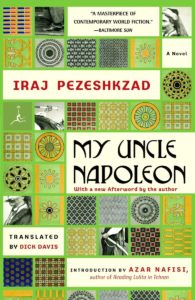 Iraj Pezeshkzad, tr. Dick Davis, My Uncle Napoleon
(Modern Library Paperback)
One of the most beloved Iranian novels of the twentieth century and a cultural phenomenon. Written in 1973, this timeless social satire of first love and family intrigue is set in the early 1940's at the onset of the WWII, in a Tehran garden where three families of a larger extended one live under the tyranny of a paranoid patriarch nicknamed, Dear Uncle Napoleon, and visited by a cast of unforgettable characters. When Uncle Napoleon's least-favorite nephew falls for his daughter, Layli, family fortunes are reversed, feuds fired up and resolved, and rendezvous attempted and thwarted. The novel was adapted into a hugely successful television series in Iran.
---