30 Dystopian Novels By and About Women
Our Future Bodies, Our Future Selves
This week marks the release of Louise Erdrich's Future Home of the Living God, a novel that envisions a world in which evolution has begun to reverse itself and women to lose their autonomy. Of course, our current reality—in which a man accused of child molestation still has a good chance of being elected to the Senate, in which the American president is a racist who has said women should be punished for getting abortions and refuses to admit to the truth of climate change, among other things—is feeling more dystopic by the minute. So it feels to me like a particularly good time to be reading dystopian fiction by and about women—starting with Louise Erdrich, but not ending there. To that end, below you'll find 30 dystopian, near-future, and post-apocalyptic novels by and about women. You'll find that I'm using the term "dystopia" loosely, but really, what's the difference these days? More to the point: all of these novels consider the possible fates of women in a worsening world. As ever, please consider this selection a starting place, and add to the list in the comments.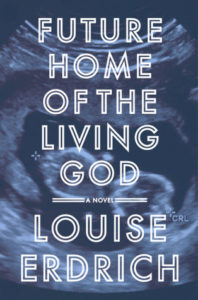 Louise Erdrich, Future Home of the Living God
In Erdrich's newest novel, it's two months in the future, and evolution is beginning to tick backwards. The world is getting more prehistoric by the minute, and so are humans—which is why all pregnant women are being rounded up and taken to birthing centers, to be carefully observed (read: confined). The authorities believe that Cedar Hawk Songmaker's fetus is normal—suddenly a rarity—so she finds herself hunted, and must go to great lengths to keep her unborn child safe and free.
Margaret Atwood, The Handmaid's Tale
Well, duh. Everyone's favorite book right now also imagines a future dystopia in which fertile women are rounded up—in this case because birth rates have dropped so low that society has responded with a hyper-religious, authoritarian regime where women are property and all deviation from the prescribed conservative norm is severely punished.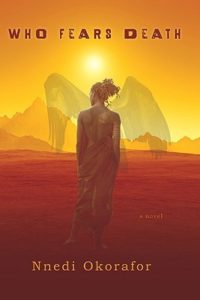 Nnedi Okorafor, Who Fears Death
This novel is set in Sudan post-nuclear-holocaust, but that's not the only apocalypse in play, or even the primary one, other than providing the setting. The other apocalypse is the genocide of one tribe by another—and it is the girl born of rape, whose mysterious powers are only growing, who must save her people, and herself.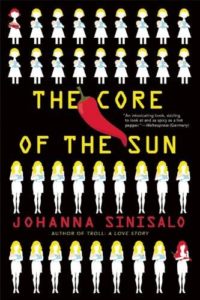 Johanna Sinisalo, The Core of the Sun
In the Eusistocratic Republic of Finland, citizens are protected from the hedonistic evils of the outside world: alcohol, tobacco, and even spices, like the black market chili peppers Vanna craves. Women in this future version of Finland are divided into two strict categories: elois, bred for sex and submission, and morlocks, who are intelligent but sterilized and used as laborers. Vanna is a morlock who can pass as an eloi, and finds herself involved with a cult, The Core of the Sun, who believes the hottest chili in the world will save them all.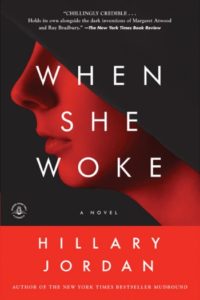 Hillary Jordan, When She Woke
In the future America of When She Woke (an SF re-telling of The Scarlet Letter), the fundamentalist Trinity Party runs the government, which is now the same as the church. The "superclap" has rendered most women infertile and there has also been some kind of nuclear war. As if all that weren't bad enough, lawbreakers are punished by "melachroming"—anyone convicted of a crime is dyed with a representative color, so all they meet will know. Hannah's color is red, because after her abortion, she was convicted of murder. Of course, she's now a pariah, and must find a new way to live in the world.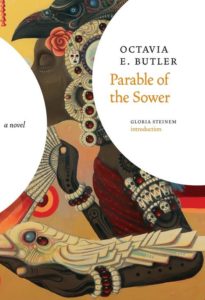 Octavia Butler, Parable of the Sower
It's 2024 (pretty close), and American society has been ravaged by climate change, rapidly growing income inequality, powerful drugs, and a deep mistrust of the police (very close), and a charismatic zealot is elected by a terrified populace (wait, help). Fifteen-year-old Lauren Oya Olamina—who feels the pain of others actuely—practices her survival skills and invents her own religion, Earthseed, before fleeing north with thousands of others. By the way, the sequel to this book, 1998's Parable of the Talents, predicts our current situation even more closely, with a presidential candidate who promises to "make America great again" to a frothy mass of violent supporters. (I repeat: help.)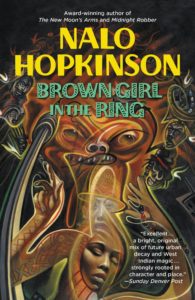 Nalo Hopkinson, Brown Girl in the Ring
This novel is more than a dystopia and more than a fantasy: it is its own genre. The story is set in a near-future Toronto that is eating itself. "When Toronto's economic base collapsed," we are told, "investors, commerce, and government withdrew into the suburb cities, leaving the rotten core to decay. Those who stayed were the ones who couldn't or wouldn't leave. The street people. The poor people. The ones who didn't see the writing on the wall, or who were too stubborn to give up their homes. Or those who saw the decline of authority as an opportunity." And maybe that would have been fine, if those who had fled had simply abandoned the inner city—but when the Premier of Ontario needs a heart transplant, it will have to come from the people in the center. Ti-Jeanne, a young mother, is one of the survivors, living with her spiritualist grandmother. When her lover, Tony, is tasked with the job of finding a heart, he turns to these women for help—and a mystic battle begins.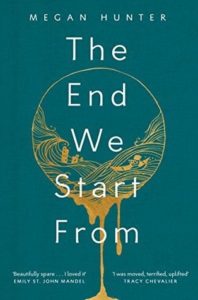 Megan Hunter, The End We Start From
In this elliptical debut, a woman gives birth as London is consumed by water. Only a few days later, she starts north, towards what she hopes is safety. A beautiful and spare book that evokes a disaster passed down, whispered in the night.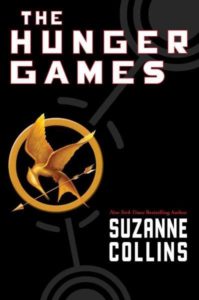 Suzanne Collins, The Hunger Games
This was the start of a franchise for a reason: a compelling future vision of a country separated by labor, in which all the factions funnel power into a central, wealthy district that holds ritualized killings of children every year to keep everyone else in their place. In the center of it, there's Katniss Everdeen, one of the best feminist heroes in recent memory. Not for nothing, it's also refreshing to see a speculative kids-against-the-world story tackle PTSD—few authors ever acknowledge the probable psychic ramifications of all they put their protagonists through.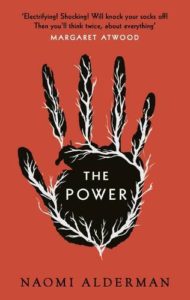 Naomi Alderman, The Power
Would it really be a dystopia if young women were suddenly imbued with the power to do physical harm to anyone they touched? At first it doesn't seem so—Alderman writes of girls killing their rapists, taking revenge on their mothers' murderers, fending off harassment—and then there's the inevitable backlash. But that's still not the dystopia. The dystopia is what happens when the women, with their newfound physical power over men, begin to indulge in the same kind of domination they just shook off.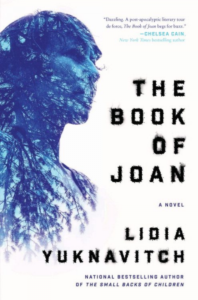 Lidia Yuknavitch, The Book of Joan
It is 2049, and the Earth is dead from war. Or not quite dead, because it still has resources to tempt the remaining humans, who are living on CIEL, a colony that orbits the planet. CIEL has its wars too, of course, like the one between the despotic Jean de Men, or the rebellious child-warrior Joan (read: of Arc), whose story (The Book of Joan) the narrator is burning into her own skin.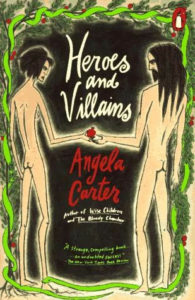 Angela Carter, Heroes and Villains
The nuclear apocalypse has past, and the surviving humans have divided themselves into three distinct factions: the Professors and the Soldiers, who cling to the last vestiges of civilization, and the Barbarians, who refuse it. Marianne is a Professor, but when she runs away and finds herself a Barbarian's bride, her world gets broken right open. Well, Angela Carter can always be counted upon for some fantastical weirdness.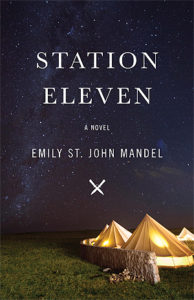 Emily St. John Mandel, Station Eleven
The world of Station Eleven is more aptly described as "post-apocalyptic" than truly "dystopian"—but hey, I think after the apocalypse, it probably feels pretty dystopic. The apocalypse in this case is a strange pandemic that wipes out most of the world's population. Among the survivors is Kirsten, who roams the upper midwest with her Traveling Symphony—performing Shakespeare at the end of the world.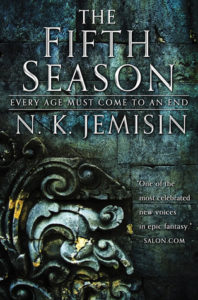 N.K. Jemisin, The Fifth Season
This is another book that is only sort of a dystopia—or at least, it depends on how you look at it. The first novel in Jemisin's top-notch trilogy introduces us to a world in which the climate has gone so far astray that "seasons" are deadly, unpredictable, and can last years, and the only people with the ability to affect them, orogenes, are feared and reviled by the rest of the population. Of course, none of this is as simple as it seems—the moon is involved—but I'll let you get to that part when you get to it.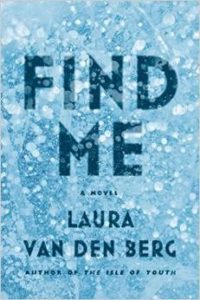 Laura van den Berg, Find Me
First, you forget everything. Soon afterwards, you die, and the government posts your name on their death registry website, WeAreSorryForYourLoss.com. But Joy, miserable and cough-syrup-addicted as she is, finds herself among the lucky immune, and she is invited to the Hospital, a dystopia-within-a-dystopia ,from which Joy must eventually escape.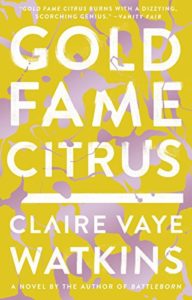 Claire Vaye Watkins, Gold Fame Citrus
In the near-future of Wakins's first novel, California is out of water. Lots of places are out of water, actually, and the desert is reclaiming the country. Luz lives in an abandoned mansion with her boyfriend, Ray, and impulse-rescues/kidnaps a young child before heading east, with the smallest sliver of hope—but dangers, both human and inhuman, abound on their route.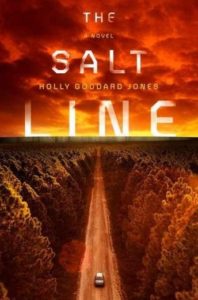 Holly Goddard Jones, The Salt Line
In Jones's most recent novel, most people in the United States live behind an enormous walls—the Salt Lines—which protect them from the deadly ticks that have flourished in the rest of the country. But of course, Americans are stupid, and so there's Outer Limits Excursions, which takes Edie, Wes, and Marta into the violent wilderness. Perhaps you will not be surprised to learn that they find rather more than ticks there.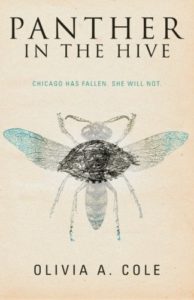 Olivia A. Cole, Panther in the Hive
Things are dystopic enough even before the Change: the rich have MINK, a health plan that lets them get a life-saving, disease-preventing Chip implanted in their necks. The poor, well, don't. And the wealth gap—this is Chicago, 70 years in the future—is enormous. But one day, all the Chips go haywire, and all the rich people are turned into monsters that crave human flesh. So, that's a bug. Tasha, Chipless and in need of help and answers, grabs a kitchen knife and her beloved Prada backpack and heads to the South Side, where she thinks a Dr. Rio will be able to help.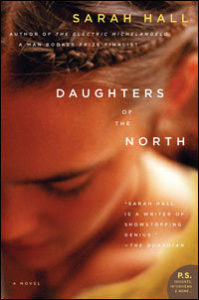 Sarah Hall, Daughters of the North
Another near-future narrative in which the reproductive rights of women are strictly controlled by the government—though in the opposite direction of The Handmaid's Tale: all women here are implanted with IUDS; a lottery decides who can procreate. The narrator, writing from her prison cell, describes her defection and journey to an all-female community, a group of women planning a violent revolution against the Authority.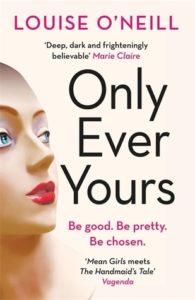 Louise O'Neill, Only Ever Yours
In O'Neill's chilling version of the future, women are no longer born—they are made, to exact specifications. They are called eves, and they are raised to be perfect wives in the School, ranked every week on their beauty. In a smart detail, the eves's names are never capitalized, though the names of all boys and men are. At sixteen, their futures will be determined: the top ten will be companions, and get husbands and families, others will be concubines, or chastities. Of course the plot is obvious: will the girls we meet comply?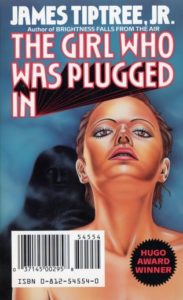 James Tiptree, Jr., The Girl Who Was Plugged In
James Tiptree, Jr. (aka Alice Sheldon) is primarily renowned for her short fiction, but this piece, which won the Hugo for best novella in 1974, is also top-notch. It imagines a future completely ruled by corporations, where advertising is illegal, because life is advertising—companies use celebrities and product placement to sell their wares. Philadelphia ("P.") Burke is a seventeen-year-old girl with severe deformities who, after a suicide attempt, is chosen to be one of those celebrities—she controls a new, perfect body, grown brainless for this very purpose, and becomes a new famous person whose job is to publicly buy things. But then she falls in love. Spoiler: it doesn't end well.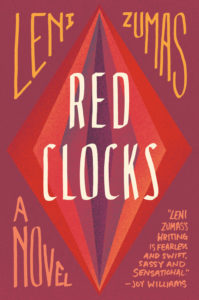 Leni Zumas, Red Clocks
When the "Personhood Amendment" grants rights to fetuses and nullifies Roe v. Wade, five women—four living in a small Oregon town, one a 19th century polar explorer—find it necessary to struggle for equality in ways both brand new and age old.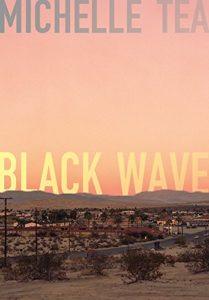 Michelle Tea, Black Wave
It's 1999, and the world is destined to end in a year. Michelle moves from the Mission to LA—fleeing drugs, sex, herself—where people are unspooling. Tom Cruise kills himself; Michelle dates Matt Dillon. The air becomes poisonous in more ways than one. The second half of this book is about the impending apocalypse, but is also itself a kind of internal apocalypse—the reigning logic of the narrative shifts, doubles back, destabilizes.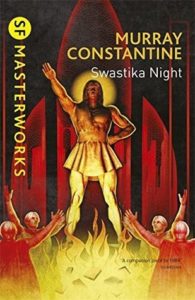 Katharine Burdekin, Swastika Night
Originally published in 1937 under the pseudonym Murray Constantine, this novel presents the world seven hundred years after WWII—a WWII that Hitler and his allies won. Women, now, are essentially eliminated as humans—they exist as cattle, merely to breed. This book is so much about structural misogyny that I'm breaking my own rule and allowing it onto this list even with a male protagonist—in the world Burdekin imagines, there's almost no other option.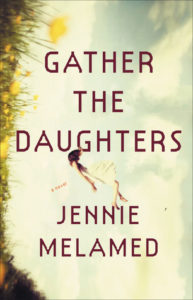 Jennie Melamed, Gather the Daughters
When the rest of the world burns, ten families escape to an island. But the life they build there is its own dystopia: girls are forced to marry as soon as they reach puberty; women are not allowed to gather without a man present; men are encouraged to have sex with their own pre-pubescent daughters as a means of population control. 17-year-old Janey is starving herself to postpone menstruation—it will be up to her and the other children to begin to question the only world they've ever known.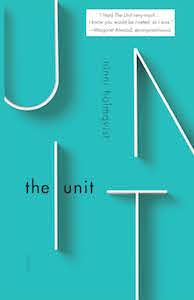 Ninni Holmqvist, The Unit
In a future Sweden, Dorrit Weger—childless, newly 50, and without a job that makes her "useful" to society—is classified as a "dispensible" and sent to the Second Reserve Bank Unit for biological material, where citizens like her can live in comfort—and donate organs and tissue whenever required, until, of course, they make the ultimate donation. Everyone accepts this, of course, as beneficial to society as a whole. But when Dorrit falls in love, she begins to wish for a different future.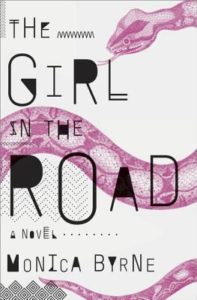 Monica Byrne, The Girl in the Road
In this future—not quite a dystopia—"Africa is the new India, after India became the new America, after America became the new Britain, after Britain became the new Rome, after Rome became the new Egypt, after Egypt became the new Punt," and Meena, in Mumbai, is bitten by a snake while she sleeps—a snake possibly put in her bed by a terrorist organization. Thus begins Meena's journey, as she flees. Her story is paralleled by that of Mariama, who is fleeing too, in the opposite direction, and for different reasons entirely.
Meg Elison, The Book of the Unnamed Midwife
Here's a dystopia for you: after a world-wide plague, male survivors outnumber female survivors ten to one, and pregnancies typically end in the death of both child and mother. Rape is rampant, of course. The protagonist, once a midwife, makes her way through this new world, dressed as a man to protect herself, looking for a community where she can finally be safe.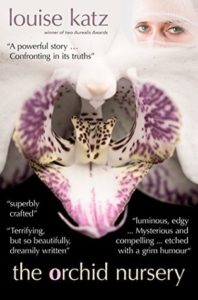 Louise Katz, The Orchid Nursery
In this version of Australia, girlies are named after rocks and minerals and taught compliance. If they are lucky, they will be chosen for bearing children. If they are the luckiest, they will be Perfected and become womanidols in the Orchid Nursery. But when the rebellious Pearl disappears, the devout Mica must search for her—and find out the truth in the process.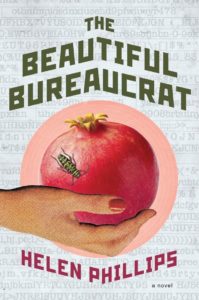 Helen Phillips, The Beautiful Bureaucrat
This novel undertakes a specific, familiar kind of dystopia: bureaucracy. Josephine sits in a pink and windowless room, entering data into the Database. The data seems meaningless; but is it? In this deeply uncanny novel about mortality and boredom and attachment, Phillips masters the Kafkaesque apocalypse.
---