25 Actually Pretty Happy Couples in Literature
Listen Guys, We Need This
This weekend, we will all be tolerating yet another pandemic version of a national holiday. Sure, it's a relatively lame holiday (according to me), but still: we're tired, and we could use some chocolate, or at least a nice dinner that someone else makes and brings to our table, with wine. Alas, it is not to be. So if you find that you need some extra romance in your life this year, or want to try to trick yourself into believing that love conquers all or something like that, look no further than literature.
Just kidding! It's actually really hard to think of truly happy couples in literature, especially when you aren't just talking about the ending. After all, plots need conflict, and conflict in a novel about relationships usually involves some kind of bad behavior, which usually indicates, you guessed it, rampant unhappiness for all involved. So while we did our best, if some of these couples don't seem exactly happy to you, well, that should just tell you something about the state of the Literary Hub office's collective heart one year into a pandemic. Our standards, apparently, are low. And hey, if this is sort of semi-hopeful listicle not for you, may I please direct you to our competing list of the worst couples in literature? Because sometimes it feels better to know that it could be worse.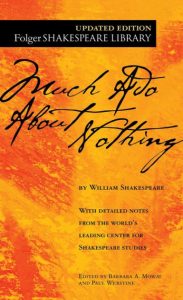 Beatrice and Benedick in Much Ado About Nothing
Okay yes, they fight all the time. And okay, sure, they had to be tricked into falling in love. But the thing is, some people love to fight (trust me, I come from a family of lawyers), and they'd be unbearably bored without it. For these two, the "merry war" rages hot on both sides, if you know what I mean, so they're both going to end up satisfied. Probably for many years to come. Plus, Benedick was totally going to murder his best friend because Beatrice asked him to do it, which in my opinion is the clearest sign of a successful partnership. Loyalty, baby.  –Emily Temple, Managing Editor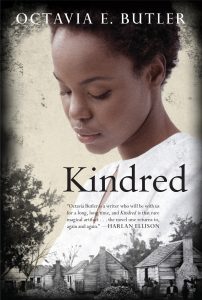 Dana and Kevin in Kindred
I read Kindred for the first time this year, and while most of the couples on this list are #couplegoals, Dana and her husband go above and beyond with their time-traveling devotion to each other. Dana and Kevin are both writers who meet while doing temp work at a warehouse (a common enough story these days). They have a good relationship at the start of the novel, forged from the difficulty of an interracial relationship in 1970s America, but when Dana starts traveling back in time, forced to save her slave-owner ancestor over and over again to ensure that she will still be born, things get real. Kevin isn't intimidated—he's ready to help, even if that means being stuck in the past posing as his wife's owner to keep her safe. And Dana will do whatever she needs to do to protect herself and her husband.  –Molly Odintz, CrimeReads Senior Editor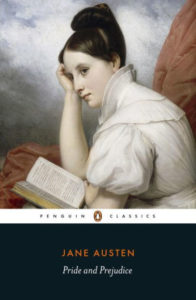 Jane and Charles Bingley in Pride and Prejudice
A rare instance of uncomplicated love in a Jane Austen novel—where most couples are in a state of despair, estrangement, abandonment, or (worst of all!) mismatched wealth—Jane and Charles Bingley genuinely seem to like each other. Imagine! He takes care of her when she's sick; in return, she forgives him for leaving her with no notice because she is insufficiently wealthy and then changing his mind, which (I guess) seems like a fair trade for the era. The biggest issue that emerges during their courtship, that Jane's shy affection leaves room for doubt as to whether her love for Charles is genuine, is a story as old as time, and one easily fixed, albeit with the intervention of a fabulously wealthy friend who had previously conspired to keep them apart. Typical dating problem.  –Corinne Segal, Lit Hub Senior Editor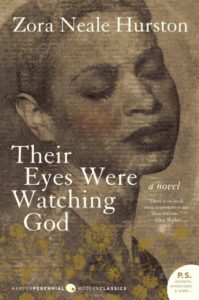 Janie and Tea Cake in Their Eyes Were Watching God
Some may argue that Janie and Tea Cake should be excluded from this list, as their "happily ever after" comes to a tragic and unfortunate end: after Tea Cake is bitten by a rabid dog, Janie is forced to shoot her lover in self-defense. However, before his untimely death, Tea Cake provides a sense of refuge, acceptance, and comfort that Janie had never known. Her young husband's unconditional love helps spark Janie's rebirth. Their marriage is short lived, but Janie becomes a better person for loving Tea Cake. And as the saying goes, isn't it better to have loved and lost than never to have loved at all?  –Vanessa Willoughby, Assistant Editor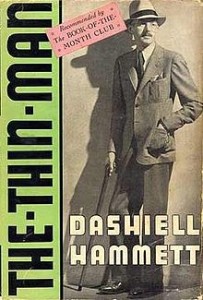 Nick and Nora Charles in The Thin Man
For all their wobbly, boozy nights, Nick and Nora Charles have one of the steadiest relationships I've ever encountered in literature. Despite that these characters are associated with a gigantic film series, they only appear in one story, the fizzy highball of a murder mystery novel, The Thin Man. Nick is an ex-PI, and Nora is an heiress, and the two spend their days drinking, sleeping in, shopping, visiting with friends, playing with their dog Asta, and ultimately, solving a murder. Maybe it's all the money and/or all the liquor, but they are extremely chill—nothing fazes them or causes a rift between them. Through all the wisecracking, flirting, and bantering, they deeply support one another. Cheers to a spirited couple like no other!  –Olivia Rutigliano, CrimeReads Assistant Editor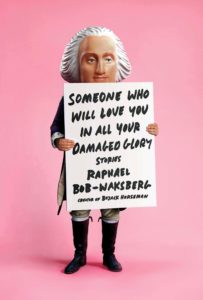 Dorothy and Peter in "A Most Blessed and Auspicious Occasion" 
You can find the short story "A Most Blessed and Auspicious Occasion" early on in Raphael Bob-Waksberg's Someone Who Will Love You In All Your Damaged Glory. (What a title!) Raphael Bob-Waksberg is the creator of the wonderfully cynical Bojack Horseman, a show that, to me, feels very much like sitting under a weighted blanket but the blanket is sadness (in a fun way). So it was surprising that one of the first couples you meet in his collection are… happy? Actually, not only are they happy but they are in love and planning a wedding! Of course, this is where Bob-Waksberg's madcap surreal humor comes in. In this world, weddings must have half-blind love-demons and something called the Dance of the Cuckolded Woodland Sprite.
The whole story is their family and friends interjecting with more and more ridiculous things that they cannot have a wedding without. Basically, it's a story about a couple whose love can withstand the weight and judgement of all their insane family and friends. It ends with a goat sacrifice to the Stone God gone awry, but here's the last line: "I look at her, lit by fire, caked in blood, scored by the Shrieking of the Chorus and the wailing of a dying goat, and I wish I could marry her again. I wish I could marry her a hundred thousand times." Aww!  –Katie Yee, Book Marks Associate Editor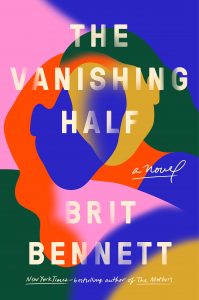 Jude and Reese in The Vanishing Half
I wasn't planning to be earnest with these picks—the first quarantine-proof couple I thought of was the de Winters in Rebecca; if Max's crimes weren't enough to deter Wife 2, I doubt she'd mind sharing a WFH office—but then I remembered the actually happy couple in Brit Bennett's The Vanishing Half: Jude and Reese. Though they've both grown up with shame and violence (for Jude, as a dark-skinned girl in a town that glorifies lightness; for Reese, as a young trans man in '80s Arkansas), theirs is an untortured, peaceful kind of love. In a book with a cast of characters to choose from, Bennett gives Jude and Reese the final scene, which is too beautiful to spoil here. So there! Pure, unadulterated earnestness. You win again, love.  –Eliza Smith, Audience Development Editor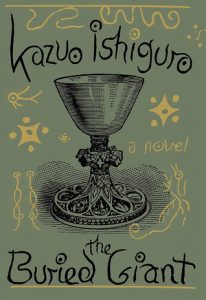 Beatrice and Axl in The Buried Giant
Beatrice and Axl, an elderly Briton couple living in Kazuo Ishiguro's fictionalized post-Arthurian England, have a lovely relationship. They call each other "Princess" and "my love," regularly check in to see if the other is in pain or discomfort as they set out on a perilous trip to visit their son in a neighboring village, and are united in their weathering of the dragon breath-induced collective amnesia that has befallen the land in the wake of Arthur's bloody wars. Would access to their wartime memories unleash traumas, betrayals, and familial tragedies far too great for even their oak-strong marriage to survive? Possibly, but as long as we don't slay the she-dragon, we'll never have to find out…   –Dan Sheehan, Book Marks Editor in Chief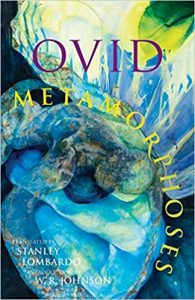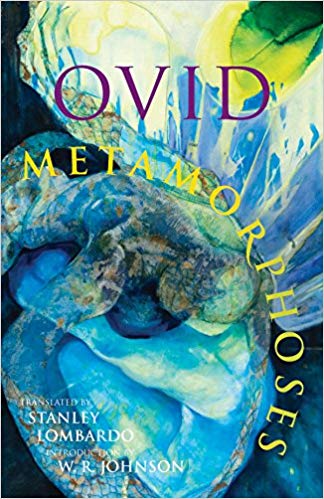 Baucis and Philemon in Metamorphoses
I've been thinking about dying alone, ever since lockdown began in March, or since I watched Paul Thomas Anderson's Magnolia in October. Will I want someone by my side when I die? Will they come? For Baucis and Philemon, it wasn't even a question; when Zeus and Hermes granted them a wish for offering them dinner and shelter when they were dressed as beggars (you know, god stuff), B&P's wish was to die at the same time, so they would never have to be without the other. When they died, they were transformed into a pair of trees, wound around each other, embracing even in death. And they're both good party hosts. Couple goals.  –Walker Caplan, Staff Writer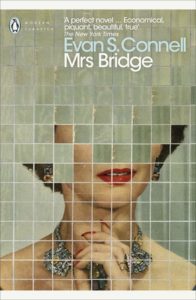 Mr. and Mrs. Bridge in Mrs. Bridge
Do I want a marriage like the Bridges'? No. But do I feel their affection for one another pulsing throughout the novel? Also no! But do they love one another in their private, repressed ways, and remain married until one of them dies? You bet your guest towels they do! Mrs. Bridge is frustrated—sexually, yes, but more broadly, she is frustrated by the constraints of her era. Her husband is present, but distant. This is at least partly because, as we learn on the first page of his eponymous novel, he is passionately in love with her: "Often he thought: My life did not begin until I knew her. She would have liked to hear this, he was sure, but he did not know how to tell her." On one hand: you had like 35 years to figure it out, my dude. On the other . . . love!  –Jessie Gaynor, Senior Editor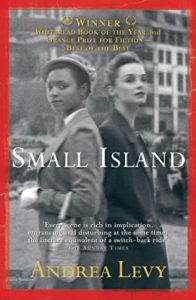 Hortense and Gilbert in Small Island
Every now and then, we all get a kick out of an enemies-to-lovers storyline. And while I wouldn't call Hortense and Gilbert fully-fledged enemies, they get off to quite a rocky start. For one, they marry each other only to get out of Jamaica and sail for England during a period commonly known as the Windrush generation. Gilbert arrives first and later sends for Hortense, who finds him clumsy, lazy, dirty, and, most crucially, a phony. She is also quickly disillusioned with life in England, as the pair experience a series of racist encounters. Eventually, though, they warm up to each other. And in the end, it seems like a new life is just beginning, one that will not be any less hard but certainly more sweet.  –Rasheeda Saka, Editorial Fellow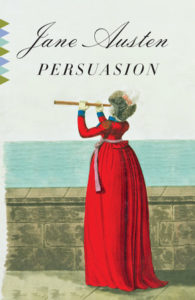 Anne Elliot and Captain Wentworth in Persuasion
Most people think Elizabeth Bennet and Mr. Darcy are ultimate #couplegoals, but the true Austen-heads know that those two are nothing compared to Anne Elliot and Captain Wentworth. Persuasion, Austen's last completed novel, spotlights a love story that could give The Notebook a run for its money. You have: true love ripped apart by social pressures and nosey family members, seven years of longing and repressed emotions, discussions of aging and women regarded as "spinsters" at the age of 27, a dashing naval officer who gets a major glow up, and an unforgettable love letter that reunites the estranged couple. Mr. Darcy may be swoon-worthy, but Wentworth is the type of guy who will remember the anniversary of your first kiss. And unlike Darcy, he's certainly got a way with words! Instead of giving you the silent treatment when he's mad, best believe that Wentworth will actually communicate. We love a man with elevated communication skills!  –VW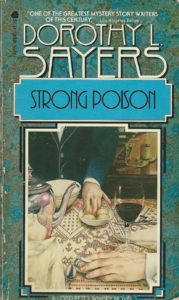 Harriet Vane and Peter Wimsey in Strong Poison (and subsequent Peter Wimsey novels)
Oxford grad, detective novelist, Bloomsbury scion, and moonlighting sleuth Harriet Vane is one of the greatest characters ever conceived, and she appears in the middle of the Peter Wimsey mystery series. When the two meet, Harriet is on trial, accused of poisoning her live-in ex (very cool, scandalous stuff), because her the murder mystery she's writing looks a lot like that very crime. The remarkable sleuth Peter hops in, determined to help clear her name. And after she's vindicated, she keeps appearing in the stories. He proposes to her a lot, and she refuses for a long time, which is fun. Eventually, they solve crimes together, and Harriet even becomes the main sleuth in a later novel, Gaudy Night. Because she's the best!  –OR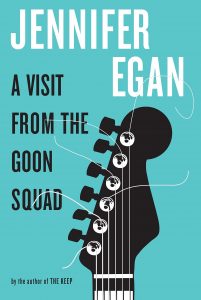 Sasha and Drew in A Visit from the Goon Squad
Sasha and Drew are the rare literary couple for which the past isn't the Darkness Tearing Them Apart. There's past darkness of course (I mean, come on. It's literary fiction), but it's more peripheral than structural. By the time we see Sasha and Drew back together, they seem to be pretty happy, at least according to the extremely reliable narrator that is their kid's PowerPoint. (The earth's climate, decidedly less so. Touché, Jennifer Egan.)  –JG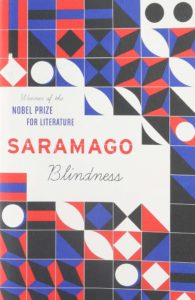 The doctor's wife and the doctor in Blindness 
Look, it's not like these two have it easy. The doctor goes blind, and then everyone goes blind, and the world pretty much goes to shit, and the only person in the novel (or anywhere?) whose vision isn't replaced by a searing whiteness is the doctor's wife. Remarkably, though, she doesn't run off to live on her own in a palace, reading books until the end of time (or something, I don't know, what would you do if society crumbled and you were the only one who could see?) but instead stays by her husband's side, claiming to be as blind as he is, so that she can go with him into quarantine, and then proceeds to lead him and their little band through several hundred pages of extreme horror and peril to relative safety. She even lets his trauma and misery-induced infidelity slide. Talk about devotion.  –ET
You and I in "The First Person"
The title story of Ali Smith's collection is a work of wonder. It's just a couple sitting on a wooden bench outside. They're talking about, well, what any couple talks about at some point: meeting each other's parents, the way they met, the way they tell people they met. It's so specific to them, but it also feels like your own intimacy. It's like she bottled up a couple's language.
They are smitten—like they can't believe their luck—but not sappy. They poke fun at one another. They remind each other that they are not the first people in each other's lives like this: "You're not the first person I ever made laugh. You're not the first person full stop. But you're the one right now. I'm the one right now. We're the one right now. That's enough, yes?" Yes, yes, yes.  –KY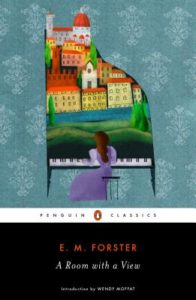 Lucy Honeychurch and George in A Room with a View
About English tourists in Florence during the Edwardian era, A Room with a View is such a satisfying, beautiful novel about love, beauty, and freedom. There's a long will-they-or-won't-they between young Lucy Honeychurch, and the confusingly unbridled, also-young George Emerson. What is mostly a comedy of manners turns briefly into something else when Lucy and George witness a murder, and George is both there for Lucy and stupid towards her. It's kind of the most elegant version of two elementary school kids with crushes on one another poking each other. But theirs grows into a beautiful, passionate love story, about two young people learning what they want from the word. I think so few romances from this era are about two similarly-aged people who grow together. It's really beautiful.  –OR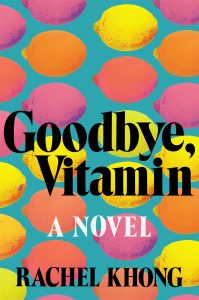 Ruth and Theo in Goodbye, Vitamin
Yes, this is a book about a 30-year-old woman who's just moved back in with her parents to help care for her father, who has Alzheimer's; and yes, she's also emotionally spiraling after her fiancé left her for another woman; and yes, she's also dealing with an uncomfortable discovery about her parents' marriage; but ALSO there's a sweet slow-burn of a romance with her father's teaching assistant, the climax of which goes as follows: "I told him I felt 'generally positive' about him. He said he felt 'generally positive' about me, too. He gave me an awkward hug and later I found that he'd put a peppermint in my jacket pocket." I'll take awkwardness and peppermints over an airport-terminal declaration of love (or, god forbid, public marriage proposal) any day.  –ES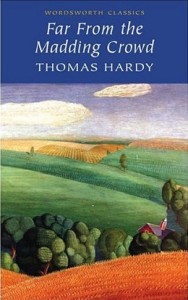 Bathsheba Everdene and Gabriel Oak in Far from the Madding Crowd
My God, I love Thomas Hardy. But of all his most famous novels, there's really only one healthy couple, and it's Bathsheba and Gabriel in Far From the Madding Crowd (PROOF: Jude The Obscure's true-lovers Jude and Sue are adulterous first-cousins,The Mayor of Castorbridge is full of badly-criss-crossing partnerships, and don't even get me started on Tess of the D'Ubervilles). But it's a really good one. Bathsheba Everdene meets Gabriel Oak when he's a well-off shepherd, and though they have a connection, she refuses his proposal of marriage, mostly because she wants to remain independent.
But then, after a tragedy, he winds up totally poor and she winds up rich, and their roles are reversed! She ends up hiring him, which is awkward, especially when she grows infatuated with a soldier named Troy and kind of messes with another man named Boldwood, who later reveal themselves to be misogynistic sociopaths. Eventually, Bathsheba realizes she's in love with Gabriel, because he's a good person who respects her. And underneath all the drama, what she'd actually prefer is someone dependable. I know, this sounds like it meters towards the problematic "Nice Guy" trope, but it doesn't. His last name is Oak! He is strong and good! Nothing more to it than that!  –OR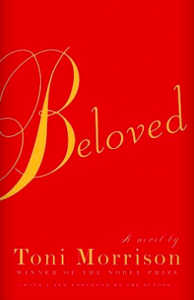 Sethe and Paul D in Beloved
Sethe and Paul D hadn't seen each other in years and wasted no time (if you know, you know)! But when Beloved arrives and disrupts everything and everyone, it seems like this pair is fated for the worse. In the end, however, they remain stronger than ever, with a perspective on love that feels so intimate, warm, and lived-in. Sethe and Paul D are surely a couple that can weather the trials and traumas of life together.  –RS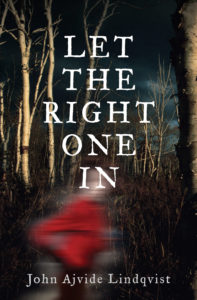 Oskar and Eli in Let the Right One In
I mean, yes, it's a fraught courtship, and yes, many (mostly shitty) people are relieved of their delicious blood and/or killed and dismembered along the way, but, if anything, that makes the eventually coupling between a bullied 12-year-old Swedish boy and a centuries-old vampire child even more sweet. We should all be as murderously committed to our relationships as Oskar and Eli.  –DS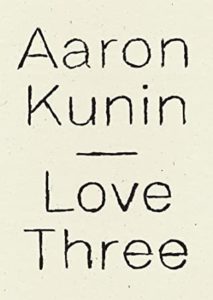 George Herbert and Love in Love Three
In a way, the entirety of Love Three makes the case for Herbert and his demanding Love as an actually happy couple. Through close-reading Herbert's devotional poem "Love" (3), Kunin explicates the sweetness, dynamism, and—yes—love, present in exchanges of rhetorical power. "The first kind [of love] is nice. The second kind is nasty. Another kind is nice because it's nasty. Love three." Sounds good to me.  –WC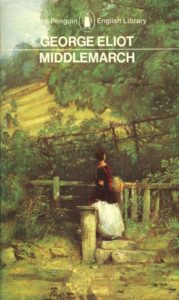 Dorothea Brooke and Will Ladislaw in Middlemarch
Middlemarch, George Eliot's towering masterpiece about many residents of a small town in the English Midlands, is nothing if not a slow burn. When Dorothea Brooke marries Edward Casaubon, a much older man whom she believes to be a scholar, with hopes that she will be a caretaker of one of the greatest intellectual minds of the age, she grows quickly disillusioned after she discovers he is boring and cold, and doesn't even want to publish the (now-outdated) research he has apparently been working on for many years. Dorothea has conflated erotic love with intellectual fulfillment and finds neither in her husband. But then she meets Casaubon's younger, hot artist cousin, Will Ladislaw. He falls in love with Dorothea, and she tries to keep her growing attraction to him at bay. And then Casaubon dies! But there's a vengeful codicil in his will saying that Dorothea won't inherit his fortune if she goes on to marry Will Ladislaw. It's a hard, torturous time for Dorothea, but when Will comes to her to say good-bye, she renounces everything just to be with him. I'm not crying, you're crying!  –OR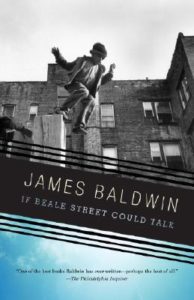 Tish and Fonny in If Beale Street Could Talk
They are a beautiful couple to read on the page—so beautiful that I don't blame Barry Jenkins for wanting to see something like it on the big screen (with plenty of tender gazes and all). But alas, the tragedy of this couple is that they cannot be together because of structural racism, anti-Blackness, and the U.S. carceral system. It is all too easy to imagine what life could have been like for this couple, and we can only dream. They're on this list because they're perfect for one another, and because they would have been happy: if. Oh yes, this one hurts.  –RS
Natsuki, Tomoya, and Yuu in Earthlings
We're gonna need some background to unpack this one: Natsuki and her cousin, Yuu, were in love (and sexually active, once) when they were children. Needless to say, when this was discovered, the family kept them apart. Fast-forward many years into the future and the odd, misunderstood, outcast Natsuki—resistant to the "baby-making factory" that is society—has entered into a platonic marriage with Tomoya, mostly to get her family off her back. No, they're not in love or even really happy, but the arrangement is fine. Then one day, they decide to visit Natsuki's grandparents' summer home, where she and Yuu met all those years ago. Wouldn't you know it! Yuu is there, too. The three of them form a bond that isn't so much romantic as it is predicated on the idea that they are all aliens. But, hey, isn't love finding someone just as strange as you are? Sure, the whole thing devolves into cannibalism. But isn't love a kind of consuming?  –KY
---