21 Sci-Fi and Fantasy Books to Look Forward to in 2023
Featuring Writing by Ann Leckie, Kelly Link, Victor LaValle, Arkady Martine, and Many More


It was truly difficult to narrow down 2023's science fiction and fantasy offerings, and even this list feels like an overabundance. But how could I not highlight alien abduction road trip comedies, time travel nostalgia trips, shadowy secret societies, and surprise standalones from some of my very favorite authors? Whether you're looking to pick up a new series, or dip into a novella or collection, this is the impressive beginnings of quite the 2023 TBR pile.
*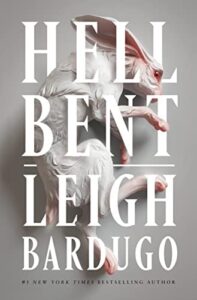 Hell Bent by Leigh Bardugo
(Flatiron Books, January 10)
Somehow I didn't remember that Ninth House, Leigh Bardugo's adult paranormal fantasy debut (after the wildly popular Grishaverse YA series), came out before the pandemic. This dark academia tome reimagined Yale's Ancient Eight secret societies as practitioners of black magic, witnessed through the eyes of Galaxy "Alex" Stern, who earns her way into the Ivy League school thanks to her ability to see ghosts. But it's not a free ride; Alex is part of the Lethe, who oversee the skull-and-bones-and-sorcery at the heart of Yale. And when her mentor Daniel "Darlington" Arlington is cast into hell, Alex must flex her abilities as a Dante to rescue her Virgil, even after the Ninth House has withdrawn its support and her future with them is at stake.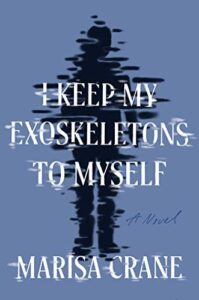 I Keep My Exoskeletons to Myself by Marisa Crane
(Catapult, January 17)
What a way to start the new year, with this queer speculative debut that brings to mind the best of Black Mirror, hurtling at the anxious pace of "The Entire History of You" but with "San Junipero"'s depth of feeling. Marisa Crane envisions an all-too-plausible future in which the Department of Balance weighs down wrongdoers with second (or third, or fourth) shadows as constant reminders of basically any crime that challenges the status quo. Disenfranchised and indelibly stamped with evidence of their past sins, Shadesters have no option but to lag behind the morally superior NoShads. Kris is a sudden widow and single mother, struggling to take care of "the kid," who has been slapped with a second shadow for the crime of killing Kris' partner Beau in childbirth. Crane's shadows metaphor is effective yet restrained, with their prose—as Kris grapples with grief and shame and feeling lost—coming through sharp and affecting.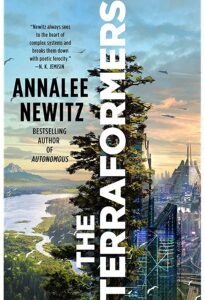 The Terraformers by Annalee Newitz
(Tor Books, January 31)
Through three interrelated novellas set on the same future planet of Sask-E, Annalee Newitz brings hope but also grim pragmatism to the question of terraforming: Yes, humanity will find a home after Earth… but also yes, capitalism will threaten its continued survival three times over. Biohacked planet rangers, sentient trains, robots, and feline reporters are among the varied cast of characters grappling with futuristic yet familiar conflicts: urban planning new transit networks, gentrification pushing out existing residents, and the need for mutual aid.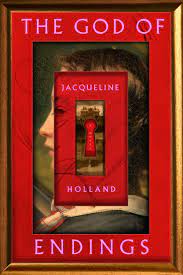 The God of Endings by Jacqueline Holland
(Flatiron Books, March 7)
It's been a while since I've found a proper, generations-spanning epic; here, instead of a traditional family tree, it's the infinite lifetime of an immortal woman. In 1984, Collette LeSange runs an elite arts school for children in upstate New York, devoting her seemingly friendless life to their education. A hundred and fifty years ago, she was Ana, a child orphaned by tuberculosis sweeping through her village, only to be plucked from death by a mysterious stranger. Ana's "grandfather" turns her into a vampire like himself, setting her up for the double-edged sword of eternal life but also eternal loneliness… until Collette's encounter with a particularly gifted child dovetails with her own gnawing hunger.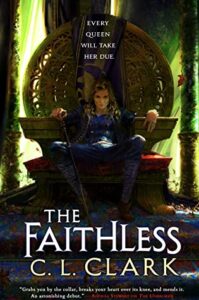 The Faithless by C.L. Clark
(Orbit Books, March 7)
In anti-colonialist epic fantasy The Unbroken, C.L. Clark deftly balanced the perspectives of soldier Touraine and princess Luca, grappling with the system (that is, the Balladairan empire) that shaped them but that will never fully accept them unless they break something. What made the book such a standout was how Clark simultaneously engaged with the big ideas yet also focused on the small, physical moments: a fight in the dirt, a gown fitting, a pivotal dance at a ball, a touch that changes everything. With the second volume of the Magic of the Lost trilogy hinging on a "Trial of Competence"—but also on Luca and Touraine reuniting after their fraught ending in the first book—I just can't wait. Also, that cover, whew.
Lone Women by Victor LaValle
(One World, March 21)
The latest from the Changeling author is a historical Gothic horror set in the era of homesteading, as "lone women" set out on their own. In 1915, Adelaide Henry shows up in Montana lugging a massive steamer trunk, fleeing the charred remains of her childhood home in California… and the bodies of her parents. Even though Adelaide is well aware of her many disadvantages in the already brutal practice of homesteading as a single Black woman, she has something no one else has: a secret sin lurking in that trunk, which must always be locked, but which may also be the key to surviving on the homestead. What began as a short story in the historical speculative fiction collection Long Hidden has been fleshed out into a compelling narrative about a woman on the margins of history, clawing her way into the main text.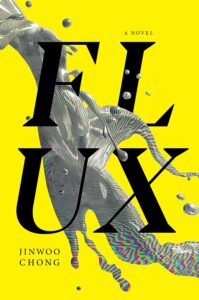 Flux by Jinwoo Chong
(Melville House, March 21)
From its opening second-person address, Jinwoo Chong's experimental debut brings to mind Charles Yu's similarly genre-bending novel Interior Chinatown: Both express a deep affection for Hollywood nostalgia, cut through with the bittersweet reckoning with their imperfect heroes who nonetheless made for unprecedented representation. In Flux, that's fictional detective Thomas Raider, an Asian-American icon to viewers like Brandon, one of three protagonists whose lifelines become braided as he suspects that his company has mastered time travel. While there's sure to be fascinating timeline shenanigans, I'm most drawn in by Chong's clear understanding of what it means to see yourself for the first time in a fictional character.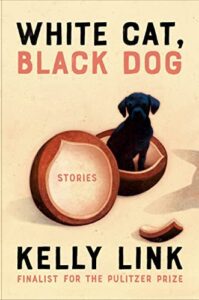 White Cat, Black Dog: Stories by Kelly Link
(Random House, March 28)
MacArthur Genius Grant fellow Kelly Link's latest collection reworks seven fairy tales (from the Brothers Grimm, of course, but also French and Scottish origins) in fantastic modern contexts. Hansel and Gretel must escape a very different sort of hunger on a planet of vampires; a house-sitting gig is the setting for a portal fantasy; and the white cat of the title turns out to run a weed dispensary. There are layovers in airports (familiar) and wealthy fathers sending sons on absurd quests—also familiar, but in a much more bone-deep way in the retellings of such symbolic stories. Plus, each of these tales is illustrated by Shaun Tan (The Arrival).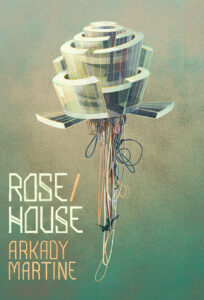 Rose/House by Arkady Martine
(Subterranean Press, March 30)
After her Teixcalaan space operas A Memory Called Empire and A Desolation Called Peace, Arkady Martine has become an auto-read author for me. So imagine my delight to discover that she's written a new novella! Subterranean Press will publish Rose/House, a far-future speculative haunted house story about an AI edifice enclosing a murder mystery. While many a house outlives the person who built it, Rose House is unique: Architect Basit Deniau imbued every beam and dust mote of Rose House with its artificial intelligence, so that the house has been self-aware since long before his death. But when Rose House notifies the China Lake Police Precinct of a death within its walls, it will take tricky maneuvering to get inside—because the only person Rose House is programmed to let in is Dr. Selene Gisil, Basit's estranged protégée. For such a short novella, Martine infuses it with the creeping dread of walking through a house where the walls don't just talk, they think and plot and perhaps even lie.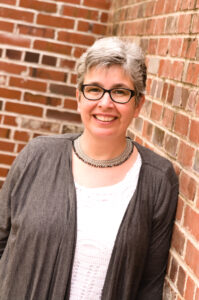 Translation State by Ann Leckie
(Orbit Books, June 6)
Ann Leckie's Imperial Radch trilogy stretched new bounds of sci-fi worldbuilding, from the ubiquitous usage of "she" pronouns to cloned emperors pitted against one another—and the utterly terrifying alien Presger, who sort other species into what they deem Significant or Insignificant. What we do know about the Presger is all several degrees removed; the series gave us a mostly amusing character in genetically modified human translator Zeiat… but then you start thinking about what kind of alien has to reshape humans to be their intermediaries. The Presger are kind of the bogeymen, and Leckie's latest standalone looks to lift back the veil on their alien society through another translator-in-training, Qven, who does the unthinkable by rebelling against their destiny. All the while, the long-awaited Conclave will determine which humans survive into continued Significance.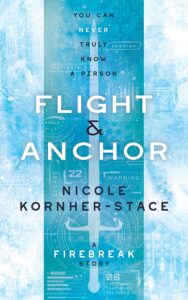 Flight & Anchor by Nicole Kornher-Stace
(Tachyon Publications, June 13)
Since the publication of Archivist Wasp in 2015, Nicole Kornher-Stace has whisked readers through a post-apocalypse populated by the ghosts of supersoldiers and the Archivists who catalog what happened in the world before theirs. The followup Latchkey cemented this engaging world and especially its depiction of platonic friendships, written with the care and depth that these relationships deserve. Last year's somewhat standalone Firebreak expanded the scope of the Archivist Wasp universe, a video game thriller that does Ready Player One one better. And now, Kornher-Stace has brought us another story within that universe: Flight & Anchor, following two of that book's characters (supersoldiers known only as 06 and 22) as twelve-year-olds on a misadventure in a shipping container in a wonderful homage to The Boxcar Children. Watching Kornher-Stace play within her own realms is a delight, and the added nostalgia factor of this book makes it a can't-miss.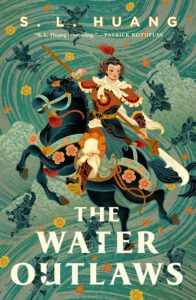 The Water Outlaws by S.L. Huang
(Tordotcom Publishing, June 20)
I was first introduced to S.L. Huang's dynamic speculative fiction through the sci-fi thriller Zero Sum Game. Their foray into fairy tales was effortless, as their novella Burning Roses married the stories of Red Riding Hood and Hou Yi. Huang's forthcoming fantasy novel The Water Outlaws is the perfect next project, reimagining the Chinese classic Water Margin. Described as a Robin Hood tale predating Robin Hood, it's considered one of the first wuxia stories about a group of bandits pulled from society's margins. Drawing upon their other lives as a stunt performer and armorer, Huang updates the story with genderswapping, quips, and an exuberant action heist narrative.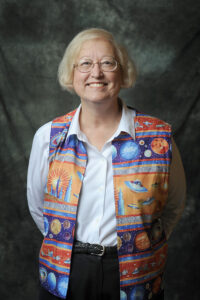 The Road to Roswell by Connie Willis
(Del Rey, June 27)
Crosstalk, Connie Willis' 2016 screwball comedy by way of a Black Mirror-esque mindreading premise, was the rare book where upon finishing it I immediately went looking for fanfiction on Archive of Our Own (and lo, they delivered!). I've got a similar good feeling about what sounds like a comedy of errors that mashes up a wacky wedding story with all of our pop cultural baggage attached to Roswell and Area 51. When bridesmaid Francie gets abducted before her best friend's UFO-themed wedding, she finds herself siding with the unexpected alien who may need more help trying to outrun a human government that wants to probe him.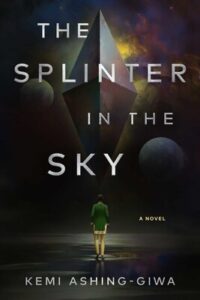 The Splinter in the Sky by Kemi Ashing-Giwa
(Saga Press, July 11)
I love love SFF revolving around tea, from Ann Leckie's Radchaai empire building humanity's future on such rituals to the tea monk adventuring in Becky Chambers' Monk & Robot novellas. What's especially fantastic about Kemi Ashing-Giwa's space opera debut is that its protagonist Enitan supports her real passion for tea with her stultifying day job as a scribe for the Ominirish Republic. But when the Holy Vaalbaran Empire delivers a one-two punch by assassinating her lover and kidnapping her sibling, it's not Enitan's skills with the stylus that will save them—tea is her way to infiltrate Vaalbaran society, as a political prisoner recruited into spycraft.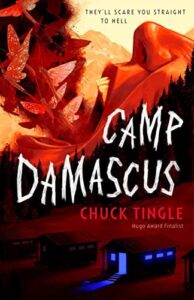 Camp Damascus by Chuck Tingle
(Tor Nightfire, July 18)
Somehow in the past five years, Chuck Tingle went from a punchline (my coworkers would outdo one another to find his most outlandishly titled-and-Photoshopped self-published erotica) to a queer speculative icon. While his erotica continues to incisively pound the news cycle and modern pop culture in the butt, I can't wait to see what he does with a more traditional horror structure: His debut with Tor Nightfire is a chilling tale set at a gay conversion camp in Neverton, Montana, told from the perspective of God-fearing Rose, who doesn't want what (or who) girls are supposed to want, and who can see the secret people lurking in the Neverton woods. Love is real, but so are the scares.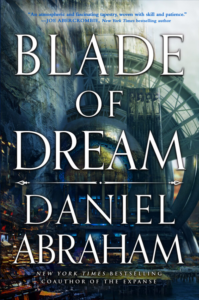 Blade of Dream by Daniel Abraham
(Orbit Books, July 18)
At the start of this past year, Daniel Abraham (one of the co-writers behind the Expanse series) launched an intimate fantasy trilogy in which three different stories unfolded within the city of Kithamar. Age of Ash followed street rats Alys and Sammish, as loss and a shadowy brotherhood intertwined their paths with an ancient being. Blade of Dream moves through Kithamar's class system to the merchant tier, as Garreth struggles against the life path already laid out for him. Of course there's a girl, but we already know to expect other conspiracies among mortals, and those ancient gods with their own connections to this human city.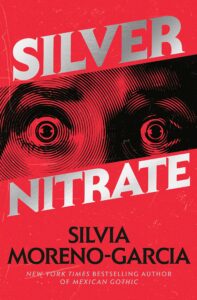 Silver Nitrate by Silvia Moreno-Garcia
(Del Rey, July 18)
Silvia Moreno-Garcia's most recent horror novels have deftly melded historical settings with classic tropes of the genre, like recontextualizing the Gothic horror narrative in 1950s Mexico City through the eyes of a socialite investigating her sister's sinister in-laws (in Mexican Gothic) and transporting The Island of Doctor Moreau to southern Mexico through the eyes of The Daughter of Doctor Moreau. But there's something about her latest, set in 1990s Mexico City, that especially intrigues: Silver Nitrate explores the familiar chiller narrative about a cursed film and an auteur who nonetheless yearns to complete his final project no matter the price. In this case, it takes Montserrat, a talented yet overlooked sound editor, and her former soap opera star friend (and unrequited love) Tristán, to be the fresh eyes on horror director Abel Urueta's work. But what if his story about Nazi occultists ensorcelling silver nitrate stock is actually true? And what if that transfers the curse onto these young artists? Aaand action!
Cassiel's Servant by Jacqueline Carey
(Tor Books, August 1)
It's difficult to pull off a retelling, especially of a novel as beloved as Kushiel's Dart, from another perspective once the readers already know how things work out. But Jacqueline Carey built the world of her lushly epic fantasy romance so compellingly that you want to explore its every corner and interrogate every nuanced player in the game of thrones. So just because we've heard Phèdre nó Delaunay's account of her early years as a courtesan-spy—full of sensual assignations, double-crosses, and flight across other countries—that doesn't mean we know everything. And the perfect man to fill in the blanks is Joscelin Verreuil, Phèdre's austere Cassiline bodyguard, who will watch her play with fire (literally and figuratively) with the cunning Melisande Shahrizai, all while falling hopelessly in love with her.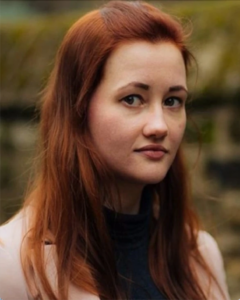 Alecto the Ninth by Tamsyn Muir
(Tordotcom Publishing, fall TBD)
Harrowhark Nonagesimus is in Hell, and that's all we know about the final (!) volume of the Locked Tomb series. Last year's Nona the Ninth gave us a stay of execution on this bonkers, gory, heartrending quartet, but all good things must come to an end. And if Tamsyn Muir has taught us anything, there's never really an end during the myriad of the Emperor Undying, the Necrolord Prime.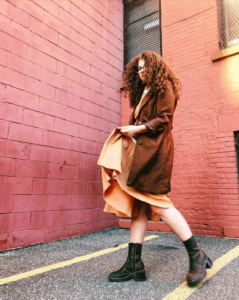 Jonathan Abernathy You Are Kind by Molly McGhee
(Astra House, October TBD)
Former Tor Books assistant editor Molly McGhee went viral earlier this year for laying out the bleak truth that a publishing worker can have a New York Times bestselling book yet still be so failed by the industry that they cannot afford to stay within its low-paying constraints. McGhee has also been a vocal supporter of the HarperCollins Union, signal-boosting online and rallying in-person. All of this makes me even more eager to read her debut novel, a speculative reckoning with late-stage capitalism through the eponymous Jonathan Abernathy, who pays off his student loan debt by "auditing the dreams of white collar workers, flagging their anxieties and preoccupations for removal" (from the official announcement). Hits chillingly close to home, right?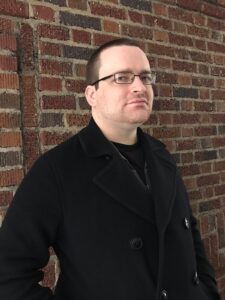 Exordia by Seth Dickinson
(Tordotcom Publishing, October 17)
While I breathlessly await the next installment of Seth Dickinson's heartrending geopolitical fantasy series about Baru Cormorant, I'm delighted to see that he's playing in the sci-fi sphere in the meantime. Exordia is an expletive-laden first-contact story between Kurdish genocide survivor Anna Rekani and Ssrin, an eight-headed viper alien that only she can see. With vibes of Independence Day (except where the extraterrestrials are at least our frenemies) and Michael Crichton, this bonkers-sounding adventure is high-concept, horrific, and perfect to fill the Baru-sized hole in my TBR.
---