20 Years of the Same Prank Call at a Legendary NYC Bar
Every Sunday, the Enema Man Calls McSorley's
We're not sure the first time he called. Nor are we sure who first answered the bar's wall-mounted pay phone that day and heard his voice. It could've been a customer seated at the window table beside the phone; could've been the front-room waiter, hustling to reach the receiver and shout "McSorley's!" to whomever was on the other end of the line. We're pretty sure that the call would have come on a Sunday, because once we recognized the pattern, it seemed that he always rang at the end of the weekend. We're positive what he said, because it's been the same opening line now, week after week, for about twenty years: "Your enema is ready."
The Enema Man started calling McSorley's Old Ale House, the landmark pub in Manhattan's East Village, some time in the late 90s. I first heard about him from my father, Geoffrey "Bart" Bartholomew, who's been tending bar there since 1972. I would have been a sophomore or junior in high school at the time, and even though I had to be on the subway before 7 am on Monday morning, I liked to wait up for my dad to get home, usually between 1:30 and 2 am, to hear what happened on his shift. At the beginning, he spoke of the Enema Man as a nuisance:
"You're not gonna believe this scummer," he'd say. "Guy's been calling for the last few Sundays. He dials the pay phone in Second Avenue (the name McSorley insiders use for the easternmost window booth at the front of the bar; its twin on the opposite side is called Third) and as soon as the waiter picks up, the guy says, 'Your enema is ready.' Never seen Mickey look so confused—he asked this bunghead what he was talking about, and the guy just repeated the line. Said the same thing three times before Mickey hung up."
But as the calls kept coming my father and the rest of the McSorley's staff developed a begrudging respect for Enema Man's persistence. It didn't take long for hints of admiration to creep into my dad's voice when he'd return home and fill me in on the night's action. "Enema Man called again," he'd say, his mustache twitching with delight. "We let a customer pick up, just to see the look on his face. He didn't look too ready…"
Subsequent calls over the following months revealed biographical details—or at least we imagined they did. One Sunday, the waiter eschewed stock responses like telling Enema Man to go to hell or just hanging up on him. Instead, he engaged him. Asked if he had watched any football that Sunday. Enema Man said yes, he enjoyed seeing the Eagles ream our New York Giants. Even though most of the NFL fans on the McSorley's staff root for the Jets, it made us wonder: Was Enema Man from Philly? Or was he just making an educated guess that we'd be pulling for the New York team? Another time, a waiter challenged Enema Man to come to McSorley's and tell him face-to-face what was ready, and Enema Man answered, "Just make sure the couple in the window table saves some of their cheese plate for me." How was he able to describe them? Maybe the Philadelphia theory was wrong and he actually lived across the street, or someplace close enough to peer through binoculars and observe his victims.
When a couple months passed without any contact, I was surprised to hear concern creep into my father's voice. "Enema man hasn't called," he'd tell me. "Hopefully nothing happened to him." And although it might seem strange that the staff had grown to care for a prank caller who treated proctological taunts like Sunday mass, the guy's dedication to his strange punch-line had earned him a spot in McSorley's lore. To hear my father tell it, Enema Man was proof of the bar's essential New York appeal—where else in the city could some wack-job spend years calling the same number at the same time and always have a chance to speak to a new customer or a waiter ready for the next round of verbal sparring? Only at McSorley's.
*
I remember the first time I heard Enema Man's voice. Once I hit my early twenties and began working part-time at the bar, I waited to get the call on a Sunday. It took a while—I had to work my way up the rotation, starting with a busboy gig on weekend nights known around McSorley's as the "shithouse." (In addition to clearing tables and delivering empty mugs to the bar, the shithouse man is expected to keep an eye on the restrooms. He's expected to prevent female customers from accidentally wandering into the men's room, which is only marked TOILET—a remnant of McSorley's male-only past.) Luckily, my father had been tending bar on Sunday nights for as long as I'd been alive, so after a couple months of paying dues, he was able to nudge me onto the schedule for a Sunday shift as the front room waiter.
Even though fielding prank calls wasn't an important part of the job, I'd convinced myself that answering the Enema Man was a milestone of barroom legitimacy, something on par with learning to carry 20 mugs at a time or surviving the St. Patrick's Day mob scene. That first Sunday, every time the pay phone rang I just about sprinted to the window table to answer it. The number there was the same one listed on websites and phone books, which meant that the first half dozen times I picked up the receiver, all I heard were simple questions like "How late are you open?" and "Did anyone find my driver's license?"
By about 8 pm I'd started to lose hope. I knew from my dad's stories that Enema Man usually called in the late afternoon. The crowd of weekend day drinkers was thinning out, and it seemed like my initiation wasn't coming. Until it did. The phone clamored once more and I skidded over the sawdust-covered hardwood to pick it up.
"McSorley's," I said.
"Your enema is ready." There it was! He sounded like a middle-aged guy, his voice a cranky whine, and he stretched out all three syllables of "enema." I'd looked forward to this moment for years and always imagined that when I got hold of Enema Man, I'd nail him with a clever retort, maybe even force him to break character. Instead, I froze and mumbled something about stuffing the enema up his arse. "Well, my new friend," he said before hanging up, "that's sorta the point."
I turned around to face the bar, where my dad was standing behind the taps, holding up a length of hose to which he'd taped an index card with ENEMA written in black Sharpie. "Welcome to the club, bunger!" he said. I'd made it.
*
It took me a while to understand why this rite of passage felt so meaningful. When I tried to approach it rationally, it didn't hold up. So what? Name one busy pub where dirty jokes didn't serve as a form of alternate currency. I eventually found my answer in the details: When I considered the particulars of McSorley's Enema Man and the legend that had grown around him, I'd always end up musing over the bar's exceptionalism. This story felt like it couldn't exist anywhere besides the drinking hole John McSorley had opened 163 years ago on East 7th Street.
Start with the phone. Somehow, in a bar filled with memorabilia that dates back to the 1800s, few artifacts feel more anachronistic than the coin-operated pay phone. There are hardly any phone booths left on New York street corners, let alone inside bars and restaurants. McSorley's pay phone is a reminder that the world has moved on to mobile devices, but it also underscores the bar's timeless quality. There's something uncanny about the phone's recent obsolescence—picking up the receiver with a silenced iPhone in your pocket feels more strange than gazing upon McSorley's gas lamp or the bar's 19th-century ice box, even though newer technologies replaced them, too. The pay phone's presence in McSorley's front room also allows a tradition like the Enema Man, twisted as it may be, to grow. Likewise, the continuity among the bar's staff—where most employees have decades of experience, and even newcomers like me often have lifelong McSorley connections—allows what might be a one-off prank in some other establishment to become a long-term relationship as well as a ritual of bar work, passed from one generation to the next. (And in my case, enshrined with a homemade enema hose trophy.)
The Enema Man's embrace within McSorley's also speaks to the place's ability to absorb just about any character into its orbit. As a child, I was taught to look up to everyone involved in bar life, from my dad and the other bartenders and waiters who ran the place to hangers-on like Frank the Slob, a onetime customer who aged into the job of hand-peeling onions before busy weekend shifts. They were all part of the bar, so they all deserved our respect.
The same goes for Enema Man. Whether he's deeply committed to the bar or just plain deranged, twenty years of prank calls have made him part of McSorley's fabric, not far off from Harry Houdini's handcuffs or the famous World War I wishbones that hang above the bar. That's why, on a recent visit after six months out of town, when I stepped inside the men's room and saw ENEMA MAN WAS HERE scrawled on a stall door, reading it felt like a warm hug.
__________________________________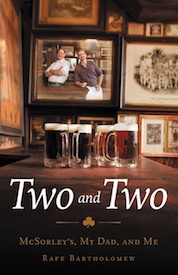 From Two and Two: McSorley's, My Dad, and Me, by Rafe Bartholomew, courtesy Little, Brown. Copyright 2017, Rafe Bartholomew.
---