20 Artists' Visions of Alice in Wonderland From the Last 155 Years
Curiouser and Curiouser!
It was 155 years ago today, on May 4th, 1865, when Alice tumbled down the rabbit hole. Carroll chose the day because it was Alice Liddell's birthday (in 1865, she turned 13). Since then, Alice and her compatriots have been reimagined countless times, and inspired creative work of just about every genre. These days, it feels like we're all down one rabbit hole or another, so it seemed just as good a time as any to revisit some of the best artistic treatments Alice and the gang have gotten over the years, from the classic Tenniel illustrations to moody drawings by Mervyn Peake (yes, that Mervyn Peake) to creations filtered by Yayoi Kusama's bright, bubbly brain. Down you go.
Charles Lutwidge Dodgson, original illustrations, 1864:
*
Sir John Tenniel, illustrations for the first published edition of Alice's Adventure's in Wonderland, 1865:
*
Blanche McManus, illustrations for the first American edition of Alice's Adventures in Wonderland, 1899:
*
Peter Newell, illustrations for Alice's Adventures in Wonderland, 1901:
*
Arthur Rackham, illustrations for Alice's Adventures in Wonderland, 1905:
*
Bessie Pease Gutmann, illustrations for Alice in Wonderland, 1907:
*
Max Ernst, Alice in 1941, 1941: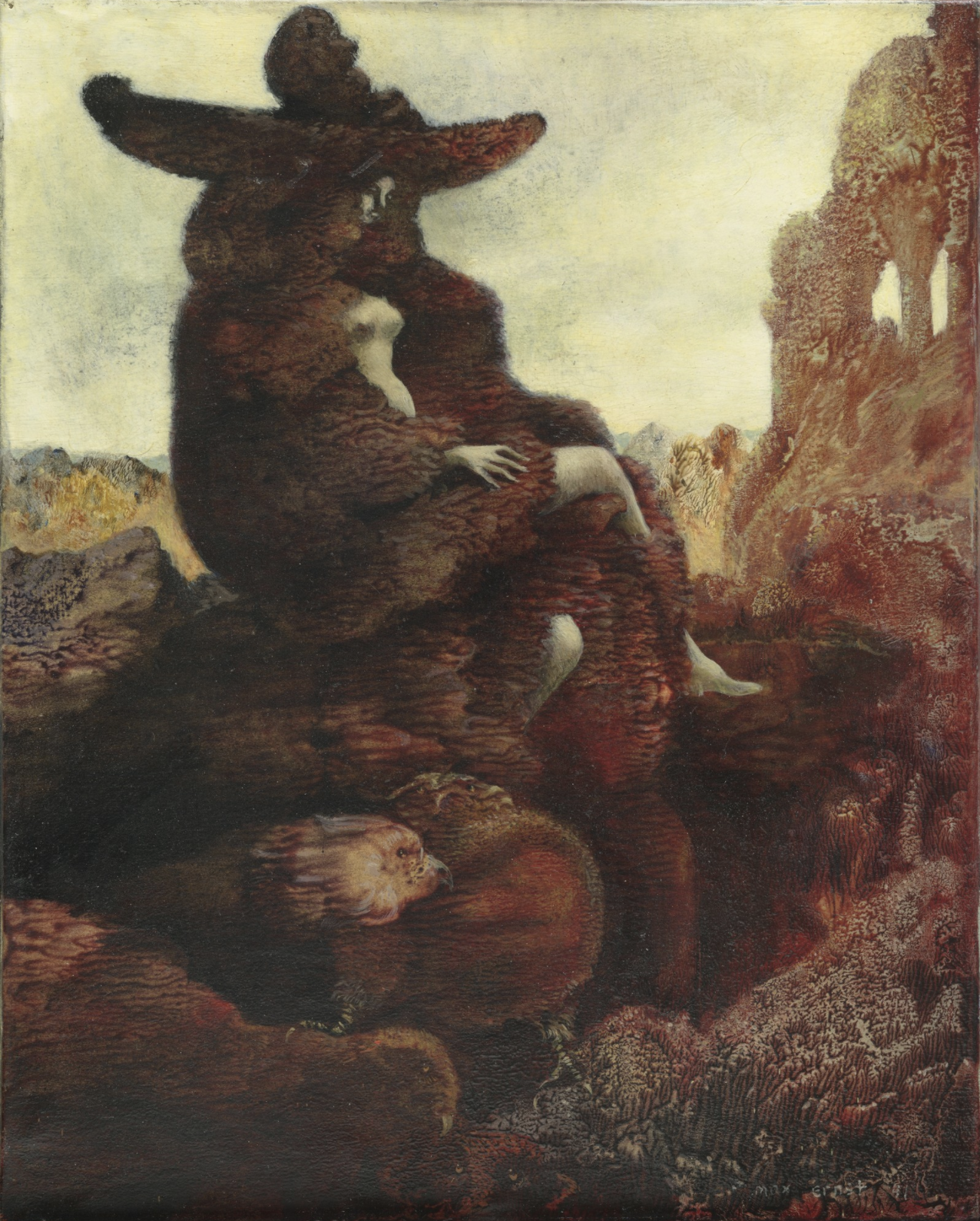 [via MoMA]
*
Mervyn Peake, illustrations for Alice's Adventures in Wonderland and Alice Through the Looking Glass, 1946:
*
Leonard Weisgard, illustrations for Alice's Adventures in Wonderland and Through the Looking Glass, 1949:
*
Tove Jansson, illustrations for Alice i Underlandet, 1966:
*
Ralph Steadman, illustrations for Alice in Wonderland, 1967:
*
Salvador Dalí, illustrations for Alice's Adventures in Wonderland, 1969:
*
Peter Blake, series of screenprints on paper, 1970:
*
Kuniyoshi Kaneko, illustrations for Alice's Adventures in Wonderland (Japanese edition), 1974, and other art:
*
Barry Moser, illustrations for Alice's Adventures in Wonderland and Through the Looking Glass, 1982:
*
Nick Hewetson, illustrations for Alice's Adventures in Wonderland, 1995:
*
Lisbeth Zwerger, illustrations for Alice in Wonderland, 1999:
*
John Vernon Lord, illustrations for Alice's Adventures in Wonderland, Artists' Choice Editions, 2009:
*
Yayoi Kusama, illustrations for Alice's Adventures in Wonderland, 2012:
*
Anthony Browne, illustrations for Alice's Adventures in Wonderland, 2015:
---