16 Books You Should Read This May
LITERARY HUB CONTRIBUTORS PREVIEW THE MONTH'S NEW TITLES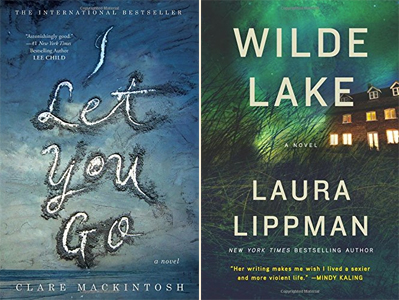 I Let You Go, Clare Mackintosh (Berkley)
Wilde Lake, Laura Lippman (William Morrow)
The thriller of May is definitely I Let You Go by Clare Mackintosh, which was a smash hit in the UK. Be warned: it is a book with a twist, a more successful one than usual given that it is not plot-driven but a shift in point-of-view. For a straight ahead great read, go with Laura Lippman's Wilde Lake, a quiet suburban mystery with shades of To Kill a Mockingbird.
–Lisa Levy (Lit Hub Contributing Editor)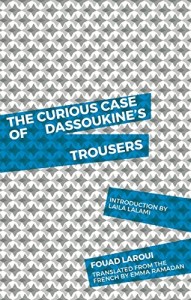 The Curious Case of Dassoukine's Trousers, Fouad Laroui (Deep Vellum)
Fouad Laroui's The Curious Case of Dassoukine's Trousers looks amazing; the English language debut of one of the great, hitherto untranslated contemporary writers of the Maghreb, and especially because it looks to be funny, with a humor rooted in cosmopolitan violence and bedlam. I am always a sucker for stories of people trying to be serious while wearing silly pants.
–Aaron Bady (Lit Hub contributor)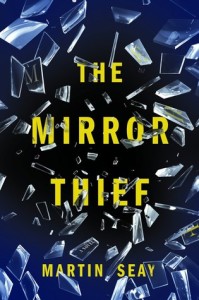 The Mirror Thief, Martin Seay (Melville House)
I'm a big admirer of books that weave together seemingly disconnected plot lines set in multiple timeframes: Alan Garner's Red Shift, David Mitchell's Cloud Atlas, and Sarah Hall's How to Paint a Dead Man all come to mind. So I'm probably the target audience for Martin Seay's The Mirror Thief, which is set in three distinct time periods and versions of Venice and looks to be an intriguing literary doorstopper.
–Tobias Carroll (Lit Hub contributor,
Managing Editor at Vol. 1 Brooklyn)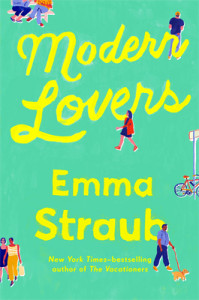 Modern Lovers, Emma Straub (Riverhead)
Watching Emma Straub progress as a writer is pure pleasure; she changes things up and challenges herself and conveys joy in the process at the same time. "Modern Lovers," her new book, is a Straubean take on the classic ensemble novel involving four friends and former bandmates from Oberlin who have grown up (save one) and must face a music-rights conundrum that threatens to make their Ditmas Park lives spin out of control. The perfect beach read, even if your beach is a table at your local coffee shop.
–Bethanne Patrick (Lit Hub Contributing Editor)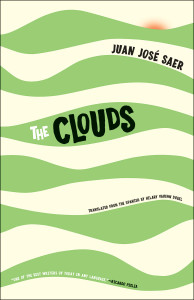 The Clouds, Juan José Saer (Open Letter)
Every time I see Juan José Saer's name in a catalog of upcoming releases from Open Letter, I get excited. I've been especially looking forward to Hilary Vaughn Dobel's translation of The Clouds ever since the book was mentioned in a piece a number of years ago over at The Quarterly Conversation by Heather Cleary. In the piece she listed some of Saer's trademarks that show up in the first passages of this novel: "the hypnotic cadence of his Proustian clausal nesting; the references to the passage of time and the movement of bodies that present each outward impulse as the first step toward an inevitable return; sentences that double back on themselves, qualifying what came before." All this and more makes each new Saer novel in translation a treat and a triumph. He's one of my favorite Argentinian writers, up there in the best of company with Borges and Cortázar and Aira.
–Tyler Malone (Lit Hub Contributing Editor, The Scofield founder & Editor-in-Chief)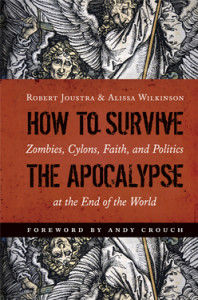 How to Survive the Apocalypse: Zombies, Cylons, Faith, and Politics at the End of the World, Robert Joustra and Alissa Wilkinson (Eerdmans)
I've been on an apocalyptic literature reading kick as of late, revisiting bleak poems from Mary Karr and Archibald MacLeish, so I appreciate Wilkinson and Joustra's smart pop culture examination of the apocalypse from Game of Thrones to The Walking Dead. "Apocalyptic literature has always said a great deal more about who we are now—the makers and the receivers—than who we might be in the future. It reveals more than predicts." If that's true, then take a look around: we're in for one hell of a future.
–Nick Ripatrazone (Lit Hub contributor)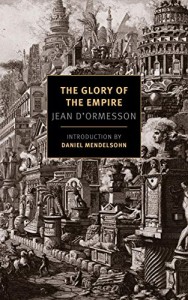 The Glory of the Empire, Jean D'Ormesson (NYRB Classics)
In a gambit of Borgesian dimensions, The Glory of the Empire tells the absorbing, thousand year history of an entirely fictional empire. Jean D'Ormesson's fabricated cultural record can be read as pure imaginative pleasure or caustic satire of the supposed objectivity of history—or, ideally, as a little bit of both.
–Dustin Illingworth (Lit Hub Staff Writer)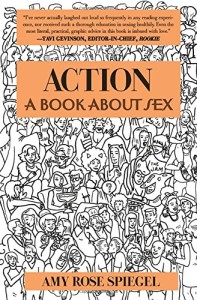 Action: A Book About Sex, Amy Rose Spiegel (Grand Central)
Amy Rose Spiegel is a damn genius and I would read anything she writes, including this, her first book, described as "a book about sex that people won't feel embarrassed about owning." I haven't read it yet, so I can't tell you why it's so great besides the aforementioned genius thing. All I know is that Emma Straub and Tavi Gevinson blurbed it, so did Hilton Als who said, "Reading Amy Rose Spiegel is tantamount to listening to a new language—surprising to the ear, a shock to the senses, and utterly invigorating. She charts the brave new world of identity politics with trusting vigor—and that rarest of qualities, humor." I know it's corny to put another person's blurb in my suggestion, but has Hilton Als ever led you wrong? I understand if you have a hard time trusting me, but not Hilton. That's a blurb you can trust.
–Jason Diamond (Lit Hub contributor,
Founder and Editor at Vol. 1 Brooklyn)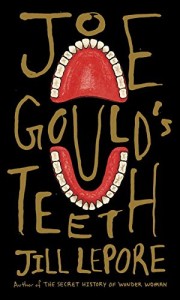 Joe Gould's Teeth, Jill Lepore (Knopf)
When Jill Lepore's article "Joe Gould's Teeth" was published in The New Yorker last July, I became a rabid one-woman reenactment of that classic "Did you read it?!" Portlandia sketch—you know the one. I look forward to a reprisal of this performance when the book-length version is released on the 17th.
–Jess Bergman (Lit Hub Assistant Editor)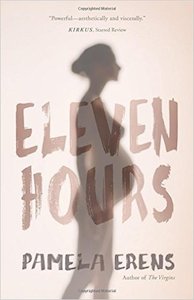 Eleven Hours, Pamela Erens (Tin House)
I'm looking forward to finishing Pamela Erens's new novel, Eleven Hours, a gripping and elegantly written account of that oh so basic and painful and joyous experience, childbirth, from the perspective of a laboring mother-to-be and her nurse, who is early in a pregnancy that stirs memories of loss.
–Jane Ciabattari (Critic, and Lit Hub columnist)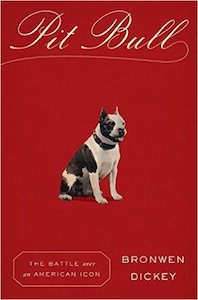 Pit Bull: The Battle Over an American Icon, Bronwen Dickey (Knopf)
There was a period a few years back when I was lucky enough to be able to foster pit bulls, animals who'd had bad early lives, and needed a chance at better possible futures… To a dog, they were fine and quiet companions. So I'm looking forward to Dickey's look into why the pit bull—erstwhile all-American icon—has become such a controversial breed, at once reviled and loved, and all too often condemned to die based on reputation alone.
–Jonny Diamond (Editor, Lit Hub)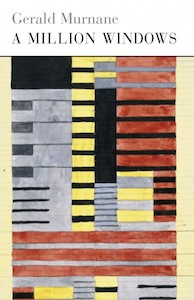 A Million Windows, Gerald Murnane (Godine)
At AWP 2012 I strode up to a Dalkey Archive table that was stuffed with maybe 60 different paperbacks and said to Jeremy Davies, "I wanna buy a book. What's the best one on this table." Without even a moment of reflection he put Gerald Murnane's Barley Patch in my hand. The next week I read it, and I thought, "holy shit, this was the best book on that table." Murnane's latest book is finally available in America (this time from Godine), and it's a brilliant deconstruction of the act of reading, while also being a profound reflection on that perennial writers' question, "Where do your ideas come from?" Murnane has spent a lifetime crafting one of the best prose styles in the English language—do yourself a favor and experience it.
–Scott Esposito (Editor, The Quarterly Conversation, contributor, Lit Hub)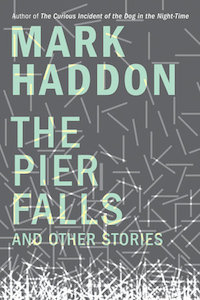 The Pier Falls, Mark Haddon (Doubleday)
The Curious Incident of the Dog in the Night-Time author Mark Haddon's first book of short stories, The Pier Falls, is a delightfully dark collection of disparate tales set in Ancient Greece, the Amazon, and the surface of Mars, to name but a few of its far-flung locales. The collection's title story, in which a coolly detached omniscient narrator recounts the carnage of a pier collapse in a seaside town, will stay with you.
–Daniel P. Sheehan (Contributing Editor, Lit Hub)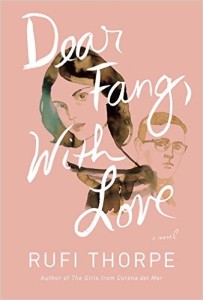 Dear Fang, With Love, Rufi Thorpe (Knopf)
Did someone say a heartbreaking story of familial dysfunction in Eastern Europe? By a writer who's as smart as she's funny as she's dark? And it's in epistolary form? With meditations on appropriate euphemisms for the clitoris? Yeah, I'm excited to read this book.
–Emily Firetog (Managing Editor, Lit Hub)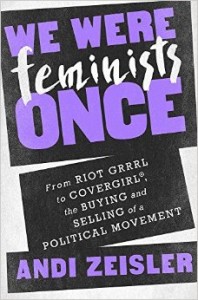 We Were Feminists Once, Andi Zeisler (PublicAffairs)
The mainstream feminist movement desperately needs to be critiqued but often perceives any form of disagreement, no matter how nuanced or necessary, as an affront. So I am looking forward to We Were Feminists Once, a founding editor of Bitch magazine Andi Zeisler's take on the commodification of feminism.
–Blair Beusman (Associate Editor, Lit Hub)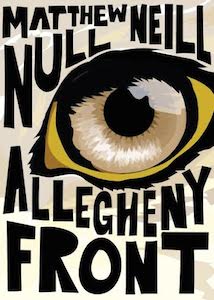 Allegheny Front, Matthew Neill Null (Sarabande Books) 
This winner of the Mary McCarthy Prize in Short Fiction, chosen by Lydia Millet, stunningly depicts the gratuitous destruction of all living things, and the often retaliatory need we humans have in carrying out these horrendous misdeeds. Though it is about so much more, its account of the death of nature is as heartbreaking as it is unforgettable.
–Lucy Kogler (Bookseller, Lit Hub columnist)
Quiet Creature on the Corner, João Gilberto Noll (Two Lines Press, trans. Adam Morris)
I don't know exactly what happens, or what to think about whatever it is that happens, in Quiet Creature on the Corner, so I'm eager for other readers to pick up this confounding page-turner so we can puzzle over it together.
–Stephen Sparks (Bookseller, Lit Hub contributor)
---