16 Books You Should Read This November
Recommended Reading from Lit Hub Contributors
Mark Dery, Born to be Posthumous: The Eccentric Life and Mysterious Genius of Edward Gorey
(Little, Brown and Company)
Do you remember the opening sequence to Mystery! on PBS? Do you own the Fantod pack? Do you want to know more about the mysterious and macabre man behind the curtain? Good news! Born To Be Posthumous, a biography of Edward Gorey, comes out this month. Mark Dery tells you everything you didn't know you needed to know about the famously eccentric writer and illustrator. Here's a teaser: Edward Gorey went to Harvard and could often be spotted sporting a fur coat and a long beard. He and Frank O'Hara were roommates, and they hosted salons in their dorm. I'm really tickled by this, and if you are too, then you should probably pick up this book—but only if the Fantod cards say it's okay.
–Katie Yee, Book Marks assistant editor
Jonathan Franzen, The End of the End of the Earth
(Farrar, Straus and Giroux)
Love him or hate him, Jonathan Franzen remains a master wordsmith, especially when writing about the environment. That talent is on impressive display in his latest, The End of the End of the Earth, a collection of speeches and essays written the past five years about environmental and other politically tinged topics. Some are also self-examining. In the opener, for example, he questions whether his beef with the Audubon Society was worth the public blow back. Other pieces unpack his complicated relationships with family. Taken together, these writings present a nuanced and provocative look at the world and the author himself. An avid fan, I've read everything by America's favorite literary curmudgeon, and to my mind, this is his best collection to date.
–Amy Brady, Lit Hub contributor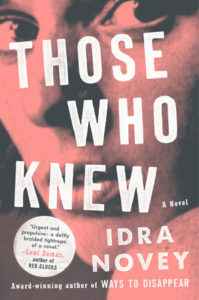 Idra Novey, Those Who Knew
(Viking)
I've been a fan of Novey's flexible prose and semi-surrealist temperament since I read her first novel, Ways to Disappear, two years ago. Like that novel, Those Who Knew is engaging and elusive, its characters residents of an unnamed island. The events that drive them are unclear (is there a ghost? is there a memory?), but all centered around a charismatic senator who may or may not be a murderer. It's a dreamy, enchanting and sometimes terrifying novel about resistance, long-held traumas, and identity.
–Emily Temple, Lit Hub senior editor
Eric Karpeles, Almost Nothing: The 20th-Century Art and Life of Józef Czapski
(NYRB)
Polish writer and painter Józef Czapski lived a long life (1896-1993) that coincided with the epochal events that swept Europe during the 20th century. In this fine and nuanced biography, Eric Karpeles offers us a full-bodied portrait of the man, from his years as a student in Saint Petersburg, to his imprisonment in a Soviet prison camp, and through his long life after the war, which he spent painting and admirably fighting totalitarianism. A cultural hero in Poland, Czapski remains largely unknown to the English-speaking world. My hope is that this book, along with Karpeles's translation of Czapski's lectures on Proust (published simultaneously by NYRB), will bring one of the life of this fascinating and morally upright artist to a larger audience.
–Stephen Sparks, Lit Hub contributing editor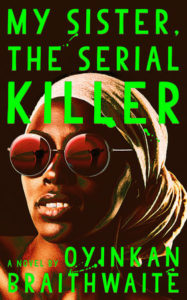 Oyinkan Braithwaite, My Sister, The Serial Killer
(Doubleday)
In a world wracked with violence on a near-cartoonish scale, it might seem tasteless to say that I'm most excited for a satirical slasher novel hitting the shelves in November. But to describe My Sister, the Serial Killer as just that would be inadequate. The novel contains what it says on the label—a serial-killing sister and corresponding amounts of gore—but is also laugh-out-loud funny (as anyone who sat next to me as I read it on the subway can confirm) and handles a variety of subjects (including Nigerian womanhood, physical beauty, cycles of violence that run in families, and the tension that can develop between siblings) with a deft touch, avoiding both glibness and heavy-handedness.That's even more impressive considering that this is Oyinkan Braithwaite's first novel. It's also been optioned for film by Working Title, so I'm not the only person who's batting for this excellent little black comedy.
–Miriam Kumaradoss, Lit Hub editorial fellow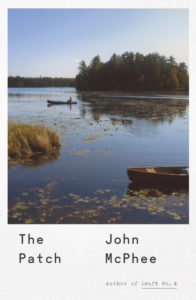 John McPhee, The Patch
(Farrar, Straus and Giroux)
Any new book by John McPhee is a cause for celebration. He is one of our greatest living national treasures. His understanding of the historical, cultural, and political dimensions of space is unparalleled. Indeed, there is, in my opinion, no greater writer of place because, in the topopoetics of his nonfiction, he not only demonstrates a keen awareness of the ghosts a locus gathers, but he expresses them in such sublime fashion. What makes his nonfiction so much better than just about anyone else's is that—like literary critic Hugh Kenner and philosopher Emil Cioran—he has the sinuous grace of a novelist and the canorous aesthetics of a poet. His oeuvre offers us a patchwork topography of our world and its social, intellectual, and geological history.
–Tyler Malone, Contributing Editor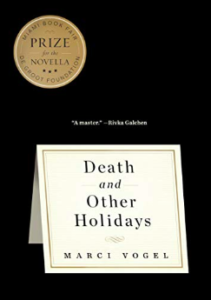 Marci Vogel, Death and Other Holidays
(Melville House)
I love when poets write novels. I won't speak on the bad ones, but the good ones, I find, are spare, beautiful, and by turns heartbreaking and hilarious. Death and Other Holidays is Marci Vogel's debut novella (she previously published a poetry collection), and though I haven't read it beyond this brief excerpt, the lines "He was pumped full of morphine and he wrote me this note: START, GO. It was spring, and I knew he was right. I just didn't feel up to it was all" have convinced me that my theory about poet-novels is correct (thank you) and also that this book is for me. Because sometimes grief is just being very, very tired.
–Jessie Gaynor, Lit Hub social media editor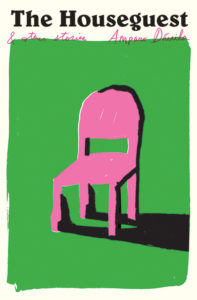 Amparo Davila, translated by Audrey Harris and Matthew Gleeson, The Houseguest
(New Directions)
Cristina Rivera Garza's haunting and surreal novel The Iliac Crest (trans. Sarah Booker) was my first introduction to the great Mexican writer Amparo Dávila. In The Iliac Crest, Dávila is a threatening feminist force that refuses to be kept at the margins. During the Mexican literary boom in the 1950s, when Dávila was writing, she was often overlooked in favor of her male contemporaries. For the first time, we finally have a collection of her stories translated into English and they're as good as, as uncanny and mesmerizing as, some of the best work by Kafka or Poe.
–Nate McNamara, Lit Hub contributor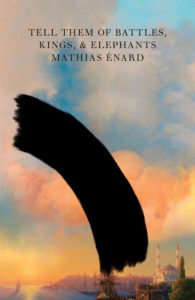 Mathias Énard, Tell Them of Battles, Kings, and Elephants
(New Directions)
Admittedly, I only read parts of Énard's acclaimed novel Compass, but I loved what I read. Anyone who was intrigued, troubled and challenged by Edward Said's Orientalism, as I was, will respond similarly to this Frenchman's work. Tell Them of Battles sounds too interesting to pass up: the Ottoman Sultan Bayezid I asks Michelangelo to build a bridge connecting Europe and Asia. Though historians believe the artist rejected this invitation, Énard asks what it would have meant had Michelangelo accepted. The mix of speculative fiction, historical intrigue, and musings about Orientalism/Occidentalism is right up my alley.
–Aaron Robertson, Lit Hub assistant editor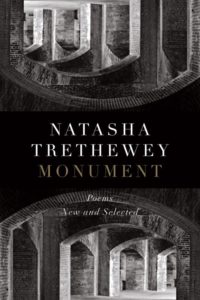 Natasha Trethewey, Monument
(Houghton Mifflin Harcourt)
Last January, after the heat in my apartment broke in the middle of a blizzard, I fled south to New Orleans, where during rainy afternoons I'd settle into a reading corner at Faulker House Books. There, I fell in love with Natasha Trethewey's Bellocq's Ophelia, her 2002 collection inspired by early 20th-century portraits of New Orleans sex workers. Monument, which was longlisted for the 2018 National Book Award for Poetry, revisits those pieces and others while offering new work from the two-time U.S. poet laureate, who reflects on personal history, trauma, and the stories that white supremacist systems have suppressed.
–Corinne Segal, Lit Hub senior editor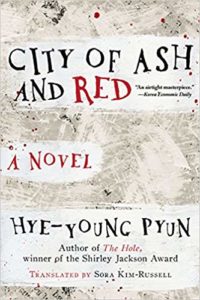 Hye-young Pyun, City of Ash and Red
(Arcade Publishing)
This dystopian noir from South Korean thriller writer Hye-young Pyun follows a ratcatcher assigned to pursue his profession in the quarantined country of C, swiftly descending into chaos under the weight of plague and repression. The ratcatcher soon becomes stranded in a Kafka-esque nightmare after his ex-wife's body is discovered in his apartment. I can't wait to read both City of Ash and Red and Pyun's previous book, Hole, winner of the 2017 Shirley Jackson Award.
–Molly Odintz, CrimeReads editor
Tomás González translated from the Spanish by Andrea Rosenberg, The Storm
(Archipelago)
Resentment and family dysfunction intensifies between twin brothers Mario and Javier and their father ("the old bastard") just as a storm builds at sea, where the men fish outside their Columbian seaside village under glowering skies. Self-delusion, hallucinations, anger, volatility chafe against the soothing waters and the stars above, and González, one of South America's most acclaimed and pitch-perfect novelists, plunges you into the brutality of man and nature alike.
–Kerri Arsenault, Lit Hub contributor
Adam Nemett, We Can Save Us All
(Unnamed Press)
…or can we?  There is most certainly redemption at the end of this book, but are we deserving? I never really think so, but that's me. WCSUA is so very, very clever. Nemett captures the particular kind of college-kid angst of the smart and privileged. Let's bend humanity to our will one sucker at a time and see what results… after all our intentions are noble. Oh, and let's use my trust fund. And remember saving humanity can only be accomplished if there are bodies to show the progress made. Does it sound like I didn't love this book? I did! "Loved" that we have not saved ourselves from climate change, from race issues, class issues, misogyny, militarization. Love the intersectionality of and juxtapositions  of love and hero worship, intelligence and wicked intentionality, virginity and orgies, anarchism and militarization. What is made so persistently and heroically clear is that we self destruct and in that destruction search for the remnants of reason so as to try to reconstruct the next prototype. I'm happy to let Adam write our way through.
–Lucy Kogler, Lit Hub contributor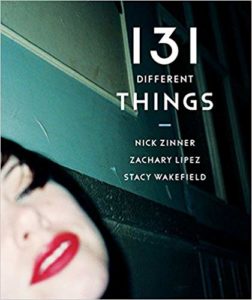 Zachary Lipez, Nick Zinner and Stacy Wakefield, 131 Different Things
(Akashic Books)
Frequent collaborators Zachary Lipez, Nick Zinner, and Stacy Wakefield have worked together on a number of intriguingly-designed books bringing together Lipez's words, Zinner's photos, and Wakefield's design. Their latest is 131 Different Things, a novella about a bartender navigating an array of bars in search of his ex–and a spot-on take on urban life, frustration, and flawed humanity, with distinctive visuals to accompany the knowing prose.
–Tobias Carroll, Lit Hub contributor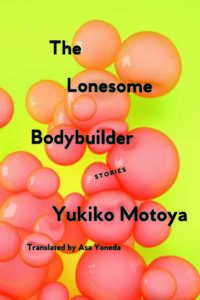 Yukiko Motoya,The Lonesome Bodybuilder
(Soft Skull Press)
The twelve hilarious fables in Yukiko Motoya's The Lonesome Bodybuilder look at everyday life so closely they turn it inside out. Shopping for clothes becomes a menacing interaction with a possible monster; a marriage evolves into an oiled up performance of masculinity. In my favorite, a bus-stop interaction during a typhoon leads to riding across the sky, clinging to an umbrella. Like Kelly Link and Karen Russell, the writers in America she most resembles, there's an almost magician-like quality to what Motoya does: there's no sleight of hand. It happens right in front of you. Yet the way she tilts reality always interrogates something bigger, like the meaning of masculinity in a marriage. This is thrilling work, and alongside Mieko Kawakami and Sayaka Murata, it seems clear there's a movement of sorts coming from Japan.
–John Freeman, Lit Hub executive editor
---