15 Books You Should Read This January
Denis Johnson, Jamie Quatro, Leila Slimani, and more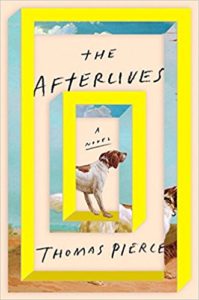 Thomas Pierce, The Afterlives
(Riverhead)
I've been eagerly awaiting Thomas Pierce's first novel after loving his weird, charming debut collection, Hall of Small Mammals. Happily, The Afterlives is also weird and charming. The novel is narrated by a man who has come back from the dead—technically, at least. He had a heart attack, was revived, and can now monitor his heartbeat via an app on his phone. Anything unusual happens and he'll get a notification, a little ding. (We are operating about five minutes in the future, here.) So yes, this is a book about death, and about our maddening awareness of its looming nature. It's also a book about ghosts and cults and family and love. Oh, and holograms! Despite these and other heavy topics, The Afterlives feels big and warm and inviting, an intelligent book that also lets itself be goofy, a serious book that doesn't take life too seriously. After all, none of us are getting out of it alive.
–Emily Temple, Lit Hub senior editor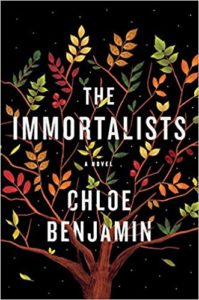 Chloe Benjamin, The Immortalists
(G.P. Putnam's Sons)
Chloe Benjamin's captivating family saga tells the stories of Gold children—four New York City children hungry for their adult lives to begin—who, one afternoon in 1969, are told by a traveling psychic the exact dates of their deaths. The macabre prophecies shadow each of the siblings as the years pass and their paths diverge: youngest Simon becomes a dancer in the gay scene of 1980s San Francisco; strong-willed Klara pursues her obsession with magic to the Las Vegas entertainment circuit, where the worlds of reality and illusion begin to blur; eldest son Daniel seeks out stability as an army doctor post-9/11; and introverted Varya chases immortality though longevity research at an experimental California facility. Each of these four narrative strands is a mini marvel, but together they form a hauntingly beautiful tapestry of familial love and loss.
–Dan Sheehan, Book Marks editor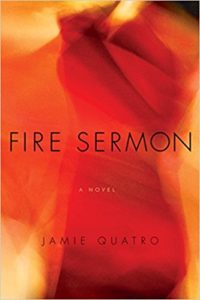 Jamie Quatro, Fire Sermon
(Grove Press)
Jamie Quatro's Fire Sermon is a curious novel, an extended plea by protagonist Maggie for some means of reconciling her juicy adultery with her worn-out religious faith–but for women over 40 who never experienced millennial hook-up culture, it sounds a deep chord. What happens when you've been a good girl and it hasn't worked for you? What do you do next if you don't want to throw away everything you have, but your marriage bed is dead? Maggie carries on an affair with a poet named James (sometimes online, sometimes IRL as those millennials have taught us to say), and confronts the limits of both belief and desire. The book's curiousness ignites curiosity, demonstrating why most of us are willing to be gobbled up by the flames of sin at least once in our lives.
–Bethanne Patrick, Lit Hub contributing editor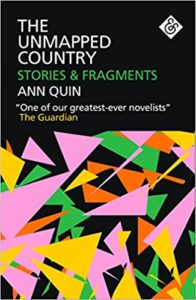 Ann Quin, The Unmapped Country: Stories and Fragments
(And Other Stories)
It's been a few years since I last read Ann Quin's novels Berg and Tripticks, and yet they're still lodged in my brain, doing weird things to my headspace and reminding me that the world is a stranger and more horrifying place than I'd like to admit. Quin's fiction brings together a powerful sense of alienation with some bold formal experiments; the result is like nothing I've read before or since. So I'm glad to see that this month brings with it the release of The Unmapped Country, a collection of her short fiction and unfinished work. Hers is a voice that should be more widely read and discussed; hopefully this book will help contribute to a Quin renaissance.
–Tobias Carroll, Lit Hub contributor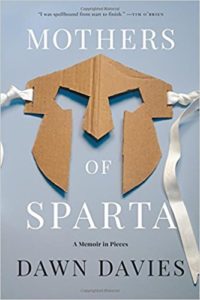 Dawn Davies, Mothers of Sparta
(Flatiron Books) 
Let's not toll the funeral bell for the personal essay just yet. Dawn Davies's debut collection, Mothers of Sparta, marks the coming of a supple and strong writer, not afraid to take on topics big (parenting, illness, divorce) and small (her penchant for killing her kids' pets). It takes a while to warm up to Davies's anxious, self-conscious voice, but by the time you hit the title essay—which is truly a revelation—you'll be more than impressed by this self-proclaimed soccer mom. She's a fierce and formidable writer.
–Lisa Levy, Lit Hub contributing editor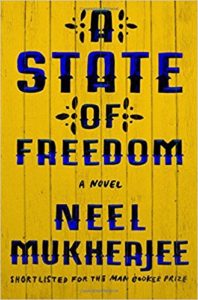 Neel Mukherjee, A State of Freedom
(W. W. Norton)
Mukherjee's five narratives show what brutish and lopsided power structures do to those seeking upward mobility within the context of modern day India. In an interview with Foyle's, Mukherjee said he's taken out the "connective tissue" that typical novels contain to give it the "principle of incoherence." That feeling of disorder may be just the thing to show what punishing poverty, classism, and a slow violence do to the mind, body, and spirit of those who experience it. We all want to better ourselves. It's what makes us human. But what if we can't? What are we then?
–Kerri Arsenault, Lit Hub contributor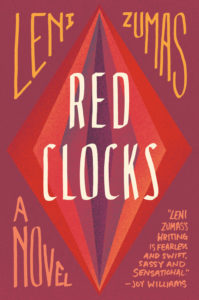 Leni Zumas, Red Clocks
(Little, Brown and Company)
Women's rights to control their own reproductive systems have been all but completely wiped out in this chilling new novel by Leni Zumas. Following the lives of three American women—a high-school teacher, a pregnant adopted daughter, and an herbalist suspected of something not entirely unlike witchcraft—Red Clocks reads like an intergenerational Handmaid's Tale. The book is at once poetic and terrifying, an urgent story that speaks profoundly to the contemporary moment. You'll thrill to Zumas's well-crafted sentences, but prepare to get angry.
–Amy Brady, Lit Hub contributor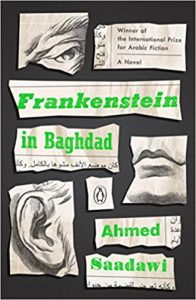 Ahmed Saadwi, Frankenstein in Baghdad, translated by Edoardo Ballerini
(Penguin Books)
Ahmed Saadawi's Frankenstein in Baghdad (translated by Edoardo Ballerini) is a graphic portrait of perpetual war. Winner of the 2014 International Prize for Arabic Fiction, the novel assembles from the carnage of the ongoing crisis in Iraq a monster that, echoing Mary Shelley's creation, reflects back upon us the inhumanity of our own actions and the ways war spirals out of control, leaving devastation in its wake.
–Stephen Sparks, Lit Hub contributor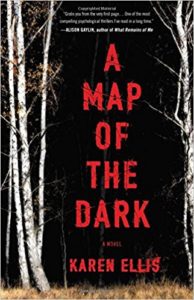 Karen Ellis, A Map of the Dark
(Mulholland Books)
Karen Ellis has written a far-from-ordinary FBI novel in this elegant, haunting tome of pain and redemption. When several teenage girls are kidnapped, an FBI agent with a haunted past is brought in to track them down. She has a history of abuse and self-harm, and instead of putting herself above those she arrests, she views herself as their inversion-she's turned her violence against herself, rather than the outside world. Eloquent vignettes tell us how one kidnap victim survives through communing with her tattoos, as the narrative veers between the kidnapped girls' perspective and that of the agents in pursuit.
–Molly Odintz, Lit Hub editor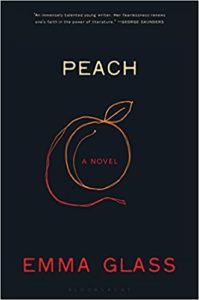 Emma Glass, Peach
(Bloomsbury)
It's apt to see that this debut author–who works full time as a nurse in England–cites James Joyce, Gertrude Stein, Kate Bush and Justin Vernon (Bon Iver) in her acknowledgements. Peach is a hypnotic, visceral read about a girl named Peach, who is recovering from sexual assault. This is a rape revenge story; but much more than that, it is a book about language. Lyrically and visually driven, Glass's sentences read like powerful poems, and they encompass so much emotion, you'll find it hard to put this novel down once you start.
–Marta Bausells, Lit Hub editor-at-large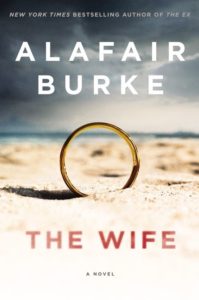 Alafair Burke, The Wife
(Harper)
I always look forward to Burke's work, but her latest has a special appeal thanks to the timely subject matter. A woman deals with the fallout after her husband, a rising literary/intellectual star, is accused of sexual crimes, and the allegations prompt her to question the foundations of their family. Burke is a NYC law professor, a former prosecutor, and one of the more subtle suspense writers around. This has all the makings of a standout novel.
–Dwyer Murphy, Lit Hub editor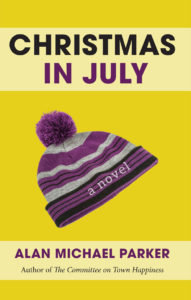 Alan Michael Parker, Christmas in July
(Dzanc)
I have long admired the concise, witty and worldly fiction of Alan Michael Parker. I'm also a fan of Dzanc Books, one of the finer indie presses out there publishing literary fiction. (Full disclosure: Dzanc published the e-book of Stealing the Fire, my first story collection.) Parker's latest, a novel in ten stories, revolves around a 13-year-old girl named Beatrice Danzig who changes her name to Christmas after she's stricken with cancer. The first of ten narrators is Angela Macon, a middle school registrar in Saxon Hills, Maryland who meets Christmas when her Aunt Nikki, her new guardian, brings her in on a steaming day in July to sign up for school in the fall. Angela senses how much Christmas dislikes her aunt, and how sick she is ("her illness in rings under her eyes, like ashes") before blurting out, "I'm getting a divorce" and inviting her to sit together privately.  Christmas roams Saxon Hills, growing sicker and, in pain, returning to the wild. She encounters Sarah, a 16-year-old street kid, and wanders through the backyard of Marcus, a gay D.C. lawyer who has brought his mother back to live in North Saxon, while Alzheimer's makes her think she's living in South Saxon, "a loving black community."  Christmas is enticed into a routine of sorts by Meg, a knitter who makes her a hat to cover her chemo-bald head. She corresponds with Dorothy, a Los Angeles-based Korean woman who runs a Wizard of Oz website called DearDorothy.com, is spotted lying in the woods by Blue the Dog and finds her way into the house of a beekeeper named Snow Joe, and wanders past Evie, a "bubbly socialite" who lives a secret "life in Glitter" at a music festival. Parker's narrative crackles and swirls, spinning in surprising directions, landing with a totally unexpected impact.
 –Jane Ciabattari, Lit Hub columnist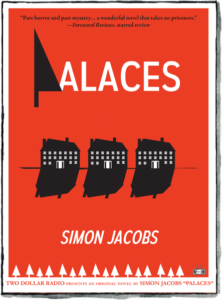 Simon Jacobs, Palaces
(Two Dollar Radio)
Two punks abandon the Midwest for an unnamed northeastern city that's in chaos. The shops are unguarded, the trains are empty, and there are buildings to squat in. The couple sleepily wanders the dystopian metropolis breaking things and gorgeously reflecting on the wrecked state of their lives. "I'm amazed by how instantaneously everything can turn to funhouse-like squalor," Simon Jacobs writes. "I could close my eyes, open them, and everything would be different." Palaces is post-apocalyptic, but stranger than that. It's a novel that's gritty, moving, and punk.
–Nate McNamara, Lit Hub contributor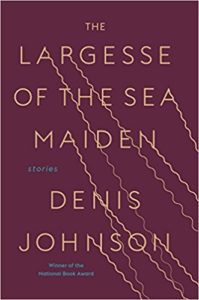 Denis Johnson, The Largesse of the Sea Maiden
(Random House)
Like everyone else who read Jesus' Son more times than they could count, I was thrilled to learn Johnson had a new collection coming out. After his death this past May, I reread the titular story that appeared in the New Yorker some years ago and was reminded of Johnson's preternatural ability to capture human lives in situations of extreme despair and to wring from them moments of grace.
–Emily Firetog, Lit Hub managing editor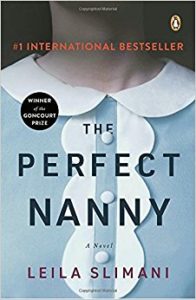 Leila Slimani, The Perfect Nanny, translated by Sam Taylor
(Penguin Books)
A well off French-Moroccan lawyer goes back to work, leaving her young child in the hands of a woman who appears to be the perfect nanny. Yet there's something not quite right here, and as Slimani's heroine cycles through the elation, rage and entitled griping of modern upper middle class motherhood, a thoroughly terrifying situation develops simultaneously right beneath her nose. Winner of the Prix Goncourt, Slimani's novel brilliantly explores the dark territory of family making – but it sketches an equally arresting portrait of the possession impulse that life in unequal times can drive to a fever pitch.
–John Freeman, Lit Hub executive editor
---