19 Books You Should Read This April
Recommended Reading from Lit Hub Staff and Contributors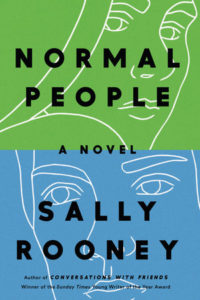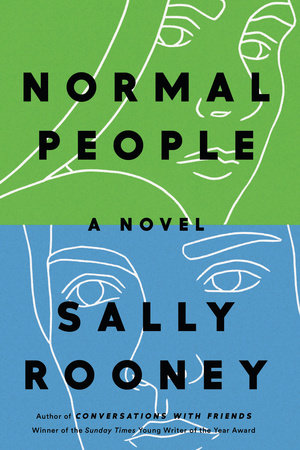 Sally Rooney, Normal People
(Hogarth)
Unless you've been living under a rock, you are looking forward to reading Sally Rooney's second novel, Normal People. Marianne and Connell are high school and then college friends-and-sometimes-lovers, and their will-they won't-they might seem, on the face of it, to be not your jam, but Rooney's precise, smart, exacting prose, makes it a dark, emotional read. What's more, it places a great deal of value on the confusion and pain of youth, not as stepping stones to the people we become but as the most important things we'll ever feel in our lives.
–Emily Firetog, Lit Hub deputy editor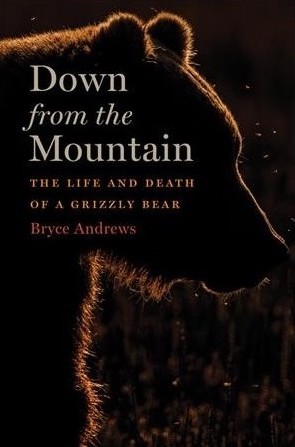 Bryce Andrews, Down from the Mountain: The Life and Death of a Grizzly Bear
(Houghton-Mifflin Harcourt)
Sadly but truly, we will probably always need symbols to help us understand the great and implacable destinies we trace from cradle to grave. In this case, let us see here in corn-thieving Millie the Grizzly Bear, Andrews' main character, a potent and tragic symbol of the intersection of humanity and the wild, embodiment of the grace we are capable of projecting into a world we too readily destroy. This is a very contemporary register of nature writing, urgent and unsentimental, yet deeply affecting.
–Jonny Diamond, Lit Hub editor in chief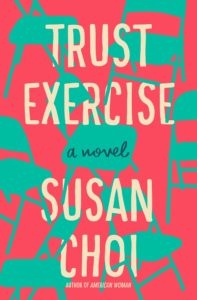 Susan Choi, Trust Exercise
(Henry Holt & Company)
If you're a Literary Hub reader, you probably know that we're all extremely excited about Susan Choi's Trust Exercise over here. Honestly, I don't think I've proselytized so much about a novel since I first read The Secret History. My friends have found this somewhat irritating, since the book isn't actually out yet. But welcome to April, everyone! No more excuses. The first half of the novel is set in an elite performing arts high school, and is riveting on its own—elegantly written, and full of drama in both senses of the word. But then things . . . shift. I won't spoil the book's formal conceit for you, but be warned that it's a destabilizing wonder. This is a novel that reminds me of what novels can do. I loved it.
–Emily Temple, Lit Hub senior editor
Arthur Sze, Sight Lines
(Copper Canyon Press)
Arthur Sze has always written a poetic line as elegant as a piece of hand-sanded teak. His new collection, Sight Lines, is poised as ever, but a disquieting stain of doubt has begun to grow in the margins of his vision. As the poet moves from Hong Kong waterways to the crosswalks of the Bronx to the arroyos of New Mexico, a stress falls on his sightline, testing the reasons for beauty, evoking a sense of mortality. Of purpose. Can the planet really sustain ten billion the poet wonders. Are all these lines simply written in water? Compass Rose, Sze's past book, was a Pulitzer finalist. These new poems are stronger yet and by confronting time head on, may best stand its tests.
–John Freeman, Lit Hub executive editor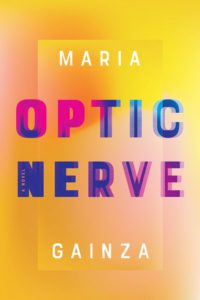 María Gainza, trans. by Thomas Bunstead, Optic Nerve
(Catapult)
I loved María Gainza's irreverent, fun, surprising Optic Nerve when it came out in Spanish a while ago, and I'm excited for the English translation to be hitting shelves. This short novel is part art history, part personal narrative, part enthralling depiction of life in Buenos Aires. The story follows a narrator who is obsessed with art, and sees her life through the paintings and artists who obsess her.
–Marta Bausells, Lit Hub contributing editor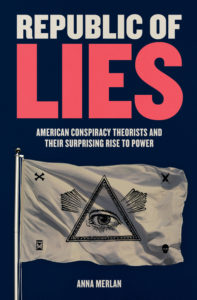 Anna Merlan, Republic of Lies: American Conspiracy Theorists and Their Surprising Rise to Power
(Henry Holt & Company)
Anna Merlan dives into some of the darkest corners of conspiracy theory in the United States, linking their growth in popularity to the systems that have deepened economic inequality and social division over the last few decades. Merlan approaches conspiracy theories and the people who believe them as a thoughtful, thorough journalist, looking at how those in power wield them at the expense of those who are destabilized and looking for answers. It's an amazing read.
–Corinne Segal, Lit Hub senior editor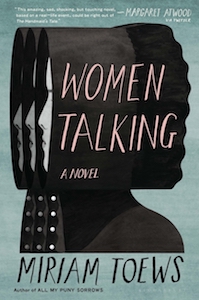 Miriam Toews, Women Talking
(Bloomsbury)
Miriam Toews comes from a Mennonite background herself. As this moving New Yorker profile recounts, she felt a need to reckon with her own past and the patriarchal institutions of Mennonite society after learning of the terrible happenings in a Mennonite village in Bolivia; over a 100 women and girls were raped over a substantial period of time by a group of men using livestock tranquilizers to knock out their nightly targets. In her new book Women Talking, based on this real life story, Toews puts us in the center of a meeting of Mennonite women. They have two days before the men in the village return from bailing out their arrested attackers, and they must decide whether they will fight, flee, or do nothing.
–Molly Odintz, Crime Reads associate editor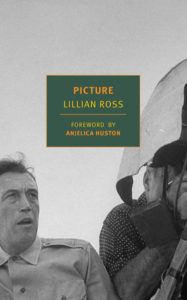 Lillian Ross, Picture
(NYRB Classics)
God bless the NYRB for the amazing books they resurrect. This month sees the release of a new edition of Lillian Ross's Picture, one of the most pleasurable and intense descriptions of old time movie maker. The director is a gruff and arrogant John Huston (his actress daughter, Anjelica Huston, wrote the introduction for the book); the star of the movie is decorated WWII veteran Audie Murphy; and the studio boss is the legendary Louis B. Mayer at MGM. The movie is an ill-fated adaptation of Stephen Crane's classic war novel The Red Badge of Courage. Ross, a writer for The New Yorker, spent a copious amount of time on the set and shows us the movie making process from every perspective. It is her shrewd reporting as much as the irresistible tragedy of the endeavor that makes Picture such a joy to read. And yes, the book is much better than the movie.
–Lisa Levy, Lit Hub and Crime Reads contributing editor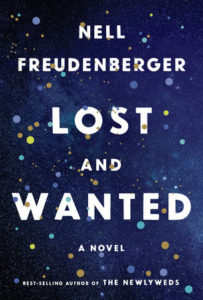 Nell Freudenberger, Lost and Wanted
(Knopf)
If this book is anywhere near as compelling as its top-level plot description—an esteemed physics professors starts receiving phone calls from her (recently deceased) college roommate and friend—I feel certain it will hook me. It sounds like a combination of female friendship, the complexity of the grieving process, and supernatural suspense, which is exactly the kind of genre slipperiness that is my jam.
–Jessie Gaynor, Lit Hub social media editor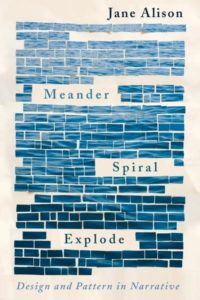 Jane Alison, Meander, Spiral, Explode
(Catapult)
When I first read Gabriel García Márquez's Chronicle of a Death Foretold in high school, I was floored. You know almost immediately that the protagonist is dead, and the story unfolds around that. Who knew you could tell a story that way? I didn't know it was allowed. One could say that the novel begins at the end. But does it really? What even is the end? In Meander, Spiral, Explode, Jane Alison casts aside the traditional structure of the story and considers the shape of other arcs. (She calls Chronicle of a Death Foretold a sunburst.) I'm excited to see how she explores beloved texts, to discover other experimental narratives, and to read this book from beginning to end to wherever else we end up.
–Katie Yee, Book Marks assistant editor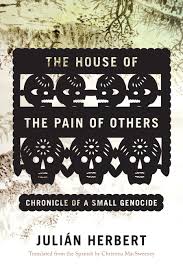 Julián Herbert, trans. Christina MacSweeney, The House of the Pain of Others
(Graywolf)
Julián Herbert's latest book in English (preceded by Tomb Song, his 2018 novel also translated by Christina MacSweeney) is a stunning account of the ways in which xenophobia and ignorance fuel violence. It is the story of how 300 Chinese immigrants were massacred over the course of three days in Torreòn, Mexico in the largest slaughter of Chinese people in the history of the Americas. With poetic reportage, Herbert conjures the reality of blood in the soil everywhere and the need for vigilance against nationalism.
–Nate McNamara, Lit Hub contributor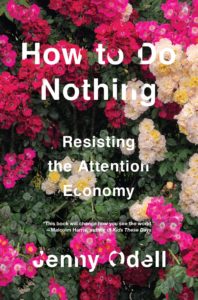 Jenny Odell, How to Do Nothing
(Melville House)
Artist and critic Jenny Odell's How to Do Nothing is an invigorating meditation on ways of seeing and being more fully present disguised as a book about our addiction to devices. Odell ranges fluidly across a wide array of disciplines—art, philosophy, environmental politics—to demonstrate just how much work being unproductive entails. It's a book that could change you for the better.
–Stephen Sparks, Lit Hub contributing editor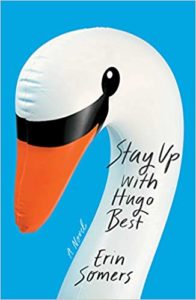 Erin Somers, Stay Up with Hugo Best
(Scribner)
Stay Up With Hugo Best by Erin Somers follows June Bloom, a 29-year-old writer's assistant on a late night comedy show staring Hugo Best, a 60-something beloved comic and a notorious womanizer. When Hugo invites June to his mansion for a long weekend, she's savvy enough to know what's up. But she's long crushed hard on the man, so she accepts. What actually unfolds is far less predictable than what she—or I—expected. This timely and often very funny novel speaks to how the #MeToo movement swept Hollywood—and the comedy world in particular.
–Amy Brady, Lit Hub contributor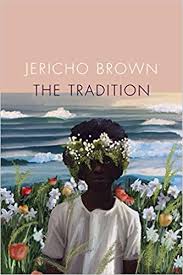 Jericho Brown, The Tradition
(Copper Canyon Press)
In his third poetry collection, Jericho Brown continues to do what Jericho Brown does. He innovates, riffing on traditional forms, as he does with the Duplex poems, a bluesy sonnet-ghazal hybrid of his own invention. He celebrates and criticizes life and history and tradition—"I thank God for my citizenship in spite / Of the timer set on my life to write / These words," he writes. "I love my mother," he writes. "I love black women / Who plant flowers as sheepish as their sons." Brown serves cutting, erotic, and sometimes grotesque irony cloaked in soft lyricism, and though it's what he's always done, still you don't know what hit you.
–Kevin Chau, Lit Hub editorial fellow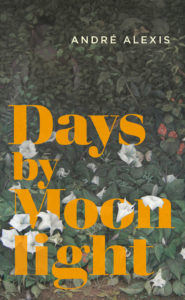 André Alexis, Days by Moonlight
(Coach House Books)
André Alexis's fiction pulls off the nearly-impossible: it hearkens back to seemingly archaic modes of storytelling, then brings them seamlessly into the modern day, serving as a reminder of why these forms has power in the first place. If that seems overly dry, I can also assure you that Alexis's fiction is eminently readable and frequently thrilling, both literally and intellectually. Days by Moonlight, about two men investigating the life of an elusive poet, uses this structure to delve into ominous aspects of Canadian history, again blending the familiar with the unexpected.
–Tobias Carroll, Lit Hub contributor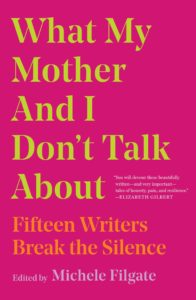 Edited by Michele Filgate, What My Mother and I Don't Talk About: Fifteen Writers Break the Silence
(Simon and Schuster)
Michele Filgate's new anthology What My Mother and I Don't Talk About: Fifteen Writers Break the Silence doesn't need my help. It's already received several starred reviews and been featured on multiple Best of lists of the year and the month. That's because the collection, based on Michele's 2017 viral essay of the same title on Longreads, hits the mother lode of anxiety many of us have about communication with the women who raised us. Essays by Alexander Chee, Nayomi Munaweera, Melissa Febos, Brandon Taylor, Leslie Jamison, and other superb writers make this an unforgettable, necessary volume for writers and readers, mothers and children.
–Bethanne Patrick, Lit Hub contributing editor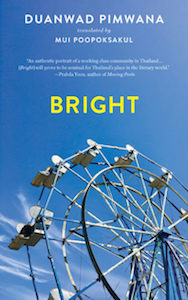 Duanwad Pimwana, Bright
(Two Lines Press, trans. Mui Poopoksakul)
Buzz has been building for Duanwad Pimwana's Bright (forthcoming from Two Lines Press), which apparently marks the first novel by a Thai woman to appear in the U.S. After a five-year-old boy is abandoned by his father on the steps of their apartment building, he's taken in by the people around him. The story unfolds in a folktale-like series of vignettes, some of them lighthearted, some of them sad. It has the ingredients for a properly outlandish coming-of-age story, and I'm here for it.
–Aaron Robertson, Lit Hub assistant editor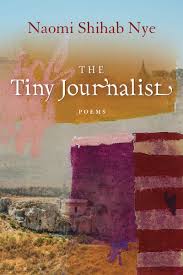 Naomi Shihab Nye, The Tiny Journalist
(BOA Editions)
In reading the poems in The Tiny Journalist we participate in locating an ecology of perseverance. The tiny journalist is Janna Jihad, who at seven, was the youngest journalist to record, using an Iphone, the anti-occupation protests in Gaza. Shihab Nye writes–"Janna says the camera is stronger than the gun." And in the poem NETANYAHU she imagines Janna saying : "What does it mean when one person thinks/others deserve nothing? / What is that called? /If you know what it is called, why keep doing it?" I fear the only way Netanyahu would feel anything from this incredible collection is if he got paper cuts while turning the pages.
–Lucy Kogler, Lit Hub contributor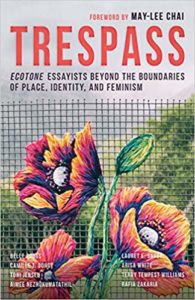 Various authors, Trespass: Ecotone Essayists Beyond the Boundaries of Place, Identity, and Feminism
(Lookout Books)
As a perfect complement to the poems is Trespass. Its cover is a fence and poppies. Occupation and Peace? Containment and Wildness? Co-existence within borders? The women in this volume write breathtakingly beautiful and complex essays dealing with what Terry Tempest Williams repeatedly asks in her essay, "A Disturbance of Birds" "How shall I live?" and "How shall we live?" Isn't this another way of asking ourselves, how do we persevere in the midst of rupture? How do we repair and heal selves, families, nations, earth? Read these books. Let them in deep.
–Lucy Kogler, Lit Hub contributor
---