15 Books You Should Read in September
Short Stories, Scammers, Sebald-esque Walks, and More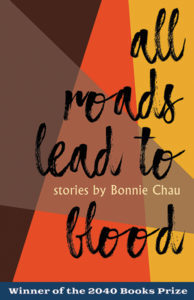 Bonnie Chau, All Roads Lead to Blood
(Santa Fe Writer's Project)
"They're your people," he said.
"It's alienating," I said. But I didn't know if they were the aliens or if I was the alien.
In Bonnie Chau's entrancing debut, identity is mysterious like that. It shifts and spins and doesn't reveal if you're doing it right—being yourself, that is. All Roads Lead to Blood is a collection of short stories centering around second-generation Chinese American woman in various states of arousal, confusion, loneliness, and love. These stories swerve naturally from reality to absurdity in complex, confident writing that reminds me of Leopoldine Core meets Carmen Maria Machado. These stories are a thrill to read, and a treat to see myself in.
–Kyle Lucia Wu, Lit Hub contributor
Matthew Vollmer, Permanent Exhibit
(BOA Editions)
I had the privilege of publishing some of Matthew Vollmer's digressive Facebook posts—with their strange odds and ends, their delicate movements and unexpected turns—in my literary magazine, The Scofield, a while back. Collected now in Permanent Exhibit, these "essays," admittedly, are not quite your father's essays, but they're not quite your son's status updates either. Situated somewhere between Montaigne-style essais and the type of ramblings you might find on a social media newsfeed, between the free associations of a late night conversation and the self-examinations of a diary entry, between the stream-of-consciousness experiments of the modernists and those one-act monologues an actor might try out in an audition, these free-wheeling mental collages cover a wide range of topics, from mass shootings to emoji, from stargazing to trick-or-treating, from Nicolas Cage at Graceland to Harold Bloom on Harry Potter. But what is on display most dazzlingly in this "permanent exhibit" of catalogued thought is one of the very things we turn to literature for: the inner workings of human consciousness, how thoughts move, how they flow, how they jump, how they circle back, how they get lost and are found again, and how they become the foundation and the frame, the lens and the ligature, for this unruly thing we call existence.
–Tyler Malone, Lit Hub contributor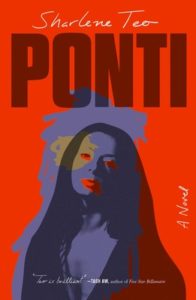 Sharlene Teo, Ponti
(Simon & Schuster)
As strange a year as 2018 has been, I didn't expect to find myself saying the words, "It's a great time for horror and/or myth-infused, psychologically acute writing by women and non-binary folk, featuring women and non-binary folk." Yet here I am, delighted by the fact that 2018 has spawned the likes of Freshwater, The Third Hotel, and The Mere Wife. It follows, then, that the upcoming book I'm most excited about is Sharlene Teo's Ponti. With comparisons to Elena Ferrante and Karen Russell, Ponti follows the lives of three women (including a former horror film actress) over five decades. What I've read so far of Teo's writing is lyrical, grotesque, and enchanting, and I can't wait to sit down with a novel's worth of it.
–Miriam Kumaradoss, Lit Hub editorial fellow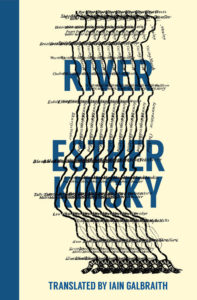 Esther Kinsky, River, trans. Ian Galbraith
(Transit Books)
Reading River is as close as I've come to reading a flowing body of water. Kinsky's book, which has already earned enough comparisons to the work of W. G. Sebald to cast it into a deep and melancholy shadow, is like an eddy in which currents of memoir, fiction, natural history, and memory mingle, creating a singular book that seems made for autumn.
–Stephen Sparks, Lit Hub contributing editor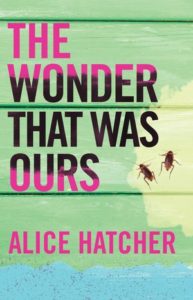 Alice Hatcher, The Wonder That Was Ours
(Dzanc)
Alice Hatcher's rollicking and visionary first novel The Wonder That Was Ours, winner of the Dzanc Prize for Fiction, is the story of "the week everything burned." It's being told by a chorus of cockroaches, who display idiosyncracies and authority as they describe how foul jetsam from the cruise ship Celeste washing up on the shores of the Caribbean island of St. Anne's and "the heat inside Professor Cleave's cab, our classroom, nearly stifled our dreams." They argue convincingly that cockroaches' circadian rhythms are misrepresented in scientific literature. All within the first page. The taxi driver, Professor Cleave, calls them "my six-legged students." He reads them Kafka and Dostoevsky and chastises them for "sordid lifestyles," urging etiquette and ethics." Then there's Tremor, born Trevor, who is being sought by police. Although hilarity abounds, Hatcher's take on colonialism, racial and class divides, is timely, and powerfully imagined.
–Jane Ciabattari, Lit Hub columnist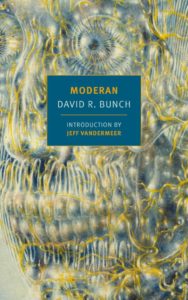 David R. Bunch, Moderan
(NYRB Classics)
I first encountered David R. Bunch's fiction in the pages of the Ann VanderMeer and Jeff VanderMeer-edited anthology The Big Book of Science Fiction. With linguistic innovation and a nod in the direction of posthumanism, Bunch's work is unsettling; despite being several decades old, it contained an urgency that the years had not diminished. Moderan collects Bunch's stories set in a bizarre future landscape; there's an introduction by Jeff VanderMeer as well, which sweetens the deal even more.
–Tobias Carroll, Lit Hub contributor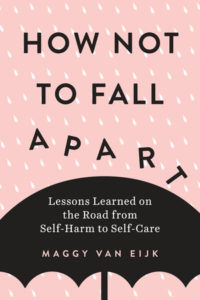 Maggy van Eijk, How Not to Fall Apart: Lessons Learned on the Road from Self-Harm to Self-Care
(TarcherPerigee)
"Is this a good idea?" Maggy van Eijk asks at the start of How Not to Fall Apart. The question is central to van Eijk, as she has asked herself it, in some form, throughout a lifetime of debilitating anxiety, panic attacks, self-harm, and depression. Part personal narrative and part self-help book, it's written with copious lists and unadorned prose (but many a cute illustration). This simplicity makes it accessible to readers of many ages and backgrounds. In some ways, the book exceeds my experience; I've felt haunted, possessed, by the grey of depression, that self-emptying thing that is as much demon as desert, and I've long suffered from social anxiety, but van Eijk's harrowing terrors dwarf mine. When I started the book, I feared it might not even really be accessible to me for that very reason, if taken as a self-help text. But I was wrong. There's a simple but profound charm and utility in the book, particularly in its lists of things to do to help with anxiety, which are often funny and silly—but also make sense. No one book can really tell us all how not to fall apart—things just do, as Yeats and Achebe remind us—but van Eijk's cute, charming, and brave book comes close.
–Gabrielle Bellot, Lit Hub staff writer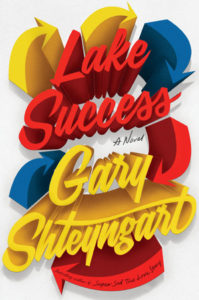 Gary Shteyngart, Lake Success
(Random House)
Every book of Gary Shteyngart's has been a Dear John letter to the American dream—until Little Failure detonated the protective persona he'd been deploying to control the anger at the root of them. Lake Success is the first novel Shetyngart has published outside of his usual mode. It's essentially a look at America's unraveling, this time seen through the eyes of a wealthy financier on the lam from his failing marriage, the SEC and his son's autism diagnosis. There's hardly a comical Russian in sight. Long Island born Barry Cohen lights out for America on Greyhound with a bag full of expensive watches and here we see America through his surprised, Gulliveresque-eyes. It's a heart-breaking and elegantly funny journey, the exaggeration and caricature Shteyngart set down to such gut-busting effect in his previous book no longer necessary. Why? We've reached the future Shteyngart's satires so daringly warned us was coming—and that hollow feeling Lake Success leaves us with is less the demise of a mode, but rather an awareness of just how thoroughly dreams lie to us, and an even greater sense that this truth travels at different speeds for Americans, always has.
–John Freeman, Lit Hub executive editor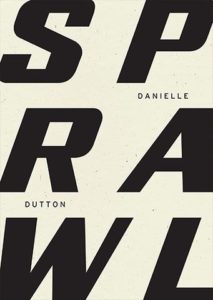 Danielle Dutton, SPRAWL
(Wave Books)
SPRAWL feels like walking around the neighborhood at night, spying through lit living room windows. "I carefully handle the items on the table: a bowl of grapes, a paper napkin, the wax-paper wrapper to a piece of hard candy (orange), a fork, a spoon, a butter knife embedded in a chocolate muffin . . . " Dutton makes the domestic feel forbidden with how lusciously she renders each scene. SPRAWL feels like stumbling as a kid on a weird art movie on TV while mom makes dinner in the other room. Ready to change the channel if she comes in. Hoping that she doesn't.
–Nathan Scott McNamara, Lit Hub contributor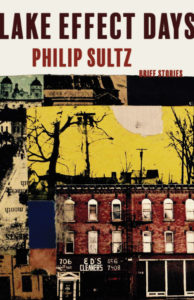 Philip Sultz, Lake Effect Days
(Laboratory Books)
Lake effect is the storm system that brings in the heavy snow for which Buffalo, New York is notorious. It is fitting that this collection of stories is christened for a force of nature—both beautiful and destructive. My heart split open as I read these stories, remembering the similar tales told by my husband's family about Jewish Buffalo in the 40s and 50s. These brief narratives elicit strong responses. The warmth, kindness and tolerance felt among the friends within is palpable. Wasn't that a time?
–Lucy Kogler, Lit Hub columnist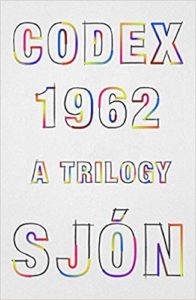 Sjón, CoDex 1962, trans. Victoria Cribb
(MCD)
I'm ashamed to say that until this week I knew next to nothing about the Icelandic poet, novelist, musician, and frequent Björk-collaborator, Sjón. Then I read Parul Sehgal's review of his newly translated, wonderfully batshit-sounding triptych,CoDex 1962—the two-decades-in-the-making epic of a Jewish fugitive's escape from a WWII concentration camp and subsequent supernatural menace-plagued flight to safety with his golem son—and I was immediately sold. In it, Sehgal writes: "[Sjón] book is a Norse Arabian Nights. Each section is a honeycomb. Stories are nested in stories and crack open to reveal rumor and anecdote, prose poems, tendrils of myth. This abundance isn't an empty show of virtuosity but rooted in Sjón's belief in the power and obligation of old-fashioned storytelling."
–Dan Sheehan, Book Marks Editor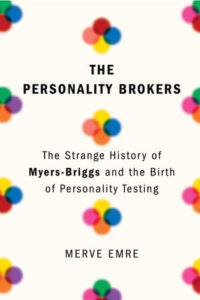 Merve Emre, The Personality Brokers: The Strange History of Myers-Briggs and the Birth of Personality Testing
(Doubleday)
You know what your Myers-Briggs Type Indicator is (I'm an ENFP), and which celebrity shares that type (Dr. Seuss!), but you probably don't know about Katherine Briggs and Isabel Briggs Myers, the fascinating mother-daughter duo that became obsessed with Carl Jung and created this test as a way to bring his teachings to light. In The Personality Brokers, Merve Emre tells this little-known tale, and I can't wait for more people to discover their story.
–Katie Yee, Book Marks assistant editor
Deborah Eisenberg, Your Duck is My Duck
(Ecco)
This month, I'm most excited about Deborah Eisenberg's Your Duck is My Duck, her first new collection since Twilight of the Superheroes (which was in 2006, because yes, we're all old). I haven't read it yet, so I can't tell you anything specific about the stories in question, but if they're anything like her previous work, they'll be strange and sly and wonderful and very, very funny.
–Emily Temple, Lit Hub senior editor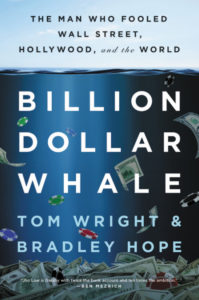 Tom Wright and Bradley Hope, Billion Dollar Whale: The Man Who Fooled Wall Street, Hollywood, and the World
(Hachette)
It may be September, but you can extend the Summer of Scam just a little bit longer with Wall Street Journal reporters Bradley Hope and Tom Wright's new exposé, Billion Dollar Whale. It's the story of Jho Low, a Gatsby-esque Wharton grad who allegedly swindled $5 billion from the Malaysian government, wealthy individual investors, and institutions like Goldman Sachs—a web of fraud that stretches, improbably, all the way to the production of The Wolf of Wall Street. Rich people do the darndest things!
–Jess Bergman, Lit Hub features editor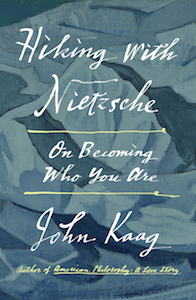 John Kaag, Hiking with Nietzsche: On Becoming Who You Are
(FSG)
I would totally go hiking with Nietzsche, but would he go hiking with me? John Kaag's contemplative walking memoir cum meditation will not answer the preceding question, but it does a very good job illustrating why definitive answers are overrated, anyway.
–Jonny Diamond, Lit Hub editor in chief
---