13 Translated Books by Women You Should Read
Only 30 Percent of English Translations Published Each Year are Written by Women
As Beyoncé, Michelle Obama, Malala Yousafzai, Hillary Clinton, Yusra Mardini, and many more are teaching us, girls run the world. August is Women in Translation Month, and we're celebrating the powerful and innovative works of some incredible international writers. While women have been rocking the literary scene since, well, the literary scene began, they are overwhelmingly less likely to have their work translated into English than men. According to PEN America, only thirty percent of English translations published each year are written by women. Want to help correct this travesty? Buy some books.
Here are eleven titles in translation—from comedy to graphic novel to historical fiction and more—by contemporary and classic women authors from all around the world. Here's your chance, do your part, and read.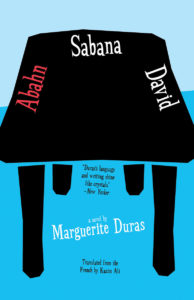 Abahn Sabana David, Marguerite Duras
Open Letter, June 2016, Translated from French by Kazim Ali
A short novel that opens on two Communists, Sabana and David, who have been ordered to kill a Jewish man named Abahn. The book is driven by dialogue, as Abahn, Sabana, and David discuss their roles and motivations in the plotted murder, set to take place in the approaching dawn. Clocking in at 108 pages, Abahn Sabana David has been compared to the work of Samuel Beckett, in its experimentation with ideas of human existence and suffering. It's absurdist and powerfully self-aware, a brief encounter that will leave you reeling for days afterwards. "Timely and timeless," the Chicago Tribune said of the novel, "it shows, among other things, how absurd and damaging it can be to live in terror."
The Attempt, Magdalena Platzová
Bellevue Literary Press, May 2016, Translated from Czech by Alex Zucker
A reimagining of the 1892 assassination attempt of Henry Clay Frick, an American magnate and art-collector, by activist Alexander Berkman, as told by a fictional historian. As the historian, Jan Schwarzer, researches more and more about the events surrounding the assassination, he finds himself caught in the middle of the Occupy Wall Street movement. It's a tale to please all readers, from lovers of literary fiction to history buffs to social activists. This is Platzová's second book to be translated into English after her 2014 novel Aaron's Leap, and Publishers Weekly raved that "Platzová is on a roll."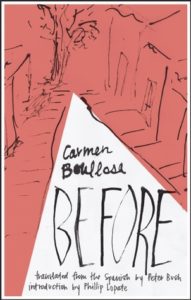 Before, Carmen Boullosa
Deep Vellum Publishing, August 2016, Translated from Spanish by Peter Bush
Before is the story of a young woman revisiting her childhood, which was plagued by a dark and inexplicable fear. It's as much a coming-of-age novel as it is a ghost story. Boullosa's delicate narrative touch makes Before the modern day equivalent of Turn of the Screw or The Yellow Wall-Paper. With each memory the narrator reveals, a new mystery unfurls—is her childhood home haunted? Why does she refuse to acknowledge her mother, Esther? Boullosa is a master of the plot-twist, too, and the shocking conclusion will leave you gasping for breath. This is a hot title for an eerie late-summer read.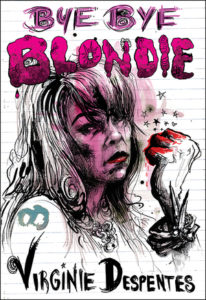 Bye Bye Blondie, Virginie Despentes
The Feminist Press at CUNY, July 2016, Translated from French by Siân Reynolds
Bye Bye Blondie is a dark comedy for anyone who wants their romance with a side of eyeliner-wearing, cigarette-smoking, metal-banging punk aesthetic. Despentes, a filmmaker and former sex worker, grounded the novel in her own experience in a mental institution at age 15. The book critiques the double standards of sexuality and teenage rebellion in men and women as it examines the relationship between two doomed lovers, Gloria and Eric. It's raw and unnerving in all the right ways, and despite its politically charged subject matter, Despentes maintains a dry wit through the novel that keeps it from veering into bleak nostalgia. A review by Parul Sehgal in the New York Times captured Despentes's intensity best, saying, "Despentes's work is all untramelled id—fractious, noisy, unafraid of embarrassment and impossible to contain."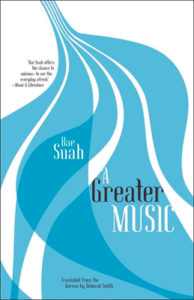 A Greater Music, Bae Suah
Open Letter, October 2016, Translated from Korean by Deborah Smith
A heart-wrenching novel of the two love affairs a young Korean writer experiences while living in Germany. After falling into an icy river, halfway between life and death, the narrator revisits a series of memories that move between the hazily defined present and three years ago, when she first moved to Berlin. Read this book if you want to feel all of the emotions. A Greater Music will grab you by the heartstrings and play you like a harp, in the best of ways. It riffs on music, language, and literature while delivering a gut-punch of an ending. Bae Suah was nominated for the 2016 PEN Translation Award, and her second novel, Recitation, will be out from Deep Vellum next January.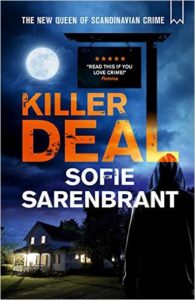 Killer Deal, Sofie Sarenbrandt
Stockholm Text, June 2016, Translated from Swedish by Paul Norlen
A pulse-racing crime novel that follows Inspector Emma Sköld as she attempts to solve a series of increasingly brutal murders occurring at open house showings in the upper-class suburbs of Stockholm. Swedish crime novels have been gaining in popularity since Steig Larsson's The Girl with the Dragon Tattoo first rocked the US literary scene in 2008, and whether you're a longtime fan of the genre or a recent convert, Killer Deal should be the next read on your list. Between the thrilling action scenes and tense emotional turns, Sarenbrant's brilliant writing makes a 400-page novel speed by. It's more complex than most crime novels, adding a political charge that Publishers Weekly called "an absorbing addition to Sweden's fictional portraits of a welfare-state society gone hopelessly wrong."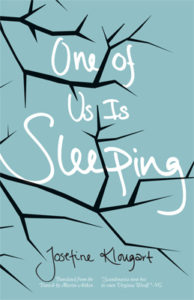 One of Us is Sleeping, Josefine Klougart
Open Letter, July 2016, Translated from Danish by Martin Aitken
One of Us is Sleeping is a novel about the things in life we take for granted—childhood, family, love—and how quickly they can fall apart. One of Us is Sleeping follows an unnamed narrator as she returns home to care for her cancer-stricken mother, in the wake of a failed relationship. Klougart has been called Denmark's Virginia Woolf, and it's easy to see why. Her writing is poetic and sensitive, what Publishers Weekly called a "beguiling conjuring of consciousness," digging deep to the core of universal themes and human psychology. Klougart has won multiple awards for her writing, including the Nordic Council's Literature Prize, one of the most esteemed Scandinavian book awards, but this is the first time her writing has been translated into English.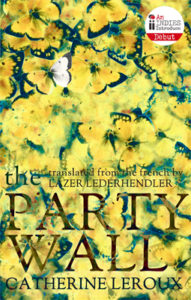 The Party Wall, Catherine LeRoux
Biblioasis, July 2016, Translated from French by Lazer Lederhendler
A collection of stories that interweave to become a single novel about biology, identity, and the gray areas in between. The book is broken down into four parts, each about a different pair (a mother and son, a brother and sister, two sisters, and a political couple) who has to grapple with a sudden revelation. LeRoux's narrative abilities are impressive, and you'll often find yourself pausing to marvel at the control she has over both the smallest details and largest arcs. This is LeRoux's debut novel, and it was named an Indies Introduce Pick for Summer/Fall 2016.
The Passport, Herta Müller
Serpent's Tail, August 2016, Translated from German by Martin Chalmers
The Passport is a haunting novel about a small German village in Romania caught between two worlds: the stifling Communist dictatorship of Nicolae Ceaucescu, and the glittering promises of the Western World. When the village miller applies for a passport to West Germany, the dreams and desperations of the town and its history collide. Müller, who was forced to leave her native Romania under similar circumstances, received the Nobel Prize for Literature in 2009, and The Passport is but one example of her literary prowess. Müller's language is at once sparse and poetic, each word complicating the plight of the forgotten village.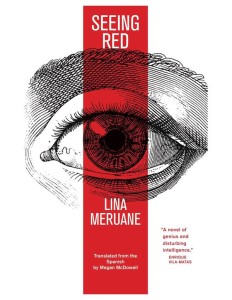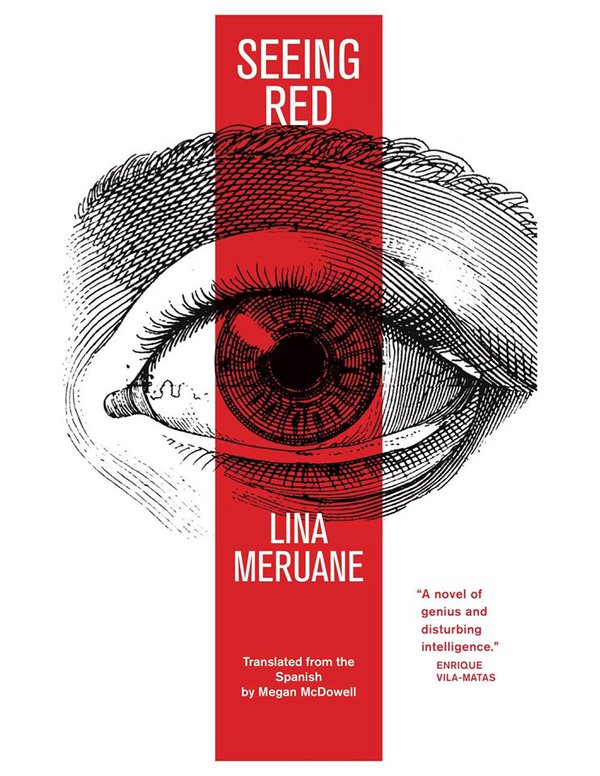 Seeing Red, Lina Meruane
Deep Vellum Publishing, February 2016, Translated from Spanish by Megan McDowell
An autobiographical novel detailing the narrator, a woman also named Lina, as she confronts her new blindness in the wake of a stroke. The novel is based on Meruane's own loss of sight, but contains fictionalized elements and intense lyrical insight. It's easy to empathize with Lina's struggles against dependence—both physically and psychologically—on her partner, Ignacio. As a review in the Los Angeles Times said, "[Meruane's] uncompromising vision and piercing prose are reasons to celebrate the long overdue appearance of this bracing voice in English."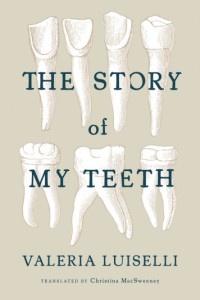 The Story of My Teeth, Valeria Luiselli
Coffee House Press, November 2015, Translated from Spanish by Christina MacSweeney
The Story of My Teeth is an experimental romp through the life of Gustavo Sánchez Sánchez, an auctioneer who sells the teeth of celebrities from Plato to Virginia Woolf. When Sánchez's son steals the teeth of Marilyn Monroe straight from his mouth, the auctioneer sets off to reclaim his dentures and his glory. Written in four parts, The Story of My Teeth was originally commissioned by an art gallery, to be read and discussed by workers in a Mexican juice factory and later become an installation. The latter third of the book includes a series of photographs each accompanied by a quotation by everyone from H.G. Wells to Voltaire. It's intriguing, searingly witty, and the kind of book that will change the way you read. Since its publication last November, it's topped just about every round-up list created, from the New York Times Book Review's "100 Notable Books of 2015" to NPR's "Guide to 2015's Great Reads."  
* * * *
But if fiction is not your style, here are some of less-traditional picks, including a translated manga memoir and a feminist reading of the Qur'an.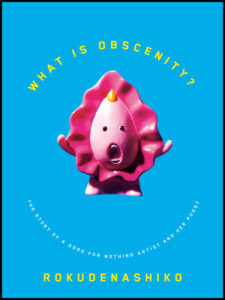 What is Obscenity? The Story of a Good For Nothing Artist and Her Pussy, Rokudenashiko
Koyama Press, May 2016, Translated from Japanese by Anne Ishii
A graphic novel adaptation of the true story of the arrest and trial of Japanese artist Megumi Igarashi. Megumi Igarashi, who also goes by the name Rokudenashiko (a word which roughly translates to "good for nothing"), is known for her bright, cheery cartoons and sculptures of vaginas which challenge the censorship and taboo around female genitalia. When Rokudenashiko started a croudfunding campaign to build a kayak molded from a 3-d scan of her own "manko," she was arrested for distributing pornographic images. What is Obscenity? illustratively explains the permeating sexism in society and the joys of embracing and celebrating your own body. A review in the Huffington Post praised how "through it all, Rokudenashiko has kept a tone of playfulness and resilience, showing there is nothing more threatening than a girl who is willing and ready to play rough."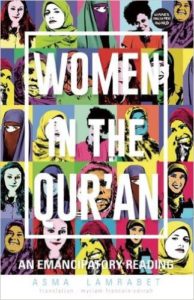 Women in the Qur'an: An Emancipatory Reading, Asma Lamarbet
Kube Publishing, May 2016, Translated from French by Myriam Francois-Corrah
Women in the Qur'an: An Emancipatory Reading challenges both liberal Western and conservative Islamic views on feminism and Islam. Highlighting the spiritual and humanistic messages that make up the core of the Qur'an's teachings, Lamarbet acknowledges the oppression of women in the name of religion at the same time that she time rejects Western values as the sole means of liberation. Women in the Qur'an is as much a spiritual and historical text as it is manifesto, recreating women's liberation as an act of devotion. The book is accessible to Muslims and non-Muslims alike, and should be required reading for feminists (and politicians) worldwide.
---