12 Contemporary Writers on How They Revise
From Joan Didion to Kelly Link to George Saunders...
"Writing is rewriting," says everyone all the time. But what they don't say, necessarily, is how. Yesterday, Tor pointed me in the direction of this old blog post from Patrick Rothfuss—whose Kingkiller Chronicle is soon to be adapted for film and television by Lin-Manuel Miranda, in case you hadn't heard—in which he describes, step-by-step, his revision process over a single night. Out of many, one assumes. It's illuminating, and I wound up digging around on the Internet for more personal stories of editing strategies, investigating the revision processes of a number of celebrated contemporary writers of fantasy, realism, and young adult fiction. So in the interest of stealing from those who have succeeded, read on.
Patrick Rothfuss:
"Every writer has their own way of doing things. I can only talk about *my* revision process, because that's the only one I know.
Still, you aren't the first person to ask about this. So I decided to take some notes on what exactly I did over the course of a night's revision.
Here's what I wrote down: (And don't worry, there aren't any spoilers below. I don't go in for that sort of thing:)
1. Changed a curse to be more culturally appropriate for the person using it.
2. Looked at all instances of the word "bustle" in the book to see if I'm overusing the word.
3. Considered modifying the POV in a particular scene. Decided against it.
4. Added paragraph about the Mews.
5. Changed the name of a mythic figure in the world to something that sounds better.
6. Spent some time figuring out the particular mechanisms of sygaldry to prevent consistency problems.
7. Reconsidered changing POV in same scene as before. Decided to just tweak it a little instead.
8. Trimmed two excess paragraphs.
9. Looked at my use of the word "vague" to see if I've been using it too much.
10. Removed about 20 instances of the word "vague" from the book."
Neil Gaiman:
"Most short stories go through a couple of drafts and a polish—I'll write a first draft, then (if it wasn't typed) I'll type it up, and then I'll email it to friends and find out what didn't work, or puzzled them. (I miss Mike Ford. He was the sharpest of all of them—saved me from making a fool of myself half a dozen times.) And then, if I can, I'll put it away for a week or two. Not look at it. Try to forget about it. Then take it out and read it as if I've never seen it before and had nothing to do with its creation. Things that are broken become very obvious suddenly. I'll go in and polish it up, and possibly keep playing with it a little—it's on the computer: everything's malleable until it's printed. I'll try and read it aloud the next time I do a reading, in order to find out what I can about it, including places where what I wrote was not what I meant, and I'll fix what I find. And then I'll go on to the next thing.
Personally, I think you learn more from finishing things, from seeing them in print, wincing, and then figuring out what you did wrong, than you could ever do from eternally rewriting the same thing. But that's me, and I came from comics where I simply didn't have the liberty of rewriting a story until I was happy with it, because it needed to be out that month, so I needed to get it more or less right first time. Once I disliked a Sandman story on proofreading it so much that I asked if it could be pulled and buried and was told no, it couldn't, which is why the world got to read the Emperor Norton story, "Three Septembers and a January," although I no longer have any idea why I thought it was a bad story, and I'm pleased that Tom Peyer ignored my yelps."
J.K. Rowling:
An object lesson: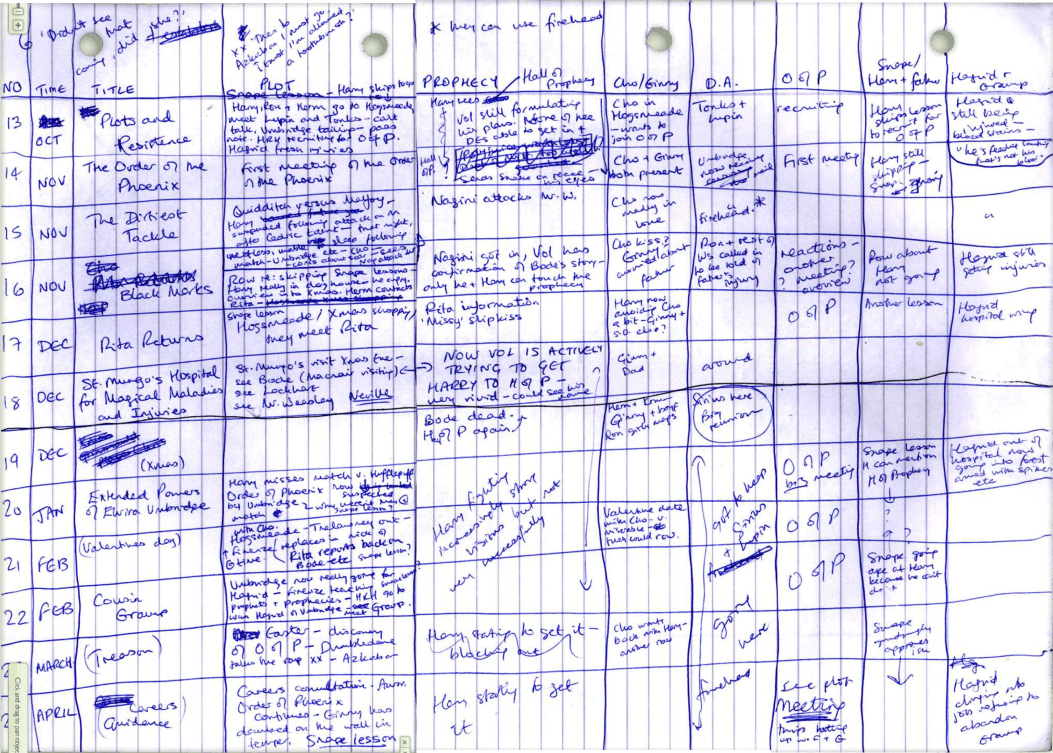 Patricia C. Wrede:
"I've been a rolling-reviser since my earliest writing, back in the Jurassic Era before computers and word processors (and believe me, it is No Fun At All being a rolling-reviser when "cut and paste" means spending half an hour physically cutting your pages apart and then taping them back together with the paragraphs in a different order). It is part of my process because my backbrain simply will not cooperate if it isn't really, really sure that what I have already written is a solid foundation for whatever is currently at the leading edge of the story.
For instance, in the current WIP, I started a new scene in Chapter 11 and a piece of unexpected backstory showed up for one of the characters. I realized instantly that a) this was a really cool idea and fit right into the story and solved a bunch of plot problems, and b) if this backstory was true, a character back in Chapter 2 should have reacted very differently during their conversation. Theoretically, I could have made a note to "Change Ch 2 conversation between A and B to reflect backstory from Ch 11 p.1" and gone on working on Chapter 11…except that I couldn't. Oh, I could force myself another couple of sentences forward, but none of them felt right.
So I went back and spent ten minutes fiddling with the conversation in Chapter 2, so that the reactions and the dialog were consistent with the backstory in Chapter 11 (not revealing it, but also not something that a reader would hit on their second time through and go "Hey, doesn't it turn out later that A knows B's secret? So why is A talking and reacting as if he/she doesn't know it?"). And then I could go on.
While I was back there, I tightened up some other parts of the conversation and added some stage business, neither of which was strictly necessary to get that bit of backstory in, but as long as I was there and saw the opportunity, I just did it. I did not go over the whole scene looking for other potential revisions, and the whole fix didn't take more than ten minutes to do and get back to work on the leading edge of the story.
Most of my rolling revisions are like this: they're matters of plot, characterization, setting, or backstory that I realize are inconsistent with what I am currently writing, and that I have to fix before I go on. I can let everything else go (I didn't have to tighten the rest of the conversation or add the stage business). Or there was the time when I called a character Andrew for three chapters, then switched to Anthony and didn't realize it until five more chapters were done. There was no reason not to do a quick search-and-replace, so I did. I will take quick fixes if the opportunity arises, but I don't go looking for them…unless I'm stuck."
Joan Didion:
"Before I start to write, the night before—I mean, when I finish work at the end of the day, I go over the pages, the page that I've done that day, and I mark it up. And I mark it up and leave it until the morning, and then I make the corrections in the morning, which gives me a way to start the day… I can have a drink at night. And the drink loosens me up enough to actually mark it up, you know. While you'll just kind of be tense and not sure. Marking up something is just another way of saying editing it. Because you don't edit very dramatically when you're—you're not very hard on yourself, you're not very loose with yourself most of the day. Really, I have found the drink actually helps."
Tina Chang:
My process has changed tremendously since I've had my children. I once had long, languid days that unfurled in one fluid gesture of creation. At night, I shared my ideas with other writers or friends and that would give life to other poems. These days, after I have fed, napped, entertained, bathed, changed, and put my children to bed, I have my dinner, put on my shoes, and head to the rented office around the corner.
Nowadays, my creativity is summoned within a two-hour time span. In this way, my writing has become more efficient. I will keep mental notes during the day as I run around playgrounds and do the laundry. Those notes will then find their way into poems by evening. I then type furiously. The objective is to keep my hands moving and if my hands are moving my mind is working.
I sometimes have many pages of text. In subsequent visits or drafts, the poems will come into fuller form. Over the course of the next couple of months I'll see a relationship among my poems and I'll ask them what they are saying to one another. Once I sense some answers, the poems will develop their own identity and the theme/obsessions of my work will rise to the surface in more realized poems.
I don't think poems are ever finished. I have been known to cross out words and add lines to my books of poetry. If I am not happy with a line before a reading, I'll gladly edit the text in my book so that I'll feel comfortable reading it to an audience. Text and language is alive so it's always changing. To me, there is no end point and that is a joy.
Kelly Link:
"I redraft as I go—whenever I get stuck in a short story, I go back to the beginning and revise my way down to where I left off. Usually I've reworked the first couple of pages anywhere from twenty to over 100 times by the time I get to the ending.
It's hard to figure out how much I eliminate—often it's more that I'm switching out or reworking phrases or sentences or paragraphs (rarely scenes)."
Deborah Eisenberg:
"It takes me a very, very long time to write a story, to write a piece of fiction, whatever you call the fiction that I write. I just go about it blindly, feeling my way towards what it has to be. Things undergo many, many, many revisions. So, I don't make a conscious decision that, 'This is the effect that I want.' I slowly, slowly, slowly go about making something the way that it insists on being made.
…
Often, I'll have a scene of people having a conversation in a room. Then it turns out it's either the wrong people or the wrong room, and I just have to keep going about it until I find the right people and the right room. It's true that I'm oftentimes dealing with a crowd, and that's extremely inconvenient for a writer, but there's nothing I can do about that. … It's hard to discuss, because it's always sort of an exploration, and I usually don't even know for a very long time, what it is that I'm exploring. So there's a tremendous amount of exorcising that I do, carving away. These are very, very long stories that I write, but you could also call them extremely condensed novels. I feel like I start with a tremendous amount of material and just keep boiling it down. But yes, I want to get as close as possible to the inexpressible, and yet still communicate.
Claire Messud:
"In a first-draft situation for me, it's a visceral rather than an intellectual process. Though I'll generally have a vague outline in mind, I'll feel it through rather than take a pre-planned course. I don't think, "Okay, I need a scene to do X." And while trying to be as efficient as you can, you generate a great bulk of material. In revision, you begin a kind of creative destruction. If you've written three scenes and each of them does a different thing—explores a different facet of a character, or shows her in relation to different people, or whatever it is—well, if you could have one scene that would do everything at once that those three scenes are doing, then that would be better. To have a more efficient and more intense fragment is going to be better. So you compress, the same way that to make something very tasty you might reduce a sauce.
You hope that as you boil down what you have seen and known into your writing, you reduce the best of yourself, too."
Richard Bausch:
"It's easy to say "write truthfully about experience." But how to actually do it? The only way I've ever known is to try it, over and over again, until I can't think of another way, or a clearer way. I write each draft, each scene, over and over again until I can't think of a better way forward. My novel Hello to the Cannibals was almost 1,000 pages in manuscript—the exact count was 967. But I wrote it five separate times. There are scenes and chapters I wrote dozens of times, more, too many to count. And it isn't the way people sometimes paint it—it's not like you're at your desk, tearing your hair. It's just: I've got to do it again. This is what I'm doing today. And you do it.
The impulse, of course, is try to be faithful to what you initially had in mind—but the process, instead, calls for you to let go of all of your opinions, and all the things you think you think. You've got to go on down, as Robert Penn Warren used to say, into the cave. (James Dickey used to call it "the cave of making.") You enter the cave of making without any opinions, without any preconceived notions, and tell the story as clearly as you can. You must not bend your characters according to some idea you have about how they ought to behave; you're just letting them be themselves, whatever that is. If you do that, and you're faithful to it, you've got a shot at writing something true. This is the only way it works for me."
George Saunders:
"I try to base my revision on a re-reading of what I've done so far, imitating, so far as it's possible, a first-time reader. That is, I try not to bring too many ideas about what the story is doing etc, etc. Just SEE what it's doing. In other words, read along with a red pen, reacting in real-time as I go along, deleting, adding, etc. When the energy drops, then I know that's where I have to really start digging in, i.e., turn away from the hardcopy and go to the computer. Repeat as necessary?"
Barry Hannah:
"I tell these students there's no use in revising something that's bad. I believe that, for short stories. It's brief, very brief, from four to twelve pages, getting something done. I don't believe in rewriting this one goddamned story. If the first draft is no goddamned good, it's no good. It's stupid to revise it, to me. The first draft has got to be loaded with most of it. Does it not? It can't just be a shell of what's going to be. I think it's got to be exciting."
---