11 Books You Should Read This December
In Case the Year-End Lists Aren't Enough for You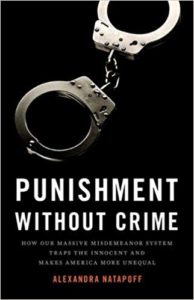 Alexandra Natapoff, Punishment Without Crime
(Basic Books)
A few years ago, I sat on a grand jury for a month and was (naively) appalled by the number of defendants we were asked to indict for extremely minor, nonviolent offenses (among many other appalling things). Alexandra Natapoff's book looks at the systematic problem of this "misdemeanor machine", which disproportionately affects poor people and people of color. The deep injustices in the criminal justice system are a national disgrace, and I expect this book to be heartbreaking, infuriating, and necessary.
–Jessie Gaynor, Lit Hub social media editor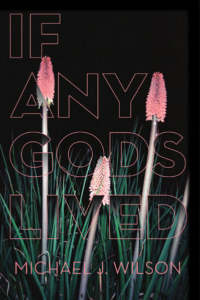 Michael J. Wilson, If Any Gods Lived
(Stalking Horse Press)
The poems in Michael J. Wilson's collection If Any Gods Lived abound with a rush of emotions, from anxiety to desire to hectic contemplations of the narrator's mortality. There's an almost percussive aspect to the way that Wilson uses punctuation, and it accentuates the mood of these pieces even more–an immersive sensory experience channeled through text on a page.
–Tobias Carroll, Lit Hub contributor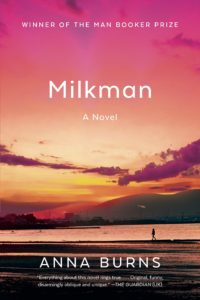 Anna Burns, Milkman
(Graywolf Press)
Milkman is set in a world where an "us and them" mentality is taken to the extreme, to the point that it permeates every single everyday action–what you say, wear or watch on TV becomes a political statement and can get you killed. And that world isn't an imagined dystopia but the very real world of Northern Ireland during the Troubles, in which the unnamed protagonist, an 18-year-old girl, is coming of age, dealing with a paramilitary stalker, and all the whole navigating a society fueled by rumors, prejudices and paranoia. (Yes to Irish woman writers writing teenage girls to perfection! Just wait for Normal People.) I am so glad Anna Burns won the Booker. Her immersive stream-of-consciousness-like style feels unique (honestly, take my word for it and just give it a go). And, in case there's any doubt, her win was not expected: she was the underdog. And we need more representation of working class writers. Badly.
–Marta Bausells, Lit Hub European editor at large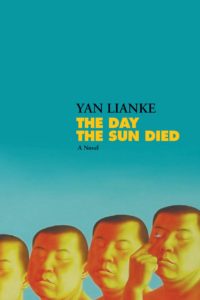 Yan Lianke, The Day the Sun Died, translated by Carlos Rojas
(Grove Press)
I'm looking forward to reading The Day the Sun Died because 1) last year I read and loved two of his novellas, compiled in The Years, Months, Days and 2) I'm a rebel—he's one of China's most banned authors! This novel tells the story of a village whose residents start sleepwalking. They return to work as though the sun hadn't set. (Picture a bunch of farmers working in the fields in the dead of night. Creepy, right?) They act out their suppressed desires. (Intrigue!) And it ultimately falls on the shoulders of one fourteen-year-old and his funeral-parlor-owning family to save the town in one night. Yan Lianke's stories read like fables, and I can't wait to settle in with his latest this December—a month when it really does feel like the sun has died.
–Katie Yee, Book Marks assistant editor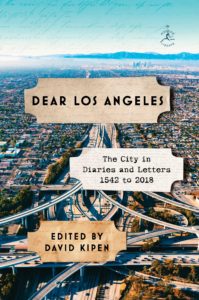 David Kipen, Dear Los Angeles
(Modern Library)
David Kipen's Dear Los Angeles makes this lifelong East Coaster's heart beat a little faster, remembering what a gorgeous, complicated stew LA can be (there's a reason its most famous literary outpost is called Book Soup). Kipen knows LA better than many and knows its lettered past better than most. He's put together a chronological year of Los Angeles vignettes from diaries and letters ranging from Spanish Mission days to the present, including the usual suspects (James Dean, John Lennon) and the much more unusual ones (Zora Neale Hurston, Italo Calvino). It's a fun gift choice for your favorite Angeleno but maybe even more fun to dip in and out of while you're getting ready for this year's holidays. And maybe planning your next trip West.
–Bethanne Patrick, Lit Hub contributing editor
Scholastique Mukasonga, The Barefoot Woman
(Archipelago Books)
I'm excited to see Scholastique Mukasonga's readership expanding. This past month, she even had her first story published in the New Yorker, which is a big occasion for an artist born in Rwanda who writes in French who has been championed by an indie publisher like Archipelago Books. The Barefoot Woman is a testament to Mukasonga's mother and her fight to protect her children from the Rwandan genocide. This is the third book by Mukasonga brought to English, and there's a fourth, Inyenzi, coming soon.
–Nate McNamara, Lit Hub contributor
Wendy Guerra, The Revolution Sunday, translated by Achy Obejas
(Melville House)
Wendy Guerra's unclassifiable novel of Cuba, surveillance, spies, and national narratives is as beautiful as it is difficult to define, but there's just enough government interference with the protagonist's life that we figured we could get away with putting it on this list. Guerra's protagonist is a novelist who's torn between her the narratives demanded by those in her native Havana and those preferred by Cuban exiles, and when she receives a visit from a famous actor interested in researching a little-known part of her family's past, she must decide which narrative she prefers, and how much she's willing to risk for her version of the story.
–Molly Odintz, CrimeReads editor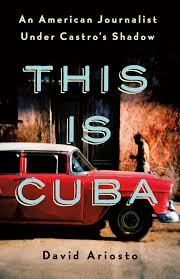 David Ariosto, This is Cuba: An American Journalist Under Castro's Shadow
(St. Martin's Press)
U.S. media has long been obsessed with a romanticized vision of Cuba, broadcasting images and descriptions of dilapidated buildings, cigars, and 50s-style cars. This is Cuba promises to show a more nuanced look at the social and political forces driving Cuba through a period of transition. I'm looking forward to seeing it through Ariosto's eyes, from his first photo assignment there in 2009 through nearly a decade of change.
–Corinne Segal, Lit Hub senior editor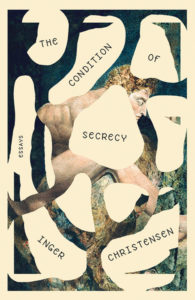 Inger Christensen, The Condition of Secrecy
(New Directions)
(NB: We know this came out in November, but only 4 days ago!) All good poets are prophets, but few saw the future in the present like the late Danish writer Inger Christensen. In her great collection, It, she described how we'd gleefully empty the world of itself in order to endless consume its representation. Christensen's poems mourn this destruction profoundly and quite amusingly: if a Rothko could talk, it might sound like these verses. Christensen had a range of registers though and to get a grasp on them I'd recommend picking up The Condition of Secrecy, a new book of assorted essays. Drawn from a lifetime of occasional prose, the topics here run the gamut from such quintessentially Scandinavian chestnuts–freedom and the summer cottage–to unexpectedly moving meditations on the tilt between days at midnight, the history of silk, and the strangeness of words. Reading these pieces is like sitting with a brilliant, taciturn, slightly odd elder whose affect had been sandblasted by reality into a warm skepticism. In these grim times that kind of frankness tends to feel like hope.
–John Freeman, Lit Hub executive editor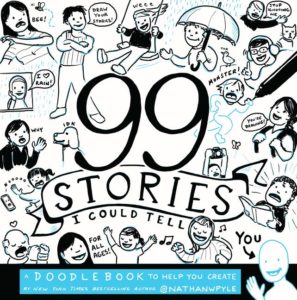 Nathan W. Pyle, 99 Stories I Could Tell You
(Morrow Gift)
Known twitter genius Nathan W. Pyle (@nathanwpyle) has created something wonderful with 99 Stories I Could Tell You, a book that's essentially a feel-good how-to manual designed to help readers with their writing. Pyle provides fun, interactive ways to conjure plot points and narrative techniques through doodling. After the nightmare that's been 2018, I appreciate the lighthearted sweetness of Pyle's work. It's an attempt to start a conversation–with yourself and with others. It also helps that his art is damn incredible.
–Kristen Arnett, Lit Hub columnist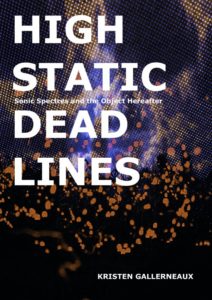 Kristen Gallerneaux, High Static, Dead Lines: Sonic Spectres & the Object Hereafter
(Strange Attractor Press)
Touted as a "literary mix tape" by its publisher, High Static, Dead Lines: Sonic Spectres & the Object Hereafter is a thrilling, mind-bending mashup of critical essays and stories about how sound informs and interferes with our perception of the world around us. Throughout history, writes media historian and artist Kristen Gallerneaux, sound and its effects on various objects have often led us to see connections between phenomena that we'd otherwise miss. Sometimes, we interpret those effects as supernatural activity. This is one of the strangest and most fascinating books I've read all year. I couldn't put it down.
–Amy Brady, Lit Hub contributor
---