10 Works of Labyrinthine Literature to Get Lost In
In Honor of Jorge Luis Borges's Death Day
Jorge Luis Borges—short story writer, poet, translator and luminous mind, died 31 years ago today, at the age of 86. One of Borges's signature themes is the labyrinth (others include doubling, mirrors, infinite spaces, imaginary texts, etc.) and many of his works engage with the maze as structure, form, or topic. In Greek mythology, of course, the labyrinth was an enormous maze built by Daedalus for King Minos of Crete in order to contain the Minotaur, who lived at the center. At the demand of Minos, fourteen Athenian youths would periodically be sacrificed into the labyrinth—forced to wander until caught and eaten by the Minotaur—until the creature was finally killed by Theseus. At any rate, as Borges is inextricable from the notion of the labyrinth—wandering within it forever, you might even say—here are ten works of labyrinthine literature to celebrate his life and works.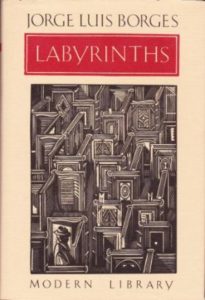 Jorge Luis Borges, Labyrinths
Borges is king of the labyrinth, though he would likely not devour any errant entrants. This collection includes a number of stories on this theme, including "The Library of Babel," a story in which the universe is an infinite library, just room after hexagonal room, "The Garden of Forking Paths," which imagines a novel as temporal labyrinth, "The House of Asterion," a retelling of the myth of the Minotaur that transposes the labyrinth into a house, and—in proper labyrinthian form—the list goes on and on.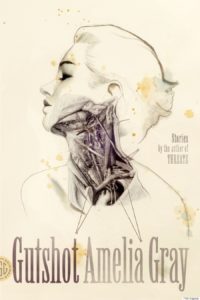 Amelia Gray, "Labyrinth"
Definitely the best story about a corn maze I've ever read. Said corn maze—ahem, corn labyrinth—has been constructed by Dale, "who had been doing a lot of reading on Hellenic myth" and who has worked uncommonly hard on the thing. "Nobody has to go if they'd rather not," he says. "To be clear, the labyrinth is known to possess magic. Some say in the center you discover the one thing you most desire in the world. Others claim that God sits beyond the last bend. Individuals must find out for themselves. Go check out the jam contest if you're not feeling up to it." Jim, our narrator, chooses to go in.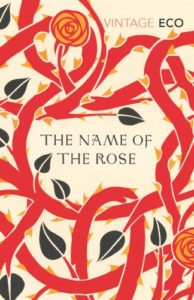 Umberto Eco, The Name of the Rose
Ah, another library-labyrinth: my favorite. Eco's multifaceted mystery centers on the library of a monastery, set in a tower called the aedificium, which only the librarian and the librarian's assistant can navigate. "The library defends itself," the abbot explains, "immeasurable as the truth it houses, deceitful as the falsehood it preserves. A spiritual labyrinth, it is also a terrestrial labyrinth. You might enter and you might not emerge. And having said this, I would like you to conform to the rules of the abbey." Famous last words.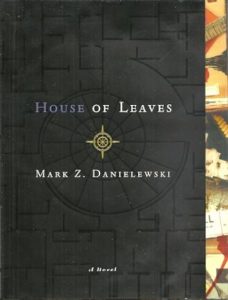 Mark Z. Danielewski, House of Leaves
A book about a labyrinth that makes you feel like you're in a labyrinth that also by the way looks like a labyrinth of text (footnotes on footnotes) and image and color.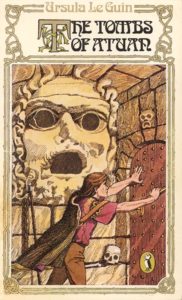 Ursula K. Le Guin, The Tombs of Atuan
Technically a children's book, but it's Le Guin, which means I get to write about it (these are my own personal rules). The second book of the Earthsea cycle focuses on Tenar, aka Arha, aka the reincarnation of the One Priestess of the Nameless Powers, aka the Eaten One. It is she who rules the Undertomb and the Labyrinth—though not by choice—and she who must decide what to do with the boy who she catches seeking treasure in her kingdom.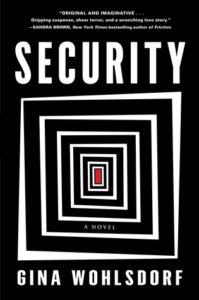 Gina Wohlsdorf, Security
The hedge maze in that abuts the Manderley Resort (yes, named after that Manderley) is twenty-five hundred yards square and twelve feet high. Most of the action in this crafty thriller takes place inside the hotel, which is itself kind of an inverted maze: hundreds of rooms, yes, but with an emphasis on visibility, a clear glass elevator, a glass façade, with security cameras keeping watch over—almost—everything. But the scenes in the perfectly coiffed maze—and the multiple navigable and unnavigable networks that the killers and victims traverse in trying to achieve their goals—make it a perfect fit for this category.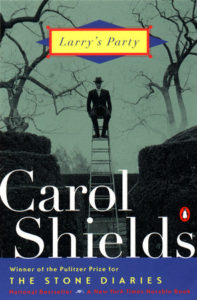 Carol Shields, Larry's Party
Much less fantastical than many of the others on this list, Larry's Party is the story of a Canadian man over five decades of life—a life spent designing mazes. Each section begins with a drawing of a different kind of maze, and the book is maze-ish itself, turning back, revisiting, underscoring the importance of chance in our choices as the story of Larry's life unfolds.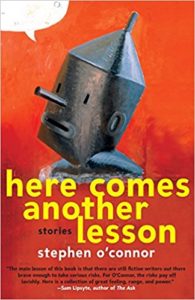 Stephen O'Connor, "Ziggurat"
Another labyrinth story, though this one is much different than the Gray—here, a (non)virgin sacrificed to the Minotaur ends up, somehow, befriending him instead, teaching him to play pool, telling him jokes. Only the labyrinth might not be what either the girl or the Minotaur thought it was:
What is the Labyrinth but so much human junk? That's how the Minotaur saw it. Cathedrals, bus stations, diners, bowling alleys, subway tunnels, endless basement corridors—they all seemed profoundly pointless to him, not just because they were generally empty and unused but as a basic fact of their existence. He could tell that humans didn't share his opinion. He would find them on their knees in the pink and purple pools beneath stained-glass windows, their brows dark with grief and desire, their lips rippling with unvoiced words. He would find them looking impatiently at classroom clocks, unable to keep their feet still beneath their desks, or sitting atop vinyl-covered swivel stools, savoring their own tasteless and puny repasts, or intertwined in bed, making all the chest and throat noises of aggression. Idiocy. All of it. None of the things they yearned for would come to pass. All their beliefs about destiny and justice, all their rituals, injunctions, inhibitions and plain-as-the-nose-on-your-face truths: trash, irrelevant, wrong. Their gooses were cooked—royally—and always had been. This was shocking news to his victims. He could see it in their eyes. How could they be so stupid?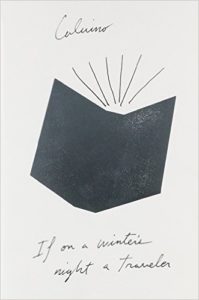 Italo Calvino, If on a winter's night a traveler
There is not, to my recollection, an actual labyrinth in Calvino's postmodern novel. But that doesn't matter, because the book is its own labyrinth, an infinitely pleasing series of false starts and dead ends that begins with a reader sitting down to read Italo Calvino's If on a winter's night a traveler only to find that all the pages are all mixed up. Back to the bookstore, then, to begin the maze of non-If on a winter's night a travelers that make up If on a winter's night a traveler.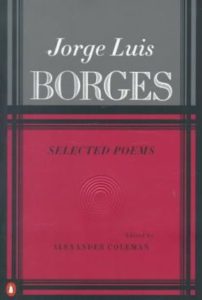 Jorge Luis Borges, "The Labyrinth"
Since it's Borges day, I'll leave you with one more work of his—a poem on his favorite topic, originally published in his 1969 collection In Praise of Darkness:
Zeus himself could not undo the web
of stone closing around me. I have forgotten
the men I was before; I follow the hated
path of monotonous walls
that is my destiny. Severe galleries
which curve in secret circles
to the end of the years. Parapets
cracked by the days' usury.
In the pale dust I have discerned
signs that frighten me. In the concave
evenings the air has carried a roar
toward me, or the echo of a desolate howl.
I know there is an Other in the shadows,
whose fate it is to wear out the long solitudes
which weave and unweave this Hades
and to long for my blood and devour my death.
Each of us seeks the other. If only this
were the final day of waiting.
(translated by Stephen Kessler)
---