On Monday, after a horrible, miserable year off due to the pandemic, my favorite television show of all time returns to ITV. That's right, I am talking about Love Island, the boringest, stupidest, most deeply relaxing show on television. It's just like The Great British Baking Show, only with hot semi-naked people whose accents you can only understand about 70% of the time. (This is a feature, not a bug.) The stakes are low, because the prize is basically ceremonial, but that's fine—unlike contestants on American reality shows (even my beloved Challenge) these people don't need to desperately compete for money. They have the NHS! They're fine! (Besides, they can always get endorsement deals.) And while other people have pointed out how GBBS is particularly good television for writers, no one has thought (dared?) to say the same thing about Love Island. But it is. Really. And not just because watching it (and it's on EVERY NIGHT fellas) slowly scrubs your mind until it is as clean and smooth and empty as an influencer's cheek. The show is also very intelligently made, which means that it has some real storytelling lessons for writers, which I will enumerate below.
1. An intrusive narrative voice can make absolutely anything interesting.
If you are a frequent visitor to this space, you know I love an intrusive narrator. And the Scottish voice over commentator Iain Stirling is what elevates Love Island from cheesy reality tripe to pure reality gold. He narrates the activities of the islanders, recaps their personalities and entanglements, and gently—and sometimes less gently—mocks them. Repeatedly. It is because of Iain that this show is funny rather than actually sexy, and it is because of Iain that I know it doesn't take itself too seriously. Self-awareness goes a long way, and so does making fun of how little money the producers spend on "dates." By the way, during the pandemic I relented and watched Love Island Australia, which is an even tamer (if you can imagine this) version of Love Island, and their VO guy, Eoghan McDermott (I think he might be Irish), is also very very good. Bird!
2. Create a unique in-world language.
I have learned so much from Love Island. Mostly I have learned the meaning of the following terms, some of which are merely Britishisms, but many of which are strictly Love Island-isms: Mugged. Pied. Fanny flutters. Doing bits. Tuna melts. The Salmon. Grafting. Dicksand. I GOT A TEXT! They're fun on their own, of course, but the real utility of this kind of in-world language is that it builds on itself—the more you watch, the more you understand, and the funnier it all is. It includes the consumer. And if a show (or novel, for that matter) can get you to start speaking its language, that's a pretty good recipe for a cult classic.
3. Halfway through, throw in a big ol' wrench.
Casa Amor, anyone? I spend a lot of time waiting for Casa Amor. I won't give it away here, but if you know, you know.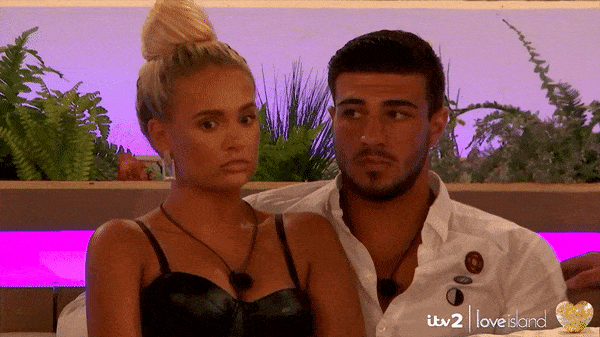 4. Refer to reality, but not too much.
Part of the joy of Love Island is that the contestants are not allowed to be in any kind of contact with the outside world—they are in a world of their own, with its own rules, standards (kissing means it's serious), and norms. Which only makes it extra fun when the show inserts a little bit of the World We Know, as in "games" where the Islanders "get" to find out what people are tweeting about them, or when someone accidentally ventures into current events:
5. When in doubt, introduce a new character.
Whenever the Islanders get too comfortable, Love Island brings in a new character to liven up the joint. Couples are challenged or reinforced, people who were safe now feel threatened by the shift in ratio, and we get to see a new person in a swimsuit. No wonder they do it 91283279382 times a season. (Even better if that new character is . . . twins.)
5b. When in more doubt, make that character a minor celebrity.
Dani Dyer, daughter of Danny Dyer (I KNOW), being the best example here. But Marcel would not want you to forget about him, either. He was in Blazin' Squad! And what about that guy who just . . . really looked like Justin Bieber, but wasn't? He counts.
6. Setting matters.
Love Parking Lot just doesn't have the same ring to it, you know?
7. Force everyone's hand 24 hours too soon.
Your character has to make some sort of life-altering decision? Well, you know what would make that decision more intense? Make them do it before they have all (or any) of the information! Make them choose between two guys before they've even spoken to them! And the on they don't choose will have to die go home! That's the kind of evil producing that gets the drama (and the people) going.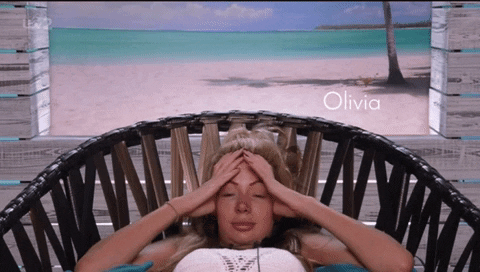 8. Make sure there's someone to root for.
Remember how Camilla was too intelligent and feminist and like, unwilling to debase herself to find love for her entire season? And then, right at the end there, the producers handed her a Calvin Klein underwear model who also happened to like all the same books she did? That's what I'm talking about, people. They have a baby now. See also: Siannise and Luke T, our queen Maura, and Amber Gill, "the first solo winner of Love Island." Damn straight.
9. Imply sex . . . but don't show too much.
We all remember those early seasons with all the rabbity humping captured by the night vision cameras. Hide that situation under a properly propped comforter, at least. Your parents will thank you!
10. Plot? Where we're going, we don't need plot.
Otherwise known as "the hothouse effect." If you have all the above elements going for you, the plot will work itself out. If it doesn't exist, fine! Somehow you'll all make it to the end anyway.