10 Small Press Books to Read this Summer
As Recommended by Booksellers at Sector 2337
As the nation's only nonprofit distributor, Small Press Distribution is dedicated to getting small press literature to the people who want to read it. As such, we're grateful to our main customers—indie bookstores—the outward-facing purveyors who present our books to the public with flair and aplomb. To celebrate the great individuality of our favorite indie stores across the country, SPD's asked a few of them to shine a monthly spotlight on ten of their favorite SPD-distributed titles. This month, we're excited to host Chicago bookstore and gallery Sector 2337.
Sector 2337 is a storefront gallery and bookstore at 2337 N Milwaukee Avenue in Chicago, IL. Functioning as headquarters for The Green Lantern Press, Sector 2337 hosts three exhibitions a year, maintains a vibrant schedule of public programs, as well as a bookstore specializing in contemporary art, poetry, theory, and independent press titles. By marrying these threads—contemporary exhibitions, readings, performances, poetry, and printed matter—we continue the spirit of The Green Lantern Press, making community, culture, and discourse easily accessible to Chicago.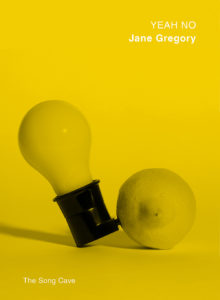 Jane Gregory, YEAH NO
(The Song Cave, 2018)
The book starts with an invitation: "Knock Knock / Everything is a pattern / of yesses and nos" and, from there, floats confidently in a conceptual space between the two commitments, yes or no. She grapples with pretty intense philosophical content (epistemology, the will and its representations, etc.), and I read the book as an initiation into a new and weightless mode of considering what is usually decidedly dry and airtight: "The bad infinity / is the one that none / of us is having it."
–Kristina Pederson
Article continues after advertisement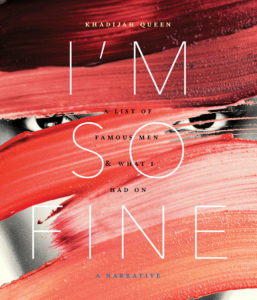 Khadijah Queen, I'm So Fine: A List of Famous Men & What I Had On
(YesYes Books, 2017)
Khadijah Queen meets Tupac, meets LL Cool J, meets Allen Iverson, meets Keanu Reeves. Queen's straightforward list embeds a narrative that meditates on beauty standards, expressions of attraction, sexual violence, friendship, race, leaving your religion, growing up, becoming something. Queen's book is cutting not in spite of its levity but because of it.
–Fulla Abdul-Jabbar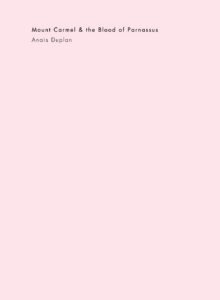 Anaïs Duplan, Mount Carmel & the Blood of Parnassus
(Monster House Press, 2017)
Anaïs Duplan's Mount Carmel & the Blood of Parnassus is an unstoppable exercise in self-awareness and self-realization that defiantly provokes and implicates the reader. This chapbook collects texts that record Duplan's constellations of thought and their examinations of gender identity and self-confidence as an emerging writer. Mount Carmel & the Blood of Parnassus is tender with emotion and crisp with impetuousness, luring you with its brilliant vulnerability.
–Sharmyn Cruz Rivera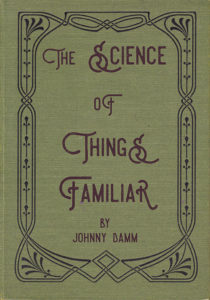 Johnny Damm, The Science of Things Familiar
(The Operating System, 2017)
An eccentric mashup of what author Johnny Damm calls "common phenomena" (music, film, and comic books) with personal narrative, fabricated stories of aging authors, and film bios-turned-records of lived experience, this book keeps you on your toes. Its short and captivating chapters, visually akin to both zines and old-timey science books, read similarly to the addictive scrolling of an infinite social media feed. The Science of Things Familiar presents universal topics in an endearing, poetic, and often revealing way.
–Madeline Vaccaro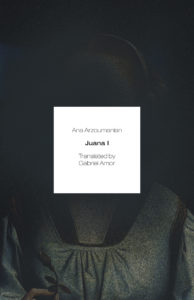 Ana Arzoumanian, Juana I, trans. Gabriel Amor
(Kenning Editions, 2018)
We love carrying non-English titles and translations in our bookstore, and Juana I is a welcome new addition. In both the original Spanish and Gabriel Amor's English translation, Ana Arzoumanian resurrects Queen Juana "the Mad" of Spain, who was stripped of her title and forced into a convent in the 16th century. Arzoumanian's imagery is vivid, violent, and a worthy reanalysis of the narrative of a woman in power.
–Bec Hac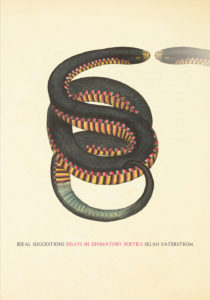 Selah Saterstrom, Ideal Suggestions: Essays in Divinatory Poetics
(Essay Press, 2017)
Intertwining the practices of writing and divination, Saterstrom plucks from family histories, forgotten conversations, and a lifetime of using confusion, absence, and flux as a grounding area for creative potential. Warm, well-researched, and insightful; poetic experiments move throughout like a ghost.
–Bec Hac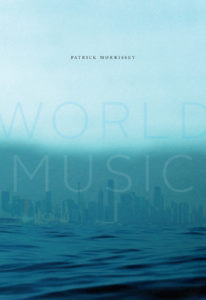 Patrick Morrissey, World Music
(Verge Books, 2017)
Can one be a Chicago hometown hero with the vestige of a New England accent? Morrissey's trying. Focused lyrics live and direct from Hyde Park where overheard speech sings.
–Devin King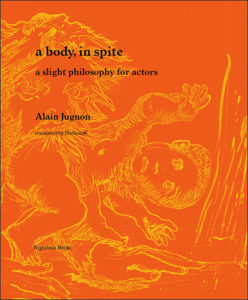 Alain Jugnon, a body, in spite, trans. Nathanael
(Nightboat Books, 2017)
Aphorisms in search of a body. Part acting, part action. You're supposed to be thinking about Artaud and Nietzsche, but when Alain read in Chicago, he let it slip that he composed this book daily, almost meditatively, over the space of a few months. I probably shouldn't be telling you this, cause he blushed right after.
–Devin King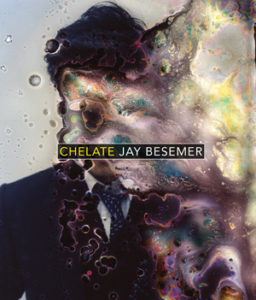 Jay Besemer, Chelate
(Brooklyn Arts Press, 2016)
Jay had a release for this book—prose lyrics detailing hormone therapy and gender transition—like, the week after the election. It was a weird event! Somebody licked a painting. There were gangs of bros outside heading to a bachelor party, and we all flinched. Is there a way to chunk books at people without hurting them or meaning any harm? Let's chunk Jay's book at people.
–Devin King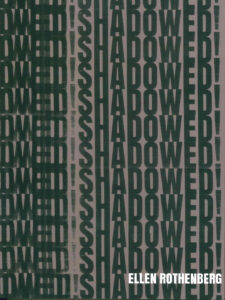 Ellen Rothenberg, Shadowed!
(Green Lantern Press, 2018)
A new book about Chicago based artist Ellen Rothenberg, Shadowed! creates a vertiginous slip between Brecht, Woodstock, and the Syrian protest of today. Put out by our house press, Green Lantern Press, this is the way we do things at Sector 2337. This book began as a catalogue for a show we produced, but the book but is a performance in itself.
–Caroline Picard
---