10 of the Best Indie Bookstores in the World
(According to the Lit Hub Staff)
This weekend marks the 10th anniversary of Independent Bookstore Day, the one-day book party held all across the country on the last Saturday in April every year to celebrate indie bookstores large and small. There's no better time to show your local indie a little love—preferably by going to buy a book in person.
But since we live here on the internet, I asked the Lit Hub staff to share a few odes to their own beloved bookstores to mark the occasion. See our list below, and feel free to shout out your own faves in the comments!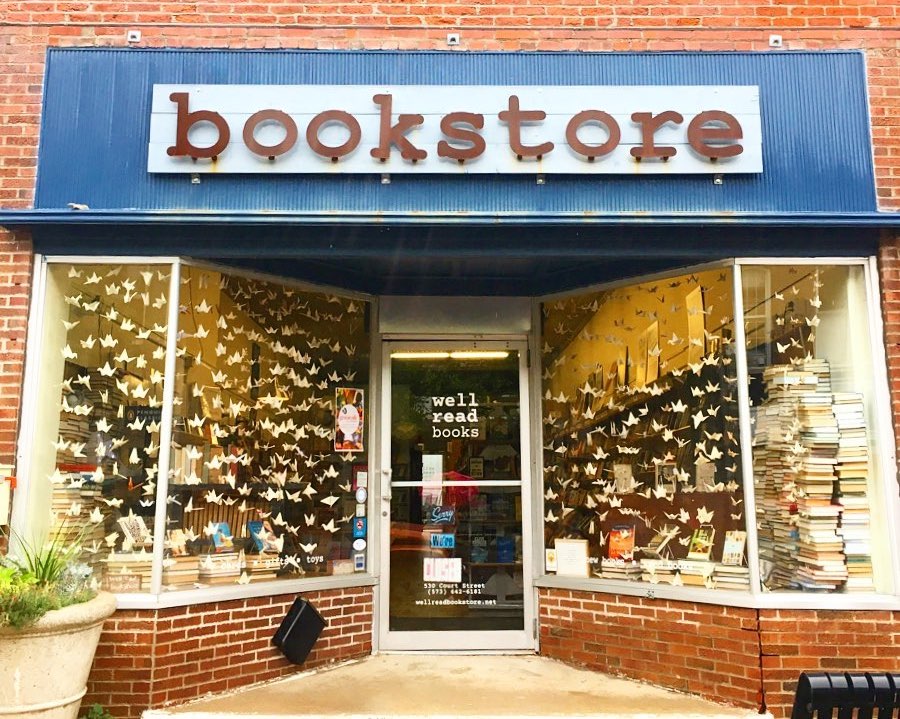 Well Read Books, Fulton, Missouri
In 2015, I was a journalism graduate student attending my first AWP conference, and in the middle of a panel, I realized that I desperately wanted to be in the book world. I'd just discovered a small indie bookstore in Fulton, Missouri (population: 12,000), called Well Read Books, and—mid-panel—I emailed the owner, Brian, asking if I could work for him. To my great luck (fate?), Brian's only employee had just put in their two weeks' notice, and he offered me the gig.
For a year or so, I'd wake up early every Saturday morning and drive the forty-minute scenic route to Fulton's historic Brick District, where I'd open the store and run the show till close, pretending the shop was all mine. I'd typically arrive to a cart of newly acquired used books to shelve, and then I'd spend the rest of the day wandering the aisles and pulling out books I'd never heard of, reading a page or two to see what grabbed me; inevitably, my home library doubled in size. I was working two other jobs at the time, ostensibly writing a thesis as well, but it never occurred to me to drop this completely superfluous job so I could have one day of rest per week: being at the bookstore was my rest. Which isn't to say it wasn't busy—we had plenty of loyal customers, some who would stop by just to "shoot the shit," as is local custom—but for that one day a week, I got to exist solely and purely in the book world.
In another version of my life, I took over Well Read and rented out the apartment above it, lured authors to drop by on their stops in Columbia and St. Louis, feted them over spinach artichoke dip across the street at Bek's. In actuality, I left Missouri for an MFA program, and after that I got a job at Lit Hub. I swing by Well Read once a year when I'm in the area, though I never mention to the new owner that I used to work there. It's hers now. It's in good hands.  –Eliza Smith, Special Projects Editor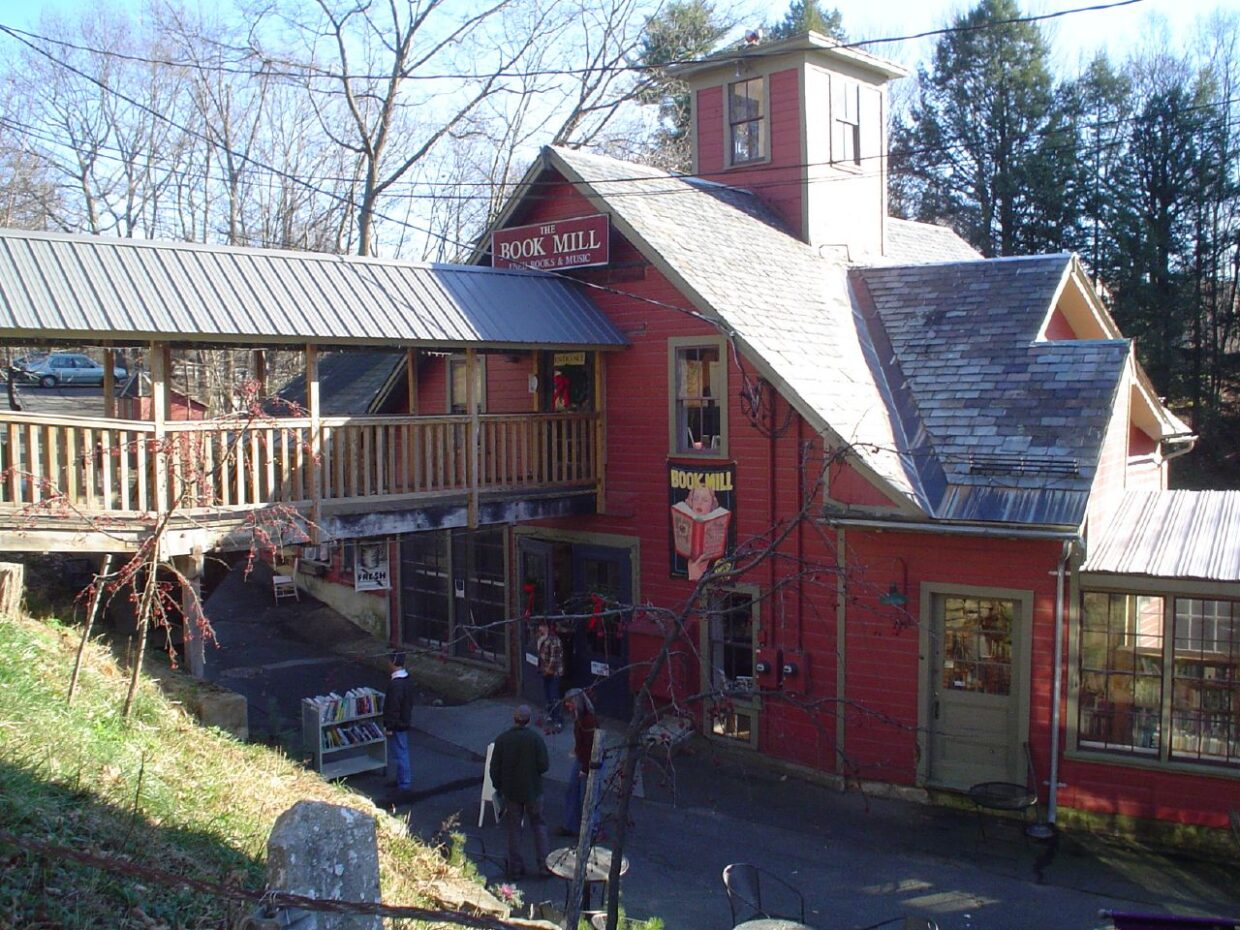 The Montague Bookmill, Montague, Massachussetts
Fifteen years ago I was living in Western Massachusetts and absolutely miserable. My husband was finishing his PhD and spent every waking hour at the library or teaching, and I spent every day staring out my kitchen window at an abandoned motel waiting for it to burn down (it did, a year after we left). At a terrible party in someone's beautifully decorated home, some soon-to-be professors were talking about how much reading and writing they were able to do at the "book mill," which sounded like a place where books were pulverized. I didn't know how to drive and the bus would take two hours, so I convinced some poor grad student to drive me the nineteen miles to the Montague Bookmill.
When we think of our favorite bookstores, more often than not it will be the places we visit over and over again, where we know the staff or have a special corner, or there's something there that feels like ownership. The Bookmill and I have no such relationship; I have only visited it once, on a terribly cold and bleak New England day. Housed in a 1842 gristmill and overlooking the Sawmill River, the used bookstore has some one thousand books. It also has lots of comfy chairs and very nice (for New England) staff and it is absolutely picturesque and welcoming, the way all good bookstores are. I sat and read there for an entire day, away from the motel, the students, and the library. It was perfect. And then I left New England forever and will never go back there again. –Emily Firetog, Deputy Editor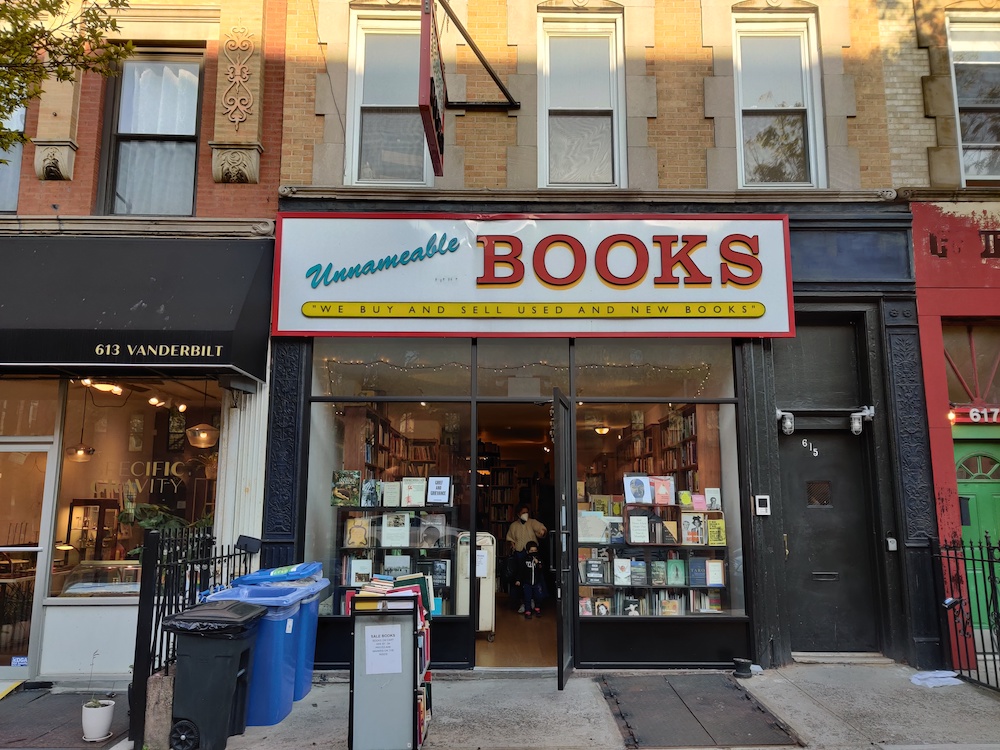 Unnameable Books, Brooklyn, New York
There are many bookstores in Brooklyn, and they all have different specialties and "vibes," as the kids say, but my favorite one is Unnameable. Their stock is half used books and half new, so you can always go and browse and find something you didn't know you were looking for, but you can also go in looking for something in particular and usually find it. It's a small store, so both the used and new sections are well curated (selling books there is a very fun game), which means there's no digging through trash to find your next treasure. The poetry selection is miles above average, and there's even a little wall where the staff sticks all the random things they find in the used books they buy. What more could you want?
Well, I'll tell you: the store happens to be on Vanderbilt Avenue*, which puts it in close proximity to various things that you want to eat, either before or after buying a book: Chuko ramen, Dough doughnuts, the cheddar biscuit sandwich at Milk Bar, ice cream from either of the dueling high-profile ice cream shops, the nachos from Maya Taqueria, not to mention the fancy places, which I never bothered to try to get into. You're also fairly likely to see Ben Lerner on your way there or back. It's basically a perfect ecosystem.
*Unnameable recently moved down the street to a bigger location, which I (a newly upstate person) have not yet visited. But I'm sure it's just as great. I hear there's a whole room for the poetry.  –Emily Temple, Managing Editor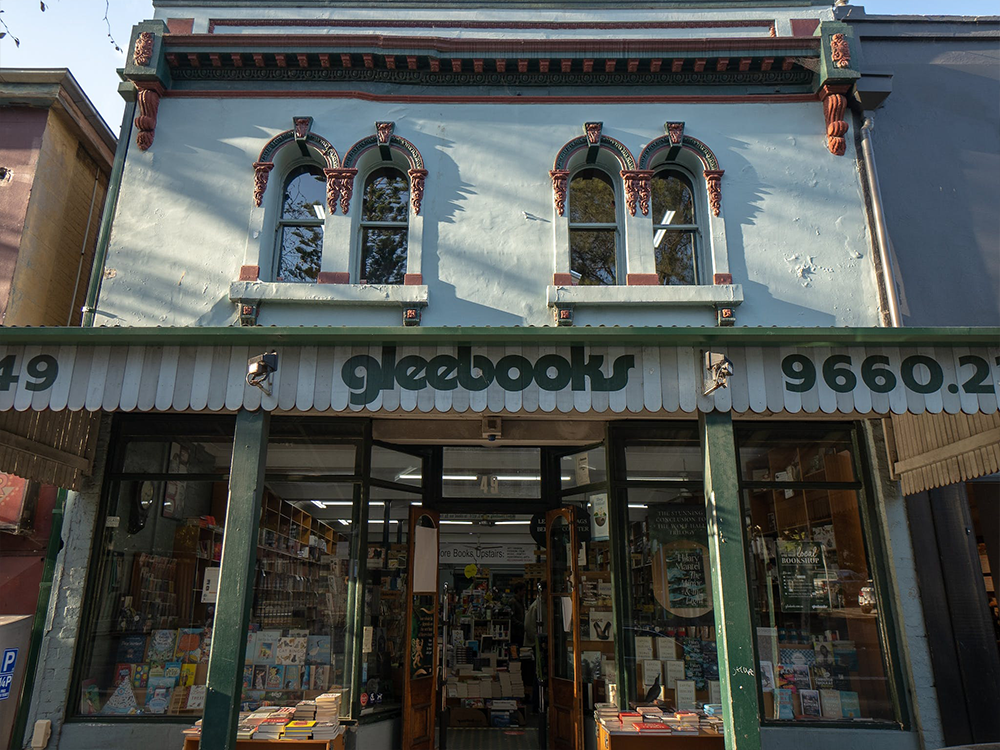 Gleebooks, Sydney, Australia
Glebe sits between Sydney's Haymarket—a section of the CBD jammed with Asian restaurants and shops—and the green lawns of the University of Sydney. When I'm ordering a book for someone in antipodes, I always order from neighborhood staple Gleebooks, which remains in its old plot on Glebe Point Road, but also now has outposts in Blackheath, Dulwich Hill, and Walsh Bay.
I'm no longer dragging myself in to grab a Norton's anthology and then get Thai food, but rather sending my little orders in from the opposite side of the globe, after which the staff at Gleebooks send me personal emails letting me know when they've got the books in and have boxed up the orders to go out. Those emails are a nice little touch for someone so far away! And it's a good feeling to know this indie bookstore is still going strong when the Australian books market otherwise seems largely limited to depressing discount shops in malls. Long live Gleebooks! And if you're in the nabe, treat yourself to a laksa or Tom Yum Goong.  –Janet Manley, Contributing Editor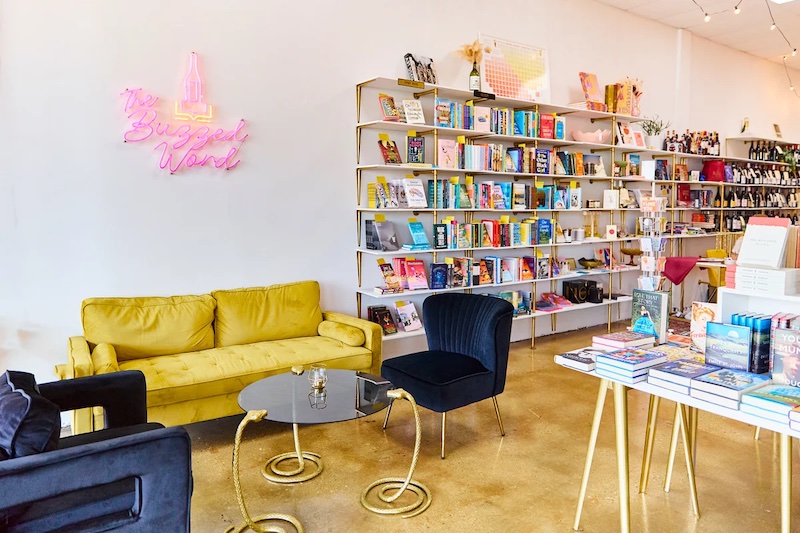 The Buzzed Word, Ocean City, Maryland 
At least once a year I like to make the pilgrimage to Ocean City, Maryland to meet up with my college friends and try to absorb as much sunshine as is humanly possible. Last year, while doing my obligatory search for hot indie bookstores in my area, I came across a shop called The Buzzed Word. The Buzzed Word is an indie bookstore, wine store, and wine bar all in one. Needless to say, my friends and I visited at least three times in the span of a week.
The shop is cute and bright and filled with a hefty selection of great books and wine (and truly inspirational staff picks for both). The store puts on tons of great events, all kinds of book clubs, and even a queer prom during Pride. It's just the type of place you want to go after spending time at the beach. After all, the only thing better than a beach day is an indie bookstore day.  –McKayla Coyle, Publishing Coordinator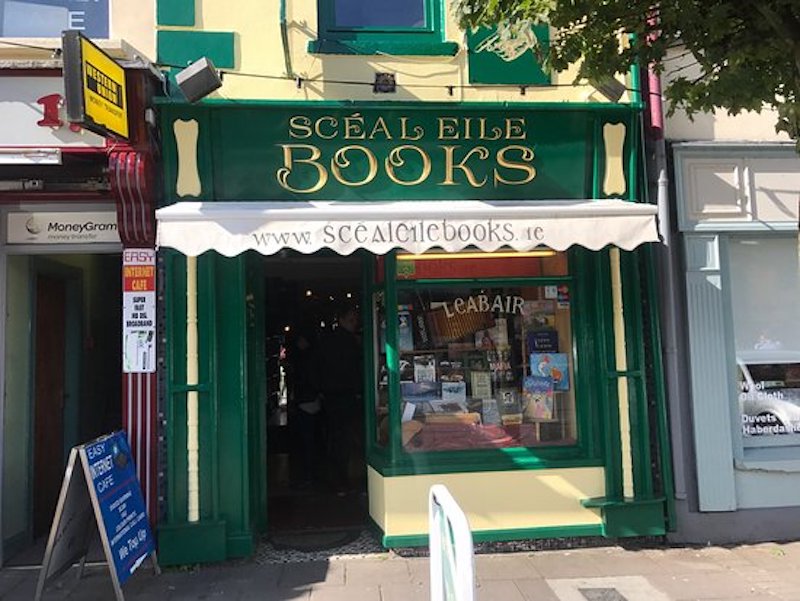 Scéal Eile Books, Ennis, Ireland
I'm going to cheat and select two indies from back home in Ireland. The first is Scéal Eile Books in Ennis, Co. Clare. A beautiful bilingual bookshop (Scéal Eile means "Another Story" in Irish) with a hunter green façade and a lovingly curated selection of new, used, and rare books crammed inside, Scéal Eile also doubles as an intimate performance space for musicians, artists, and filmmakers, and even boasts its own theater company founded by co-owner Éibhleann Ní Ghríofa—a beloved presence in the Irish book world who tragically passed away in 2021 at the age of just 36.  –Dan Sheehan, Book Marks Editor-in-Chief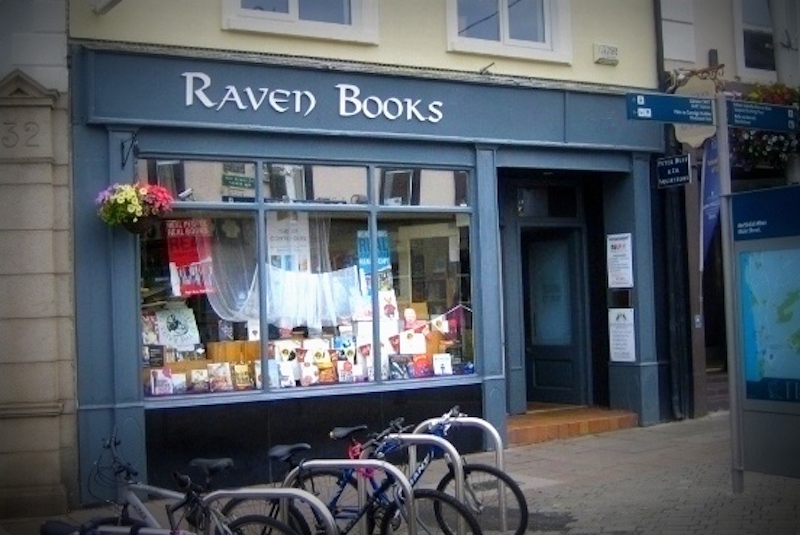 Raven Books, Blackrock Village, Ireland
The second is Raven Books in Blackrock Village, Co. Dublin—not my local bookstore but one to which I always try to make a pilgrimage whenever I'm back in town. Owned by the wonderful Louisa Cameron (who spent the pandemic hand-delivering books from a heavily loaded bicycle), Raven Books has (deservedly) become renowned for its staff's warm and welcoming customer service and spot-on book recommendations.  –Dan Sheehan, Book Marks Editor-in-Chief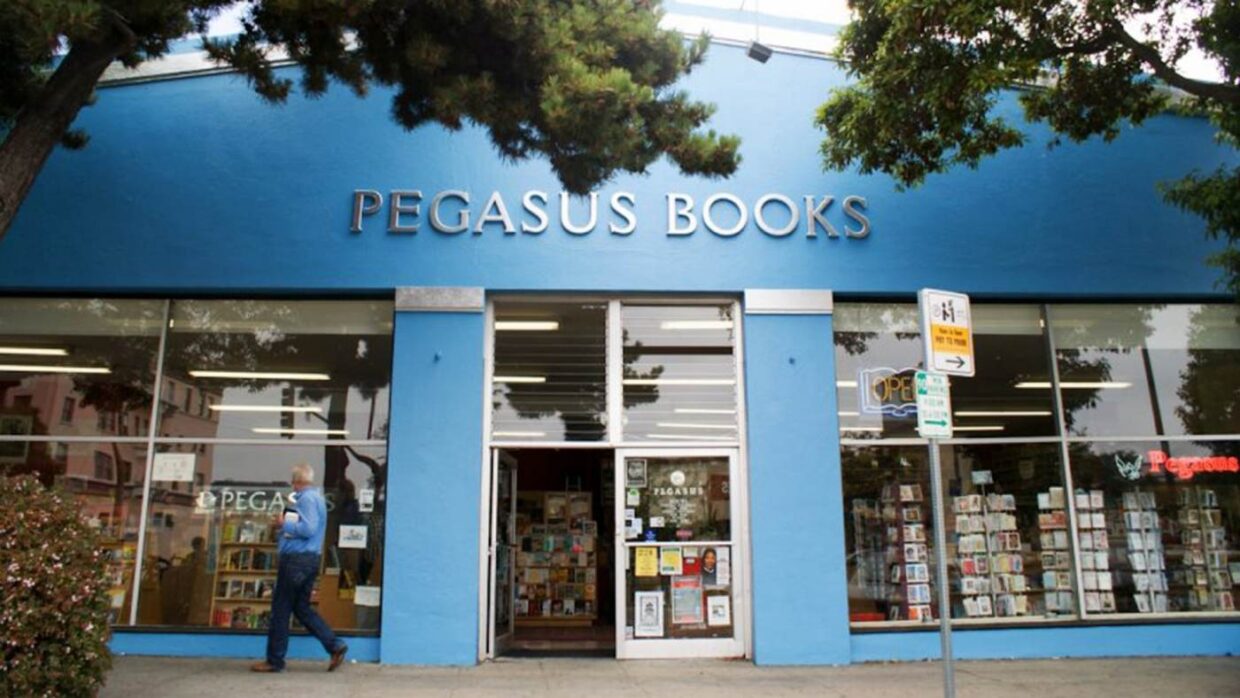 Pegasus Books, Bay Area, California
There are three Pegasus Books in the Bay Area, California, each in airy, comfortable locations in Berkeley and Oakland, each packed to the gills with both new and used literature. They are all owned by one Amy Thomas, who has worked at Pegasus since 1980 and bought the stores from its founder in 1995. Pegasus is my go-to when I'm home visiting my parents; wherever I am in the East Bay, there's one nearby, and each location promises to either hold the exact book I'm looking for, or offer a surprise title that I never knew I needed.
Most used bookstores I frequent in Brooklyn (while I love them still) are usually fairly small, pretty cramped, and don't offer the breadth and breathing room that California bookstores can offer. Pegasus' used fiction sections are massive, usually under ten dollars, and are an eclectic and special mixture of classics, niche titles, and popular bestsellers. It's also the best place to sell books in the Bay Area: while Brooklyn bookstores are inundated by publishing professionals selling off their books and ARCs, and thus do not pay much for them, stores in the Bay Area aren't facing the daily inundation of publishing professionals desperate to make a buck on the side.
Pegasus pays well and they have great taste, so they'll only take books they know will be of interest to their wide-ranging Berkeley and Oakland clientele. Their system of buying and selling used fiction is a massive boon to the store, for it puts their books at an accessible price point for those who don't have much disposable income. Whether you're going for a new page-turner crime novel, an old Wodehouse, or an NYRB reissue, you won't be able to leave the store without a book in hand.  –Julia Hass, Contributing Editor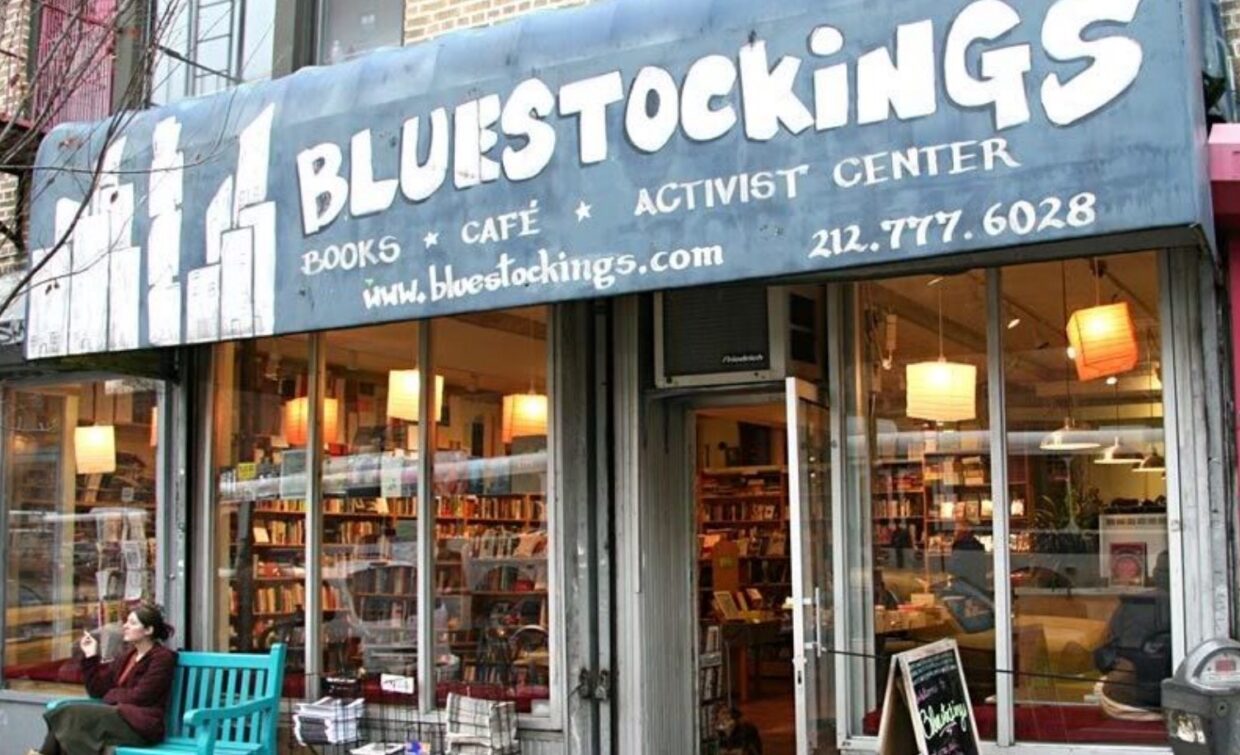 Bluestockings Cooperative, New York, New York
Bluestockings is a worker-owned cooperative where patrons are as likely to drop in amid a NARCAN training as they are a literary event. Their nonfiction selection is the kind of queer, lefty, abolitionist-Marxist-feminist fare that reactionary weirdos would have you believe is mandatory reading for all freshman liberal arts students. They also offer a robust collection of fiction titles and, crucially, a ton of zines.
The booksellers are always preternaturally well-read and helpful—it's the rare place where you can freely browse or read a couple chapters of a potential selection without feeling menaced.
"Community" is a marketing buzzword rapidly being drained of its meaning, but Bluestockings does actually feel like a community space. To that point: Having relocated just a few blocks away from their original Allen street location, I'm pleased to report that the new location on Suffolk is just as good a spot for cruising as the old store was.  –Calvin Kasulke, Assistant Publisher
Rough Draft Bar & Books, Kingston, NY
One day a few winters ago, maybe it was late February, my town got hit with a blizzard. I was feeling a little stir crazy but noticed, via Instagram, that my local bookstore was open. So I bundled up and walked half an hour across town to buy some poetry (yes, I do that sometimes). While I was there, I got a coffee and a cookie, then sat down to read the aforementioned poetry. Time passed. The next moment I looked up and it was 5 o'clock somewhere, so I got myself a beer and a savory pie. It was a good day.
Kingston's Rough Draft (beautifully situated at the "oldest four corners in America") is one of the best all-purpose indie bookstores I've ever had the privilege of calling my local. And while it's not necessarily brimming with the kind of deeper cut titles that would satisfy a Bookforum subscriber (RIP), it truly has something for everyone. Better still, the owners of Rough Draft have made sure their space is a true community hub, serving the needs of locals alongside the weekend Instagram crowd doing their "must-visit" Hudson Valley tour.
(I would be remiss, though, if I didn't shout out the bookstore that changed my life, Shakespeare and Company.)  –Jonny Diamond, Editor-in-Chief
---