10 Female Caribbean Authors You Should Know
And Add to Your American Lit Syllabus
When I was studying English and American literature, I was struck by the fact that not one black woman—American, English or Caribbean—was included on any of the syllabi. It seemed as if such a category of writers did not exist. This is why I've listed below Caribbean women authors who, I think, deserve more attention. Some of them are contemporary, some older, but all are worthy of your time. I'm personally interested in the way these authors address issues of both racism and feminism.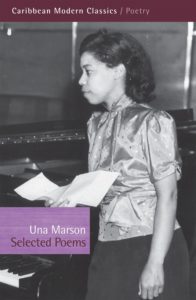 Una Marson, Selected Poems
Peepal Tree Press
The author of the 1974 anthology West Indian Poetry described Una Marson as "the earliest female poet of significance to emerge in West Indian literature." She was an advocate for Jamaican literature and the first black woman to be employed by the BBC—she established their "Carribbean Voices" program. Uma Marson's poetry was clearly political, addressing themes of disarmament, the women's international movement, and Pan-Africanism. To be analyzed mainly from the point of view of her color was astonishing for her. She expressed it in these four lines:
I must not laugh too much,
They say black folk can only laugh
I must not weep too much
They say black folk weep always
–"Black Burden"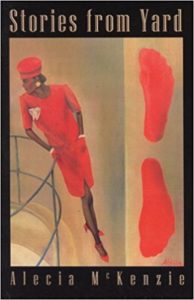 Alecia McKenzie, Stories from Yard
Peepal Tree Press
I first met Alecia McKenzie in Paris in 2014, not remembering that I had previously read and loved one of her short stories, "Private School," in The Oxford Book of Caribbean Short Stories. When I discovered the collection where it originally appeared, I experienced such a wide variety of emotions that it's become one of my most-recommended titles. Each story develops many different aspects of life in Jamaica, and her women—as we often are in the Caribbean—are powerful and resilient. McKenzie's latest book Sweetheart received the Prix Carbet des Lycéens in 2016.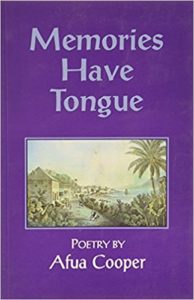 Afua Cooper, Memories Have Tongue
Sister Vision Press
Jamaican-born poet and historian Afua Cooper has published four collections of poetry. "I Remember. . ." is the first poem in her 1994 book, Memories Have Tongue. I remember that, in this wide-ranging collection—sometimes joyful, sometimes heavily informed by reality—a certain Donald Trump was already mentioned—in 1992.
I don't care if your Nanny was Black because
six black youths are in jail
charged with raping a white woman
and Donald Trump takes out a three-page-ad
in the New York Times calling for their deaths
calling for the lynching of six Black youths
while the four white cops who raped Black woman
Tawana Brawley
are still on the street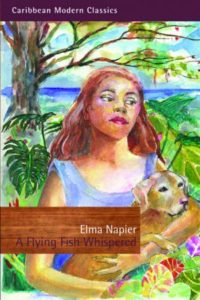 Elma Napier, A Flying Fish Whispered
Peepal Tree Press
Elma Napier was born in Scotland, but she is ranked among the writers of Dominica—she moved to the island at age 40 in 1932 and went on to become the first woman elected to a Caribbean parliament. The person who introduced me to Napier's work said, "From Dominica, you've probably only heard of Jean Rhys." At the time, this was true. So I had to read her. Her work is not as easy to find, but A Flying Fish Whispered was worth the wait. The heroine, a 29 year old widow named Teresa Craddock, comes to an unnamed Caribbean island to live with her brother. Over time, she becomes less of a "tourist" and more involved in life on the island. She begins to develop feelings for an older, married man, but she comes to realize that his attitude towards the neighborhood, black people, and women would make it impossible for her to have a love affair with him. I enjoyed the fact that the author dealt with my favorite themes—gender and racial inequities—in a quite unusual and exquisite style.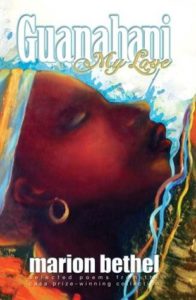 Marion Bethel, Guanahani, My Love
House of Nehesi Publishers
It was the God in you
I needed to touch the God in me.
And so be it. . .
I met Marion Bethel, a poet from the Bahamas, in Guadeloupe in 2014; we had both been invited there by the Congress of Caribbean Writers. She is widely-accomplished—aside from her career as a poet, she is also an attorney, activist, documentary filmmaker. Although she read her poetry simply, her words entered deep into me, and a brilliant smile followed each poem. I sensed similar feelings in our writing, giving me a feeling of Caribbean proximity. Guanahani, My Love, Bethel's debut and best-known collection, won the prestigious Casa de las Americas Prize in poetry.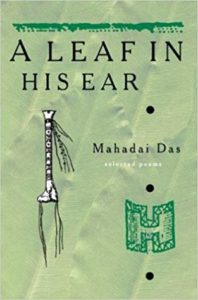 Mahadai Das, A Leaf in His Ear
Peepal Tree Press
If I should ever die
Return me to the fire
If I should live again
Return me to myself.
Heartfire,
flame in hurricane-lamp
Outside, into this storm.
Guyanese poet, dancer, actress, teacher, and beauty queen Mahadaï Das was an advocate for Indo-Guyanese culture and "Coolie" art forms. Her 1988 collection Bones drew wide acclaim; however, she became ill soon after and didn't release another collection during her lifetime. A Leaf In His Ear includes poems previously published in Bones, as well as in two other collections entitled I Want to Be a Poetess of My People and My Finer Steel Will Grow, and more recent and unpublished texts.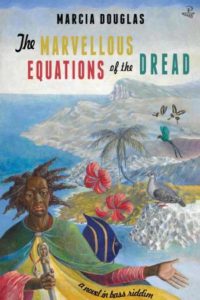 Marcia Douglas, The Marvellous Equations of the Dread: A Novel in Bass Riddim
Peepal Tree Press
Although this book has received a good deal of attention, it deserves more (which it will hopefully get with New Directions' forthcoming reissue, due out this July). Male writers have long been honored for books playing in the same yard—it creates a marvelous, magical realist world in which the dead (namely, one Bob Marley) summon the living to act.
Joanne C. Hillhouse, Oh, Gad!
Strebor Books
With this book, Joanne Hillhouse tells a well-known story: how does it feel to return home when it is no longer truly home? Nikki, the main character, was born in Antigua but raised in the USA. When she comes back to Antigua for her mother's funeral, she decides to remain on the island. Turmoil and chaos ensue. Joanne Hillhouse is a powerful writer, raising questions directly and with great energy.
Velma Pollard, Considering Woman
Peepal Tree Press
Velma Pollard's poetry is well-known in Jamaica, her native land, and in Great Britain—you can listen to her poem "At Cienfuegos I" at the Poetry Archive. I did not know her as a short story writer, however, until her 1989 debut collection Considering Woman was republished in 2011. The book is made of poems, parables, and stories. There is a range of both genre and style; throughout, however, there is both irony and humor.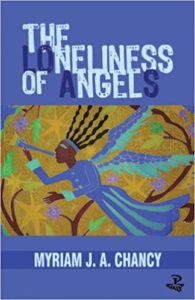 Myriam Chancy, The Loneliness of Angels
Peepal Tree Press
Before The Loneliness of Angels, Myriam Chancy had already written two novels on Haiti: Spirit of Haiti and The Scorpion's Claw. Like the two that preceded it, The Loneliness of Angels more mingles spirituality and earthly affairs, past and contemporary history. Each of the characters seems to represent a historical and spiritual aspect of the island. The novel is composed of the voices of five characters, who, from different points of view and from different epochs, drive the reader through the paths of a complex Haitian identity and spirituality.
---