10 Essential Road Trip Books That Aren't On the Road
An Alternative Reading List for Summer Journeys
Let's get one thing straight: On the Road is not a good book. No. No. Stop it. You don't have to think it is just because you—yes. I know. You can admit it now. That's good. Let it out. It's bad. It's a bad book. Now, doesn't that feel better? You're welcome.
Now that that's out of the way, today—on the 70th anniversary of the day Jack Kerouac embarked on his first cross-country road trip and doomed us all to pretending his "typing" was the best literature ever—here are some other, better books to gear you up for your travels this summer. FYI: In addition to not being On the Road, the books on this list are also not Fear and Loathing in Las Vegas, not Zen and the Art of Motorcycle Maintenance, not Travels with Charley, and not The Road, which people are always insisting is a road trip book. (Technically, sure, but spiritually?) Not because these are bad books, necessarily (except On the Road, which is definitely a bad book, stay strong), but because you already know them, so there's no point in me re-recommending them to you. The aim of this list is to be somewhat less ubiquitous, though not utterly obscure. My hope is that you'll find at least one book here you haven't read already, or at least haven't read in quite this context—after all, that's what wandering is for.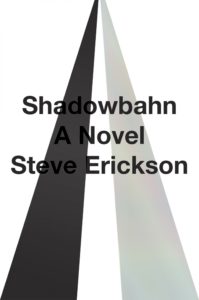 Steve Erickson, Shadowbahn
In Erickson's most recent novel, which begins in 2021, the Twin Towers have rematerialized—intact—in the South Dakota badlands, and Elvis's stillborn twin, now an adult, is living in one of them. Towards this scene veer two siblings, one white, one black: 23-year-old Parker and his 15-year-old sister Zema, who are driving across the country (Los Angeles to Lake Michigan) to see their mother, but decide to take a dangerous detour to the towers. They drive to the sound of their father's epic playlist, as the music outside the car mysteriously dwindles. It doesn't get more American than this.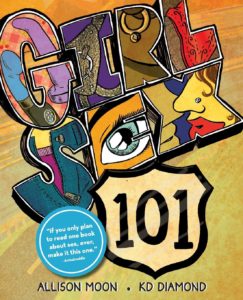 Allison Moon, illus. KD Diamond, Girl Sex 101
This is a sex-positive, modern (and by modern I mean inclusive to a wide variety of identities, bodies, and orientations) sex manual that uses a road trip as its organizing principle—a sample chapter heading is "Working the Clutch: Hand Sex"—and also as a frame narrative of sorts. That is, there's a story of a road trip interspersed with advice and information on everything from flirting to consent to ways to enjoy sex with (or being) anyone who identifies as a woman. Plus, you know—road trips are great for getting laid. Just wait until you stop for the night, okay? We all saw American Gods. Fun fact: this book's only negative Amazon review is titled "Dissapp" and reads: "I didn't realize this is for girls getting girls." Well, the more you know.
N.K. Jemisin, The Fifth Season
I mean sure: there's no car. But there's definitely a trip, and sometimes even a road. That is, until a Season comes, and then there's really no counting on roads of any kind, or on the Earth to do anything you think it's going to do. Still, there are some definite road trip markers here: unexpected strangers, wrong turns, a quest that shifts as suddenly and violently as the ground beneath these characters' feet. It's a deeply satisfying journey that will also, as a side note, make you think about how much gas you're using. Plus, this is only the first in a trilogy, with the final book appearing in August, which makes it perfect to fuel a long trip.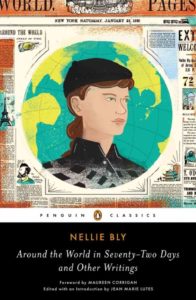 Nellie Bly, Around the World in 72 Days
This book recounts the travels of journalist Elizabeth Jane Cochrane, who was a journalist in the late 1880s, who at 24 went to her bosses at the New York World, and told them she wanted to beat the (fictional) record set in Jules Verne's popular 1873 novel Around the World in Eighty Days. Ha ha, they said. You're a woman. You'd have way too much baggage, with all your lady items and such. But eventually she convinced them, and wound up circling the globe in 72 days, 6 hours, and 11 minutes, a record. Honestly, the fact that she was doing any of this at that time is reason enough to read the book—and it might make your own travel time seem a little bit shorter by comparison.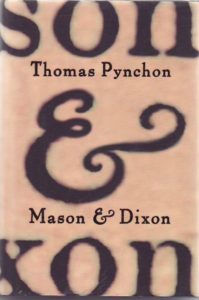 Thomas Pynchon, Mason & Dixon
A Pynchon novel is never normal, so I feel safe on that account. As far as the road trip part goes—well, we've got two historical British surveyors, Charles Mason and Jeremiah Dixon, making their way through the unmapped American wilderness, meeting a host of oddball characters as they go, including George Washington and and a were-beaver. Pynchon takes the actual history and adds fantasy, poetry, and not a little bit of magic. Like any road trip worth its salt, it's almost impossible to summarize, tangential, and hilarious, a picaresque masterpiece.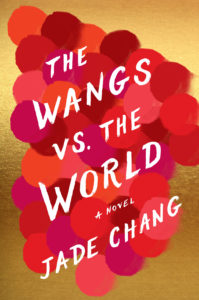 Jade Chang, The Wangs vs. The World
When you've lost it all, as ex-multimillionaire Charles Wang has just done, what else is there to do but pack up your stuff, collect your children, and drive across the country? Especially if your eldest daughter has a house in upstate New York where you might be able to lick your wounds for a while. But of course, it's not where you are, but who you're there with. "In a lot of ways, a country is like a family," Chang has said—and the characters in her debut transverse both over the course of their story.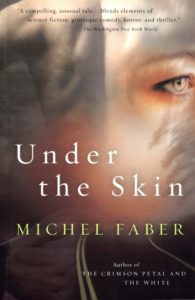 Michael Faber, Under the Skin
Hey, you know who else likes road trips? Aliens. In this novel, an alien whose body has been surgically modified to make her look more like a woman drives around Scotland looking to pick up hitchhikers—so she can send them back to her home planet for food. (What's a road trip without snacks?) But that doesn't really describe this surreal, shifting novel. It's a trip, but it's also a trip, if you know what I mean.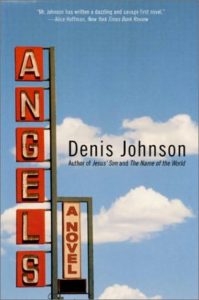 Denis Johnson, Angels
The worst kind of travel happens by Greyhound bus. Or maybe the worst kind of travel just happens to Jamie and Bill Houston, whose relationship in Johnson's first novel is just as haphazard, directionless, and unpleasant as the most run-down runaway bus on the most pothole-filled highway to nowhere. These characters may technically go from Oakland to Chicago, to Arizona, but actually, they just keep on going down.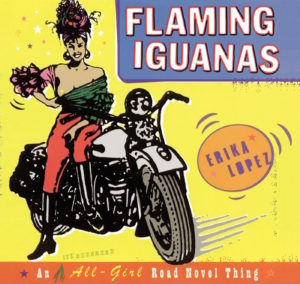 Erika Lopez, Flaming Iguanas: An Illustrated All-Girl Road Novel Thing
How could anyone resist a cover like that? Particularly when inside is the irreverent, discursive story of Tomato Rodriguez, who takes herself on a cross-country motorcycle trip, and (of course) finds herself in a number of increasingly ludicrous (and somewhat lurid) predicaments along the way. A wacko romp with lots of pictures.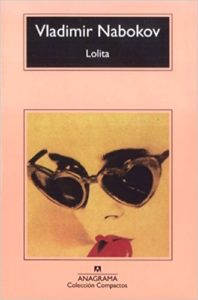 Vladimir Nabokov, Lolita
People tend to forget that Lolita is not only the story of a pedophile's angst, but also that of an immigrant on an Americana-infused, aimless road trip, the only destination in sight a nebulous and reprehensible one. Possibly the most beautifully-written and morally disturbing road trip novel ever written.
---