Stephen King's It, the novel that birthed a million Coulrophobics (and, hopefully, far fewer underage sewer orgies), celebrates its 34th publication anniversary this week. King's 1100-page opus of childhood horror—in which seven children in a small Maine town are terrorized by an evil entity that manifests itself as a cannibalistic clown while hunting its prey—has enjoyed a pop culture resurgence in recent years (not that it needed one, being King's best selling novel and all) with the release of two big-budget movie adaptations as well as the now-infamous 2016 clown sightings.
To mark this awful, awful anniversary, here are ten covers of the novel, ranked from least to most terrifying.
Eh…enjoy…I guess.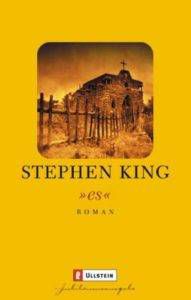 German edition. It's just an old church in the desert, floating inside a buttercup-yellow frame. The gate's a little bit creepy-looking I suppose, but even that's a reach. Do better, Germany.
Terror Rating: 🤡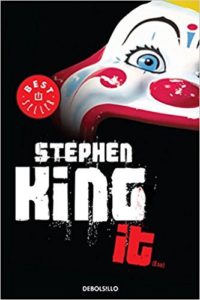 Spanish edition. The Spaniards are fooling nobody with that fake-ass clown face. My grandmother had more unsettling ornaments on her mantlepiece. The tilted blood-red It title is alright, I suppose.
Terror Rating: 🤡🤡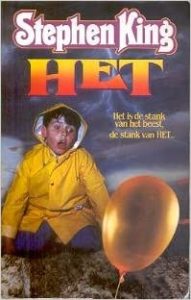 Dutch paperback edition. My personal favorite. The cool 80s glam rock lightning bolt in the background. The Saturday morning cartoon font. The stupid kid's stupid face. The fact that the balloon is too prominent, the wrong color, and actually looks kind of friendly. The words "de stank van HET" lined up with the kid's mouth as if he is whispering in Dutch (objectively the most ridiculous-sounding language) to the friendly balloon. It's all great. Alas, it is not very frightening.
Terror Rating: 🤡🤡🤡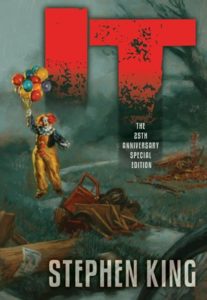 25th Anniversary special edition. Reasonably scary, but for me, Pennywise is a little too Ronald McDonald-esque here, and while Ronald did help hasten the demise of far more children than Derry's resident murder clown, he doesn't quite pack the same visual punch at a glance.
Terror Rating: 🤡🤡🤡🤡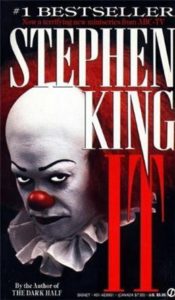 Miniseries tie-in edition. An It list, any It list, that omits Tim Curry is not a list you should be reading. Just look at that face. LOOK AT IT.
Terror Rating: 🤡🤡🤡🤡🤡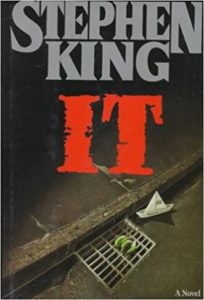 US first edition. Considered out of context, the cover of the US first edition is a little tame, and the monster claws reaching out of the sewer give it an unwelcome Gremlins vibe. 34 years spent terrifying children from the top shelf of their parents' bookcases, however, has given this image an ungodly psychic power. It is the It that started it all, and it deserves our respect.
Terror Rating: 🤡🤡🤡🤡🤡🤡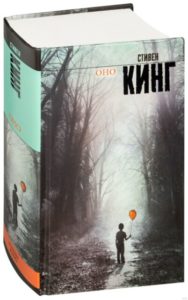 Russian anniversary edition. Comfortably the most elegant entry on our list, this cover sucks you in to its almost tactile fairytale woodscape, from which you, like the doomed child at its center, will never emerge…
Terror Rating: 🤡🤡🤡🤡🤡🤡🤡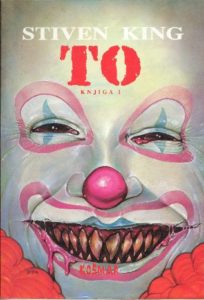 Serbian edition. I hate this one, but also I love it. The bubblegum-pink drool oozing downward to whatever weird cravat or wraparound wig he's got going. The extreme close-up, making it impossible to focus on anything but his gleefully contorted expression. The fact that Serbian Pennywise seems genuinely happy, rather than explicitly evil-happy, which makes it worse somehow.
Terror Rating: 🤡🤡🤡🤡🤡🤡🤡🤡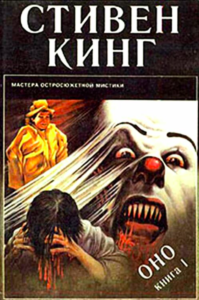 Russian paperback edition. A child's obscured face dripping blood. Pennywise with jagged fangs, bloody tongue, and spiderweb cheek. A tubby boy in a raincoat bathed in crimson light. Somber Cyrillic lettering. Truly the stuff of nightmares.
Terror Rating: 🤡🤡🤡🤡🤡🤡🤡🤡🤡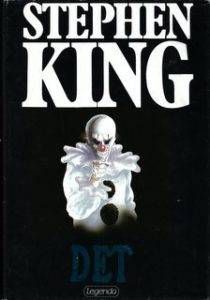 Swedish first edition. Were I still a child, seeking out adult images to entrance and terrify, I think this is the one that would really scare the bejesus out of me. Just picture it: a bald, dead-eyed harlequin Pennywise (not unlike The Gentlemen from Buffy) emerging from the shadows, while somewhere in the dark Stellan Skarsgård sits atop a Billy bookcase whispering Det, Det, Det….
Terror Rating: 🤡🤡🤡🤡🤡🤡🤡🤡🤡🤡
Ravenous for even more terrifying It covers? Well, feast your eyes on these abominations: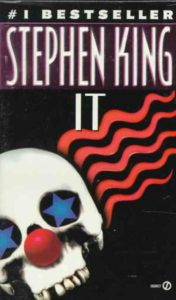 US mass market paperback edition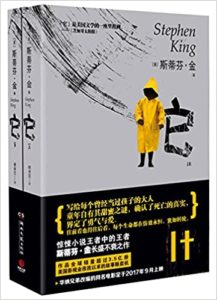 Chinese anniversary edition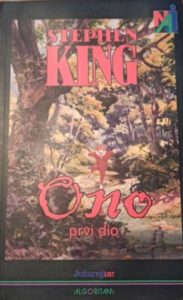 Croatian edition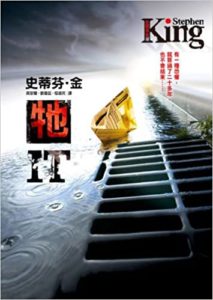 Chinese paperback edition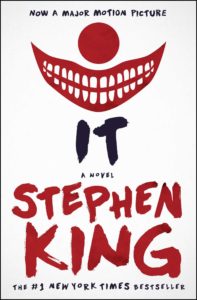 US Media tie-in edition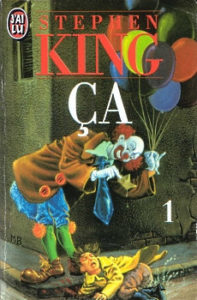 French first edition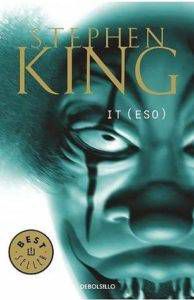 Spanish edition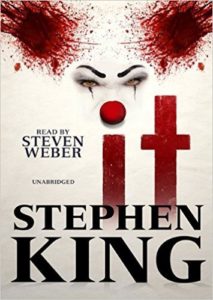 US audiobook edition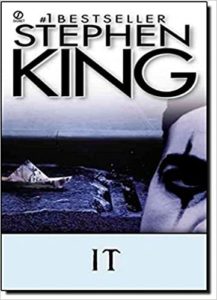 Mass market paperback edition
Spanish paperback edition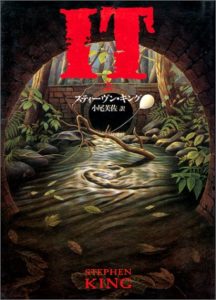 Japanese edition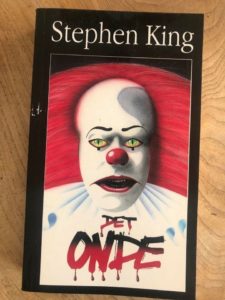 Danish edition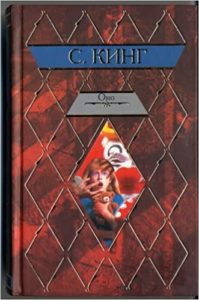 Russian hardcover edition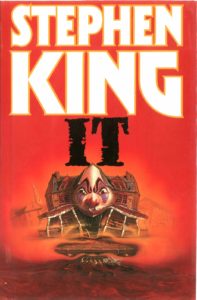 UK first edition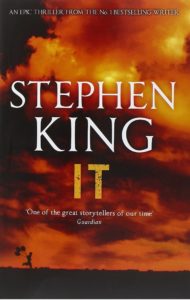 UK paperback edition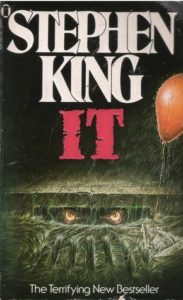 UK mass market paperback edition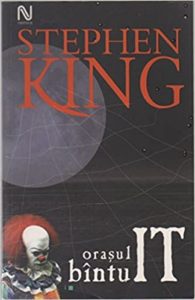 Romanian edition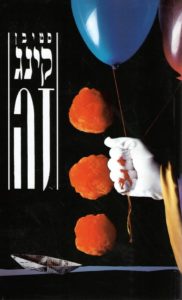 Hebrew edition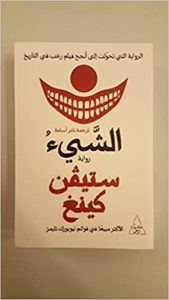 Arabic edition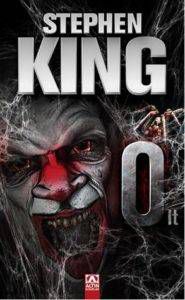 Turkish edition