10 Books by Indigenous Authors You Should Read
For Thanksgiving, Standing Rock and Everything In Between
Thanksgiving—a holiday that requires some "collective cultural and political amnesia" about the violence that white people inflicted on indigenous Americans ("It's a sham, but it's a sham with yams. It's a yam sham.")—is upon us, the situation at Standing Rock seems to get worse by the day, and hey, we have a new racist president-elect gearing up to take over the country. So this seems like a pretty good time to read some books by indigenous authors. It's not the same as taking action, of course, but for a little bit of perspective, empathy, and support, check out these ten works of fiction by indigenous writers that you should know about. After all, with a Thanksgiving as divisive as this one may be (depending on your family), you might be looking for good reasons to hide yourself away with a book.
Louise Erdrich, The Round House
Erdrich has become a literary mainstay, though she's probably still most famous for her debut novel Love Medicine. However, 2012's The Round House—which won the National Book Award that year—is my favorite. It follows a teenage boy on a reservation in North Dakota who seeks revenge for the rape of his mother by a white man—a crime that seems will slip through the cracks of the complex Federal and tribal laws. Seriously unputdownable.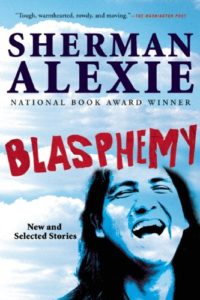 Sherman Alexie, Blasphemy: New and Selected Stories
Sherman Alexie is extraordinarily prolific, and his abilities range from poetry to short stories to YA to literary novels—really, you can reach blindly into the Alexie bag, because almost everything by him is great. You're probably already familiar with The Absolutely True Story of a Part-Time Indian—and if you haven't read it, it's likely already been recommended to you, and if it hasn't, well, read that one too—so let's settle on another, his recent collection Blasphemy. This book concludes with my all-time favorite story of his, "What You Pawn I Will Redeem." Even if you don't read anything else from this list, read this. Trust me.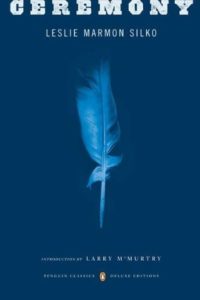 Leslie Marmon Silko, Ceremony
Silko's masterful novel tells the story of Tayo, a half-white, half-Laguna WWII veteran who returns to the Laguna Pueblo Reservation after the war as a broken man, deeply scarred by his experiences and suffering from PTSD. He struggles to find his place until he meets with a medicine man who introduces him to the spiritual ceremonies that might heal him—and maybe even the world. (Fun fact: Silko was in the first group of people to win a MacArthur Genius grant—that's how obvious a genius she is.)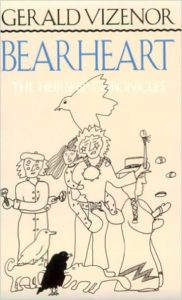 Gerald Vizenor, Bearheart: The Heirship Chronicles
This novel, a revised version of Vizenor's 1978 debut, is super wacky—it's a deconstructed journey through a gasoline-less post-apocalyptic America that weaves in satire, slapstick, the traditional trickster figure, and "mythic verism," a kind of paradoxical marriage of truth and traditional myth, while challenging—well, just about everything. For the irreverent (and strong-stomached) reader.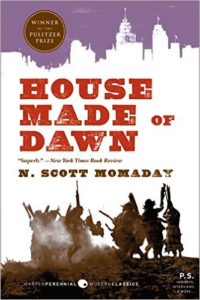 N. Scott Momaday, House Made of Dawn
This Pulitzer Prize-winning novel is an enduring literary classic based in part on Momaday's own experiences living on a reservation in New Mexico. This is another novel that focuses on the return of a young man from WWII to a home to which he can no longer quite relate. The result is a bleak, shifting, fragmented existence, torn between poles—a description that's just as true of the novel itself as it is of Abel's state of mind.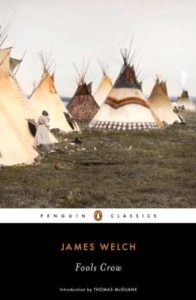 James Welch, Fools Crow
Set in post-Civil War Montana, the novel is a close look at the lives of a group of Blackfeet men and women, including Fools Crow, a young warrior, who face the influx of the white soldiers who will completely change their way of life—or kill them instead. A bittersweet bildungsroman, strange and beautiful, that will stick with you for a long time.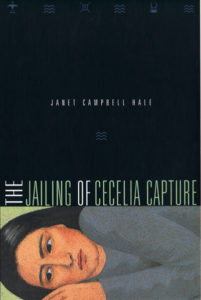 Janet Campbell Hale, The Jailing of Cecelia Capture
There is a long literary tradition of reflection novels—that is, books in which all or most of the action is taking place in a character's mind. This is a powerful addition to that canon, featuring the remembrances of Cecelia Capture Welles, law student and mother, who, after being arrested for drunk driving, looks back on her life, and the intersections of race, gender, family and history that brought her to the current moment.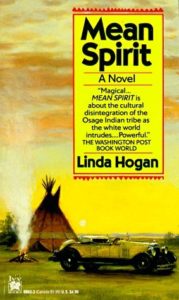 Linda Hogan, Mean Spirit
Not that Linda Hogan, obviously. This Linda Hogan is a novelist, poet, feminist, environmentalist and the Chickasaw Nation's Writer in Residence, so you know—different. Her 1991 historical novel Mean Spirit, which was nominated for a Pulitzer, is set in the 1920s, when prospectors discovered there was oil underneath Oklahoma. Of course, people lived on top of it. Violence, greed, and culture clash ensued.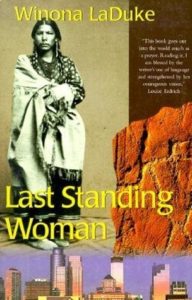 Winona LaDuke, Last Standing Woman
This novel by the two-time nominee for Vice President (on the Green Party ticket, with Ralph Nader) spans decades and generations of people living on the White Earth Reservation in Minnesota, telling stories of struggle, strength and resistance that culminate in an uprising for independence.
Paula Gunn Allen, The Woman Who Owned the Shadows
Feminist, editor, poet, activist and scholar, Paula Gunn Allen is a legend. This novel is one of the first ever to feature an LGBTQ Native American character, Ephanie, who struggles with her intersecting identities and her role in the world. The introspective, fragmented, stream-of-consciousness-style narrative brings us close inside Ephanie's head—after only a few lines, you'll have no doubt that the author is a poet.
Featured art: Fritz Scholder, "Indians with Umbrellas."
---