Yusef Komunyakaa on the Genius and Contradictions of Etheridge Knight
"Here's a poet who possessed a genius for surviving the harsh realities of America."
The collection of poems The Lost Etheridge edited by Norman Minnick seems perfectly timed. Etheridge Knight, the toastmaster—the man and the poet—is certainly hard to pin down. He would have been the first among us to stand up and say, "I'm not perfect." And at that moment the mask would have shifted slightly askance. Then, half-smiling, he would have said, "I wish I were a blues singer.
"Continuation Blues"
Well I / woke / up this morning —
Lord, and I don't know south from north,
Lying here looking / out / my window, Lord —
And I don't know south from north —
Just watching the Fall wind blowing
The dead leaves back and forth.
There's a little red red robin
Singing in a cedar tree —
There's a brave lil robin
Singing just as pretty as can be.
Lord — that damn / fool / robin's
Gotta be as confused as me.
–Etheridge Knight
Here's a poet who possessed a genius for surviving the harsh realities of America.
"A Watts Mother Mourns While Boiling Beans"
The blooming flower of my life is roaming
in the night, and I think surely
that never since he was born
have I been free from fright.
My boy is bold, and his blood
grows quickly hot / even now
he could be crawling in the street
bleeding out his life, likely as not.
Come home, my bold and restless son. — Stop
my heart's yearning! But I must quit
this thinking — my husband is coming
and the beans are burning.
–Etheridge Knight
While some may see Etheridge as a trickster straight out of African American folklore or central-casting, decked out in his blue denim overalls, we could also rightfully say that he was an intellectual survivalist who knew the sharp turns of urban America. The man left a legend of stories behind him. Some takes were contradictory, but they were always intriguing, always filled with vim and vigor, with emotional sleight of hand, always disguised by a shim of innocence.
"Song of the Homeless"
I am not Br'er Boll Weevil
Looking for fresh cotton;
I am not the red umbrella
On the subway seat, forgotten
By a lady in a fashionable suit
I am not a Wall Street broker
Selling junk bonds, nor a junkie
Selling toothpaste on 42nd St.
I am a Homeless Person in this
Land of the Free, a Homeless slave
In this Land of the Brave
–Etheridge Knight
It seems that sometimes Etheridge wanted to appear in contradiction, not wrestling with but embracing a duality: unlettered and wise, rural and urban, good and bad, or tough and sweet, cool and uncool. I remember saying that one could traverse the country and collect stories from poets as text for engaging biography. Consequently, Michael Collins' Understanding Etheridge Knight and Terrance Hayes' To Float in the Space Between are books that follow Etheridge's sojourns and collect stories about him into postmodern biographies.
Now, as I talk to many young poets drawn to the core of Etheridge's down-to-earth life and art, to see them fully engaged and moved, as his voice insinuates beyond ordinary boundaries of time and place, I realize that this poet, this man, is still "poeting" for the twenty-first century, and The Lost Etheridge takes him further into tomorrow: this collection may make one feel the poet has been caught in middle of working his signifying magic, making, and willing the spoken into the written, since he was known to bend time by reliving and teasing language into then and now, past and present. In many ways, this compilation of uncollected poems and fragments that form The Lost Etheridge deepens our understanding of this poet and shows him to us intimately, in his own words, and what inherently emerges is a fuller portrait, the full thrust of his intellect and wit.
"A Shakespearean Sonnet: To a Woman Liberationist"
If you knows        where the nose goes
When the doh's close —
Then / why / do        the ho's pose
Wid / doubt no clothes?
— Cause they knows
When the cold / hawk        blows
That / all / two's             and two's
Don't make no fo's.
–Etheridge Knight
________________________________________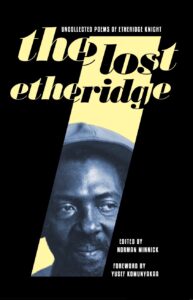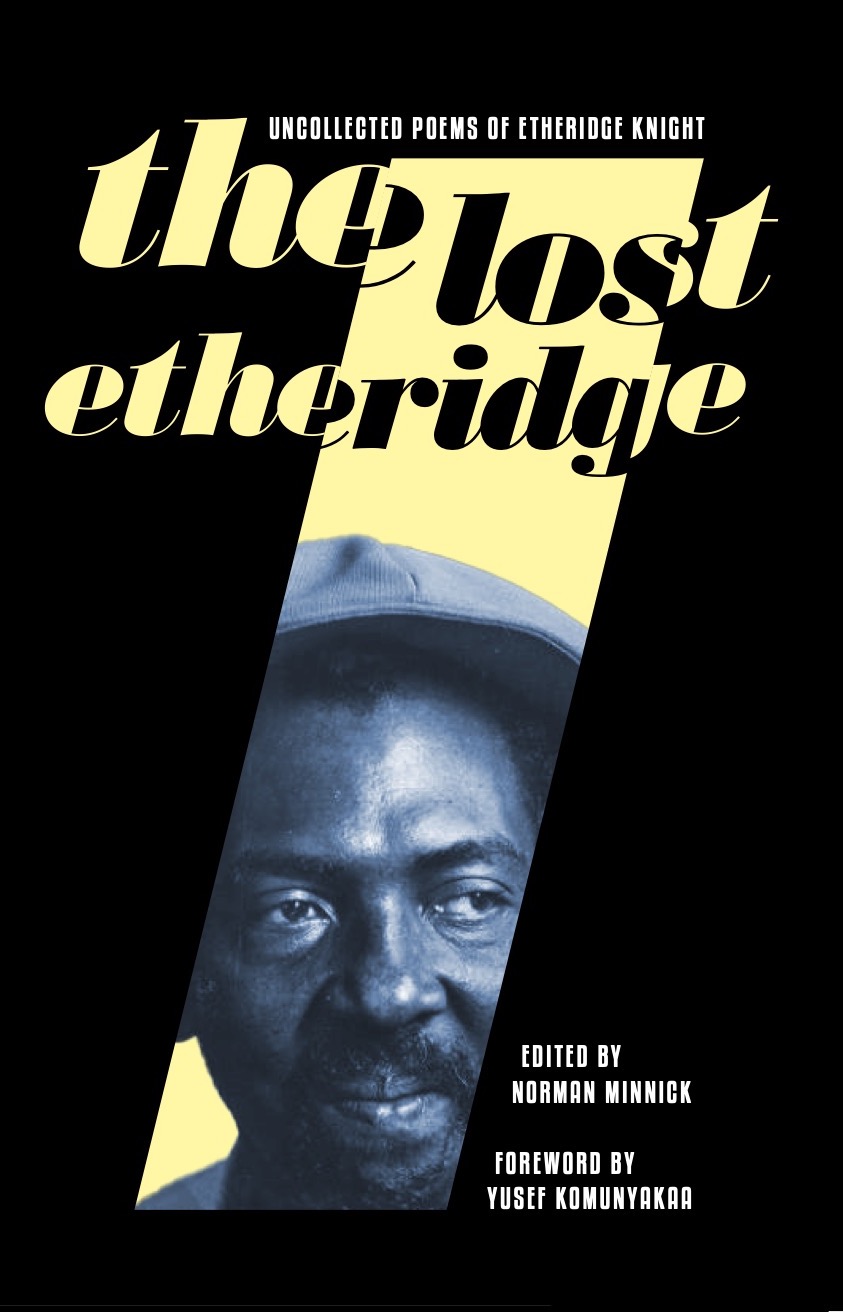 Adapted from the introduction to The Lost Etheridge: Uncollected Poems of Etheridge Knight, edited by Norman Minnick. Copyright © 2022. Available from Kinchafoonee Creek Press.
---