Yes, Sydney, Australia in the 1960s Was the Drag Capital of the World
Amid Deep-Rooted Homophobia, Titillating and Fantastically Glamorous Shows Were Annual Events
Doris was by no means the first person to call Sydney, as he described it to me, the drag capital of the world. Yet for a long time the city's rich tradition of cross-dressing flourished in the midst of a deep-rooted homophobia. Robert Hughes, in The Fatal Shore, his magisterial chronicle of Australia's penal origins, links this prejudice explicitly with the nation's historical shame.
The gay sex that erupted when male prisoners were sequestered together, he writes, "was doubly damned: first, because it was a crime under law"—as it would remain into the late twentieth century—"and second, because it was mainly committed by those who were convicts already." The ongoing determination to extirpate the vice was thus viewed as a patriotic "act of cleansing—for homosexuality was one of the mute, stark, subliminal elements in the 'convict stain' whose removal, from 1840 onward, so preoccupied Australian nationalists."
The louche freedoms of Paris and Berlin were alien to postcolonial Australia. But if you were in the know, there were places to go. Between the world wars, in addition to parks and "beats," as cruising spots were called, there were various lounges, such as the sleek Long Bar at the Australia Hotel (where Philip bought his phone box) or the working-class Belfields, on the corner of King Street and George Street—or Salt-Meat Alley, as the latter was nicknamed, since it was a prime place to pick up sailors—and there were restaurants, like the Shalimar, in the T&G Insurance Building, and the Latin Café, in the Royal Arcade, where you could cruise as long as you understood the codes and practiced them discreetly. None of these establishments were gay per se, but they had the kind of clientele—sophisticated, urban—that enjoyed a crackle of wickedness in the air.
As we now know, many gay men and women got their first taste of community in the armed services during World War II, which thus became a milestone in the development of a gay consciousness. But immediately afterward, the architects of the Cold War embraced the equation "perversion equals subversion," and the Australia of the period rivaled the States in both its bigotry and its ignorance. It was, in fact, even more repressive in matters of free expression: Gore Vidal's The City and the Pillar, a landmark of gay fiction published in the United States in 1948, was banned there until 1966.
The publication of Sexual Behavior in the Human Male (more familiarly known as the first Kinsey Report) in 1948, with its research disclosing that homosexual experience was widespread, brought extensive attention—along with shock and denial—to the subject of gay sexuality. The book, based on fifteen years of study with more than five thousand subjects, became an international bestseller. The churches, the medical profession, and especially the police all armed themselves for battle.
In 1952, Colin Delaney, who that year became police commissioner for the state of New South Wales, pronounced homosexuality and communism the two biggest threats to the nation; in 1958 he again called homosexuality Australia's "greatest social menace." The upshot was, in the words of two Sydney historians, "a culture of blackmail, entrapment, arrest, exposure, infamy and disgrace."
In 1952, Colin Delaney, who that year became police commissioner for the state of New South Wales, pronounced homosexuality and communism the two biggest threats to the nation
And yet this violent repression had a hidden psychological benefit. As Garry Wotherspoon explains in his Gay Sydney: A History, "The way in which doctors, criminologists and politicians talked of 'the homosexual,' and the ways in which newspapers and magazines reported this, put this new conception into the public discourse. Taken together, it meant that vital components for the creation of a homosexual identity were in place."
Once the silence was shattered, a dam opened. As stories about homosexuals, however lurid, became fodder for the press, gay men and women realized that there were others like them:
The very attempts to turn the machinery of state—and even society itself—against homosexuals led to unprecedented levels of publicity being given to homosexuals and homosexuality, to what they did and what they were. At one level and notwithstanding the . . . effects it might have on some individuals, this could be infinitely beneficial to other individuals who were suddenly informed that there was a vast homosexual world out there and that they—as individuals—were clearly not isolated and alone.
The discovery of community, however oblique, is one reason that, in the long run, this campaign to stamp out the unspeakable vice backfired. But even in the short run it met its match in the drag queens of Sydney.
The city had a tradition of elaborate balls, with an element of cross-dressing, that dated back at least to the 1920s. They generally took place at spacious halls in Kings Cross and other inner-city districts where the gay population was large and the tenor open-minded. These affairs were more bohemian than gay, attracting the kind of hipsters and free spirits who, a few decades later, would crowd into discos and punk clubs.
But the ambience was queer enough to provoke constant hounding by the police, since cross-dressing was against the law. You could get away with it for these special occasions as long as you could show you had on men's underwear and you weren't in drag on the street for more than an hour before or after the event.
By the 1950s, the Artists Ball, the Arts Students Ball, and the Movie Ball (where you dressed up as your favorite star), all usually held at the Trocadero Ballroom on George Street, were major annual events. Some of the drag has become legendary. Karen Chant (as she's been known since she was a young man), having read that Marie Antoinette held the record for the most fabric used in a gown, came up with an outfit for the 1957 Artists Ball that incorporated seventeen hundred yards of tulle, much of it bunched into a gargantuan fishtail; it was so enormous that she had to be carted to the Trocadero in a moving van.
The equally obsessive Claudia Wagner created an annual sensation by swooping through the doors in massive wigs that housed live birds. One year, a caged black chicken tied in place with a velvet ribbon to match her velvet dress attracted so much publicity—the Sydney Daily Mirror ran a story, with photographs, claiming that the bird had been abused—that she had to go on the lam. (She ultimately got off with a twenty-pound fine.)
Despite the notoriety of these events, the city had a lone drag bar, the Stork Club, out in the southern district of Sylvania. The club had to put up with continual police harassment. Then came the '60s. The drag clubs that began opening in 1961 were a phenomenon new to Sydney, but the clientele at most of them wasn't predominantly gay. The first was the Jewel Box, in Kings Cross, the project of a show-business entrepreneur whose showgirl wife had seen the "all-male" Jewel Box Revue in San Francisco and wanted to bring something like it to Sydney. Karen Chant—she of the seventeen hundred yards of tulle—soon became the compere (as emcees are called in Australia).
It wasn't long before the boys were dabbling in drag themselves. But although they weren't conscious of it at first, there was a generational divide between them and the older queens.
Like Finocchio's in San Francisco, which had been presenting female impersonators to tourists since 1936, the Jewel Box promoted itself as risqué entertainment for a sophisticated straight audience. So did Les Girls, a glittering spot, also in Kings Cross, that began its run in 1963 and kept going for several decades. In contrast, the Purple Onion, which opened that year a bit farther afield, in Kensington, aimed for the camp crowd. (Until well into the '70s, camp was the Australian word for gay; there was some regret when native terminology had to bow to international usage.) It was one among a spate of gay clubs and bars that would appear over the next two decades, even as sodomy remained a crime on the books.
The Purple Onion—where Doris would perform with Sylvia and the Synthetics a decade later—was hipper and trendier than the straight clubs. By the end of the '60s, Rudolf Nureyev and Margot Fonteyn, the Beatles, the Rolling Stones, Dusty Springfield, and Dionne Warwick had all dropped in; Cecil Beaton wrote about it in his diary. Mostly the acts, here and elsewhere, involved elaborate costumes and lip-synching (miming, in Australian parlance) to show tunes and pop hits, though a few of the performers talked and sang in their own voices—among them Karen Chant, who was a prime mover and performer at the Purple Onion.
The shows were titillating and fantastically glamorous—as seen from the tables in the audience. For the performers, the reality was starkly different. They generally earned starvation wages, and legally they lived in a penumbral zone: if they showed up at the club already costumed, they could be arrested between the cab and the entrance. Still, new drag clubs continued to appear, although a suspiciously high number of them went up in flames, presumably because they hadn't paid the protection money that in that era both the mob and the police expected.
In the meantime, gay bars, another new phenomenon, were opening as well. Around the world, gay men and lesbians began colonizing sections of cities where they could be openly and comfortably themselves. In New York, the gay neighborhood coalesced around Christopher Street. In San Francisco, it was the Castro. In Sydney, the stretch of Oxford Street between Hyde Park and Paddington Town Hall became known as the Glitter Strip or the Golden Mile.
Such was Sydney in the '60s, when the young Philip Mills began making his way to Doris Fish. "I've been in and out of dresses since as long as I can remember," he told me in 1986. He discovered the allure of Mildred's closet early on. "I remember being chastened for it, but not heavily. My mother and father did suspect that something was 'different.'"
He first put on a frock professionally, so to speak, when he was about twelve. At the end of every school year, one of the priests at the all-boys St. Augustine's would hire a theater, put half the boys in drag, and mount a big Broadway-style extravaganza, complete with strutting showgirls, cancan numbers, and kick lines. The begowned boys would sing in their own voices, which hadn't changed yet. In those years, when gender frontiers were comfortingly fixed, the families loved it.
The first production that Philip was cast in featured selections from Annie Get Your Gun and other Wild West–themed songs, performed on a set that was supposed to represent a saloon in the Black Hills of Dakota. (Philip would become an adept set builder before he graduated.) Even though he was only a chorus girl, he told me, he had the highest kick in the kick line and "a really nice big dress." He and Peter McMahon, who were still best friends, "took it perhaps a little more seriously than some of the other boys did. I wouldn't say that we were the most beautiful, but we were the most dedicated."
Two or three years later, Peter discovered the drag bars, and soon he introduced Philip to the excitement of slumming. "It was fascinating," Doris continued. "That was '67, '68"—so he would have been fifteen or sixteen—"and the things people were wearing were just fantastic. Oh, the fashions. Everybody used to dress to the tits. Even now there are still zillions and zillions of drag queens there, but then it was thicker and they were more fantastic—hairdos that were three or four feet tall, jeweled . . . and this was just daytime wear! There were drag queens in Sydney who were like covers of Vogue magazine times ten. Drag queens usually are much more than just women. They're aggressively glamorous."
It wasn't long before the boys were dabbling in drag themselves. But although they weren't conscious of it at first, there was a generational divide between them and the older queens. Presumably in the preliberation era it took a compelling need for a man to risk an activity as aberrant, and illegal, as parading around in women's clothes. For Philip and Peter, it was a hoot. Getting arrested for the crime of drag must have struck them as a ridiculous idea. Anyway, they were part of a generation for whom getting arrested, whether for smoking pot or for protesting the Vietnam War, was becoming a badge of honor. And so they could pick and choose what they liked, baggage free, from this strange adult world of cross-dressers. Ultimately, they and their contemporaries would transform it.
By the time Philip came out to his family, at around eighteen, they were, as I said, hardly floored. For years they had watched him advising his older sisters on fashion and makeup and his mother on decor. Ace and Mildred, whose own ideas had broadened by the late '60s, were extremely tolerant. (Over the coming years they were going to have a lot to tolerate.) But Philip did more than merely inform them. As Jacqueline Hyde explained to me, "Doris felt she had to educate her family and get them involved. It was a truth, homosexuality. People had to be made aware of this thing and accept it."
Though that resolve was partly Doris being Doris, it was also one more sign of how radically the self-image of young homosexuals had changed by the time of Stonewall. "Well, we did think it was our birthright," Jackie said. "The generation before us had no idea. Even the bohemians had no idea. Homosexuality and transvestism—that was unspeakable to them." As for Doris: "She would not allow people to be horrified at her. She would not allow censorship."
________________________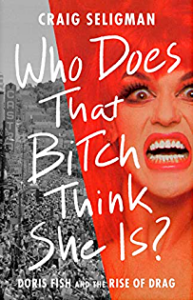 This article has been adapted from Who Does That Bitch Think She Is?: Doris Fish and the Rise of Drag by Craig Seligman. Copyright © 2023. Available from PublicAffairs, an imprint of Perseus Books, LLC, a subsidiary of Hachette Book Group.
---