Women Writing the West: 6 Nonfiction Writers You Should Know
From the Turn of the Century to Today
The wide-open skies and mountain vistas of the intermountain West are an iconic landscape, interpreted as an identity, a place of mind, and a dream destination for people from across the continent. However, it is a certain kind of person who tends to mediate this landscape for us. As Michael Branch writes in Raising Wild, "The dominant narrative of engagement with wildness . . . has been one that features men, often operating in solitude, removing themselves from the sphere of home and children in order to enter a distant green world where opportunities for heroism and adventure abound."
It's true that the canon of literary nonfiction about the American West includes mostly male authors who write of conquering its rivers and people, and revelling in the harsh landscape and solitude. Authors such as John Muir, John Wesley Powell, Ed Abbey, Wallace Stegner, Doug Peacock, Ivan Doig, Rick Bass, and others "go westward as into the future, with a spirit of enterprise and adventure," as Thoreau wrote.
But it's well past time to add women to the Western literary canon, not only to increase the diversity of writing, but to provide a different perspective on and interpretation of Western landscapes and people. As Blair Braverman writes in High Country News, "Men's coming-of-age stories are about going into the world and battling dragons . . . Women's coming-of-age stories are about going into the world and discovering that it's dangerous in new ways for them . . . men respond by taming the wild, making it civil, and women respond by going feral."
Braverman's quote is highly applicable to the six authors described below, all of whom are essential additions to the canon of Western literary nonfiction. These women share their experience of the Western landscape as arid, windy, and alkaline (the latter described by Terry Tempest Williams as "the liquid lie of the west"). A land of mesas and canyons formed by major geological forces, a land of extremes, from drought to flash floods, from searing summer heat to extreme winter cold. While seeing the landscape as harsh and unyielding, however, they nonetheless embrace it ("going feral"), creating a rich interior and exterior life in community with its present and past inhabitants, classic natural features, and unique regional flora and fauna.
Article continues after advertisement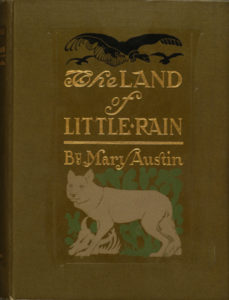 Mary Austin, The Land of Little Rain
(Houghton Mifflin Company, 1903)
Mary Austin's voice comes to us from the turn of the 20th century, with the unique word usage and language cadence of that era—she was one of the few women writing the west at that time. But still, her descriptions of the land between Death Valley and the High Sierras mirror the observations of the women authors who followed.
Austin describes seasonal water in a dry land where plants capture her full attention, though she also writes about animals (such as badgers and bighorn sheep) and people. She sees the Paiute and Shoshone tribes at home in the desert environment, but it's clear to her that theirs is a vanishing way of life. She describes Shoshone "heaven" as "tawny gold underfoot, walled up with jacinth and jasper, ribbed with chalcedony, and yet no hymn-book heaven, but the free air and free spaces of Shoshone Land."
She has a unique way of writing, employing a somewhat convoluted sentence structure while also incorporating a lot of metaphor: "I do not know just how long it takes to become saturated with the elements so that one takes no account of them. Myself can never get past the glow and exhilaration of a storm, the wrestle of long dust-heavy winds, the play of live thunder on the rocks, nor past the keen fret of fatigue when the storm outlasts physical endurance."
Article continues after advertisement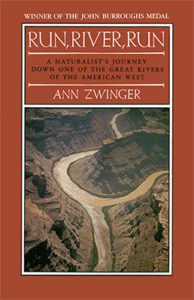 Ann Zwinger, Run, River, Run
(University of Arizona Press, 1975)
Zwinger is to western rivers what Rachel Carson was to the ocean (not surprising, since they shared a literary agent). Run, River, Run is Zwinger's account of her trip down the Green River, from its headwaters in Wyoming's Wind River Range to its confluence with the Colorado River. It won the John Burroughs Award for Nature Writing in 1976.
In Zwinger's narrative of the landscape through which the Green River flows, time folds in on itself, and history occurs simultaneously with the present. She deftly weaves together stories about the local Fremont Indians and historic exploration of and settlement in the region (Butch Cassidy's hideout at Brown's Hole, or the wagon train crossing at Sublette), with its natural history (plants, animals, river geomorphology), and even broader geologic history. "I feel no time interval, no difference in flesh between who stood here then and who stands here now," she writes.
While Zwinger remains in the background, focusing instead on the land through which she travels, her luminous writing can't help but connect you to the author herself. " . . . Aspen here . . . form solid groves that gleam like some Mycenaean treasure just opened to the sun," she writes. "The river becomes a way of thinking, ingrained, a way of looking at the world."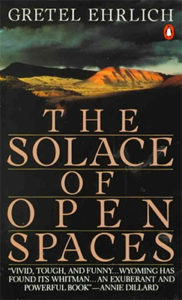 Gretel Ehrlich, The Solace of Open Spaces
(Viking Penguin Inc., 1985)
Ehrlich arrived in Wyoming from California in 1976 to shoot a documentary about sheep herding. She never left: "The arid country was a clean slate. Its absolute indifference steadied me." She traveled, working as a sheepherder and cowgirl, and eventually married a cowboy, settling on an abandoned ranch they planned to reclaim.
Ehrlich's narrative is all about the people of Wyoming—sheep herders, ranchers, cowboys, and indigenous people—who are formed by the landscape in which they live. "The solitude in which westerners live makes them quiet. They telegraph thoughts and feelings by the way they tilt their heads and listen," she writes. "Cowboys have learned not to waste words from not having wasted water, as if verbosity would create a thirst too extreme to bear." She also explicitly makes room for women in her Western narrative and strikes down the myth of the tough, macho Marlboro man: "One of the myths about the West is its portrayal as "a boy's world." But the women I met . . . were as tough and capable as the men were softhearted . . . This macho, cultural artifact the cowboy has become is simply a man who possesses resilience, patience, and an instinct for survival," she writes. Ehrlich's narrative shows a woman at home in a place she'd never imagined she'd ever be.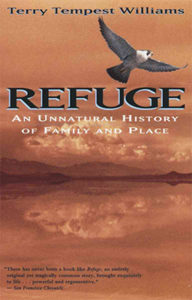 Terry Tempest Williams, Refuge
(Random House, 1991)
Terry Tempest Williams is an environmental and feminist activist, a former Mormon with a keen connection to the land, and a birder. Refuge focuses on Utah's Great Salt Lake, chronicling the period from September 1982 to July 1989, when the lake flooded and the local community engineered several major drainage projects to manage the rising water level. The flooding overran Williams's local birding spot and her personal refuge: the 65,000-acre wetlands of the Bear River Migratory Bird Refuge.
Williams tells the story of the expansion of Great Salt Lake, the loss of birds, and the human effort to engineer a solution, in tandem with the story of both her mother and grandmother being diagnosed with, treated for, and eventually passing away from, cancer. To her, the landscape is more than just a place. She sees our bodies as landscapes, and landscape itself as religion, as change, as rejuvenation, as anchor, as hazard, as challenge, as self, and as myth. "The birds and I share a natural history," she writes. "It is a matter of rootedness, of living inside a place for so long that the mind and imagination fuse."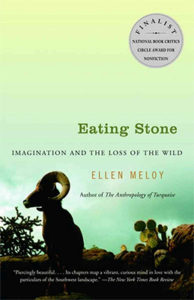 Ellen Meloy, Eating Stone
(Pantheon Books, 2005)
Ellen Meloy died suddenly in 2004; her book was posthumously awarded the John Burroughs Medal in 2007.
Meloy was a fierce advocate for re-connecting humans with wild animals. "Animals give us voice. They map a world we want to live in. Without them, we are homeless," she writes. This book was Meloy's ode to what she called the Blue Door Band, a herd of at-risk desert bighorn sheep (Ovis Canadensis nelsoni) living in her backyard on the Colorado Plateau. She explores the history of bighorn in the region through historical accounts and by visiting boulder fields of sheep petroglyphs, learning that the bighorn represented rain to several different indigenous groups. But what she ultimately shares with us is the canyonland landscape that defines these sheep, and the place she makes for herself there: "Disguised as an adult, I venture into the out there, as I always do, to get a feel for the world, to learn something, to breathe deep drafts of desert air," she writes.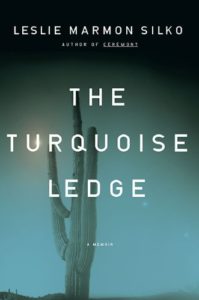 Leslie Marmon Silko, The Turquoise Ledge
(Viking, 2010)
Drawing on a rich family history that includes the Laguna Pueblo and Cherokee, and Mexican and European ancestry, Silko takes us to the heart of the Sonoran Desert near her home in Tucson, where she's lived for over 30 years: "Just before the sun rises over the mountains . . . a breeze stirs and there is a silence as it might have been 500 or 1,000 years ago . . . here the desert is as it always was." Silko is a master at cohabiting with nature: she shares her yard and the crawl space under her house with several species of rattlesnake. She makes food for wild bees and hummingbirds, and watches gorgeous, magenta-tinged grasshoppers feed on her flowers.
But her connection to landscape is also spiritual. To Silko, the land comes alive through the Laguna stories told to her by her grandmother and other family members: "The ancient ones are nearby. Sometimes late at night in the wind you can hear them sing or on a long hot summer afternoon you can hear them laughing and talking in the shade." Her daily walks through the local arroyos are focused on finding turquoise, which is associated with legends that bring desert rain: " . . . Turquoise Man [travels] with the rain . . . he calls for the rain so the runoff water come to the arroyos." The landscape is Silko's guide, showing her what she needs to see and learn.
__________________________________
For more contemporary writing by women about the west, explore the (non-fiction, fiction, and poetry) works of Mary Brave Bird, Rebecca Lawton, Jana Richman, Louise Erdrich, Layli Long Soldier, Melissa Sevigny, Barbara Kingsolver, Amy Irvine, Susan Tweit, and more.
---