Why We Should Read About the Soviet Past In Order to Understand Ukraine Now
Sofi Oksanen Recommends Books With an Eastern European Perspective
My journey to Ukraine might just have started with its most famous dish, bortsch. I ate plenty of it as a child in my second home country, Estonia, a place that has much more in common with Ukraine than its earthly cuisine and shared pickling expertise. Both of them were behind the Iron Curtain before regaining independence once the Soviet Union collapsed. We share the same experience of Soviet reality, forced collectivization, oppression of our culture and the same deportation stories. Stalin's transplantation politics were targeted against the resistance in both countries.
That's why the protagonist in my novel Dog Park is born to a Ukrainian-Russian family in Estonia: her Ukrainian grandmother was deported to Siberia but was never allowed to move back home. She ended up in the Soviet Republic of Estonia. This was the reality behind the propagated "happy internationalism": forced mixing of different ethnical groups was supposed to create homo sovjeticus. In Eastern-Ukraine this operation was successful enough to keep the Soviet-flame burning until the war started there eight years ago. Separatists armed by Russia were at first supported by Soviet-minded locals.
The paths Ukraine and Estonia took in the 1990s were different. Estonia restored its independence through the Singing Revolution, but in Ukraine the shift of power didn't actually take place. Following the turmoil in other Eastern European countries, the old communist elite were afraid of losing their privileges and made a decision to favor withdrawal from the Soviet Union. There was no revolution. From the point of view of the old elite the transition to independence was successful: they didn't lose anything and, sitting in the front row, they had a better chance to steal more when the privatization began. Oligarchs started to gather their riches and led the country into deep corruption.
We share the same experience of Soviet reality, forced collectivization, oppression of our culture and the same deportation stories.
The independent Estonia made swift moves and became a member of both the European Union and NATO. The corrupt elite in Ukraine instead maintained tight connections to Russia and they wanted to keep a tight grip of their position. Therefore, the integration with the West has been much more difficult for Ukraine. The people did however get fed up with the rotten system and Moscow-minded politicians, which made the Orange Revolution in 2004 inevitable, but it wasn't until the Revolution of Dignity in 2014 that the transition to democracy really took off. That is also when the war in Eastern Ukraine started.
When I visited Ukraine right after the Revolution of Dignity I was astonished by the change. Compared to my prior trips to Ukraine it felt like I had stepped into another world and at the same time it felt very familiar. I had followed the same kind of change in Estonia in the beginning of the 90s. Ukraine just toppled its Lenin-statues a bit later on and that's the right thing to do, because symbols of totalitarianism cannot breathe the same air as democracy. They simply don't fit in the same room.
Ukraine is rich in natural resources unlike Estonia. The Donbas-region in Eastern Ukraine has one of the largest coal deposits in the world and Ukraine has been the breadbasket of its Eastern neighbor since Tsarist times. There's plenty to fight over, not to mention the military industry located on Ukrainian soil, crucial to president Putin's aim to restore the might of the USSR. All of these play an important role in the fight overruling Ukraine and so does history: during the long years of colonization the Russian empire and Soviet Union rewrote the history of Ukraine to their liking. You can compare that narrative to any former Western colonial power writing the history of their subjects in Africa. In this colonial narration Ukraine is "little Russia" needing the protection and guidance of Mother Russia.
Ukraine toppled its Lenin-statues a bit later on… symbols of totalitarianism cannot breathe the same air as democracy.
In reality the years under the colonial rule, followed by oligarchy, lead to poverty and made Ukraine the poorest country in Europe. The "care" of Mother Russia also meant Russification. During this devastating assimilation process the Ukrainian language was banned over and over again and so was education in Ukrainian. Stalin even banned the Ukrainian letter G, accusing it of being "nationalistic," as there was no counterpart for the letter in Russian. The letter was restored at the same time as independence.
While former colonial powers of the West have started to acknowledge the abuse and wrong doings of their past, Russia has chosen the opposite direction: it's moving backwards and glorifying its imperialistic past. At present that narrative is acting as a justification for Russia's aggression towards Ukraine.
I started to write about Eastern Europe's recent past at the time, when my generation in the West lost its interest in any Soviet matters and the collapsed empire seemed like old news. From an Eastern European point of view, it was very far from that. The decolonization process of the Soviet occupation had started, and it was finally possible to write the history of Eastern European countries from their perspective, not through Soviet propaganda. I started by exploring the recent past of Estonia and moved on to Ukraine in the novel Dog Park. All the while the historical narrative of Eastern Europe in general has met only resistance from Putin's Russia.
From the latest news on this front, it's worth mentioning the destiny of Memorial, Russia's oldest human rights organization commemorating the victims of Soviet crimes. It has now been labeled as a terrorist organization by Russian authorities. In Russia, memory laws and memory wars have made the country a militant memocracy where the bloodstained past is glorified, and Soviet crimes denied. This development has made it all the more important to write and read about the Soviet past, which is a gateway to understand what's happening in Ukraine right now.
*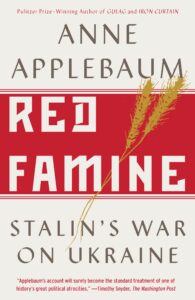 Anne Applebaum, Red Famine: Stalin's War on Ukraine
Holodomor was a politically motivated famine in Ukraine taking place in 1932-1933. In well-sourced Red Famine, Applebaum shows how the famine leading to the deaths of millions of people was one of Stalin's tools to oppress the Ukrainian resistance and to force Ukrainians to join collective farms. Being mostly targeted at Ukrainian speakers it was also a method to destroy Ukrainian culture. During the Soviet era Holodomor was not publicly acknowledged and Russian propaganda is still claiming that Holodomor was not a man-made famine at all even though Stalin regularly sold Ukrainian grain to the West whilst Ukrainians were starving to death. Applebaum's book is a well-written page-turner that also helps one to understand how Russia learned to weaponize different resources. At the time it was food, now it's energy. Natural gas pipelines from Russia to Europe are passing through Ukraine and transit fees are important to Ukraine. Energy is an excellent extortion tool for effecting Ukraine's economy.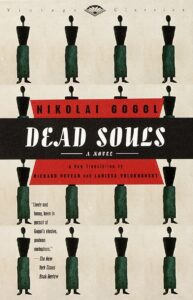 Nikolai Gogol, Dead Souls
Nikolai Gogol (1809-1852) is one of the most well-known authors of the 19th century. Most often he's considered Russian and his body of work is seen essential to Russian literature. But when you take a closer look to Gogol and his work, you can see the trails of Russia's cultural appropriation and the colonial approach to Ukrainian culture. Gogol himself was very much Ukrainian. Born to a Ukrainian-speaking family in Ukraine his background is visible throughout his literary work and Ukrainian folklore and songs influenced his writing deeply. At the time he had no other choice than to write his novels in Russian: Ukrainian language was banned, and amongst other things it was not possible to get education in Ukrainian. Besides, it was wise not to be profiled as a provincial "dialect" scribbler, but a son of the great empire. Gogol found himself often in a position where his loyalty towards the empire was questioned. Without showing patriotic feelings towards Tsarist Russia, one would've found difficulties in receiving imperial grants.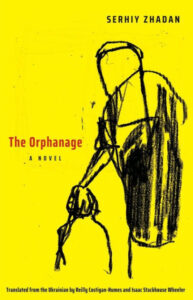 Serhiy Zhadan, The Orphanage
Ukrainian is the official language in Ukraine, but almost everybody also understands Russian. History, however, has created a situation where books written in Ukrainian travel less than books in Russian. There are less translators for Ukrainian, and Russian language studies have more resources globally. This problem is widely known from other colonial contexts as well. Ukrainian literature nonetheless has much to offer and one of the contemporary stars is Serhiy Zhadan, who has a wonderful sense of rhythm and musicality in his language. The Orphanage is a novel about Pascha, a teacher of Ukrainian language, who travels through a war-torn city to take his sick nephew back from boarding school to the family home. Zhadan is a master of metaphors and he creates very vivid portraits of ordinary people living in a battle-zone. In this novel his literary talent shines like painful stars over the urban landscape painted by the silence and noise of the war.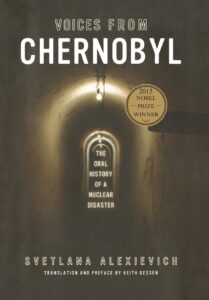 Svetlana Alexievich, Voices From Chernobyl
Ukraine gave up its nuclear weapons when the Budapest Memorandum was signed in 1994. The treaty included security assurances against threats to the territorial integrity and political independence of Ukraine, Belarus and Kazakhstan. Russia was one of the countries to sign the agreement but in 2021 it's clear Russia didn't keep its end of the bargain. Before the Memorandum, Ukraine had the world's third-largest nuclear weapon stockpile, controlled by Russia. After the nuclear disaster of Chernobyl, located in Pripyat, Ukraine, people really wanted to get rid of anything with radiation, but only if they were assured that they wouldn't need them. In 2021 many think the Memorandum was a mistake. Russia wouldn't have ever invaded Ukraine, if they'd had their nuclear weapons. Belarusian Svetlana Alexievich, one of my favorite authors, has interviewed hundreds of ordinary people for her novel. Voices From Chernobyl is a powerful testimony about people whose lives were changed by Chernobyl. This choir will go deep into your heart.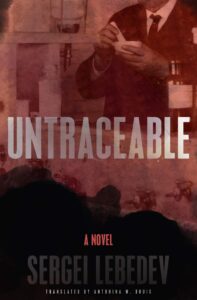 Sergei Lebedev, trans. by Antonina W. Bouis , Untraceable
We've all read news about how the opposition leader Aleksei Navalny was poisoned with Novichok and he hasn't been the only one. Russian poison deterrent, however, is much older and German POWs who had expertise in chemistry were taken to Soviet Union to develop poisons. When Russian author Sergei Lebedev ran into this detail, he knew he had to write about it, and I'm glad he did. In his novel Lebedev takes you into the minds of the people who actually created poisons and into the minds of those working in security organs. Untraceable is a literary spy novel touching yet another topic less popular in Russian contemporary literature: the Chechen war which helped Vladimir Putin rise to power.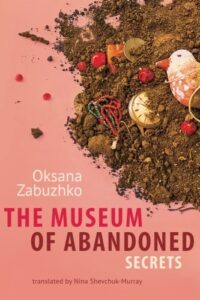 Oksana Zabuzhko, trans. Nina Shevchuk-Murray, Museum of Abandoned Secrets
In this novel, one of the most acclaimed contemporary authors of Ukraine, Oksana Zabuzhko, covers 60 years of Ukraine's recent history from Stalin's regime through the Soviet era to the Orange Revolution in 2004. Spanning several generations, the monumental novel shows how the resistance movement, Soviet repressions and Holodomar define the memory and identity of the second and third generation. It also tells of the Ukrainian Insurgent Army (UPA), which in Soviet narrative was demonized—just like now in Putin's Russia. In Russia's disinformation operations against Ukraine references to the UPA are common. In this passionate novel the album of memory is painted with a flowing stream of conscious and non-verbal ways to cope with trauma. To me reading the novel was almost a physical experience—just like memory can be.
---