Why Queer Stories Deserve Happy Endings
Susie Dumond on Positive Role Models
The first book I remember reading with a queer protagonist—not a book with a hilarious gay best friend, not a book that made a queer person the punchline—was The Color Purple by Alice Walker. Despite being a voracious reader and seeking out queer stories, I stumbled into my first queer book without any awareness of its sapphic content. As I read it, I thought, "This is gay, right? I'm pretty sure this is gay. Can this please be gay?" When I reached the scene where Celie and Shug were sexually intimate, I remember my jaw dropping and looking around the empty room where I was reading to see if anyone else was seeing this.
At the time, I wasn't out to myself or others, although I had many queer friends. Seeing Celie and Shug's ending—even if it wasn't a fully happy one, and they experienced significant amounts of pain and trauma along the way—felt like a revelation. Queer love was shown as something healing, a bright spot among the darkest moments in Celie's life.
A few years later, I came out as a lesbian. I went to college in Tulsa, Oklahoma, in the buckle of the Bible Belt. And then I met a girl and fell in love. Our relationship felt like uncharted territory. Is that how all relationships feel? Perhaps. But it seemed impossible to envision a happy ending for us. I didn't have any models of successful, long-term lesbian relationships.
Classic queer literature like The Well of Loneliness by Radclyffe Hall or The Price of Salt by Patricia Highsmith ended with tragedy and heartbreak. Contemporary (at the time) queer books like Fun Home seemed to relish in queer sadness and trauma. I'd simply never seen a happy ending for two women like us—in books, on TV, or even in real life.
As a reader, I've always loved romance and rom-coms for their charm, heart, and happy endings. But before I fully immersed myself in the book world, I didn't realize queer love stories existed in those spaces. I'd already been living my own queer love story for eight years when I read my first lesbian romance novel, When Katie Met Cassidy by Camille Perri, in 2018. I couldn't get enough. I started searching for more queer love stories and reading them as fast as I could. It turns out they had existed. They weren't in my schools, local libraries, or bookstores growing up, but daring authors had been wading into that uncharted territory for years.
Queer role models, hopeful stories, and opportunities to openly share and explore their identities is absolutely crucial for LGBTQ+ youth to make their way to adulthood.
While I was thrilled they existed, these rom-coms all seemed to take place in New York City, Los Angeles, San Francisco, or other coastal cities known for their liberal politics. I desperately wanted to see a love story like mine. I wanted to read about a couple whose conservative surroundings made their love seem all but impossible, but it blossomed anyway. (It turns out I had stumbled into my own happy ending despite the glaring lack of examples in popular media. That girl I met in college? Reader, I married her.)  And after a fruitless search, I decided if I wanted to see that story, I had to write it.
So I did. In late 2018, I wrote my first draft of what became Queerly Beloved. It's a rom-com about Amy, a lesbian in Oklahoma who finds love while navigating heteronormativity and homophobia as a baker, bartender, and bridesmaid-for-hire. And because I wanted to highlight a time in queer history that seemed to be passed over in the literary world, I set Queerly Beloved in the mid-2010s, where Amy's job in the wedding industry collides with nuanced conversations about same-sex marriage and the fight for queer liberation. And spoiler alert: Amy gets her happily ever after.
I'm lucky to be in fantastic company, as the LGBTQ+ romance and rom-com scene is full of phenomenal books this year. I wouldn't have believed the wealth of queer happy endings on bookshelves today if you'd predicted it even a few years ago. If I'd had a vision of this future way back in 2010 when I met my wife, perhaps it would have given me a little more confidence in how my own story would turn out.
The joyous explosion of queer rom-coms and progress in the fight for LGBTQ+ rights hasn't come without a terrifying backlash, however. I've spent the past couple of years torn between elation at seeing LGBTQ+ love stories in popular media and terror at the quickly growing number of "don't say gay" bills and legislation to block young people from discovering LGBTQ+ stories in many states across the country. This isn't an attempt to shield children from "sexual content". How many books did I read in school that featured straight couples with happy endings? How often was I told to imagine my future relationship with a husband? No, this is an effort to legislate LGBTQ+ people out of existence. And as any queer person who made it through their whole childhood without reading or learning about queer people in the classroom can tell you, it won't work.
As my story illustrates, a dearth of queer literature can't stop folks from being queer or finding love. But it can certainly make their road to self-discovery more difficult to traverse, and I worry every day about the young lives we will lose to homophobia in state and local communities. There's an immense danger in making queer kids believe their very existence is illegal and their potential for finding joy is slim-to-none. Queer role models, hopeful stories, and opportunities to openly share and explore their identities is absolutely crucial for LGBTQ+ youth to make their way to adulthood.
The literary world must fight back against book bans and legislation that aims to silence the voices of LGBTQ+ youth, educators, and advocates. The coordinated attack on free speech, world-expanding books, and diverse perspectives must be met with a fierce outcry to protect young people from closed-minded bigotry. It's not too late to stop this regressive wave from becoming the norm in schools and communities across the country. Whether or not you identify as LGBTQ+, I hope you'll join me in calling on your legislators to stand with their queer constituents and make sure all kinds of characters can find their happy endings.
__________________________________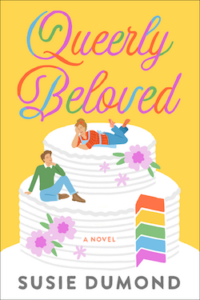 Queerly Beloved by Susie Dumond is available via Dial Press.
---