Why Jazz? Laura Warrell on Devotion to a "Dying" Art Form
The Author of Sweet, Soft, Plenty Rhythm Considers the Mysteries of Art and Love
I fell in love with a jazz album for the first time at university when a guy in my dorm brought it to a gathering on our floor. He was one of those awkward college boys always trying, and usually failing, to get girls into bed though he likely succeeded that night after lowering the lights and playing "Premature Autopsies," a sumptuous composition off Wynton Marsalis's 1989 record, The Majesty of the Blues.
I was a neophyte who had never drunk alcohol and had barely been kissed though I was fully prepared to grow up when the tune slinked into my eardrums with the flirtatious tickle of a piano and a lazy tap of drums. I listened intently as sinuous horns—at times whispering, other times howling—carried the tune to a mighty climax then settled into a kind of dirge as the Reverend Jeremiah Wright, Jr., delivered a sermon penned by the late Stanley Crouch who both lamented the presumed death of jazz and praised Duke Ellington as its greatest master.
In Sweet, Soft, I wanted to explore what that level of devotion feels like when it's offered to a "dying" art form, or at the very least an art form fewer people know or care about.
No one in that dorm room had ever heard such a record. Until then, we had all been children slurping cheap liquor as we listened to PE or Chili Peppers records and sloppily groped each other on the rickety cots of our rooms. That night might have shed whatever was left of our adolescence, as we all seemed to inhabit future selves who knew how to have sex and had been through some serious shit in life.
We just sat there listening as we took slow drags from cigarettes and really tasted the liquor in our glasses. One of the girls lit a candle and danced so she could watch her own shadow on the wall, and even though it was irksome and pretentious, it clarified what we were learning, which is that jazz was a way to drill down to some emotional marrow, some shimmer in our senses we didn't know we had in us.
*
The question I've heard more than any other since I began writing Sweet, Soft, Plenty Rhythm is 'why jazz?' The story itself makes sense to folks as it follows playboy musician, Circus Palmer, as he abandons his most beloved bedmate after she tells him she's pregnant and connects with new and past lovers. But why of all musical genres, does he play jazz? Do people even listen to jazz anymore?
The artist, usually male, who is devoted to craft above all else has been one of the richest characters in storytelling, from the tale of Robert Johnson to obsessives we see in films like Mo' Better Blues, Whiplash, Phantom Thread, the list goes on. Maybe we love these stories because so many great artists have access to a level of skill most of us don't. Often, the women romantically attached to these men willingly suffer because it's worth it, we're told, to nourish and bathe in the glow of their lovers' talent.
Circus originated from a doomed relationship I had with an elusive musician and though my fella had nowhere near the talent or personality my character did, I still found myself admiring what I saw as this man's intense commitment to his art, especially when I imagined such intensity directed toward me. Sure, there's a perverse pleasure in becoming involved with someone who will always place you second to some greater vision he has for his life, a pleasure that probably requires deep psychological work, but what I really lusted after was the sensuality I heard in his singing voice, the physicality with which he played his guitar, his devotion. What would it feel like to be loved by a man with those qualities?
In Sweet, Soft, I wanted to explore what that level of devotion feels like when it's offered to a "dying" art form, or at the very least an art form fewer people know or care about. My guy played neo-soul, rap and pop, familiar and easy-to-hum-along tunes, which I imagine intensified his appeal and sense of himself because his audiences (and lovers) connected directly with his work.
Some of the women in Circus's life, including his teenage daughter, Koko, ask him the question—why jazz—outright, thus delivering to him a tiny sting. I wondered what it would be like for this man to keep being told the music is dead when he's spent a lifetime making the kinds of sacrifices required to become adept at it. If someone can't understand or love what I love, how can she understand or love me?
Perhaps his sexual partners' apparent lack of appreciation for jazz, which Circus can extend to a lack of true appreciation for him, offers an excuse to flitter through their lives without landing, though it also explains why Maggie, the more successful and learned musician Circus impregnates, has a hold on his heart.
If part of the allure of the elusive lover is uncertainty, which offers the opportunity to fill the gaps in our understanding of him with hope and fantasy, then jazz becomes yet another arrow in Circus's quiver. Each woman has a different feeling about his art, from beguilement to indifference, but in many ways, it's the mystery of the music itself and his attachment to it that underlies her attraction.
In part, Sweet, Soft, wants to explore the mysterious effect of music on our hearts and loins, and so I thought it would be fascinating to see what happens when the art is both the disjunction and the lure in a relationship.
*
Jazz feels to me like the most literary of the musical genres because, like poetry and prose, an underlying logic and structure is operating beneath what might appear to an audience as a particularly elevated beauty crafted as if by magic. Jazz's reliance on improvisation and collaboration also contributes to this sense of magic because the players come to a piece differently every time they play it; they simultaneously bounce off each other yet still manage to make the melodies recognizable and precise. The players themselves then seem to transcend the ordinary, which is monstrously attractive to potential love interests turned on by that sort of thing.
Still, the music sounded like a mess of noisy instruments when I was a kid and the grownups around me were listening to it. But as I got older, especially after obsessing over The Majesty of the Blues, I learned to detect those underlying melodies and to perceive the textures and nuances that created wholeness.
Like many people, Miles Davis's "So What" became the first classic jazz tune I feel I "got" in a very basic way as I could hear how the call from the initial phrasing of the bass and the response from the other instruments created a backbone upon which everything else in the song lay. I could hear the soloists take variations on that original phrasing and recognized how the horns and piano may have sounded like they were running off in wild directions but were actually contained within a tone and scale. It's this duality I like in the music and see in my character, an inner rootedness below the surface of what appears untamed. For Circus, the root is music. The root is self.
*
It wasn't long after I got involved with my own music man that I realized his apparently deep focus only appeared when he played. Still, I kept chasing it whenever we got together and stayed in the relationship longer than I should have in hopes that I'd get to reside in that intensity with him. Like Circus, this guy had a messy personal life but became a different beast onstage, as if there was a well of feeling in him, a rich concoction of pain and otherworldly bliss that only surfaced when he made music.
I imagine the women in Sweet, Soft feel the same pull toward Circus after watching him play because—as often happens when we meet people through their art—they believe they're experiencing a more intimate articulation of his character, a peek into the id. Some of the women want to save him. Some want to be chosen by a man they see as a star. Some simply want to live inside the untouched sensuality he's stirred in them. And some, of course, truly love him.
There's no greater thrill than imagining you're accessing someone else's soul and, in turn, feeling your own soul come to life through them.
The jazz performers I studied often talked about music as the place they lived most fully. Mingus said he figured out who he was through it while, through singing, Billie Holiday was said to be able to "express herself the way she'd like to be all the time." Coltrane played as if he were "naked," and perhaps it's this raw physicality we see in the jazz player that seduces us. Every part of the body—hands, mouths, legs, breath—is involved in the sound and they often look like they're having sex when they play, which can make it an erotic experience for everyone in the room.
When we watch and listen to jazz musicians, we experience their full being, we watch them actualize on the stage, and we get to participate as our own bodies and spirits are moved. You don't have to become involved with a musician to experience this kind of bewitchery though it's a most direct route.
And so, one of the questions I wanted to answer in the novel (and hell, in my own romantic life) was how the magic of art so successfully clouds the vision of people who usually see more clearly.
*
Crouch talks about sacrifice in "Premature Autopsies" when he acknowledges the amount of study true mastery demands, and how lonely it can be to commit to the lifelong task. It might also feel lonely, he suggests, to seek nobility, which he thinks jazz possesses, in an ignoble culture and to choose hard work over life's more temporary delights. I imagine for those of us who fall for musicians, particularly jazz musicians, what draws us is the very human desire to ease other's loneliness or even to inhabit and experience its unique textures. Perhaps this is what draws us to most people.
As a creator myself, I understand this level of devotion and admire it in Circus Palmer. As a lover of creators, I get why he's so hard for the women in Sweet, Soft to shake. There's great eroticism in witnessing such focused acts of creation.
I often think back to that dorm room and the lush makeover "Premature Autopsies" brought to my being. Perhaps this is the key reason I gave jazz to Circus: there's no greater thrill than imagining you're accessing someone else's soul and, in turn, feeling your own soul come to life through them. Love does this. Sex does this. But so does art, and the intricacy and apparent mystery of jazz in particular begets one of the deepest soul connections. The bond can be as profound as it is exceptionally hard to walk away from.
____________________________________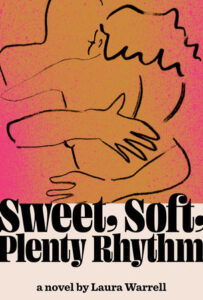 Sweet, Soft, Plenty Rhythm by Laura Warrell is available now via Pantheon. 
---