Who Will Win Bookstore of the Year?
Talking to the Finalists for the Publishers Weekly Award
*In an early bid for correction of the year, Books, Inc. is, in fact, the answer to the above headline, as was announced by Publishers Weekly on March 16th. 
At the end of this month, Publishers Weekly will announce its 2016 Bookstore of the Year. We got in touch with booksellers on the shortlist to ask a few questions about what sets their stores apart and what they love about the bookstore business in general.

Jessica Stockton Bagnulo and Rebecca Fitting, Greenlight Bookstore, Brooklyn
Which books are you currently handselling?
Jessica: What Is Not Yours is Yours by Helen Oyeyemi
Rebecca: Evicted by Matt Desmond
I know Greenlight Bookstore is planning on opening another location in Prospect Lefferts Gardens! What is the timeline for that, and how will the new store differ from the current store?
Jessica: The timeline on the new store has a lot of variables, but we're hoping for fall of this year. The building where the store will be is still under construction, so a lot depends on the contractors and the New York Department of Buildings! The store will be of a similar size to our Fort Greene store, but very much of its own neighborhood, Prospect Lefferts Gardens.
Rebecca: I'd just add that every store is different. I like to think of them as siblings—similar, related, but definitely with a personality of their own. Neighborhood personality aside, just the physical layout alone will make it different. Both stores will be similar square footage but the PLG store is a long narrow rectangle and Fort Greene is a sort of broad triangle. How the books and sections lay out inside will make them feel like very different stores.
What makes your store stand out from other indies, in your opinion? I know the indie bookstore community is one large family, but I'm curious what your specialties are and the accomplishments that you are proud of.
Jessica: I think, at our best, we stand out because of the connections we've been able to make with our community. Our partnerships with local cultural institutions and businesses, and our ability to welcome readers of all interests and demographics into our store space and our events, are part of our strength. We learn from our neighbors, and I think it's possible we've been able to make strides in representing women and people of color in our curation and programming because that is truly what our audiences want and support. (It feels so like tooting our own horn to say this, but you asked!)
Is there an anecdote you can share that shows how unique your store is? Whether it's a particular author event you hosted, a book you've handsold tons of copies of, etc.
Jessica: Remember the day Go Set a Watchman and Between the World and Me were both released? Coates outsold Lee in our store that day by a factor of 3 to 1.
Rebecca: Oh man. It was so much fun to live-tweet the sales of those two books. Hand over fist, Coates won—not just at its release, but overall.
Jessica: I'd also be remiss if I didn't mention that we host events in partnership with the Brooklyn Academy of Music, one of the most beautiful and cutting-edge theater venues in the country. Last year our joint programming featured the likes of Elvis Costello, Elizabeth Gilbert, and Gloria Steinem—seeing an audience of many hundreds in a gorgeous theater for a book event in Brooklyn is always magical, and a one of a kind moment.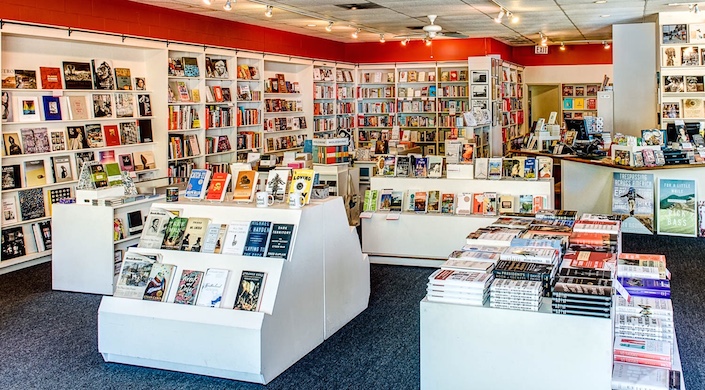 Jeremy Ellis, Brazos Bookstore, Houston
Which books are you currently handselling?
We joke that there is a Cult of Mark based around our store manager, Mark Haber. Mark is very passionate about translated literature, and he's led a little revolution here. We sold more than 100 copies of The Door by Magda Szabo before the Times listed it as one of the best books of 2015. He's also sold close to 100 copies of Sergio Pitol's Art of Flight, which has surprised us all. Most of the booksellers on staff have at least one or two books like this, but Mark really knows how to convey the passion he has for these books and it makes him a star.
What makes your store stand out from other indies, in your opinion?
We've worked very hard to develop a different kind of web content that I feel has made a big difference to our business and our identity. Each week we post three new articles that can be full-length features or staff chats or topical lists. We are always working to refine that platform and I think we've done a pretty good job amplifying the interests of the booksellers and the store.
Is there an anecdote you can share that shows how unique your store is? Whether it's a particular author event you hosted, a book you've handsold tons of copies of, etc. 
Last year we produced two coloring books in house for special events. The first was for the release of Colorless Tsukuru Tazaki and His Years of Pilgrimage by Haruki Murakami. Keaton, our book buyer, joked that since the novel was colorless it seemed like a coloring book was necessary. I agreed and the entire staff (and a few super-fan customers) put together the concepts of the book in three days. I created the coloring pages a week later and sent it to the printer. It was a huge success. We sold the 150 copies we made in a few weeks.
Later we followed it up with the Hemingwasted coloring book we made for Independent Bookstore Day in 2015. We wholesaled these to indie bookstores across the country and still sell copies in the store.
Is there any exciting news you can share about the future of your store?
This year, we're producing Summer of Kubrick. We're working with several organizations to run book clubs, parties and screening of films from Stanley Kubrick, the most literary of filmmakers, This will be our third "Summer of…", following Shakespeare last year and Proust for our 40th anniversary in 2014.
Chuck Robinson, Village Books and Paper Dreams, Bellingham, Washington 
Which books are you currently handselling?
I spend much less time on the floor than I have in past years, but Ruth Ozeki's A Tale for the Time Being has been our Whatcom Reads book of the year and I've recommended it to many folks. I'm a huge Jim Lynch fan and will be recommending Before the Wind, Jim's new book from Knopf. The Boys in the Boat was a great northwest story and I've hand sold it to many folks. Other booksellers in our store are hand selling a variety of books, including Julia Claiborne Johnson's Be Frank With Me.
What makes your store stand out from other indies, in your opinion?
Many indie bookstores are connected closely to their communities, and in that we are not an exception… except that we've made it our mission: Building Community, One Book at a Time. We have, as a company and personally, been deeply engaged in our community.  I have just finished two five-year terms as a community college trustee, and am currently on the Whatcom Community Foundation board. In 2008 Village Books was named the Washington State Outstanding Philanthropic Small Business. The bookstore has built numerous partnerships with local nonprofits and continues to consider community building as our main mission.
Is there an anecdote you can share that shows how unique your store is? Whether it's a particular author event you hosted, a book you've handsold tons of copies of, etc.
We just completed our eighth year of co-sponsorship with all of the libraries in Whatcom County—public and academic—of Whatcom Reads, a one county, one book program. Ruth Ozeki, author of A Tale for the Time Being, was this year's author and recent guest in the community. Our store sold more than 750 copies of the book, and donated 01 percent of the proceeds to support the program that brings the author to the community.
Is there any exciting news you can share about the future of your store?
At a time much of the media would have the public believe that bricks and mortar indie stores are dead, we—like other indie stores around the country—have recently opened a second location half an hour away from our 36-year-old main store. There, too, we're engaged in building community through partnerships in the community, beginning book groups, and contributing to local non-profits.
Michael DeSanto, Phoenix Books, Essex Junction, Vermont 
Which books are you currently handselling?
This is where it gets tricky, because I do very little handselling anymore. I've got three locations and we're working on more, and that's where I am at! I will throw a book out that whenever anybody comes in for a book gift, I have them try a locally published book called Syria, Remember Me. It's a collection of photographs from Syria before the war. It's a beautiful book. It was photographed and written by Deborah Felmeth.
What makes your store stand out from other indies, in your opinion?
I'll put it to you this way. The Essex store was opened eight years ago with our own investment, strictly our own investment. The Burlington store was opened because we used a community supported enterprise model. We actually received support from investors who literally loaned money to the store which can be repaid after ten years either in cash or they can convert it to ownership… and we also had people purchasing a thousand dollars of book credit in advance, and that helps you buy the inventory and keeps the investment costs manageable. We had several hundred people buy a five-year book club membership. We sell a book club membership for 30 dollars a year that gets you 20 percent off books and 10 percent off non-book items, and that's it. We communicate with them. They become the core of our email list and our Facebook. The primary goal is to tie them to the store for a long period of time.
And then I think we hit critical mass when the leaders of Rutland, which is an area a couple of hours south of us here, approached me, and asked if we would be interested in talking about opening a bookstore in Rutland because Rutland had in fact lost their last independent bookstore. So I went through a series of meetings in November of 2014 with the business community and the political community, who were all involved in trying to do this. They came to this meeting and said listen, we think Rutland is growing, and we think you'd be a great addition to our community… In this case, the community was offering to do things for us. So we ended up with 60 people who pre-bought books for a thousand dollars a pop, and I was also able to find a local person to serve as my bookstore manager/owner down there in Rutland, because I actually live in Milton two hours north. When you're marketing your company as local that gets a little far. This became the new template for us. We look for someone in the locality to invest in the company as the owner and to serve as the local manager for the store. So any new store will have the same model.
Is there any anecdote you can share that shows how unique your store is? Whether it's a particular author event you hosted, a book you've handsold tons of copies of, etc.
What I'm telling you, none of what we do is unique to my store—it's the totality of our package that I think makes us truly unique. If there's something that an independent bookstore does well throughout the industry, we incorporate it… we try to look to our friends in the bookstore industry for things that work, and we do… But the ideas that we get have all been tried somewhere else first. I say that with all humbleness. It's the totality of capturing all of these great ideas and putting them into our stores. When we did the Elizabeth Warren event about a year and a half ago, in June of 2014, Macmillan approached us at the last minute and said oh by the way Senator warren is coming to Vermont would you like to host an event for her, with three weeks to go? We mobilized our team and put together an event that had well over 500 people attending it that sold more than 300 books, and received all that good kind of press that comes with it. The nimbleness and speed and efficiency with which we can move is one of the things that make us successful. 
Is there any exciting news you can share about the future of your store?
The mission for the company really revolves around how the Rutland Stores and the Burlington stores came about, which is to keep an independent bookstore going in local communities that want them. In that case we value the contribution an independent bookstore makes to a local community, and we value how a local community sustains independent bookstores. That's what we look for now. That's the mission.
Michael Tucker, Books Inc., California 
Which books are you currently handselling? 
I'm in the main office, so I'm not really handselling, other than recommending to my own staff what I'm reading. The new Mark Kurlansky, Paper. It's like Cod, it's one of those trips through history that he is brilliant at. I just finished Pacific by Simon Winchester. Joy Williams has a book coming out that's sort of brief, 99 Stories of God.
What makes your store stand out from other indies, in your opinion?
We have a tremendous events program, and we did over 1,200 author events last year. And we do a huge amount with our children's department, it's fantastic. We have a school fair program, we have about 45 school fairs, but we also do in-house fairs. Our kids department really has grown, and is really engaged with the libraries and schools. We have buyers in every single store dealing with their community.
Is there any anecdote you can share that shows how unique your store is? Whether it's a particular author event you hosted, a book you've handsold tons of copies of, etc. 
We're all about the handsell. Every year with Random House, we do a month long backlist handselling contest. It has to be a book that has been on backlist for at least a year. The winner of the contest is whoever sells the most of one particular title. And there are some eclectic titles out there… Those kind of events are indicative of the kind of customer service and intimacy we want to have..
[One bookseller] sold so many City of Thieves that the publisher sent him an award. Bill works part time. He is in his late seventies, and he's just a selling machine. People love to come in and get his recommendations. Each store, the character of the store is so different. The individual stores are so completely different, the staff are so completely different. 
Is there any exciting news you can share about the future of your store? 
We just opened in North Berkeley on Shattuck Avenue. The space stood empty for seven years, which was amazing to me, because it's a great literary neighborhood. We just reopened the airport bookstore out at SFO in terminal 3, the United Terminal. That's a 3,000 square-foot store that's a terrific location for us. In Santa Clara, we're just starting construction now, and we'll be open in June.
---