Who Are Some of the Best Kid Narrators in Literature?
Chris Whitaker Recommends Harper Lee, Angie Thomas, and More
The thirteen-year-old protagonist of my novel, We Begin At The End, is stoic and heroic, hot-headed and humorous and unflinchingly protective of her broken family. She's also a child struggling, and that can be a very powerful, emotive thing to witness. And while we, as readers, are forced to be passive observers, we can still hope and dream for a better future for the characters we care about. Books that feature children tend to have one thing in common; like them or not, you can't help but wish for their happy ending.
*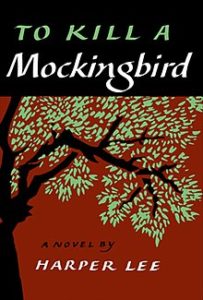 Scout
Harper Lee, To Kill A Mockingbird
Atticus Finch is pure hero, but for me it's Scout who steals the show. I'm a sucker for a scrappy teen, and they don't come much scrappier than Jean Louise.
We all know the story: Maycomb lawyer Atticus takes the case of Tom Robinson, a black man accused of raping a white woman, and in doing so invites a world of trouble to their small Alabaman town. The book was published in 1960, and so much of who Scout is, and who she strives to be, is far at odds with how girls were expected to behave. She climbs trees, walks barefoot, and fights with boys. But it's her faith in the innate goodness of people that sets her apart, even as the story progresses and she's faced with the horrors of racial prejudice, her moral compass remains as true as her father's.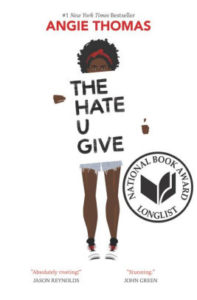 Starr
Angie Thomas, The Hate U Give
Though inspired by the Black Lives Matter movement, and shining a much-needed spotlight on prejudice, injustice and institutional racism, Thomas' novel also has all the elements of a gripping thriller with beautifully drawn characters. The only witness to the police shooting of her unarmed friend, Khalil, sixteen-year-old Starr must somehow come to terms with her grief, whilst also walking the tightrope between testifying in front of a grand jury, speaking out on Khalil's behalf, and keeping the carefully constructed boundary between her home and school life from crumbling. Brave beyond her years, the world would be a brighter place with more Starrs in it.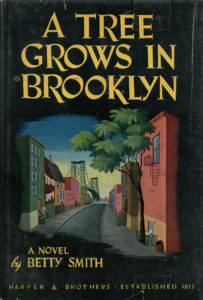 Francie
Betty Smith, A Tree Grows in Brooklyn
Eleven-year-old Francie takes us on a journey through the neighborhood of Williamsburg, Brooklyn, circa 1912. Strong, sensitive, insular, Francie adores her drunken dreamer father, her favored brother, and hard-working mother. There's a quiet beauty to the joy she garners from reading a book, sifting through junk, and simply watching the thrum of the neighborhood from her place by the fire escape. She sees the best in the world around her, quite unaware of just how little her family has. I adored every page, and Francie is a character I won't ever forget.
Johnny
John Hart, The Last Child
This book will always hold a special place in my heart; after reading John Hart's brooding thriller, I quit my city job and gave writing a shot. I was totally inspired by the fact that John had left a successful law career behind in order to pursue his dream of being an author.
The story follows Johnny Merrimon as he stalks the bad men of Raven County in an attempt to track down his missing twin sister, Alyssa. Johnny is a badass; he's fearless and, despite his tender years, won't let anything or anyone get in his way. Also look out for his endearing relationship with best friend, Jack. If I wasn't such a badass myself, I would've teared up reading those last lines.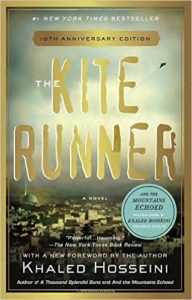 Amir
Khaled Hosseini, The Kite Runner
My gosh, this book! The story, following the enduring friendship between twelve-year-olds Amir and Hassan in war-torn Afghanistan, just slayed me. Amir is from a wealthy family, and Hassan is his loyal, kindly servant. Entitled and elitist, Amir's betrayal of his self-sacrificing friend is both brutal and heart-breaking, but his journey towards redemption is truly mesmeric.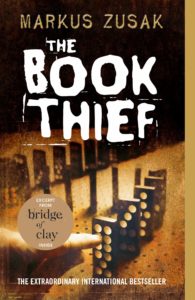 Liesel
Markus Zusak, The Book Thief
"Here is a small fact—you are going to die." With Death as a narrator, the story takes us to Nazi Germany and follows nine-year-old Liesel as she moves in with her foster family on Himmel Street. It might sound bleak, but it's full of humor, beautifully written, hugely ambitious, and at its heart is a story that celebrates the power of words and the power of love. Liesel is at once solemn, courageous, and inquisitive. And when her foster-father agrees to hide young Jewish, Max, Liesel strikes up a beautiful friendship with him that endures the most difficult of times and brings her sense of what is right to the forefront. Also, her relationship with local boy Rudy is one for the ages. I still miss him.
__________________________________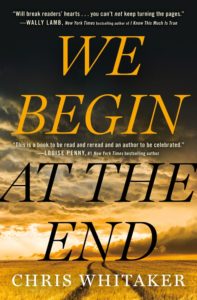 We Begin at the End by Chris Whitaker is available now via Henry Holt & Company.
---