Where Hemingway Went to Write, After Partying in Venice
We Could All Use a Quiet, Rustic Island...
Harry's Bar was down just a couple of blocks from the Gritti in the direction of Saint Mark's Square, and Ernest Hemingway quickly succumbed to the seductive charm of the place, with its sleek 1930s design, cosmopolitan chatter, delicious seafood, and well-trained bartenders. Giuseppe Cipriani, the ebullient owner, always greeted him with loud theatrics. After only a few days in town, Hemingway was already saying hello to half the people sitting at the low, comfortable tables. The crowd was eclectic and worldly—the perfect recruiting ground where he could pick new members for his growing Venetian entourage.
He had two favorite drinking buddies. One was Princess Aspasia of Greece, a tall, formidable lady who lived on the island of Giudecca and crossed the canal every day to take her meals at Harry's Bar. As a young woman, Aspasia Manos, a commoner, had secretly married King Alexander I of Greece. Their union caused such a scandal they were forced to flee to Paris. They were allowed back to Greece only after agreeing she would never be queen. But within a year, a monkey they kept in the palace bit the king and he died of septicemia. Aspasia retired to Venice. She still had quite a royal aura about her, and good stories to tell.
The other regular companion at Harry's was Carlo di Robilant. His mother, Valentina, was the last of the Mocenigo, an old family that had given seven doges to the Venetian Republic. Carlo had been a pioneering seaplane pilot and had been called back to duty as a reserve officer in World War II. After the war, he had struggled to hold on to a job and had fallen on hard times. He was a sweet man, tall and thin, with deep blue eyes and the remote gaze of the heavy drinker. His wife, Caroline, a North Carolinian with a wry sense of humor, quickly befriended Mary, and the four often dined together.
The Hemingways were having such a jolly time in Venice that when the solicitous Alberto Mondadori organized another shoot—this time at the house of Baroness Marga Marmaros Legard, near Siena—the prospect of traveling down to Tuscany appealed very little to them. Mary conveniently developed a cold, which Hemingway used as an excuse to wire his belated apologies to the baroness. "I hope we have behaved correctly," he wrote to Alberto, fearing he might have made a faux pas; he insisted that Mary's illness was true and not "diplomatique." Not to worry, he himself would handle the baroness, Alberto told him—adding, rather touchingly, in his ungrammatical English, that from the moment he'd met Hemingway he'd always done his best to please him, "as I wished not to ennoy [sic] you and to be a friend and not a businessman for you."
Mary was actually fine, and after resting one day she was up and about, in time to welcome Fernanda Pivano and Ettore Sottsass, who arrived in Venice for the weekend. The Hemingways liked to have them around. "They are so loving and keen-witted and candid and . . . interested in everything we say," Mary noted.
*
As much as Hemingway enjoyed the company of his new Venetian friends, he was growing anxious about his work. Duck-shooting parties, drunken evenings at Harry's with eccentric aristocrats, lunches and dinners in local osterie—it was all good fun, but it was getting in the way of his writing. Apart from letters and postcards, he had done no writing to speak of since leaving Cuba. He vented his frustration to Alberto Mondadori, telling him he'd rather "write 100 words anytime (if good words)" than shoot ducks. "I HAVE TO WORK. People kill me . . . You never bore me . . . but many people have a corrosive effect on my boilers and at this moment I have to work badly."
Hemingway's solution was to move to Torcello, the Byzantine island in the north part of the lagoon. Cipriani, the proprietor of Harry's Bar, owned a rustic country inn on the island, with a restaurant downstairs and a few bedrooms upstairs. He invited the Hemingways for an outing on All Saints' Day. They took a motorboat out, passing by Murano, the island of the glassblowers, and Burano, with the colorful houses of fishermen. In Torcello, they had a pleasant lunch, looking out at the vineyards and the steeple of the old basilica. The place was enchanting, and the Hemingways decided to move there for the rest of the autumn, abandoning the Portofino idea. They returned to Venice that evening by vaporetto, the public water-bus, "Papa singing to the gondoliers in the Venice canals." Two days later, having packed part of their belongings, they motored back to Torcello "with the fog deepening and the night closing down . . . [and the gondolas] slim black sickles curving suddenly out of the grey moving wall of mist."
Mary thought it was all "mysterious and wonderful."
*
Torcello was a thriving island community on the far edge of the Byzantine Empire long before Venice sprang to life. Indeed, its decline coincided with the rise of Venice. The old Basilica of Santa Maria Assunta, with its splendid mosaics of the Last Judgment, and the nearby Church of Santa Fosca were the only vestiges of the island's glorious past.
"Duck-shooting parties, drunken evenings at Harry's with eccentric aristocrats, lunches and dinners in local osterie—it was all good fun, but it was getting in the way of his writing."
Now there were only about a dozen families on the island, living mostly off their vegetable gardens, orchards, and vineyards, the fish and crabs they pulled out of the brackish canals, and the fowl they shot in the lagoon. The Hemingways settled into a spacious suite at the Locanda Cipriani, with a small living room, a fireplace, and a bedroom, Mary noted in her diary, with "bone clean scrubbed wooden floors and featherbeds." They arranged their books on the bookshelves, moved the furniture around, and made themselves a little nest. Hemingway went straight to work on a piece he had promised to Holiday magazine on the fishing life in Cuba. In the afternoons, he went bird shooting or fishing with Emilio, the caretaker at the inn. Or else he followed Don Francesco, the talkative priest, on his walks around the island, engaging him in rambling conversations about religion and death.
Mary explored the basilica and the other sights on the island, and visited the lace makers on neighboring Burano. Occasionally, she took the vaporetto into town to get her hair and nails done, run a few errands, and have lunch at Harry's Bar. During those first two blissful weeks on Torcello, she had plenty of time to be with her husband. They dined alone most evenings at the inn, at their table near the big fireplace. Hemingway entertained Mary with stories about growing up in Oak Park, which often turned into excuses to rant about his mother—"that bitch"—who couldn't raise a family and made life hell for his father. He told her Indian stories and fishing stories from his youth up in Michigan. Mary was an attentive listener, recording in her diary everything he told her.
Once Mary had "done" Torcello and the neighboring islands, there was not enough to keep her busy during the day. When Lucy Moorehead, an old friend from her war days in London, invited her down to Tuscany, where she now lived with her husband and their two children, Hemingway encouraged her to go. Mary was eager to visit that part of Italy even if it meant leaving her husband behind. Early one morning in the middle of November, with Hemingway in his bathrobe waving from the porch, she took the vaporetto into Venice, picked up the Buick at the garage, and drove south, with their chauffeur, Riccardo. 
*
In Torcello, Hemingway worked at his desk every morning, went shooting in the afternoon, and read past midnight every night. Although he complained to Mary that his shoulder was sore "from those high, straight up and down shots," he liked to go out with Emilio every day. They'd bag an occasional snipe or two, but mostly they took aim at little birds of the lagoon, no bigger than sparrows, that flew over the vineyards, alighting here and there to pick at the grapes. The locals liked to shoot when the bird was posato—on the ground. Hemingway preferred to shoot when it was in flight—volando." Am local champion at this and very highly regarded," he boasted to his wartime buddy David Bruce. "It is somewhere between a bumble bee shooting and bat shooting after it gets dark at the Gun Club and the pigeons have run out."
Hemingway loved the rustic life on Torcello and the wide-open views. "Today is sharp, cold and beautiful, the haze burning off the lagoon," he wrote to Mary one morning before getting started. He missed her now that she was on the road; but he was getting along fine and concentrating on his work for the first time in a long while. He soaked up the literary material that life offered him every day, sensing he could turn it into something good. He thought he might use it for a short story about duck shooting, something in the vein of Turgenev—and do it better than he, of course.
On a clear day, from the top of the tower of the basilica and with the help of binoculars, Hemingway could see all the way to Fossalta, 15 miles to the northwest. Across the lagoon, the flat plain of the Veneto around the Piave was releasing old memories of the war that were now demanding his attention. And the past was being summoned by more than just the landscape. Fernanda Pivano was in the process of writing an introduction to the new Italian translation of A Farewell to Arms. She wrote to Hemingway incessantly for details about his short time on the Italian front—and about the explosion that had nearly killed him and how he had coped with the aftershocks. He was very patient and precise. "I think the force of the explosion was very bad for my nerves and my head and they took a long time to get well," he explained on one occasion. "I know I couldn't sleep without the light on for a long time."
In the silence of Torcello, Hemingway often lay awake at night, long after the fire had burned out. It was time to return to Fossalta.
__________________________________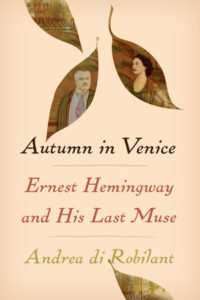 From Autumn in Venice: Ernest Hemingway and His Last Muse. Used with permission of Knopf. Copyright © 2018 by Andrea di Robilant.
---