Where Are the Larger-Than-Life Stories of Black Boxers in Fiction?
John Vercher on the Lack of Black Protagonists in Fight Fiction
The story, depending on the teller, varies in its details, but is no less legendary for it.
Jack Johnson (1878-1946), "The Galveston Giant," was the first Black world heavyweight boxing champion, holding the belt from 1908 to 1915, when Jim Crow was at its worst. Johnson had a love for race cars and loved to drive them at the high speeds for which they were intended. He'd become so wealthy as champion that it was said he crashed one of his cars while racing through the streets only to buy a new one the next afternoon. While his need for speed was well known, one particular vehicular incident reached mythic status.
Johnson was pulled over for speeding by a police officer who told the champ there was a price to pay for such reckless driving. Johnson asked the officer the price of the ticket.
"50 bucks," the officer said.
Johnson reached into his pocket and retrieved a knot of money the size of his massive fist, pulled off a $100 bill, and handed it to the officer. The officer protested, telling Johnson there was no way he could make change for that amount of money.
"Keep it," Johnson told him. "I'm coming back the same way at the same speed."
And off he went.
Johnson was bigger than life, in the ring and out. His unerring confidence and absolute immunity to intimidation incensed white people determined to see Black folks like himself put in their place. Johnson's exploits seemed the stuff of fiction, especially to those he angered by daring to be his own man.
As of the first publication of The Cambridge Companion to Boxing in 2019, not one novel featuring a Black fighter by a Black author has been published. Not one.
Though sports journalists had no choice but to write the truth of his many storied victories, the hate he generated from those same writers all but ensured that characters like Johnson would have no place in the world of fight fiction. In fact, Johnson's success inadvertently gave birth to a trope that has ripple effects felt generations later, not only in books, but in film and television.
A trope that persists to this day.
*
It's 1985. The trailers ended and the theater lights dimmed. I squirmed in my chair, almost giddy with anticipation and l looked up at my father to see if he shared in my excitement. Stoic as they come, he still managed a smile. The screen black, the familiar trumpet reverie sounded, along with lines of dialogue from the previous film that sent chill bumps up my arms.
"He's getting killed!"
"No, no, no—he's gettin' mad!"
The end of the final fight sequence with Clubber Lang replayed, along with the secret fight between Apollo and the Italian Stallion that closed that motion picture and dissolved into the opening of Rocky IV.
Ten-year-old me was quite literally on the edge of my seat. Fighting had been part of the cultural DNA of our home. My father, an avid fitness buff, along with his cement-filled barbells had a heavy bag hanging in the basement. Every Saturday morning, after the cartoons had ended, I could be found prone on the carpet in the glow of our tiny Zenith, chin in hands, feet kicking back and forth, enraptured by Kung Fu Theater. My father collected sports VHS tapes like kids collected baseball cards. The cinder block walls of the musty basement that housed his homemade gym echoed with the voices of John Facenda narrating the exploits of the NFL's greatest and Howard Cosell as he attempted to keep up with verbal gymnastics of the greatest of all time, Muhammad Ali. I saw Leonard battle, Hearns, then Hearns versus Leonard, followed by Hagler against Hearns. In college, I spent Tuesday nights with my roommate watching fights on USA network, seeing up-and-comers hone their skills before seeing them in the biggest venues.
Back in that tiny theater, I ran the gamut of emotions throughout the film. Apollo, after coaching Balboa to success against Lang, now firmly in Rock's corner, headed back to the ring for an exhibition against the Siberian Bull, Ivan Drago. Then Apollo's untimely (and preventable? Throw the damn towel, Rock!) death. I sat, slack-jawed, watching Rocky cradle Creed's head in his hands, hoping to transition to a hospital scene and getting a cemetery shot instead. I just knew, though, that Rocky would avenge his friend, that the towering Russian would pay for taking the bout too far.
Cut to a revenge story that somehow dispenses with the revenge (and any focus on the devastation for Apollo's family) and becomes "Rocky Ends the Cold War" and unites the world's superpowers.
Roll credits.
But it was a Rocky movie! The first one I'd seen in a theater! With my Pops!
However, my father wasn't thrilled with the movie. I didn't know why—and to be frank, at that age, I didn't care. On the way to the car, I bobbed and weaved, mimicking the sound effects of the bigger-than-life punches exchanged on the screen, recreating the film's most exhilarating fight sequences while reciting what would become pop-culture one-liners in the decades that followed.
Car rides with my father were often a time for us to have conversations about race. At an early age, he spoke plainly with me about what it was like for him to be Black in America and what it would mean for me to be both biracial and Black, because that was the way the world would see me. It was a lot to comprehend at the time, but I have always been grateful for the lessons. How soon is too soon to educate your child about how to keep them safe in the world?
Despite our frank and honest talks, this car ride home from the movie was different. We didn't talk about the dynamics of what we'd just seen on the screen, or in the previous installments in the series. Maybe he didn't want to take the wind out of my sails, seeing how much fun his young son had with him at the theater. Maybe he was still processing what he'd seen. Or maybe, honestly, he wasn't thinking about anything other than the fact that he simply didn't enjoy the movie all that much.
I came to realize many years later why the film didn't resonate with my father, as well as how the narrative of the Rocky films—and the many similar films that followed—stemmed from a tragic literary tradition—"the great white hope"—that began in large part as a reaction to the life and success of one man.
Jack Johnson.
*
What I remember of Jack London is reading (let's be honest, the Cliff's Notes) Call of the Wild in my eight grade English class. Well into my adulthood, Wild and White Fang summed up my knowledge of London's body of work. It wasn't until I read The Cambridge Companion to Boxing, edited by Dr. Gerald Early, Professor of English and African American Studies at Washington University in St. Louis, that I came to realize that London had written a book far more influential than either of the novels for which he was most well-known—influential and insidious: The Abysmal Brute.
The Cambridge Companion includes an essay titled "Jack London and The Great White Hopes of Literature," written by Dr. Scott D. Emmert of the University of Wisconsin Oshkosh. Here, Emmert reveals a London far different than the author we learned about in our grade school studies: "…London was a racialist who agreed with what Madison Grant called in 1916 'the modern and scientific study of race' that positioned Nordic as superior and Negro as inferior."
London was an avid fan of the sport of boxing and, due to his love for the sweet science, covered the sport as a journalist. He wrote often about the matches of one boxer in particular—the first Black man to hold (and defend many times over) the heavyweight crown: Jack Johnson. In his reporting, though grudgingly giving Johnson his due as an athlete, London made no secret of whom he favored in those bouts and why. "His report for the New York Herald – dateline Sydney, Australia, December 27th, 1908 – freely expresses his desire to see Tommy Burns defeat Jack Johnson: 'I was with Burns all the way. He is a white man, and so am I. Naturally, I wanted to see the white man win.'"
London went on to complain of Johnson's showboating, claiming he flashed his teeth and toyed with Burns throughout the duration of his fight, ending the article with a request for the former heavyweight champion James Jeffries to end his retirement and return to the ring to restore the heavyweight title to its former glory.
Johnson's title reign so incensed London that he turned his pen from journalism to fiction, writing his second boxing novel, The Abysmal Brute as what Emmert calls "a direct response to the Jeffries-Johnson bout." Brute's protagonist is Pat Glendon, referred to in the novel as "the hope of the white race." Emmert notes:
A black man holding the heavyweight title threatened the assumed superiority of white Americans, and the threat made whites angry…in his second boxing novel, The Abysmal Brute, he created a larger-than-life white boxer, the great white hope, to comfort his white readers by relieving anxieties that undermined their self-image.
London, Emmert is careful to note, wasn't the first to write the "great white hope" narrative. Pierce Egan and George Bernard Shaw also published boxing novels upholding white champions. However, London seems to be the first to have popularized the notion—and he certainly wasn't the last. Writers such as Edgar Rice Burroughs and W.R.H. Trowbridge put forth their own great white hope narratives, pitting their champions against antagonist Black boxers.
Emmert's research goes on to discuss that novels about boxing took a turn away from the white hope narrative after the Second World War with stories focused more on "loss and misplaced optimism" (though still with white male protagonists. What is far more significant—not to mention sad and maddening—about the boxing literature after World War II is a fact uncovered by the Companion's editor, Dr. Early: "Although in these many years many of boxing's greatest athletes have been African Americans, as Gerald Early has noted, 'no major black writer' has published a novel about an African American boxer."
The absolute dearth of Black protagonists in fight fiction is a glaring omission.
According to Emmert, Walter White, Richard Wright, and Frank Yerby all began or completed novels with Black fighters as their protagonists. White gave up on his book. Wright and Yerby were outright rejected.
This seemed to me impossible. While I'm not a trained researcher, my search to determine if this was indeed true turned up the same fact: As of the first publication of The Cambridge Companion to Boxing in 2019, not one novel featuring a Black fighter by a Black author has been published.
Not one.
I wanted to be wrong. I hope I am.
*
Here's the thing: I still enjoy the Rocky movies. You'd be hard-pressed to get me to change the channel if I landed on any one of the films in the series. I can remember with crystalline clarity the feeling I got watching those movies for the first time, my heart running sprints as Rocky and Apollo fought round after thrilling round, the advantage to either undergoing pendulum-like swings. Even as an adult, there is still a remnant of that cardiac flutter, as if impossibly the outcome might change on this viewing—that maybe the fight will end differently.
Similarly, the first time I read Fat City, I loved it. The book was recommended to me much later in life, yet it was still, despite my love for combat sports, the first piece of fight fiction I'd ever read. It eventually became a source of influence for my own work.
Black fighter's stories are relegated to the world of non-fiction prose, biopics, and documentaries, almost exclusively written by white writers.
But with age came perspective brought on by self-interrogation, particularly in light of the truths uncovered in Emmert's essay. An asterisk, if you will. While I can say I won't turn away from the Rocky films and the many imitators that followed, I have to consider that my enjoyment of the movies might be more rooted in my nostalgia for the time, of the childhood pleasure of sharing in a movie experience with my father, than in the story itself. It's possible the anticipation of an impossibly different outcome now isn't the product of the thrilling fight sequences but rooted in something planted long ago. Perhaps something in me understood something about my father's feelings about the film, even if I wasn't conscious of that understanding at the time. Maybe now I anticipate an Apollo victory because in truth, it's what I actually want to see.
It's a question worth asking. An asterisk to consider.
*
Jack Johnson was arrested in 1912 under the Mann Act. Passed into law in 1910, the Mann Act made it criminal for anyone to transport a woman across state lines "for the purpose of prostitution or debauchery, or for any other immoral purpose." Johnson was arrested with a white woman, Lucille Cameron, who went on to become his wife. At the time of his arrest, Johnson was not only champion, but had become an entrepreneur, opening a hugely successful restaurant and nightclub. The racial motivations behind his arrest and conviction were clear, and Johnson eventually served a year in prison. In perhaps one of the great ironies, President Donald Trump posthumously pardoned Jack Johnson in 2018. Reuters reported that Trump tweeted he was considering the pardon after speaking with Rocky writer and director Sylvester Stallone. Present at the pardon was Stallone, as well as former heavyweight champion Lenox Lewis. Stallone was quoted as saying Johnson served as the inspiration for Apollo Creed in his films.
While this is assuredly true, Johnson was also undoubtedly an inspiration for writers like White, Wright, and Yerby, whose books about Black fighters never saw the light of day. It stands to reason that scores of Black writers who came before and after them have attempted the same, only to see works like The Contender, Flesh and Blood, and Fat Citypublished in their stead. To see movies like Southpaw, Cinderella Man, and Warrior dominate the fictional narrative while Black fighter's stories are relegated to the world of non-fiction prose, biopics, and documentaries, almost exclusively written by white writers.
While Johnson's pardon is welcome and long overdue, his fight—in many ways for part of his legacy—continues. Publishing has been at a reckoning for some time with its predominance of white executives and white-centered narratives, inextricably linked to the same issues in the film industry and the rest of the media. The absolute dearth of Black protagonists in fight fiction is a glaring omission, and it is assuredly not from a lack of creators with their own stories to tell, who want to see themselves on the page and on the screen.
But no fighter makes the walk without cornermen. There is a symbiosis in fighting. While one stands alone in the ring, there is team behind them to get them to the bout. Perhaps there will be those in publishing who will take the initiative to sit on and hold open the ropes. That fight can still be fought. There's still time. The bell hasn't rung yet.
__________________________________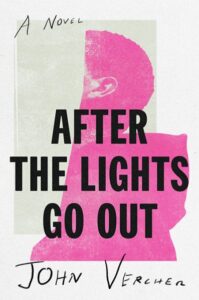 After the Lights Go Out by John Vercher is available via Soho Press.
---