When Writing a Novel Bridges a Gap Between Mother and Daughter
Tomi Obaro on the Unexpected Gift of Her Novel, Dele Weds Destiny
I was deep in the throes of a slow-moving depression, feeling frustrated with a job I had held for seven years, and reeling from the disappointment of a first novel that debuted without the critical and commercial acclaim I was afraid to admit I desired. So I called my mother.
"I think I need a break," I told her. I fantasized about not working, forced time off (a prescient, bitter irony, as I would be laid off in two months' time). I couldn't sleep. I would lie in bed, replaying moments of deep regret—interviews I could have handled better, hubris I'd left unchecked. The exhaustion felt physical; it planted itself in the center of my forehead.
We talked through logistics. I had a lot of accrued PTO.
"So when will you ask your manager for time off?" My mother asked. "Next week?"
Something about the urgency of her question made me shut down.
My mother picked up on it.
"We've got to have a relationship," my mother said. "Speak to me."
The frank, earnest nature of her request struck me. I was reminded of another conversation we had had a few months earlier. I no longer remember what we had been talking about but at one point my mother said very distinctly: "You're acting like Destiny."
Destiny. One of the characters in my novel. She is a young woman about to be married, a quiet, docile daughter with secret, nascent ambitions of a more artistic life after graduating from medical school. Funmi, her mother, is her polar opposite, fair-skinned where she is dark, loud, boisterously opinionated, determined to route Destiny's life for her so that her path is set, clear, defined, comfortable.
I chose to write fiction because I like the weaving of disparate influences; the inventions of new characters and interesting situations; the sense of mystery in terms of how I'll get from A to B. I also like having plausible deniability.
I am not so docile; my mother not so boisterous. But I have not always been able to have honest conversations with her. At a certain point in my twenties, I decided it was easier not to share; easier not to convey the divergence of our opinions on so many issues. For her to speak of Destiny was an implicit acknowledgement of the silences and secrets that existed between us.
*
Audre Lorde had a contentious relationship with her mother. Lorde's parents, Alexis De Veaux writes in Warrior Poet, her excellent 2004 biography of Lorde, operated under a familiar immigrant ethos: "upward mobility, proper behavior, good morals, an emphasis on education, and a strong work ethic were stressed." Mrs. Lorde "was a disciplinarian but never a confidante or friend. As such, the mother-daughter bond was marred by the verbal and physical violence of her mother's disapprovals." When Lorde was in high school, according to Lorde's semiautobiographical Zami: A New Spelling of My Name she confided to a guidance counselor that her mother didn't love her "because I was bad and I was fat, not neat and well-behaved like my two older sisters."
Throughout her life, according to De Veuax, Lorde sought a kind of affection she felt she never received from her parent, an almost eroticized mother love.
Before her brothers were born, Jamaica Kincaid likened the relationship she had with her mother to a kind of paradise. She learned to read because of her mother. "She read so much that she would ignore me, and then I would try to distract her, so she taught me to read," Kincaid told The Paris Review. But once her mother discovered Kincaid wasn't minding her younger brothers, she burned all the books Kincaid had stolen from the library. Kincaid changed both her first and last name to better write fiction that— while she refused to categorize it as quite autobiographical—often included a domineering, strict Caribbean mother.
*
My mother taught my sister and me how to read. We lived in the Gambia and did not have much in the way of entertainment so she would buy us chapter books from abroad and encouraged our early reading and writing forays. On summer trips to visit family in Nigeria, I would ask for pen and paper and write feverish stories based on movies or books I had read.
My mother often parented alone. My father worked a lot—work that involved a lot of travel.
Because my mother was more present, we took her presence for granted. She did all the cooking and the housework. He was not living in the country where my mother had her last child, my brother, in 1998. I remember she was very angry during that time and sometimes the anger expressed itself physically—corporal punishment disproportionate to the crime. Now, I recognize it as the frustrations of a woman thrust into an unfamiliar, untenable position, pregnant with two twin daughters, in a country that was not her home. But for a long time afterwards, I would flinch whenever she raised her hand near my face.
My mother is a Christian. A believer. She loathes the terms "religious." She talks about my writing as a gift from God but worries about my soul. We tread delicately on politics, preferring safe, previously agreed upon topics like universal healthcare and police brutality. I try to call my mother every week. I used to avoid calling on Sundays so I wouldn't have to lie about whether or not I attended church.
When I began my novel, the prospect of writing about women my mother's age both scared and thrilled me. It was the guiding impetus for my early writing—imagining what it would have been like to move to a new country, how unmooring that must have been, to birth children who look and sound very different from you.
There's a common, though possibly apocryphal, adage among writers to write as though your parents are dead. I've never subscribed to that logic; the latent Nigerian Christian in me believes that words have power and even though death is an inevitability, I don't wish for it to come sooner than it has to.
Instead, I wrote my first book as though my parents would never read it, as though it was something that would sit on their coffee table as a familial accomplishment , but would never evince much interest for either of them. My sister suggested this was wishful thinking. My mother has a master's degree in English. But I worried less about my mother's critical appraisal of the book and more about what the book would inevitably reveal. In the book I write about sex in a way that suggests some familiarity even though I had signed a purity pledge in eighth grade.
I chose to write fiction because I like the weaving of disparate influences; the inventions of new characters and interesting situations; the sense of mystery in terms of how I'll get from A to B. I also like having plausible deniability.
*
Is your mother your mother or is she your friend? I would ask this question when talking to people about our parents. The answers varied of course. Some friends talked to their mothers everyday and I marveled at that. I don't talk to anyone every day, I would respond, though secretly I wondered, should I talk to my mother everyday? What does an ideal mother daughter relationship look like? What is closeness in this sense? Sometimes, it felt as though there were social scripts and cues that I was missing to explain my mother's relationship to me and a lack of profound trauma as an obvious origin story for estrangement.
About a month before my book came out, my mother came to visit my sister and me in New York. We went out to dinner with our friends and my partner. Our friends—also first generation immigrants—peppered my mother with questions. She talked and talked and talked, revealing some things I hadn't known about her.
In my book, I write about how Funmi wanted so desperately to connect with Destiny, but was too stubborn to figure out how. She would watch one of her friends converse with her own daughter and covet their readymade intimacy.
After that dinner, my mother sat down on my couch and said to my sister and me: "If you have any questions, just ask." It was during that trip to New York that my mother told me she had started reading the book and was enjoying it, but that some things hit close to home. I didn't ask her what things.
*
When I sold my novel in 2020, I had talked to enough published authors to be aware of the post publication blues. The adrenaline rush and the euphoria of that moment when you sign the contract, that instance when the book still exists as this flawless ideal in your mind's eye, not yet a tangible object to be assessed or ignored—you can coast on that feeling for years. But when reality hits, and your book comes out and the expectations you might not even have admitted you held for the book fail to materialize—the devastation can be destabilizing. It can make you question your own ability, your intuition.
In real life, the book allowed my mother and me to admit the things we couldn't say otherwise; it opened up something between us.
The insomnia came first. Anxiety-ridden thoughts would force me out of bed at 2 or 3 AM frantically scheduling emails to BookTok influencers in hopes of getting coverage. Ritualistic self loathing followed an inability to pass a bookstore without feeling anxious and an incapacity to read much contemporary fiction.
"Remember to hold this book loosely," my mother told me some months before the book came out. "It does not determine who you are."
In my book, the relationship between Funmi and Destiny remains unresolved, with just the slightest intimation of an olive branch.
In real life, the book allowed my mother and me to admit the things we couldn't say otherwise; it opened up something between us. It was as if the throat clearing, awkward confessional part of our relationship; the part where we say explicitly: I want us to be closer had been bypassed. The lessons of Funmi and Destiny hovered like a warning: let's not be like them. A mutual desire for more closeness became clear, though it was tacit, implicit.
Nowadays, on the phone my mother asks, "how are you?" and I ignore the moody 12-year-old in me that wants to answer in monosyllables and force myself to respond honestly.
I seek her comfort. We are more delicate with each other; more at ease with the silences that fill a conversation before we venture to ask another question, to follow up. There is so much about my life right now that I can't control—most of it, in fact. But I can make the effort to share my life with my mother, in ways that feel sustainable. And for that I am grateful.
_____________________________________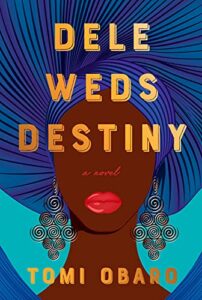 Dele Weds Destiny by Tomi Obaro is available now via Knopf. 
---