When the Heart of a Beach Town Is an Indie Bookstore
Ethan Joella on Growing Up with Browseabout Books
My parents bought a second home in Rehoboth Beach, Delaware, when I was six years old. It was 1983, a time when you could still buy beach property without Exxon stock, and the little brick cape house on Grove Street a handful of blocks from the boardwalk was plain but special. In the winter, my two brothers and sister and I would have to wait hours for the heat to come on, the baseboards slowly clicking to life. We didn't keep our bathing suits or beach chairs there. We had no cable TV. We rode our bikes everywhere. We bought T-shirts and ate caramel corn and played Q*bert and Donkey Kong at the arcade. We sat at Grotto Pizza with a pitcher of birch beer and a steaming large pie, and at night we would shake Yahtzee dice and rent VHS movies like Dirty Dancing or The Money Pit from a pop-up place in town. When we drove the four hours from our home in Pennsylvania to Rehoboth, one other constant always awaited us: Browseabout Books.
We were a nerdy and not very athletic family, so we went to Browseabout more than we went to the beach or the playground. The store always felt happy inside, with its bright lights, colorful signs, big displays with the newest books. If we finished the book we selected, our parents would take us back to the store for another. We weren't spoiled—the only toys we had in the Rehoboth house were a tin doll house from the 1950s the previous owners had left in the attic, and a plastic kids' guitar with most of the strings missing. But when it came to Browseabout, the sky was the limit.
I had known that I wanted to be a writer since second grade, scribbling poems and asking a relative to Xerox them for me, and I soon lost myself in the selections at Browseabout. Books for kids my age were up on a platform that hovered like a catwalk in the back of the store, a small, primitive staircase on either end. I marched up those stairs, each step a step away from everyone and everything else. I would consider the choose-your-own-adventure and Hardy Boys books, but usually I went to Beverly Clearly. The first book I ever remember buying was Socks. Then I got into the Ramona books, then Ribsy, The Mouse and the Motorcycle. Whenever the book fair came to school or we got the enticing Scholastic catalog, my mom just said, "But we have Browseabout."
As I grew up, Browseabout was always there.
In college, I majored in English; after I took a fiction writing class my sophomore year, the longing to be a writer was often unbearable. When I went into Browseabout to buy the books I was assigned to read—Chang-Rae Lee's Native Speaker, Chinua Achebe's Things Fall Apart, Jamaica Kincaid's A Small Place, Don DeLillo's White Noise—I wanted to join these writers and have a book of my own on the shelf. Once, I noticed a letter on the wall from Paul Reiser, the actor and comedian. The note accompanied a galley of his book Couplehood and said something like, "Here's my book. It's done. I hope you like it." Something about that letter always stayed with me. I was so envious of Paul Reiser—his book being done, his audience waiting, and his I hope you like it. I wanted to know what that accomplishment felt like.
When it came to Browseabout, the sky was the limit.
Browseabout grew and changed but never lost its original charm. From the old men buying their newspapers there and conversing by the front benches every morning, to the big green awning that welcomed you to a book signing, it was an authentic, important place. Unlike so many businesses in Rehoboth Beach, Browseabout was open all year. For Halloween, they would hand out books to trick-or-treaters. In December, they strung old-fashioned Christmas bulbs in the windows.
When I was eighteen and started dating Rebecca, my future wife, she and I would come to Browseabout early in the morning. I'd get coffee, she'd get hot chocolate. We'd buy magazines to read on the porch at my parents' house. I discovered Anne Tyler and  read every book of hers in a year.  Rebecca read the whole Stephen King The Green Mile series and insisted I read it, too.
Then, as newlyweds, Rebecca and I would escape to Rehoboth for the weekend. She was teaching first grade, and I was teaching high school, and the days in Pennsylvania were long and exhausting. Once, we both called in sick and stayed in Delaware on a Monday, strolling the quiet town, feeling like we'd gotten away with something too decadent to describe. I had wondered what it would be like to walk into Browseabout on a weekday afternoon, to buy a new book there in winter, to be in that perfect town every day the way Browseabout was.
When I got involved with the Rehoboth Beach Writers' Guild, the bookstore became, for me, more than a place that sold books. I realized that it created community. They were the heart of our town; firmly planted, always active, sweeping the snow off the sidewalk, calling customers by name.
They were the heart of our town; firmly planted, always active, sweeping the snow off the sidewalk, calling customers by name.
When Rebecca and I had our daughters, we bought a condo in Rehoboth, and starting spending more and more time in Delaware. Our kids loved the store just as much as we did, getting their own hot chocolates in the morning and picking out their books the way my siblings and I used to.  I loved the looks on their faces when they rushed inside Browseabout to a Valentine's Day display with a Clifford or Elmo book, or put their hands into a puppet animal and started making the horse or koala talk. They saved their green Browseabout bookmarks the way I used to do, and when relatives didn't know what to get them for a holiday or birthday, they often ended up with a Browseabout gift certificate. One day our older daughter went off by herself in the young adult section to pick out her own book, and it wasn't long before our younger daughter started doing the same thing.
When I was in my late thirties and had a poetry chapbook published by a small press, I reached out to Browseabout, and they immediately agreed to stock it. They let me do a reading there one June with all their café chairs set up in rows.  I remember being in the quiet of the room before the people arrived, setting out bottles of wine and plates of cheese and fruit and thinking how far I had come from the kid who used to look down from that platform in the back and take in the whole store and all its customers. When I signed my chapbook and then saw it later on their shelves, it felt like a giant step.
*
After twenty years of writing, my dream came true: Scribner bought my debut novel. The first place I reached out to was Browseabout. Susan—who had been the store's general manager and eventually bought it from Mr. and Mrs. Crane—got ahold of a galley right away. She wrote me a few days later: "I finished the book last night, and I LOVED IT!!!  I can't wait to get it into people's hands."
My book, A Little Hope, comes out on November 16, and what I'm most looking forward to is seeing it on a table at Browseabout. The store has played such a large role in my journey as I grew into a husband, father, writer, and teacher. It has been my school and my other home; my Cheers bar, my family. The world needs more Browseabouts, the heart of this beach town.
____________________________________________________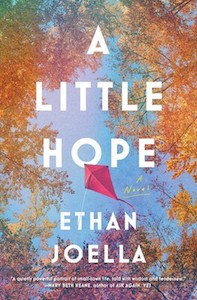 Ethan Joella's novel A Little Hope is available now via Scribner.
---