When It Comes to Immigration, Political Centrism is Useless
Daniel Denvir on the Necessity of Picking Sides
With Trump in office, things can seem absurdly bleak. But after Republicans lost the House, it became clear that Trump's first two years were for nativists a critical opportunity to reshape the contours of the American demos. And they blew it: Republicans had total control of government yet legislative cuts to legal immigration went nowhere. Meanwhile, Democratic voters are moving sharply left in the face of accelerating Republican extremism. The percentage of Americans calling for a decrease in legal immigration has plummeted since the early 2000s—particularly but not exclusively among Democrats. Indeed, since 2006 Democratic voters have swung from a strong plurality supporting legal immigration cuts to a stronger plurality backing increased legal immigration.
In promoting attacks on "illegal immigration" and militarizing the border, establishment politicians from both major parties inflamed popular anti-immigrant sentiment. But they helped move the Overton window so far right that it snapped loose of its bipartisan frame, prompting vociferous resistance on the left. The war on "illegal immigrants" was based on a bipartisan consensus. It is becoming very partisan. That's good.
As nativists well know, immigration means that we the people is increasingly made up of people who don't look like Trump and his base. And they correctly worry that immigration is driving a large-scale demographic transformation that could ultimately doom the conservative movement—a prospect that the most honestly racist figures on the far-right call "white genocide." Non-white people disproportionately vote Democrat—a trend gravely exacerbated by unconstrained Republican racism that has alienated even wealthy and economically conservative non-white people. Demographics aren't destiny. But thanks to the foundational role that racism plays in American capitalism, they do mean quite a bit.
In August 2019, Trump finally implemented an aggressive attack on legal immigration, expanding the definition of what makes an immigrant "likely to become a public charge" and thus excludable from the country.28 The rule further empowers immigration officers to deny entry to poor and working-class immigrants, particularly from Latin America, or to deny immigrants already in the country a green card. The rule radically expands a provision of US immigration law dating back to the Immigration Act of 1882 and, before that, to New York and Massachusetts's enforcement targeting Irish paupers. The Migration Policy Institute predicts that the rule "could cause a significant share of the nearly 23 million noncitizens and U.S. citizens in immigrant families using public benefits to disenroll." And visa denials under Trump had already skyrocketed before the new rule was in place.
It is unclear how profoundly the rule will reshape either the size or the class, national, and racial makeup of legal immigration. But regardless, the new rule is a reflection of Trump's inability to secure cuts or changes to legal immigration in Congress. The rule will very likely be rolled back under even a milquetoast Democratic president. The same holds true with Trump's deep cuts to refugee admissions, and the draconian proposal pushed by some in his orbit to cut admissions to zero. Trump is effectively terrorizing migrants in the present but failing to secure the enduring legislative change that would outlast his presidency.
There is no majority constituency today for enacting such legislation—nor any viable institutional vehicle for it. Whatever opportunity existed to leverage a white-grievance-fueled presidency toward a full nativist program has faded even as the right clings to power thanks to the system's profoundly anti-democratic features. The left is nowhere near winning. But it is at long last emerging as a real force in clear conflict with both the Trumpist right and the center that facilitated its rise.
Extreme polarization, the establishment's bête noire, is in fact the only solution to the long-standing bipartisan agreement that immigration is a problem for enforcement to solve.
For Bill Clinton, Hillary Clinton, Obama, Biden, Feinstein, Schumer, and a host of other Democrats, a measure of nativism was useful. Quite a bit more than that has proven necessary for Republicans. But too much nativism is a problem: no rational capitalist favors shutting out exploitable migrant labor. As Karl Marx wrote in The Eighteenth Brumaire, political stances that seem rooted in principle are in reality founded—if often in indirect, unconscious, and obscure ways—in "material conditions of existence." This is no doubt the case here.
The United States has undergone decades of enforcement escalation, fashioning a useful scapegoat for neoliberalism and empire while maintaining a segmented labor market. But business frequently lost too, most spectacularly with the repeated defeat of comprehensive immigration reform. Business wants the undocumented to be legalized and guest workers who provide the benefits of undocumented labor without the risk. But what perhaps best reflects—but by no means exclusively reflects—the power of business is what hasn't happened: deep legislative cuts to authorized immigration have been consistently off the table for more than two decades. This has been the case since the 1996 legislation to slash legal immigration was defeated in favor of a law to persecute undocumented immigrants and "criminal aliens." The immigration debate has taken on a bizarre and contradictory life of its own. The unspeakability of cuts to authorized immigration, and the failure to impose effective employer sanctions and employment verification systems reveal that immigration policy was still tethered, narrowly but firmly, to the interests of capital. With Trump, full nativism is spoken. But substantial immigration reductions still cannot pass Congress.
A full examination of the complex role of business, the rich, and their various factions during the past two decades of immigration politics is yet to be written. Some of its basic contours, however, are clear. For one, the capitalist class has become recklessly polyphonic. Lumpen-billionaires like the Mercer family and the Koch brothers have spent vast amounts to promote their ideologically distinct priorities rather than those of the collective. The Tanton network is a case in point: it received more than $150 million since 2005 from the Colcom Foundation, founded by the late Mellon heir Cordelia Scaife May. Ironically, independent right-wing oligarchs who pursue idiosyncratic agendas now rival the Chamber of Commerce for influence thanks to the policy achievements of groups like the Chamber of Commerce, which helped those oligarchs make and keep their billions. But does establishment big business even care about immigration anymore?
Political scientist Margaret Peters argues that productivity gains and globalization's facilitation of an overseas supply of low-wage labor has led to a lessening of business's need for immigrant workers, resulting in more restriction. The evidence for this, however, is mixed. On the one hand, business has not won a major legislative expansion of immigration since 1990. But it has also not suffered a major defeat. What's clear is that business can tolerate border security theatrics and the demonization of "criminal aliens," and is content to exploit undocumented workers. As anthropologist Nicholas De Genova writes, "It is deportability, and not deportation per se, that has historically rendered undocumented migrant labor a distinctly disposable commodity."34 Business opposes dramatic cuts to authorized immigration, effective employer sanctions, and mandatory employee verification. Business prefers legalization, but that doesn't rival priorities like tax cuts and deregulation; if it did, business would abandon the Republican Party. The roles played in immigration politics by business interests with various and often bipartisan attachments require further research, which will in turn help to clarify the woefully under-studied sociology of ruling class power more generally.
Meanwhile, business's hold on the Democratic Party has come under intense assault. The war on "illegal immigrants" that accelerated in the 1990s is facilitating a realignment of left-of-center politics in favor of a diverse, immigrant-inclusive working class in opposition to war, neoliberal oligarchy, and hard borders. The post–Cold War dominance of carceral neoliberalism had made such a popular coalition impossible; the exhaustion of that model signaled by the 2008 crisis has made it astonishingly credible. Record deportations and a radicalizing racist right triggered a revolt among the Democratic Party's young and increasingly diverse base. That base has along with much of American public opinion moved to perhaps the most staunchly pro-immigrant position in American history—and, in doing so, toward a radically inclusive vision of the American working class. Amid a post-Recession boom in labor militancy, that portends trouble for the entire political establishment and the racist and oligarchic order it protects.
Trump's election set that trajectory into overdrive, rendering opinions on immigration a basic proxy for one's partisan allegiance. Border militarization that once garnered bipartisan support is now the polarizing Wall. Obama's brutal migrant detention centers have under Trump been labeled "concentration camps." The number of Republicans who believe that the United States risks losing its national identity if the country welcomes immigrants from the world over has increased since Trump's election.35 At the same time, Democrats have become more hostile to enforcement. In 2010, 47 percent of Democrats said that they equally prioritized a pathway to legalizing undocumented immigrants and "better border security and stronger enforcement of immigration laws," while just 29 percent prioritized a pathway to legalization alone. By 2018, the number prioritizing legalization alone skyrocketed to 51 percent. As the war on immigrants kicked into high gear in 1994, just 32 percent of Democrats and 30 percent of Republicans agreed that immigrants strengthened the country. By 2016, the share of Democrats who said so had surged to 78 percent.
Extreme polarization, the establishment's bête noire, is in fact the only solution to the long-standing bipartisan agreement that immigration is a problem for enforcement to solve. Demanded and rejected, oppressed and expelled, this country's many others have long insisted that the promise of American freedom, designed for if never truly delivered to white settlers, belongs to them too because they too are the people. And contrary to what Trump's presidency might suggest, a growing number of Americans agree and are turning against nativism and war. Racism is, as the remarkable number of Americans embracing socialism understand, an obstacle to freeing everyone.
The issue of borders is, in turn, a simple one in principle for socialists: borders are a nationalist enterprise and thus incompatible with an internationalist workers' creed. Migration is a symptom of social violence when it is compelled by poverty, war, or climate change. But moving to faraway and strange places is often a beautiful journey too, one nurtured by love, adventure, and the drive for self-determination and realization. Migration should be free and the choice to migrate should be freely made. The border does not protect Americans against cultural change, economic insecurity, and terrorism. It bolsters a system of global inequality that harms people everywhere by dividing them.
If Democrats stick to the center on immigration, they will find themselves fighting on two fronts.
Even with public opinion moving rapidly to our side, border controls will not fall anytime soon. To chip away at them, we must understand their historical particularity. The legal right to travel was, for most white people, a basic one for much of American history. It remains so for wealthy people, particularly those with passports from rich countries. Border controls arose in the United States not out of any neutral law enforcement principle but to exclude Asians, Jews, Italians, Latinos, blacks, Muslims, and other Others in the service of an exploitative and expansionist empire. Our land borders began to harden only alongside the rise of industrial capitalism, and were only militarized in recent decades.
If Democrats stick to the center on immigration, they will find themselves fighting on two fronts. A fight against Republicans, with the left at their back, will be far easier to win—and a more noble victory. Simple realism dictates that no legislation to grant citizenship to millions will be passed until Republicans are defeated. There's no use trying to appease them. The bipartisan consensus supporting harsh immigration and border enforcement has fractured. Democratic elected officials need to catch up or be defeated too. It's the task of the left to accelerate the nascent split, demanding radical reforms that correspond to our dream of a world where no human being is illegal. We must transform nation-states so that they no longer divide workers but instead are conduits for the democratic control of our social, economic, political, and ecological futures.
We must urgently develop demands for policies that will not create an open border overnight but a radically more open border soon. The border must be demilitarized, which would include demolishing the hundreds of miles of already existing wall and dramatically downsizing the Border Patrol. Criminal sanctions on illegal entry and reentry and the public charge rule must be repealed. Links between ICE and local law enforcement created by Secure Communities and 287(g) must be broken. Opportunities for legal immigration, particularly from Mexico and Central America, must be expanded. The right to asylum must be honored. And citizenship for those who reside here must be a stand-alone cause, unencumbered by compromises that are not only distasteful but also politically ineffectual—and that today would provoke opposition from both the nativist right and the grassroots left.
__________________________________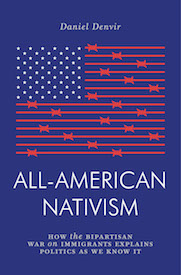 Excerpt from All-American Nativism: How the Bipartisan War on Immigrants Explains Politics as We Know It by Daniel Denvir, published by Verso Books. Copyright © 2020 by Daniel Denvir.
---