What's In a Meal? On the Linguistic Origins of "Lunchtime"
Judith Tschann Explains the Etymology and Eponyms Behind Some of Our Favorite Dishes
If you eat a midday meal, do you call it lunch? What about luncheon, nuncheon, noonshine, or nunch? Perhaps you pause for refreshment toward the end of the morning and call this light repast elevenses (from eleven, as in eleven o'clock a.m.). If you skipped breakfast, your meal might be brunch (a portmanteau, or blended, word made from breakfast and lunch). Or maybe you call a midday meal dinner (and an evening meal supper, from Old French super, "to sup, take liquids by sipping").
Chances are, you don't say noonshine unless you're a big Jane Austen fan. Noonshine, meaning "noon light," has been around since the seventeenth century, but Austen appears to have been the first to apply it to a midday meal. Her particular use of noonshine, however, didn't catch on with the general public. But Austen, like others in the early nineteenth century, also called a midday meal nuncheon (from Middle English noon and shenche, "a cupful, a drink"). Nuncheon and its shortened form nunch, meaning "light refreshment" or "drink," had been around for centuries before Austen used it, and nuncheon lives on in regional varieties of English in the United States and the United Kingdom.
Which came first, lunch or luncheon? That doesn't matter to someone about to tuck into an egg-salad sandwich, but postprandially (from Latin post, "after," and prandium, "meal"), one might give the matter some thought. Lunch is probably a shortened form of luncheon, and luncheon probably derives from the English word lump. In the earliest instances of luncheon and lunch—the sixteenth century—both words meant a "hunk," "lump," or "thick piece" (of food) before they came to mean "a meal." Luncheon in the sense of a midday meal first appeared in the written record in the seventeenth century. Lunch (the meal, not the hunk) is a Johnny-come-lately, not appearing until the nineteenth century.
There's no definitive answer yet on where our lunch comes from.
One further speculation: Some argue that the sixteenth-century Spanish word lonja ("slice" of food) is the source of the English lunch. Could be, but luncheon predates lonja in the written record by more than a decade. There's no definitive answer yet on where our lunch comes from.
When the word lunch became popular in the 1800s, it was sometimes considered vulgar, in the sense of low class. Lunch eventually became the more common term for the meal, luncheon being reserved for more formal usage. The word luncheon has come a long way, from "lump" of food to what may be a lavish meal.
As a verb, lunch is versatile. It's both intransitive ("You lunch at noon") and transitive (taking a direct object, as in "You lunch a client"). Sounds a tad cannibalistic. So does the expression to eat someone's lunch, meaning "to defeat soundly," as in "My opponent ate my lunch on the tennis court."
To lunch can mean "to forget to do something," often used in the past tense. If a person forgot to buy bread on her way home from work, she lunched on that. She didn't do lunch, eat lunch, or lunch a friend; she was out to lunch—in the sense of "very inattentive."
Eponyms
What's on the menu for lunch? A common choice is a sandwich, a word that comes from a person's name, in this case the eighteenth-century Earl of Sandwich. The story goes that the earl had a gambling problem, or, rather, a problem with eating while gambling. How to hold the cards and eat at the same time? And no one wants a plate cluttering up the gaming table. So he ate his meat between two slices of bread while gambling.
But long before the earl held his food in one hand and his cards in the other, people had been using bread as a convenient holder of other foods. (Consider the medieval slice of bread called a trencher that was used as an edible plate.) Even though the Earl of Sandwich didn't invent the thing we call a sandwich, it's named after him, so sandwich is indeed an eponym.
The sandwich called a Reuben may be named after Reuben Kulakofsky, a grocer of Nebraska. Sometime in the 1920s or '30s, while he was playing poker, he had the inspiration to concoct a sandwich made of corned beef, Swiss cheese, sauerkraut, and Russian dressing on rye bread. (What is it with poker and eponymous sandwiches?) But the name may be based on a "Reuben's Special," made (possibly) in 1914 at Arthur Reuben's Deli in New York. In this case, the Reuben is both an eponym and, loosely speaking, a toponym (something named after a place, though it's usually a geographic feature, not a deli).
If you take the Reuben and substitute pastrami or turkey for the corned beef, coleslaw for the sauerkraut, and Thousand Island dressing for the Russian, you've got a Rachel. Whether there's an actual person behind the sandwich called a Rachel remains unknown.
Maybe you want something a bit simpler than a Rachel or a Reuben, like pastrami on pumpernickel with lettuce, mustard, relish, and coleslaw. Here's your sandwich, etymologically speaking:
Pastrami is from Yiddish, probably originally Turkish, meaning "pressed"—part of the curing process of the meat. Pumpernickel comes from early German pumper, "fart," and Nicholas, "a lout or bumpkin." Lettuce is from Latin lactūca, lact-, "milk," because of its milky juice. Mustard comes from Anglo-Norman, must, "new wine" or "juice from grapes." Relish is from Old French relaisser, "to release," from Latin relaxāre, "to relax," coming to mean "flavor-releasing," and coleslaw is from Dutch kool, ultimately from Latin caulis, "stem" or "cabbage," and sla, "slaw," a shortened form of Dutch salade.
So:
Pressed meat on farting-bumpkin slices, with milky juice, musty grape juice, relaxed condiments, and stem salad.
Yummy.
"What's in a name? That which we call a rose by any other name would smell as sweet," Juliet says when she discovers her hot hunk Romeo is a Montague, the clan feuding with her own family, the Capulets. But would a rose or a lover by any other name smell as sweet? What if his name had been Romeo Pumpernickel, of the farting-bumpkin family? She might have thought twice about becoming his wife.
Corned beef and pastrami are made from brisket, a tasty but chewy cut of beef that needs a lot of cooking, as the word's origin suggests—it's probably from Old Norse brjósk, meaning "cartilage" or "gristle." Beef that is corned has been preserved in salt water. (To corn means "to reduce to grains," "to granulate.") Pastrami is beef that has been seasoned and smoked.
If brisket's too gristly (or grisly, if you don't believe in eating animals), go veggie and order Tofurky, a twentieth-century portmanteau brand name formed from tofu and turkey. On some menus, non-meat choices are indicated by alternative spellings like chikken or by scare quotes, a visual reminder to question a word: "clam" chowder is clam-less, made from crushed cashews. "Crab" cakes are crab-less, made from toasted pasta. Mr. Krabs (from the SpongeBob SquarePants TV series) would presumably approve.
Whether there's an actual person behind the sandwich called a Rachel remains unknown.
Another popular choice for lunch is a salad, such as the Cobb salad, named after Robert Howard Cobb, owner of the Hollywood Brown Derby restaurant in Los Angeles. Cobb salad appears in print for the first time in 1947, but that's where certainty ends. Was it originally made in 1929, when the restaurant opened? Or in the middle of the night in 1937 or 1938, when Cobb was hungry and threw it together? Was one of his chefs responsible for this meal in a bowl that includes bacon, chicken, hard-boiled eggs, avocado, blue cheese, often three kinds of greens, and more? Some say it's the salad for those who don't really want salad.
The eponymously named Caesar salad has nothing to do with Julius Caesar; it's named for Caesar Cardini, a restaurateur who first made it in 1924 at the Hotel Caesar in Tijuana, Mexico. Cardini lived in San Diego but ran the hotel in Mexico to avoid U.S. Prohibition laws. A Caesar salad typically includes romaine lettuce, garlic, croutons, and anchovies and is dressed with raw or coddled egg, olive oil, lemon juice, and Parmesan cheese, though the egg is often omitted nowadays for fear of salmonella.
Still hungry after lunch and also on the run? Grab an eponymous candy bar, the Baby Ruth. Was the Baby Ruth named for the daughter of President Grover Cleveland, as the candy-bar makers once claimed, or for Babe Ruth, the baseball player? Lexicographers have put their money on Babe, saying the story about some other Ruth was a lawsuit dodge.
Maybe what you want for dessert—but righteously resist—is an Alice B. Toklas brownie, which would now be called a pot brownie. The popularity, or notoriety, of Alice B. Toklas brownies in the twentieth century might have been helped along by the 1968 Peter Sellers movie I Love You, Alice B. Toklas. In the film we see Toklas, a writer and the companion of Gertrude Stein, publishing a book containing a recipe for "Hashisch [sic] Fudge." Toklas did publish a cookbook in 1954, and it was a bestseller, but the hashish recipe came from a friend. Toklas (no connection with the word toke, which is of unknown origin) might never have made or eaten the product, but her name was attached to hashish brownies for decades.
__________________________________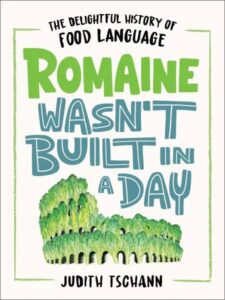 Excerpted from Romaine Wasn't Built in a Day: The Delightful History of Food Language by Judith Tschann. Copyright © 2023. Available from Voracious Books, an imprint of Little, Brown and Company, a division of Hachette Book Group, Inc.
---