Honestly, I cannot believe I have not done this list yet because I (an adult) think about children's books a lot, despite not having kids or really knowing any. (The pandemic hit before the majority of my colleagues procreated, so I have not properly bonded with their offspring at staff picnics; friends, I look forward to holding your babies.)
Anyway, there is a particular joy to so many of the children's books I ardently loved in my youth, and in a desperate attempt to catch a glimpse of that happiness in my adult reading life, I have found some adequate pairings that I will now share with you.
*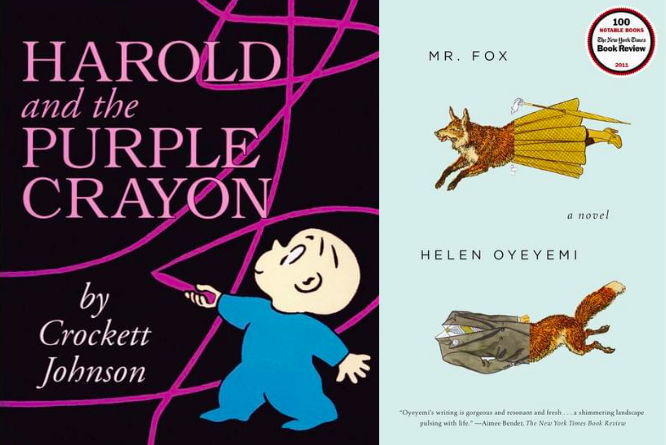 Crockett Johnson's Harold and the Purple Crayon → Helen Oyeyemi's Mr. Fox
The titular Mr. Fox in Helen Oyeyemi's masterpiece is a writer. He has a bad habit of killing off his heroines. And then one day, his beloved muse comes to life; so begins a little cat-and-mouse game, with the two of them tumbling through worlds of their own creation. Mr. Fox's wife, suspicious that he is having an affair, also finds her way in. The first time I read Helen Oyeyemi's Mr. Fox, I was blown away by what she was able to do on the page. Who knew you were allowed to tell a story that way? I imagine that's what I must've felt the first time I encountered Harold and his magical purple crayon, boldly drawing his way through the world and making it up as he went along.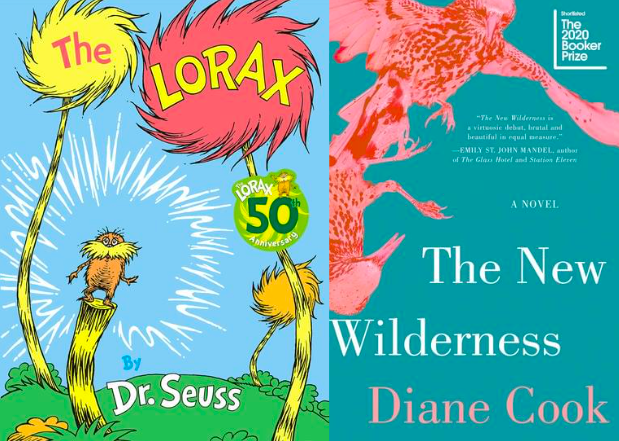 Dr. Seuss' The Lorax → Diane Cook's The New Wilderness
The Lorax is basically Baby's First Climate Fiction, and if you're looking for an engrossing novel to bring you that same sense of dread—like the walls of the planet are closing in on you but it's all our fault—then I would recommend Diane Cook's Booker Prize-winning novel. The New Wilderness follows a family embarking on an experiment: an expedition to the Wilderness State. Pollution has rendered the cities uninhabitable, so this attempt at living on the land without destroying it may be their last chance of survival. Much like The Lorax, it asks: what do we owe to one another? It's a heartbreaking novel, but one that leaves you with a touch of hope. (See also: Lit Hub's Climate Change Library.)
Jon Scieszka's The True Story of the 3 Little Pigs! → Susan Choi's Trust Exercise
Just as The True Story of the 3 Little Pigs! causes you to question everything you thought you knew about a story, Susan Choi's Trust Exercise will similarly shake your faith. This National Book Award winner is set in a performing arts high school and follows the a set of drama students: two young lovebirds in particular. About halfway through the novel, there is a total break in the narrative—one that asks you questions about what is real, and who is holding the pen.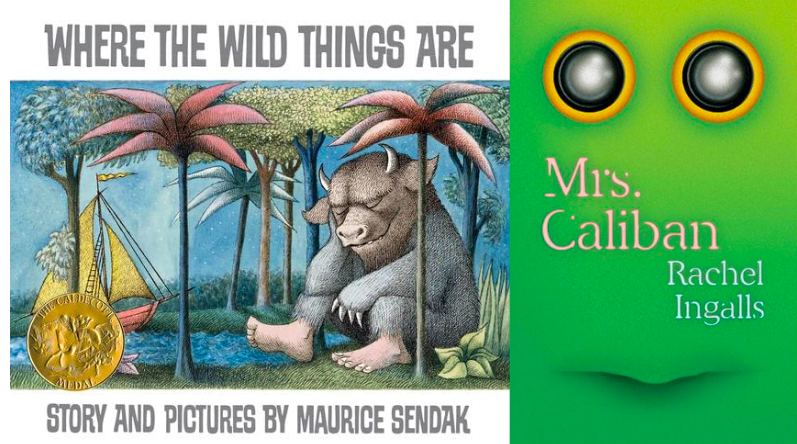 Maurice Sendak's Where the Wild Things Are → Rachel Ingalls' Mrs. Caliban
Max is bored, and in Maurice Sendak's story, he sets sail for an island, where he can commune with his demons. In Rachel Ingalls' Mrs. Caliban, a suburban housewife escapes the humdrum of her own life when a radio announcement declares that a sea monster has escaped the lab and is loose in the neighborhood. Let the wild rumpus start!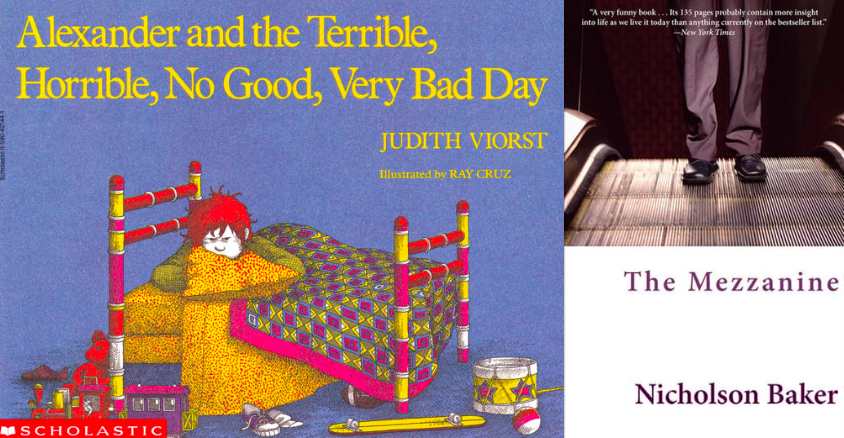 Judith Viorst's Alexander and the Terrible, Horrible, No Good, Very Bad Day → Nicholson Baker's The Mezzanine
Alexander just wants to tell you all about every excruciating detail of his terrible, horrible, no good, very bad day. The narrator of The Mezzanine catalogues his life with a similar attention to the small stuff. At the end of Judith Viorst's book, Alexander realizes that he is not alone in his misery, and in Nicholson Baker's maximalist novel, the narrator holds fast to the things that connect him to other people.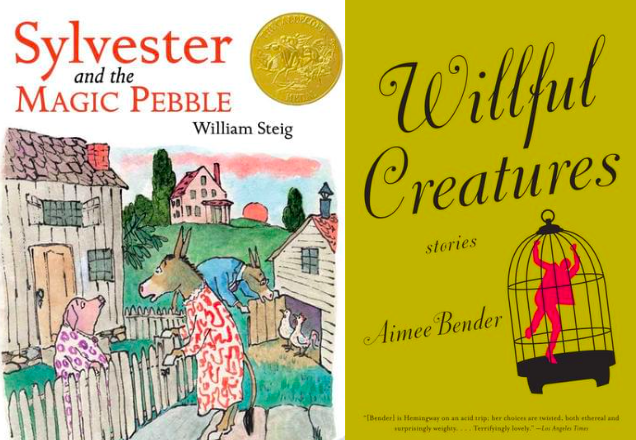 William Steig's Sylvester and the Magic Pebble → Aimee Bender's Willful Creatures
Sylvester and the Magic Pebble is a stunning work of magical realism. It asks you to accept many things in rapid succession: that there is a donkey named Sylvester, that there is such a thing as a magic red pebble, that he would discover and understand its secrets so quickly, that there would just so happen to be a lion crossing his path on the way home, and that he would panic and accidentally turn himself into a rock! It's kind of funny. In a similarly wry way, Aimee Bender's stories ask us to suspend all of our disbelief and to enter the world of magic with her: a woman has potato babies, a pumpkin-headed family has a son with an iron for a head instead, a tiny man is kept as a pet. You're in for a treat.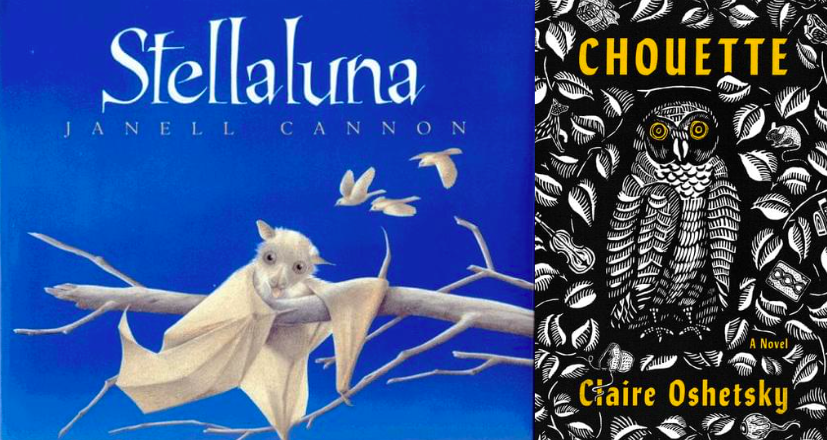 Janell Cannon's Stellaluna → Claire Oshetsky's Chouette
Beyond the obvious aviary comparison, both Stellaluna and Chouette deal in questions of acceptance and family ties. Claire Oshetsky's novel is about a woman named Tiny who gives birth to an owl-baby. While her husband becomes obsessed with trying to "fix" their child, Tiny just wants the eponymous Chouette to be her most authentic self.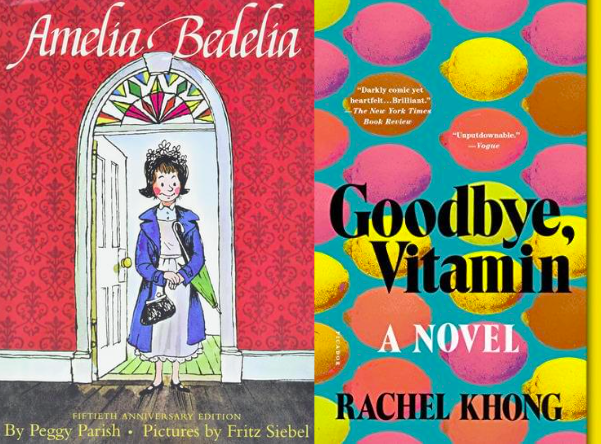 Peggy Parish's Amelia Bedelia → Rachel Khong's Goodbye, Vitamin
Everyone loves Amelia Bedelia. Only she can make household chores into something that makes you laugh. She puts calendar dates in the food. She actually dresses the chicken up in clothing. It's the way she twists language that makes her so charming. In Goodbye, Vitamin, thirty-year-old Ruth must move back home with her aging parents as they start to lose their memory and ability to care for themselves. It sounds bleak, but there is also so much joy in these pages. In an Amelia Bedelia-esque way, Rachel Khong can turn a phrase like no other.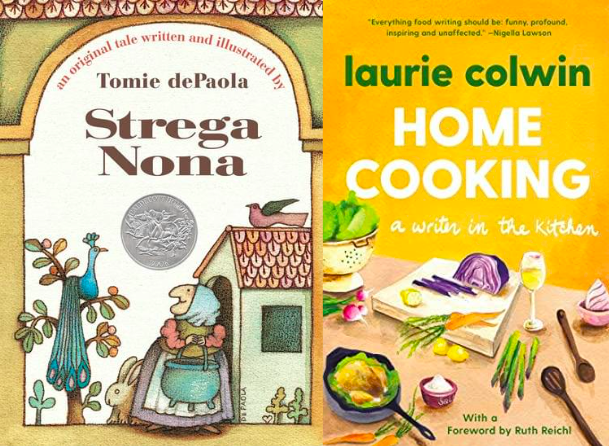 Tomie dePaola's Strega Nona → Laurie Colwin's Home Cooking
If Strega Nona spoke to you as a child, you are going to love Laurie Colwin. That's just a fact. The obvious comparison is the food that is clearly present in both. Home Cooking is a delightful collection of essays (with recipes sprinkled throughout for good measure). In Laurie Colwin's hands, though, the kitchen is a portal through which to explore all of life. But it goes beyond that: there is a playfulness to these pages. There are also women not to be trifled with—women of real consequence, women who are content with their lives. There is an assuring self-reliance. Just as Strega Nona is the only one who can stop the pasta, Laurie Colwin is the only one who can make you see being alone in the kitchen with an eggplant for what it is: a truly divine experience.