What We Loved This Week
Rachel Kushner, Lorrie Moore, Seinfeld vs. Friends, and more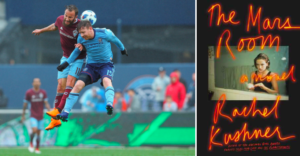 This past weekend, I joined some friends to watch the New York City Football Club beat the Colorado Rapids at soccer on a heavily misting afternoon. I did not acquire the bucket full of chicken sandwiches that is apparently available at Yankee Stadium during soccer games, but I won't say I didn't think about it. In more literary news, I am currently reading and enjoying Rachel Kushner's The Mars Room, though I admit to being only about 100 pages in. Good thing finishing good books is what long weekends were made for.
–Emily Temple, Senior Editor

I've had good company on the road this week en route to festivals in Tallinn and Helsinki, and a Sinclair Lewis tribute in Stockholm. Since I'm talking to the Danish writer Naja Marie Aidt on Friday night, I've been rereading her strange, noir-like novel Rock Paper Scissors as well as her harrowing new memoir, Carl's Book, which tells the tale of her son's life and death, and the terrible aftermath. She shows you all the ways language breaks down under pressure. How what you're trying to hold in words isn't a thing, or a concept, it's a life, and all the beauty and complexity a life can contain. A similar thing happens to language, but in a nastier direction, in It Can't Happen Here, Sinclair Lewis' dystopian novel about fascism arriving in the U.S.of A in 1936. It feels terribly prophetic to read it now—(it's being translated into Swedish for the first time, unusual for a Nobel laureate). The book is full of hollow, club-like words, words like "dirty" and "clean" and "idiot," words that are used incessantly by Lewis' characters to tar the undesirables and each other. "Dirty" appears more than 30 times. You see this now too in America, the turning of words into pulverizing devices —"animals," "shitholes," "losers," "pathetic," "weak"…the president speaks entirely in them sometimes. It's not just coming from the top, though; words like garbage and trash are used by the left and in so doing we commit that fatal error that Viet Thanh Nguyen writes about in Nothing Ever Dies—reducing the humanity of a so-called enemy so we can in essence, permit ourselves to be inhuman to them.
–John Freeman, Executive Editor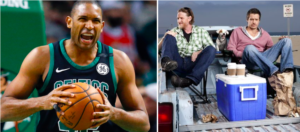 This week I rededicated my love to the Celtics and committed to buying an Al Horford jersey if they can beat Cleveland just one more time, and when I wasn't making passionate/arbitrary vows I watched Terriers in preparation for a eulogy we published over on CrimeReads this week, celebrating the very best crime shows canceled too soon, a list that absolutely had to include Terriers, FX's short-lived masterpiece of Seaside Wisecracking Noir (a niche, sure, but a damn good niche), which had only one season but managed to be the Chandler/Macdonald/MacDonald mashup of my dreams, too good to die, too beautiful to live.
–Dwyer Murphy, Crime Reads Senior Editor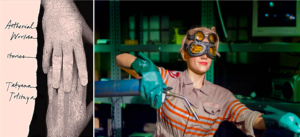 Inspired by Monty Don's constant optimism in Big Dreams, Small Spaces and guided by Indoor Edible Garden, I've been stocking up on houseplants, vegetable starts, and seeds. Fingers crossed, because last year's attempt at indoor gardening was a total bust—the only survivors are those damn crawling pothos, which are so nearly impossible to kill that I'm left wondering if the plants are just trendy weeds. As for reading, I've enjoyed Aetherial Worlds and Mikaella Clements's essay "Notes on dyke camp."
–Alicia Kroell, Editorial Fellow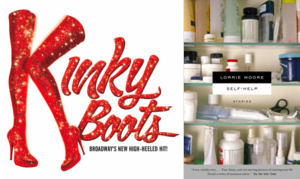 Last weekend was one of the rare times I took advantage of living in New York and went to see a Broadway show. Kinky Boots was every bit the fun, fabulous, self-accepting joy that I was promised. I've been singing "Raise You Up" under my breath all week. To go along with Lola's Six Step Program (Pursue the truth! Learn something new! Accept yourself and you'll accept others too! It goes on.), I've also been enjoying Lorrie Moore's Self-Help (How to Be an Other Woman, How to Talk to Your Mother, How to Become a Writer—Lorrie, please, show me the way).
–Katie Yee, Book Marks Assistant Editor
At the American Arts and Letters Ceremonial, I saw a lot of famous writers congratulate each other on being great, which was joyous to watch. Joy Williams was there, looking like a long-lost Ramone in black cowboy boots, and I remembered how much I loved The Visiting Privilege. So, I decided to pick up Tin House's beautiful reissue of her dark and wonderful 1978 novel The Changeling—which I'm reading now.
–Emily Firetog, Managing Editor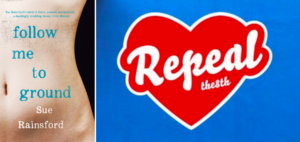 I've been absolutely transfixed by Irish writer Sue Rainsford's surreal and beautiful debut novel Follow Me to Ground, which arrived in the mail from the motherland earlier this week. Reminiscent of the work of Alexandra Kleeman, Carmen Maria Machado, and Han Kang, it's a sinister, sensual, haunted book about an otherworldly young woman and her father, living in the woods on the edge of an unspecified rural town, who have the power to heal sick locals—or "Cures"—by cracking open their damaged bodies or temporarily burying them in the reviving Ground nearby.
Ahead of today's referendum to repeal Ireland's constitutional ban on abortion, I spent a lot of the week following the incredible, inspiring work of the thousands of Yes campaigners across the country who are fighting to end a culture of stigma, secrecy, and shame, so that Irish women can finally have the right to the safe, legal healthcare that they have been denied for so long. #RepealThe8th
–Dan Sheehan, Book Marks Editor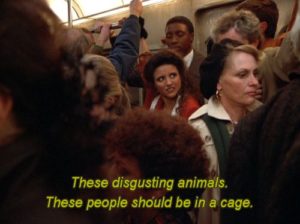 Growing up, I was taught to believe in a certain kind of binary: in this world there are Friends people and there are Seinfeld people, and we were firmly on team Seinfeld. That I now know many people claim to enjoy both has in no way dissuaded me from stubbornly hanging on to this belief. This week, I had the distinct pleasure of introducing a Seinfeld novice to some of the show's greatest hits and reminding myself, in the process, why it had been such a staple of my early adolescence. Given the dismal state of #CuomosMTA, I have a whole new appreciation for Elaine's unhinged voiceover meltdown during an interminable and unexplained subway delay in a Season 3 episode called, of course, "The Subway." I'd also forgotten about how densely packed the jokes could be, almost more like a cartoon than a sitcom: last night we watched "The Boyfriend," guest-starring beloved Mets first baseman Keith Hernandez, which, in addition to being funnier than any stunt-casted episode of TV deserves to be, contains no less than three classic bits: the "second spitter," the ugly baby, and Vandelay Industries. Suck on that, Ross and Rachel.
–Jess Bergman, Features Editor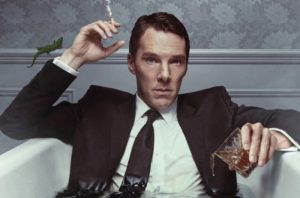 I've spent the past week enjoying New York City from the fuzzy, vertiginous lens of a sinus infection. The buildings seem so much taller, and the staircases so much longer, when it makes you dizzy to move your head! I've also been watching the series Patrick Melrose, with Benedict Cumberbatch playing the lead role brilliantly, and lamenting the fact that that I once received a free copy of all five Melrose novels, only to let it pass through my hands and into a donation bin—guess I'll be going out and buying a copy this weekend, and then reading it slowly, so as to not become filled with unbearable ennui.
–Molly Odintz, Crime Reads Associate Editor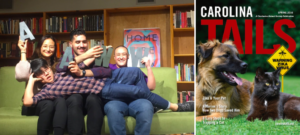 On Tuesday evening, I went to the Asian American Writers' Workshop to see the final readings by their 2017-18 Margins fellows, Mariam Bazeed, Rami Karim, Kyle Lucia Wu, and Yanyi; a giant longevity peach cake was also in attendance. I was completely blown away by the fellows' collective talent and am very excited to see (and read!) what they all do next. I've been in South Carolina since, which is home to my newly-discovered favorite magazine, Carolina Tails.
–Blair Beusman, Associate Editor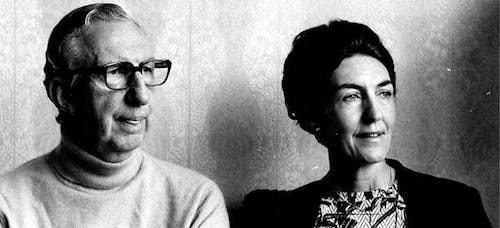 Despite my distaste for child-endangerment plot-lines, I found myself pulled into Martin Freeman's "save my baby daughter from zombies in the Australian outback" Netflix movie, Cargo. It's an… understated zombie movie? And I only said "Why did you do that?" out loud once. I also recently finished Shirley Hazzard's odd and wonderful little literary memoir of hanging out on Capri with Graham Greene—simply called Greene on Capri—which made me nostalgic for literary expat outposts and the highjinks they contain.
–Jonny Diamond, Editor in Chief
---