What the Wrongful Conviction and Imprisonment of Marvin Anderson Reveals About the American Legal System
Daniel S. Medwed on the Biases and Systemic Failures That Keep Innocent People in Prison
In 1982, a Black man on a bicycle approached a white woman in a wooded area of rural Hanover County, Virginia. The man threatened her with a gun and sexually assaulted her. After the attack, the victim rushed to a local hospital, where she told police she would never forget the man's face. She described the assailant as a light-skinned Black man with a medium frame, short hair, and a mustache.
There were few other clues to his identity except for one the police glommed on to. According to the victim, the perpetrator claimed he "had a white girl." The investigating officer knew about an eighteen-year-old Black man who lived with a white woman. Based on that leap of logic—that a rapist's boast of an interracial relationship made the only local Black man the officer knew to be romantically involved with a white woman the suspect in the crime—the police began to investigate a churchgoer and volunteer firefighter named Marvin Anderson.
There was a snag with the investigation right out of the gate. Anderson didn't have a criminal record, which meant a mug shot wasn't readily available for viewing by the victim. So the police visited Anderson's job site, where they located an identification card displaying a color photo of him and his employee number. They slipped the card into an assortment of black-and-white pictures of other men, none of which had any numbers, for the victim to examine. She picked Anderson's photo as that of her rapist.
This is what's called a suggestive lineup: when the presentation of one member is so dissimilar from the others that it cries out for selection by the witness. The distinguishing feature in an in-person lineup might be height, race, weight, clothing, or age. In a photo lineup, the shape, size, or hue of the picture can add other differentiating traits. When defense lawyers raise the issue in proper and timely fashion at a pretrial suppression hearing, diligent judges ideally find that suggestive identifications violate due process and exclude them from use at trial. But counsel and judges aren't always up to the task. Even if they are, the Supreme Court allows prosecutors to salvage a suggestive identification by convincing the judge that it was nevertheless "reliable" because of other factors.
Suggestive identifications figure prominently in the wrongful-conviction database. Brandon Garrett's study of the first 250 DNA exonerations in the United States found that mistaken-identification evidence cropped up in 76 percent (190) of them. Of those cases, Garrett determined that at least a third contained lineups that "were biased, or stacked to make the suspect stand out."
Renowned criminologist Marvin Wolfgang found that Black men in the former Confederate and bordering states represented 89 percent of all people executed for rape between 1930 and 1974.
The flawed nature of the Marvin Anderson photo array was compounded by what followed. An hour after choosing the picture, the victim observed a live lineup composed of Anderson and several non-suspects, known as "fillers," who looked like him. Although this may have reflected an effort to avoid another suggestive procedure—because the lineup was structured so that Anderson wouldn't be conspicuous—the die had already been cast. Primed by the earlier photo array, the victim yet again identified Anderson, who was the only participant in the lineup repeated from the array.
Anderson's attorney later moved to suppress the identification evidence. Counsel pointed out that Anderson was the only person depicted in both the array and the lineup, and that he was "dark-skinned." The judge denied the motion on the grounds that "there's been no showing here that the photographs were irregular or were arranged in an irregular way or, uh, were presented in any way to, uh, identify a particular person."
The identification evidence comprised the crux of the prosecution's case against Anderson at trial. The victim reinforced her prior IDs by identifying him from the witness stand and gave an extensive account of the crime. Beyond the harrowing facts surrounding the rape, the victim divulged other memorable (and inflammatory) details, including that the perpetrator forced her to consume fecal matter. Forensic scientists had conducted serology tests on the crime scene evidence but failed to produce any results that could connect Anderson to the assault.
Anderson presented an alibi defense that revolved around testimony that he was washing his car at the time of the attack. Yet his defense didn't put on any evidence related to murmurs in the community that a different man, John Otis Lincoln, had done the crime. The bicycle the rapist had ridden in the run-up to the attack was identified by its owner as having been stolen by Lincoln a half hour before the crime. Anderson begged his attorney to call the bike owner and Lincoln to the stand, a plea that went unheeded.
An all-white jury convicted Anderson of rape, sodomy, abduction, and robbery in 1982. The court then sentenced Anderson, a first-time offender, to 210 years in prison. Harsh sentences like Anderson's are part of the legacy of racial injustice in the South, where Black men have long received disproportionate punishment for sex crimes, especially those involving claims of harm against white women. Even though it's now unconstitutional to give the death penalty for a rape conviction, it was once a common penalty—for Black men at least. Renowned criminologist Marvin Wolfgang found that Black men in the former Confederate and bordering states represented 89 percent of all people executed for rape between 1930 and 1974.
Anderson spent five years in the Virginia state pen, maintaining his innocence and hoping to catch a break. That break came from an unexpected source. John Otis Lincoln stepped forward in 1988 to admit he'd committed the rape. In a state post-conviction hearing that August, Lincoln confessed again, this time under oath in open court. As in many state post-conviction proceedings across the country, the hearing took place before the same judge who'd presided over Anderson's trial. That judge branded Lincoln a liar and refused to overturn the conviction.
The lawyers and students assigned to Anderson's case believed he was innocent, but they also believed that any evidence that could prove it had been destroyed.
Anderson fought on from his prison cell with the help of a broad coalition of civil rights activists, church leaders, and state legislators. In 1993, they petitioned Governor Douglas Wilder to pardon Anderson. Despite the flimsy evidence of guilt, Anderson's sterling background, Lincoln's confession, and the exhaustion of judicial remedies, Wilder declined the pardon application for reasons unstated and unknown. It wasn't that the governor was ideologically opposed to showing mercy. That same year he gave clemency to high school (and future professional) basketball star Allen Iverson for a conviction that arose from a bowling alley brawl.
Anderson received parole in 1997 after fifteen years in prison. He went back to Hanover saddled with an ankle monitor. He suffered other indignities, too, among them an early curfew, weekly meetings with his parole officer, and sex offender registration. Prohibited from firefighting, he had to drive by the station every time he went to the few jobs he was able to get, first at a galvanizing plant, later as a trucker restricted to a fifty-mile radius.
Although the Innocence Project in New York City had accepted his case back in 1994, they couldn't track down biological evidence for DNA testing. Anderson's parole grant three years later lent even less urgency to that quest. The lawyers and students assigned to Anderson's case believed he was innocent, but they also believed that any evidence that could prove it had been destroyed.
Peter Neufeld, who cofounded the Innocence Project with Barry Scheck, gave it one more shot. He called a friend at the Virginia Department of Forensic Science and asked him to take a final peek at Anderson's file. That phone call led to a startling discovery: a forensic examiner had taped swabs from the rape kit to her worksheets, effectively saving them from destruction under state protocols at the time.
Even so, there was a hang-up. Virginia hadn't yet passed a law that provided access to biological evidence for post-conviction DNA testing, and state officials higher up the ranks than Neufeld's pal balked at consenting to those tests for fear it would set a bad precedent. Virginia eventually passed a DNA-testing law in May 2001, which provided a legal avenue to test the swabs from the Hanover rape. Those DNA tests excluded Anderson as the perpetrator and implicated John Otis Lincoln.
DNA results in hand, Anderson went back to the trial court in Hanover. He had a different judge because the one who'd handled his trial had retired. The new judge found him innocent and indicated he should be removed from the sex offender registry. Governor Mark Warner issued an absolute pardon in 2002, announcing, "I am convinced that Mr. Anderson is innocent of the charges for which he was convicted."
_______________________________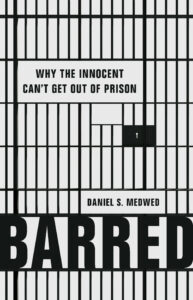 Excerpted from Barred: Why the Innocent Can't Get Out of Prison by Daniel Medwed. Copyright © 2022. Available from Basic Books, an imprint of Hachette Book Group, Inc.
---