What Makes The Princess Bride Such a Great Movie?
Chris Jones on Stories That Defy Labels
Artists don't always like to think so, but their work is more often the product of slavish method than brilliant madness. Most popular songs follow something like the same structure: verse-chorus-verse-chorus-bridge-chorus-chorus. Most magic tricks have three parts: the pledge, the turn, and the prestige. Most paintings and photographs obey the Rule of Thirds or subscribe to the Golden Ratio. Most books have a traditional narrative arc, the way most movies have three acts. Most of our entertainments are, like bridges, feats of engineering: They succeed or fail based principally on how well they're structured.
In moviemaking, there are dueling foundational texts. One is Story by Robert McKee. He's on the side—he called the side to arms, in fact—that believes most movies tell stories that have been told before, and there are certain industry specifications with which novice screenwriters must become fluent. McKee now holds workshops and seminars to teach his narrowly prescribed storytelling methods; more than 100,000 people have attended them around the world, including sixty future Academy Award winners. (Those are impressive figures in isolation, but they combine for a grim statistic: McKee's seminar attendees have a 0.0006 percent chance of one day holding an Oscar.)
Story is filled with lessons that read more like commandments, because they are written like them, in bold-faced type.
For instance: The PROTAGONIST has a conscious desire.
Or: TRUE CHARACTER is revealed in the choices a human being makes under pressure—the greater the pressure, the deeper the revelation, the truer the choice to the character's essential nature.
Or: A STORY must build to a final action beyond which the audience cannot imagine another.
McKee never presents his findings as suggestions, as wisdom that writers might wish to consider; his rules are musts. An exaggerated, bombastic version of him was played by Brian Cox in the excellent 2002 film Adaptation, written by Charlie Kaufman. Channeling the real Robert McKee, Cox roared and prowled across the conference-room stage like a big-tent preacher. But as much as Kaufman sought to lampoon McKee, he also acknowledged that many of his rules are hard to dispute. Just about every Pixar movie follows his prescriptions, for instance, and Pixar movies are pretty great.
The Princess Bride is the perfect desert-island movie because it contains fragments of every movie.
In Adaptation, there is a character named Charlie Kaufman, a sweaty, perpetually hungry writer who's struggling to adapt Susan Orlean's The Orchid Thief into a movie. (It's all very meta.) Charlie has a twin, Donald—in the movie, not in real life—who decides he's also going to be a screenwriter. Donald attends a McKee seminar and breezily writes a cookie-cutter action film that sells quickly and for millions; Charlie suffers for his higher art, fighting to write much of anything. Desperate, he, too, searches out Cox's McKee for guidance and receives more iron-willed advice: "Find an ending," McKee counsels through the haze of his cigarette. "Don't cheat. And don't you dare bring in a deus ex machina."
Adaptation ends, of course, with an ironic deus ex machina in the form of a timely appearance by an alligator. It's as though the real Charlie Kaufman wanted to thumb his nose at convention, which he has done his entire career. He writes weird, heart-swelling movies like Being John Malkovich and Eternal Sunshine of the Spotless Mind, none of which follow McKee's principles. They abide by Charlie Kaufman's beliefs. The results are beloved by some, including me, but they have found more critical than financial success. They hit certain people hard, but he'll never reach the movie-going majority, and he hasn't been able to make as many movies as he might like. Kaufman isn't a very good commercial bet, and today's Hollywood isn't built to take such chances.
"Plays are alive and movies are dead," Kaufman once said. He expanded on his pessimistic thought in a later interview with the Writers Guild of America: "I love movies," he said. "I've always loved movies. It's been a big passion of mine my whole life. I just think that there's a very kind of one-route way of making movies in this culture. And there seems to be this mindset that it has to be this one thing, and this is the structure of it, and this is what has to happen to the characters. I think that, like in anything, like in any art form, the world opens up when you take that away."
The joyous, unabashed originality that makes The Princess Bride great also made it hard to sell.
Kaufman's own work proves that breaking the rules can yield something beautiful—which brings us to William Goldman, whose Adventures in the Screen Trade provides the counterweight to Robert McKee's Story. Goldman's résumé is much more impressive than McKee's in terms of the actual writing of films. In addition to Butch Cassidy and the Sundance Kid, for which Goldman won the Academy Award in 1969, he won another for writing All the President's Men in 1976. He also wrote Marathon Man and The Princess Bride, both based on his own novels. He did it by ignoring the demands of studio executives and the opinions of marketers. Butch Cassidy feels purposefully unsettling in its construction, a film built around two halves rather than the conventional three acts; All the President's Men somehow makes two men talking on the phone and typing feel like a thriller.
When Goldman died in 2018, Variety published a laudatory obituary. Its writer, Peter Debruge, confessed that The Princess Bride was his desert-island movie: the movie he would choose to keep at the expense of every other movie ever made. ("By writing scripts he believed in, rather than the flavor of the day, the late, great William Goldman left a legacy that will endure for decades.") Debruge also recalled that Goldman's fight to realize Butch Cassidy was made easier when MGM gave more of its attention to Dirty Dingus Magee, starring Frank Sinatra. Do you remember Dirty Dingus Magee? You do not. But if you saw Butch Cassidy, you remember it. You remember the cliff jump and the shootout and the easy chemistry between Paul Newman and Robert Redford. Unless you happen to be Bolivian, that movie might be the first thing you think of when you think of Bolivia.
Debruge is right, too, about The Princess Bride, which is flawless. Originally a bedtime story that Goldman told his daughters to lull them to sleep—not exactly what you want to hear in a movie pitch—the film employs the same narrative device. It's a story told by a grandfather (Peter Falk) to his grandson (Fred Savage), who asks that he skip the boring parts. The result is magic: a beautiful, fun, suspenseful, lovely film. It's a movie that any right-thinking person will defend to his or her death.
But The Princess Bride did not do very well at the box office, in part because it confused its own studio. The marketers did not know what it was. Sometimes it feels like a romance, and sometimes like an action movie; sometimes it reads like a comedy and other times like a drama. In a way, it's the perfect desert-island movie because it contains fragments of every movie. Unfortunately, most people want to know what sort of movie they're about to watch before they watch it, and The Princess Bride defies labels. Goldman refused to meet the expectations of our collective subconscious—the rules, McKee argues, to which all of us subscribe, however unwittingly. The joyous, unabashed originality that makes The Princess Bride great also made it hard to sell.
How would I write commandments, were I trying to write like Robert McKee?
FOLLOWING THE RULES too closely risks seeming formulaic.
BREAKING THE RULES, especially all of them, risks seeming discordant.
__________________________________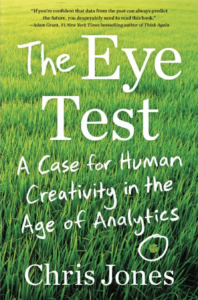 Excerpted from The Eye Test: A Case for Human Creativity in the Age of Analytics, © 2022 Chris Jones and reprinted by permission from Twelve Books/Hachette Book Group.
---